Bitrix24 is a social collaboration platform in SaaS (Software as a Service) mode . It is designed for project and task management, and equipped with collaborative messaging and a videoconference service. This social platform is coupled with customer relationship management bricks (covering sales, marketing and customer service management) and employee relationship management (HR). To power everything, it is backed by an automation workflow, storage and file sharing infrastructure, as well as a cloud -based telephony system . Bitrix24 is also available as an on-premise software suite .
In terms of positioning, Bitrix24 offers a unified digital workplace to organizations that want to see their CRM integrated, create websites, an online store (function in beta), develop their internal and external communication, store documents online, put in place calendars, etc. In total, more than a dozen collaboration and sales automation tools are now available on the platform.
Bitrix24 offers a free ( or freemium ) version of its platform with no limit on the number of users. Allowing videoconferencing in HD for up to 24 participants, it includes the basic functionalities of calendar bricks, project management, website creation and customer relationship management. The file storage and sharing system is limited to 5 GB of storage.
In this free version, Bitrix24 caps the data history to 1000 contacts, 1000 leads, 1000 contracts, as well as 1000 emails kept in the CRM every month. On the other hand, the data import and export functions are fully available in this version (via .csv files or vCard, Outlook or Gmail type emails).
How to use Bitrix24?
To use Bitrix24, just register on the platform (for basic use). You then access the main administration dashboard of the solution on which you will have to indicate the features you wish to activate.
Among the flagship uses of Bitrix24, task management via Trello – like kanban boards is a must-have feature. Note that there are many bitrix24 training and bitrix24 tutorial on the web to teach you how to use Bitrix24 in just a few minutes.
A CRM Setup and customization are among the decisive factors of its future success. Poorly configured system will most likely be ineffective and lead to implementation failure. In order to avoid such an undesirable outcome, it is necessary to create a checklist of various settings and options to be adjusted. In this bitrix24 crm tutorial we are going to look at the setup peculiarities and walk you through bitrix24 training videos.
Bitrix24 is a fully-functional tool that can cover nearly any company's needs with minimal navigation. It has a clean and intuitive interface, making it easy to optimize administrative tasks and minimize the amount of routine manual office work.
To use the potential of the platform to the fullest it is recommended to configure the following areas of your portal:
Bitrix24 Setup and service settings;
User and company structure management;
Personal calendar settings;
Workgroup structure;
Email and telephony setup.
Bitrix24 Setup and Service Settings
The service settings include the basic information about your company and a set of rules the system will comply to.
First of all you should go to the "Settings" section in the main menu and adjust your Intranet Settings. Those include:
Company name;
Administrator (default sender) email
Date and time format;
An option to enable document editing via external sources, such as Google Docs, for example;
"All employees" recipient configuration.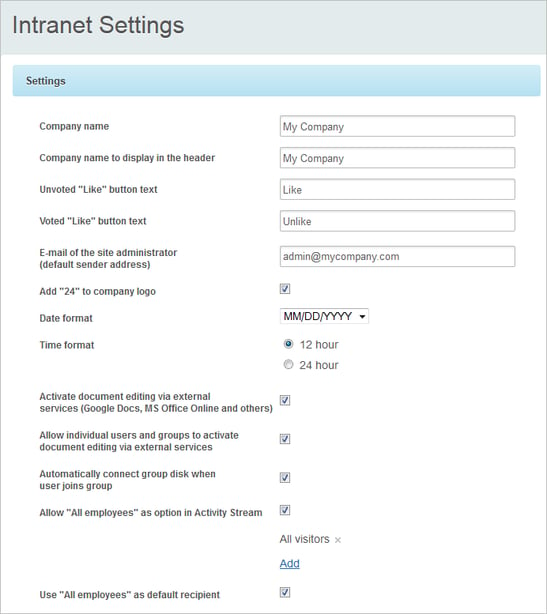 At this step it is also recommended to set the IP restrictions (if you use the Standard or Professional plan). This option allows to specify the IP addresses or ranges from which it is possible to use the Intranet resources.
User and Company Structure Management
Inviting new users (employees) to your Bitrix24 intranet is real simple. All you need to do is press the green "Create" button in the top left corner and select the "Invite users" option. Once you do that, you will see the invitation form, where you will need to type the emails of the people you want to invite and click "Invite".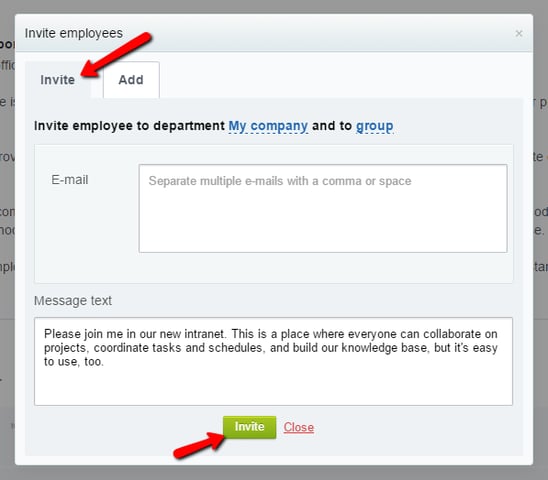 Later, when the invited users will complete the registration in the system, you will be able to edit or delete their profiles from the "Employees" screen under "Company" menu item.
Another thing you should do is create your company structure. The process is equally simple. Go to "Company" – "Company Structure" and click on "Add Department" button. Then fill in all the necessary information in the popup window and click "Add".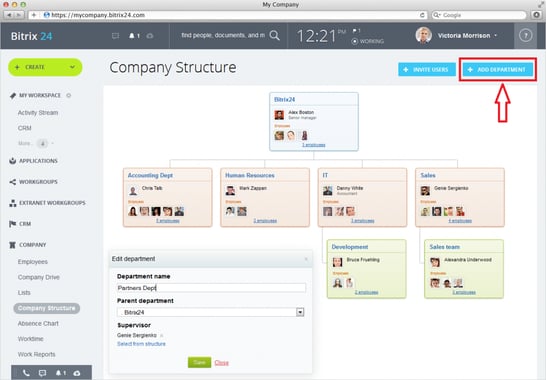 Personal Calendar Settings
Bitrix24 offers a comprehensive way to organize your corporate schedule – an advanced calendar with the options to share and sync with Outlook, Google calendars, iPhone and more. You can explore the ways of Bitrix24 setup, customizing and managing your calendar by watching the video below.
How To Add New Event To Bitrix24 Calendar
Workgroup Structure
The workgroup is a virtual community of users created to discuss and solve a set of defined issues or tasks. Creating groups allows to gather all the data and communication related to a particular project in a single place for more convenient management. The access to information within the group can be shared with other users outside the group and even with the people outside the intranet, for example customers.
How To Work With Extranet Workgroups In Bitrix24
Email and Telephony Setup
Email and Telephony are both important means of communication with people within and outside your company.
Let's start with email services. With Bitrix24 you have the options to connect your personal email inbox to the portal, create a bitrix.com mailbox or even integrate your own domain with the system and add new mailboxes using that domain.
Find more about different ways to set up your mailbox within Bitrix24 from this video
As for the telephony feature, Bitrix24 service uses the WebRTC technology that allows making and answering calls directly from a browser that supports this technology. Bitrix24 provides an ability to make the calls in the following ways:
Voice and video calls from Instant Messenger or a desktop application within the company;
IP telephony to landline and mobile phones;
IP telephony using office PBX.
It is worth noting, that telephony feature is well integrated with the CRM, making it possible to give, receive and record the calls conveniently. There is a number of other useful features that you can examine with the help of the video below.
Bitrix24 Setup:the Final Slice
For more information and tutorials on Bitrix24 setup and functionality you can always visit the platform's training portal. Else, you can find out other interesting facts related to Bitrix24 and stay tuned to the updates on the FindMyCRM site.