In a world of constant change and shifting consumer attitudes, staying ahead of the game and providing value to your customers is crucial. Understanding the latest consumer trends is essential for retaining and acquiring customers boosting your customer base, brand awareness, and sales.
One key area to keep an eye on is CRM trends. You can drive business growth and success by staying on top of customer interactions and adapting accordingly.
As we look ahead to 2024, 13 major consumer trends deserve your attention. While some may seem familiar, staying connected to the pulse of consumer wants and needs to thrive in the market is essential.
Here, you can see four CRM solutions that are always in trend:
Pipedrive CRM is a user-friendly platform that is effortless to master. It is the creative web designer's secret weapon in the world of Customer Relationship Management.
CRM was created ready for the modern world to help users run businesses and start selling. Moreover, it is the ultimate CRM for web designers, offering a versatile toolkit that improves client relationships.
It is a web-based email marketing management service for small and medium businesses. It automates the entire marketing process - from managing your email marketing campaign to maintaining mailing lists.
Salesforce is an industry leader known for its mammoth feature set and endless customization options. The platform can adapt to any industry, from manufacturing to insurance.
10+ Key consumer trends relevant in 2024
1. The surge in online shopping
Online shopping is undeniably becoming a staple in most households, and it's a trend that's on the rise in 2024.
Companies like Amazon have transformed eCommerce into a quick and convenient option for households worldwide. Additionally, small businesses and entrepreneurs can offer an easy and streamlined shopping experience through platforms like Etsy, eBay, and third-party eCommerce platforms.

As a result, consumers are increasingly choosing to make their purchases online. This makes it crucial for your business to pivot towards an eCommerce-focused future.
2. Meeting consumer demands
Keeping a close watch on what consumers desire when they shop online is essential for creating a positive eCommerce experience. Enhancing your online store can encourage customers to shop more and spend more, ultimately boosting your revenues.

You can gather insights from customer surveys and online reviews to pinpoint exactly what your shoppers expect and the improvements you should implement. However, data collection and analysis can be time-consuming. In the interim, making broad changes can help you gain a competitive edge:
Provide speedy and dependable delivery.
Offer free shipping options.
Diversify your product range.
Expand your inventory to minimize customer wait times for new stock.
3. Mobile-friendly shopping
In the past twenty years, smartphones have become an inseparable part of our daily lives. Chances are, you've already used your mobile phone today for various activities like staying connected with friends and family, scrolling through social media, watching online videos, and even handling work-related tasks.

We spend an average of 4.8 hours per day on our phones, and app stores see a staggering $320,000 spent every minute. With people's attention increasingly focused on mobile devices, it's imperative for your eCommerce strategy to keep up.

It's not just about creating a mobile app or a mobile-friendly version of your website. It's about crafting a delightful mobile experience for your customers. While having a responsive, fast, and user-friendly website or app is important, don't stop there. Consider integrating mobile-specific features like location services, SMS messaging, and notifications into your strategy.

For instance, if you're running a sale, why not announce it through a text message or a pop-up mobile notification? This allows for personalized messages that ensure your customers see and engage with your promotions.

Moreover, make sure your marketing materials and content are optimized for mobile screens. Update your display ads and email newsletter designs to cater to the mobile-first generation.
4. Social media influence
Social media platforms like Facebook, TikTok, and Instagram boast billions of monthly internet users. With images and videos going viral within hours, your social media accounts are invaluable tools for boosting eCommerce sales.

Take Instagram shopping, for example. It allows businesses to showcase their products on shopfronts and in posts. Additionally, collaborating with content creators can passively promote your brand, increasing both awareness and sales.

Identify the social channels through which you can sell your products and nurture them. This way, you'll be well-prepared to capitalize on the recent consumer trends of online shopping.
5. The rise in subscriptions
The internet is a thriving platform for a wide range of technologies, from eCommerce and video games to streaming movies. Together, they create a vibrant and easily accessible digital customer experience.

In recent times, accessing these experiences has involved a blend of subscription services and traditional purchasing. However, subscriptions have emerged as one of the current consumer trends to keep an eye on in 2024.

Subscriptions typically involve paying for access to apps, content, or online services. For instance, successful subscription models can be seen in streaming services like Disney+ or Netflix.
Yet, subscriptions are no longer limited to online offerings; they now encompass physical products as well.

Take HP's Instant Ink program as an example, where they provide free printer ink cartridges and charge users based on the number of pages printed. This approach offers value to customers while ensuring a steady revenue stream for HP, as consumers are incentivized to use HP cartridges instead of third-party alternatives.

Recent physical product subscriptions include coffee machines, cars, and clothing. This shift, known as servitization, allows customers to try and use products they might not otherwise afford.

Compared to the traditional model, where consumers purchase online services as needed, subscriptions can provide cost-effective monthly payments with automatic renewals and added value. This extends your market reach and generates consistent direct sales.

Whether it's books or fixed VoIP subscriptions, consumers can build deeper, ongoing relationships with brands, while businesses benefit from regular and predictable revenue streams.

Therefore, transitioning to a subscription-based model for your products and services is crucial for retaining and acquiring customers in the long run.
6. Engaging experiences
The consumer experience has always played a vital role in boosting conversion rates, whether it's for sports events or online shopping. However, the emergence of Virtual Reality (VR), Extended Reality (XR), and Augmented Reality (AR) has opened up new avenues for brands to connect with their customers in innovative ways.

For instance, in the past, if you wanted to visualize how a bookshelf would look in your living room, you'd either need to visit a physical store or rely on online measurements to get an approximation. With AR, customers can now use their smartphone screens to virtually place the bookshelf in different locations and see how it fits in reality. AR has also proven useful for visualizing paint colors, hairstyles, and clothing options.

Similarly, VR technology offers a simulated experience, making it popular for video games, educational purposes, and even virtual meetings or events.

Although virtual technology isn't new, it's experiencing significant growth. Amazon is already utilizing it for certain products, and more businesses are catching on. Additionally, it helps alleviate consumer uncertainties when trying to envision expensive physical items in their own homes.

By integrating immersive virtual experiences into your mobile apps, services, or product presentations, you can gain a competitive edge and deliver precisely what consumers are yearning for.
7. Sustainability as a major trend
Sustainability has always been on the radar for some consumers who prefer eco-friendly products and support sustainable businesses. However, in 2024, it's no longer a niche choice; it's one of the consumer trends for 2024.

Environmental advocates, such as Greta Thunberg, have made it impossible to ignore the escalating threats of climate change, especially as the impacts become increasingly evident. This has led consumers to become more conscious of their actions and their impact on the environment.

Unsurprisingly, consumers are now using their purchasing power to back sustainable products and eco-conscious companies. As they seek responsible and environmentally friendly alternatives, brands have a golden opportunity to cater to these changing consumer preferences.

To stay relevant and appealing to consumers, it's vital to examine your processes and explore the adoption of sustainable options. This could involve transitioning to electric delivery vehicles, implementing biodegradable packaging, or striving for a paperless office environment. Technology plays a pivotal role here, as it brings together business practices and software development to create solutions for a rapidly evolving workplace.

The establishment and communication of sustainable policies, products, and business practices have become essential in attracting today's environmentally-conscious consumers. By doing so, you're not only meeting the current demand but also making a substantial investment in the long-term success of your company.
8. Importance of customer feedback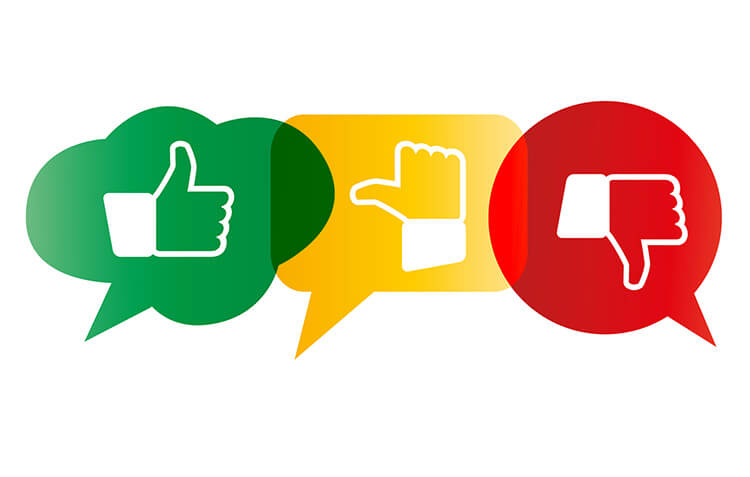 Why ask customers for their feedback if you won't use it? In 2024, one of the biggest consumer trends is not just listening to customers but also acting on their feedback when it's necessary.
Customers want assurance that their voices are heard—they are, after all, the lifeblood of your business. A study found that in 2022, 63% of consumers believed that businesses needed to improve their responsiveness to customer and client feedback.
Start by ensuring that you respond to customers when they reach out regarding their experiences with your website, products, services, or any aspect of your business.
Customers want to feel acknowledged, so at the very least, show appreciation. If they contact you to express their satisfaction with your work or shopping experience, thank them for their support and encourage them to remain loyal customers. If they encounter an issue with your brand, inquire about how you can assist in resolving the problem for them and future customers.
9. More personality in content
No one likes dealing with robots. Customers want to connect with businesses and brands that have real people behind them. Establishing connections with your audience fosters and nurtures leads that transform into loyal, repeat customers.
Don't shy away from letting your unique personality shine through in your brand's content, whether it's in social media posts, emails, website content, or any material that customers encounter.
It's entirely possible to maintain professionalism while injecting a bit of fun into your written content. Whenever feasible, use a more informal language to convey a sense of humanity and empathy.
Especially for service-oriented brands, customers seek reassurance that your service professionals are empathetic and understanding. This applies to customer interactions both before and after a sale. A survey revealed that 36% of consumers expressed dissatisfaction with the lack of empathy during customer service interactions.
Remember that it's perfectly acceptable to relax a bit. Demonstrate to your customers that you are indeed human and that you genuinely care about them. A touch of humanity and personality can make a significant difference in retaining your customers and keeping them coming back for more!
10. Round-the-clock support
In essence, the most crucial consumer insight for 2024 revolves around delivering top-notch shopping experiences. To provide exceptional online shopping experiences, it's imperative to offer 24/7 support and customer service.

A survey conducted among 1000 respondents yielded fascinating results: a whopping 93% of them indicated that they would be more patient about shipping delays if the company they ordered from had a reputation for exceptional customer service. Furthermore, 45% of respondents stated that they would be willing to wait up to two weeks for their delivery if they received outstanding customer service.

Now, we understand that expecting you to have a human customer service team available round the clock would be quite a demanding feat. However, there are ways you can extend support to your website users even when human assistance isn't available.

Chatbots, for instance, can be tremendously beneficial in assisting both customers and your business by:
- Providing consistent customer service, 24/7
- Answering frequently asked questions (FAQs)
- Saving you money
- Gathering valuable customer feedback
- Offering multilingual support to cater to a diverse customer base
11. Omnichannel shopping opportunities
While eCommerce takes the spotlight in 2024, it's crucial not to overlook the importance of in-store customer service. Consumers are seeking expanded opportunities for seamless omnichannel shopping. When making a purchase, consumers rely on both in-store and online resources to make informed buying decisions.

Consider this: How many times have you felt more confident about buying something online because you knew you could return it at a physical store, or the other way around? By seamlessly integrating online and in-store experiences, you significantly simplify and enhance the shopping process for consumers, making it more accessible.

In a world that values online convenience but still cherishes quality interactions with businesses, offering a seamless omnichannel shopping experience is the way forward.
12. Empathetic AI
Speedy and hassle-free service has become the new standard (though not exactly new), but the human longing for a connection and emotionally sensitive customer service will be stronger than ever in 2024. These two ideals may seem contradictory, but AI offers a perfect solution.

Thanks to the advancements in natural language processing (NLP) technology, brands now have the capability to create empathetic chatbots. AI-driven systems can discern a customer's emotional state by analyzing their language and tone, enabling them to deliver emotionally aware responses tailored to each individual's specific needs.

Emotional AI technology is already equipped to identify strong positive and negative emotions in customer inquiries, social media interactions, and reviews. This empowers brands to prioritize urgent requests effectively.

In 2024, we anticipate a growing number of providers offering emotionally sensitive customer service through AI-driven platforms. This aligns with the increasing consumer preference for a personalized experience infused with genuine emotion.
13. Consumer collaborations
Leading brands are stepping up their game by involving consumers as co-creators, taking the age-old saying "the customer knows best" to a whole new level.

Using the creative spirit of their customers, companies are embracing external perspectives to drive their product development efforts. A notable example comes from Ikea and H&M, who recently teamed up to launch an 'idea factory.' This initiative invites creatives, designers, and small-scale manufacturers to submit fresh ideas for product development. This commitment to collaboration also extends to brands bringing in celebrities, influencers, or even children to take on creative roles within their organizations.

Beyond collaborations in product development, expect to witness more brands adopting models where consumers can invest in the brand or have a say in decision-making through voting. This shift towards greater consumer involvement is poised to boost brand loyalty and advocacy.

Towards the end of 2022, Starbucks introduced 'Starbucks Odyssey,' an innovative Web3 community accessible to all. Members have the opportunity to earn and purchase digital collectible stamps (NFTs) that grant access to unique coffee experiences.

While the initial buzz surrounding NFTs may have waned, the intriguing aspect is how brands are now using them to connect and engage with consumers directly.
Consumer Trends Across Generations
While many of the top consumer trends mentioned above are similar across different generations, it's crucial for businesses to grasp the unique preferences of their target audience. Let's dive into the noteworthy trends emerging within each generation.
Boomer Trends
If your brand is aiming for a Boomer audience, don't underestimate the power of traditional advertising channels. Surprisingly, 62% of Boomers mentioned that they stumble upon new products most frequently through cable television ads. When it comes to product trends, Pinterest search data reveals a growing interest in party supplies among this demographic. Those who are savoring their "YOLO years" are celebrating birthdays and golden anniversaries in a grand fashion.
Gen X Trends
Winning over the hearts of this demographic requires trust, loyalty, and personalized experiences. According to one study, 82% of Gen X individuals are willing to pay the full price for a product they desire. In-store shopping remains the preferred choice for this group, with 73% indicating that they make their purchases this way.
Millennial Trends
Appealing to Millennials involves more than just offering a great product. This generation is increasingly using their spending power to support brands that prioritize sustainability or take a stance on social issues—41% of them, to be exact. With a quarter of U.S. parents falling into the Millennial category, it's crucial to understand their priorities when tailoring products and marketing messages. Pinterest anticipates a strong focus on "the fourth trimester" as young parents prioritize self-care and mental health post-childbirth. Millennial moms, in particular, rely on personal networks and communities to inform their purchasing decisions.
Gen Z Trends
Sustainability takes center stage for this generation, with a staggering 75% considering it more important than brand names. Gen Z also possesses unique social media habits, with over half of them seeking fashion and beauty inspiration from digital influencers and avatars. Their interest in AI-driven solutions extends beyond social media—85% prefer chatbots and automated customer service over speaking with a live agent.
Gen Alpha Trends
Even though the oldest members of Gen Alpha are now teenagers, they are a future consumer demographic that brands should not overlook. Before they have their own disposable income, they wield substantial influence over household spending. To appeal to Gen Alpha, experts recommend using transparent, meaningful, and authentic messaging.
Conclusion
Let monday sales CRM do the grunt work while your team stays focused on high-level tasks, such as creative projects, business strategy, and relationship building.
Just like any other CRM out there, it has its learning curve but its user-friendly interface makes it easy for anyone on the team to use without needing any prior technical knowledge or experience.
You can communicate with customers, visualize and analyze customer data, and use dashboards and templates to simplify operations. monday sales CRM offers loads of scalability, enabling small businesses to run and manage any workflow.
monday sales CRM is a visual platform, so that's what makes it such a simple and easy tool to use for any team or organization. Teams can be overwhelmed by dealing with multiple tasks and timelines. The platform dashboards allow anyone to navigate it easily. Despite its simplicity, the platform is just as powerful.
In conclusion, the consumer landscape in 2024 is marked by several emerging consumer trends that businesses need to adapt to in order to stay competitive, develop successful marketing strategy, and meet customer expectations. The surge in online shopping, driven by the likes of Amazon and small eCommerce platforms, is reshaping the way consumers make purchases. To thrive in this digital era, companies must pivot toward eCommerce strategies.

Meeting consumer demands is paramount. Understanding what customers want, even in the absence of extensive data analysis, can lead to improved customer experiences. Features like speedy delivery, free shipping options, product variety, and inventory management can enhance the eCommerce journey.

Mobile-friendly shopping is imperative, as people spend a substantial amount of time on their smartphones. Creating a delightful mobile experience, incorporating location-based services, SMS messaging, and notifications, can set your brand apart in the mobile-first landscape.

Social media's influence continues to grow, making platforms like Instagram and TikTok vital for eCommerce success. Brands must leverage these platforms to engage with customers and boost sales.

Subscription-based models are on the rise, spanning not only digital services but also physical products. Transitioning to subscription offerings can broaden your market reach and provide a steady revenue stream.

Immersive experiences, facilitated by VR, XR, and AR technologies, are captivating consumers and should be integrated into mobile apps and product presentations to gain a competitive edge.

Sustainability is no longer a niche preference but a major trend, with consumers supporting eco-friendly products and companies. Brands should explore sustainable options in their processes and communicate these initiatives to attract environmentally-conscious consumers.

Listening to customer feedback and implementing necessary changes is essential, as customers increasingly value responsive businesses. Adding a personal touch to your brand's content and offering empathetic customer service can foster strong customer relationships.

Providing round-the-clock support is crucial, even if you don't have a human team available at all times. Chatbots can offer consistent assistance and gather valuable feedback.

Omnichannel shopping experiences that seamlessly integrate online and in-store resources are highly sought after by consumers in 2024. This approach simplifies the buying process and enhances accessibility.

Emotional AI is emerging as a solution to balance speed and emotional intelligence in customer service. AI-driven platforms can analyze customer emotions and respond accordingly, catering to the desire for personalized, emotionally aware experiences.

Consumer collaborations, where customers become co-creators and influencers, are reshaping product development and decision-making. Brands that involve customers in their creative processes are likely to foster brand loyalty and advocacy.

Lastly, understanding consumer trends across generations is vital. Boomers prefer traditional advertising channels, while Gen X values trust and loyalty. Millennials support brands with sustainability and social values. Gen Z seeks sustainability and engages with digital influencers. Gen Alpha, though young, influences household spending and appreciates authentic messaging.

In this dynamic consumer landscape, businesses must stay agile and adaptable to meet evolving consumer expectations and preferences.