Discover top 6 sales apps you need in 2023. Great salespeople do more than generate revenue for their organization. They build strong customer relationships, increase brand loyalty, and shape the company culture for the better.
However, the life of a salesperson is very demanding, leading to one of the highest turnover rates of any profession. Many salespeople work over 40 hours a week! The long hours come at a high personal toll, and many reps end up abandoning the career they love. The infographic below spells out the reality for modern-day sales staff.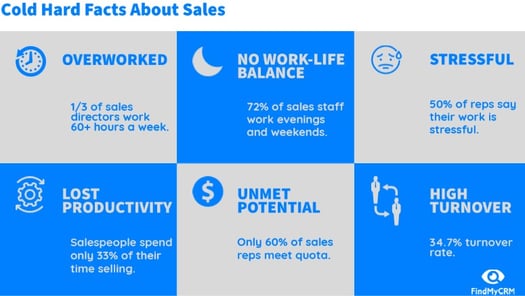 Chances are, your team could use some help achieving better balance and productivity. But how, you ask?
The Solution: Sales Apps
Technology can't replace the fundamentals of a great salesperson. But it can certainly make their lives easier and super-charge the sales process. A good sales app lets you get work done more efficiently, so you can invest your energy where it counts—whether that's your family or a valuable client.
With over a thousand sales apps on the market, finding the right solution can be overwhelming. So, we've done the legwork and discovered some of the best tools for common pain points among salespeople:
Getting more leads
Better social selling
Automating repetitive tasks
Making more sales calls
Pain-free scheduling
Accelerating the sales cycle
Without further ado, here are our top picks!
Top Six Sales Apps
Best Sales App for Lead Generation – ZoomInfo
Use ZoomInfo to fill your pipeline with prospective accounts. With the power of AI, this app analyzes your sales history to create the ideal customer profile (ICP). From there, ZoomInfo scours the Internet to find companies that are a good match for your products. You can also conduct your own queries using their search engine. It includes company filters, such as revenue, location, and industry. Or, you can drill down even further with hyper-specific filters, such as the number of employees in a specific department. Unlike Google, the results are tailor-made for your business.
ZoomInfo also uses market intelligence to keep you up to date with prospective accounts. You get the most current info on who the decision-makers are, which employees have left, and other company news. ZoomInfo also analyzes "intent signals" to deliver the leads that are ready to buy now.
Alternative apps for lead generation: Uplead; Lusha; Clearbit Enrich
Best Sales App for Social Selling – LinkedIn Sales Navigator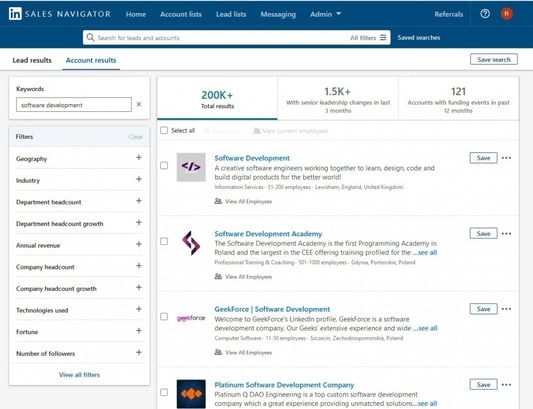 LinkedIn has long been the social platform for building professional relationships and networks. Used by over 500 million professionals, it is an invaluable resource for B2B sales. Your business may already use it to find and nurture leads. But did you know they also offer a subscription-based networking and sales tool?
LinkedIn Sales Navigator offers similar search features as ZoomInfo. You can look for related companies using a variety of filters. But Sales Navigator offers more than discovery—it gives you the tools to build relationships with the companies you find. You get access to the company LinkedIn profile, as well as the individual accounts of decision-makers. You can view what your saved leads like, share, and post about—giving you insight about their priorities and how to make your sales approach.
You can integrate LinkedIn Sales Navigator with your CRM to automate communication and follow-up tasks and make your prospecting strategy more scalable.
Alternative apps for selling on social: Mention; Hootsuite; Nimble
Best App for Salesforce Automation – Sales Cloud Lightning + Einstein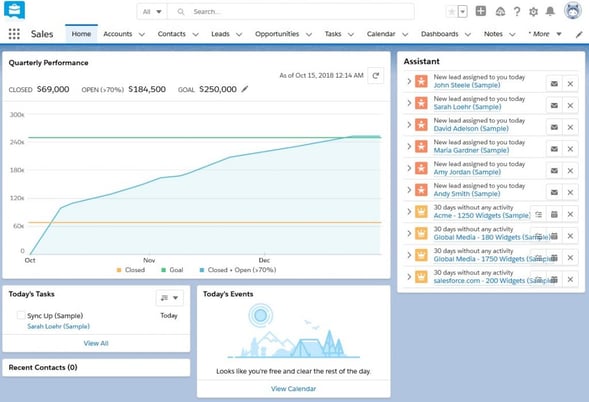 Salesforce's sales cloud is a robust CRM platform with many offerings, from contact management to billing. This review looks specifically at Sales Cloud Lightning subscription and its AI tool, Einstein. When used together, you get one of the most powerful sales force automation tools on the market. Best of all, it works beautifully on the Salesforce mobile app.
Salesforce's AI assistant, Einstein, can gather information from your email, calendar, and other integrations to auto-fill your client records. You'll always have the latest conversations, orders, and notes at your fingertips. Einstein can also automate tasks and responses based on the workflows you build. For example, you could automate a thank you email after every purchase, or update a lead score each time someone requests a demo. The sales app also uses machine learning to automatically score your leads and ensure you focus on high-value targets.
Alternative apps for sales automation: Pipedrive CRM, Zoho CRM, and Agile CRM all have a great mobile apps.
Best Sales App for Telephony – RingCentral Engage Voice
Did you know it takes an average of 18 calls to connect to a buyer? A telephony app like RingCentral can save your reps' time (and fingers!). RingCentral Engage Voice lets you build call lists that automatically dial. It also offers a predictive dialer, which dials multiple numbers for you using an advanced algorithm. The dialer deals with unanswered calls instantly, and routes calls to a sales agent only once a buyer is on the line. You no longer have to waste time on hang-ups, unanswered calls, or voicemails.
The sales app also offers a drag-and-drop script builder. You can use it to standardize your pitch to each ICP, highlight mandatory disclaimers, and keep your conversation relevant to the buyer. Monitoring tools let managers jump in if a call goes off the rails. Plus, Engage Voice comes with analytics to let you know how your reps are performing.
Alternative apps for sales calls: Genesys Engage; Intercom; Drift
Best Sales App for Scheduling & Appointments – Calendly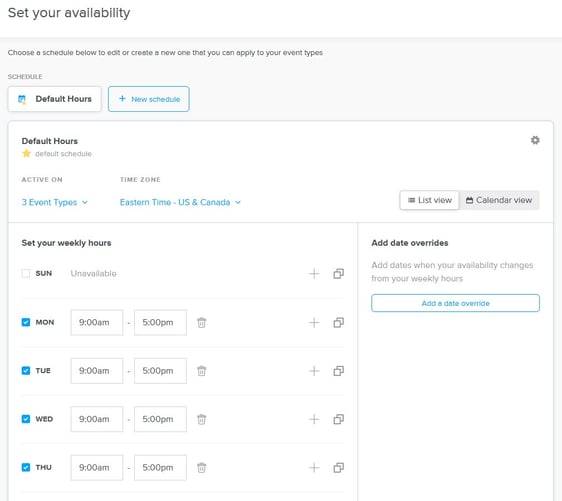 Everybody is busy these days, and nailing down an appointment can be difficult. With Calendly, you can leave the long email chains behind by publishing your schedule and letting customers pick a time that suits their schedule.
Calendly integrates with dozens of other apps, such a Gmail, Intercom, and Slack, and you can also imbed it in your website. Multiple integrations ensure your schedule is updated across the board.
This sales app also offers some advanced features such as automatically assigning meetings to agents, based on the conditions you set (territory, open schedule, etc.). And you can forget about missed appointments and cancellations with Calendly's automated reminders.

Alternative calendar apps: Acuity Scheduling; SetMore; 10to8
Best Sales Apps for Accelerating the Sales Cycle – Salesloft
Salesloft is a sales engagement and acceleration tool. What does that mean? It helps you keep customers close and makes more sales. Salesloft enables you to stay connected to your customers and meet all your outbound metrics. It offers templates, cadences, and lead management so you can sail through your sales tasks. It also provides performance metrics to track team productivity and measure which tactics work—and which don't. The sales apps use these metrics to coach sales reps on their next best move.
Discover something that works? You can quickly turn your pitch into a template and share it with the team. And unlike many of its competitors, Salesloft is incredibly easy to use. It functions much like a sales CRM—but without the learning curve. If you're already using a CRM, integrate Salesloft to have all your activities auto-logged to the platform.
Use Sales Apps to Win at Selling
Sales apps have experienced explosive growth this year, with over a thousand tools on the market. It's impossible to try and review them all. But this list should narrow down the top solutions for common sales challenges.
All of the sales apps mentioned integrate with sales CRM. If you're looking for more than an app, check out our CRM finder tool to get a personalized recommendation for your business.
Subscribe to FMC Newsletter
No spam and promotion, just insightful information