What is Asana?
Asana is a cloud-based project management software that meets the needs of small and medium businesses.
There are other project management programs like:
The program offers a one-stop solution for workflow management, portfolio management, and task management. Calendars, lists, Gantt charts, and Kanban Boards can all be used to track the progress of your work. Also, you can work with your team using Asana's built-in communication capabilities.
Asana is a project management solution that is widely used across the world because of its ease of use.
Main benefits of Asana
Here are some of the main advantages of using Asana for your company:
User-friendly UI: Asana's user interface is simple, which helps make the whole work experience pleasant.
Flexibility and customizability: Asana lets you customize this tool to your needs, from custom tags and templates to custom fields.
Multiple views: Asana offers multiple views, including a calendar, list, board, progress, timeline, and forms, to make it easier for you to keep track of your projects' progress.

Workload snapshot: The Workload feature gives you a complete picture of the projects that your team is working on. You can see who is assigned what tasks and how much work each employee has to do.

Team collaboration: One significant advantage of using Asana is its Squad Collaboration feature, which enables you to manage all of your work items and related conversations in one location.

Multiple integrations: Choosing Asana gives you access to a wide range of commonly used third-party applications that can help you streamline your workflows.
[Related Article: How To Build A Sales Pipeline To Seal More Deals Faster?]
What is monday?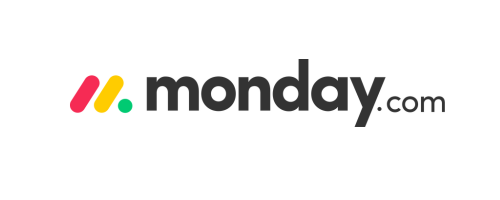 monday is a cloud-based application development program that offers enterprise solutions to professionals worldwide.
The software also includes a project management suite that enables users to integrate all project management steps in one location.
In a word, monday is a platform where teams can monitor tasks together, collaborate on every project step, evaluate progress using statistics, scheduling options, and performance options, and keep everything on a single platform.
Main benefits of monday
Here are the main advantages of using monday for your business:
Intuitive UI: Like Asana, monday.com has a pleasing and colorful user interface that is also easy to use.

Multiple assignees: In contrast to Asana, monday.com enables you to assign several team members to the same work item.

Collaboration across departments: In order to ensure smooth cross-departmental collaboration, monday.com provides a wide range of features, including the ability to track the overall progress of projects, manage work items, and use a CRM.

Third-party integrations: You can integrate monday.com with a variety of third-party programs to perform a range of tasks, including bug-tracking, CRM, and much more.
Asana vs monday: Review of the 9 key differences
Here are the main factors that help you choose the best tool for your company.
[Related Article: Trello vs monday CRM: Which Is Better for 2023]
Asana vs monday: Features
Asana offers a variety of views, including the calendar, Gantt chart, board, and many more. Asana is packed with tools, from traditional task management to team collaboration. Nevertheless, it lacks the agile capabilities necessary to implement Agile Frameworks other than the straightforward Kanban.
However, monday also provides an extensive selection of built-in views, like the Kanban Board, Workload, List, Calendar, and Timeline. In contrast to Asana, monday offers much more features than are necessary but lacks the agile capabilities to back it up. The functions usually vary according to price.
Asana vs. monday: Usability
Although Asana has a user interface that is simple to use and makes work enjoyable, the learning curve is steep due to the large number of features. On the other hand, monday has a user interface that is attractive, bright, and simple to use, but it has a learning curve similar to Asana.
However, compared to Asana, monday may be easier to use and have a lower learning curve for team members who are brand-new to task and project management software. This may be due to Asana's extensive customization capabilities and the variety of ways you can create a workflow at first.
Asana vs monday: Project Management
Asana includes a Portfolio Feature that works similarly to the standard project management tool but is designed for projects rather than specific tasks. You can use this feature to zoom out of your regular workspace to get a complete picture of your projects and make sure that you don't lose track of any of the Asana Projects you're working on.
A comparable tool called Groups is available on monday. You can easily select the group to which you want to add any new Pulses that you create. Groups aren't always tasks or projects. However, the open-ended framing of Pulses helps free up your time to make whatever you wish according to your business needs.
In order to manage your project portfolio, you can easily create a Group in which each Pulse represents a different project. This kind of portfolio management doesn't provide as much detail as Asana's portfolio function, but it is useful for reducing the risk of tunnel vision.
Asana vs monday: Task Management
Asana's task management features include creating tasks, assigning task objectives, such as deadlines, assigning tasks to team members, and tracking tasks using lists, boards, and timeline views. The "My task" tab on the home page allows you to view the tasks that need to be finished soon. You can click on any task to view all of its information and add documents for teamwork.
monday provides similar task management, but the tasks are called Pulses. You can create Pulses, assign them to team members, and create dependencies in the tasks. By looking at the task overview in your task manager, you can also monitor the progress of the work. The task statuses keep the team informed about the work's progress.
You can also manage weekly team tasks and daily to-do lists using the program. The team lead can create tasks and assign them to the team members. The team members can manage tasks easily because the action boards provide an overview of each task's status.
Asana vs monday: Workflow management
Asana enables you to keep all the important project data close at hand for quick access. You can keep track of all project data, including who is working on it, what tasks they have finished, and their deadlines, with its color-coding tools. There are many ways to see the project and manage your workflow, including lists, Gantt charts, calendars, and Kanban boards.
When it comes to views, monday is a strong competitor. Of all project management tools, it includes the most ways to view your project. In addition to all of Asana's views, you can also use many other ways like tables, timelines, and maps. Lists are used as the default view form. The platform makes it easy to switch between Pulses without a hassle.
[Related Aricle: 9 Best Accounting CRM Software for Bookkeepers and CPA Firms in 2023]
Asana vs monday: Security
The next criterion to compare Asana and monday is security. All companies that offer enterprise-based solutions are concerned about digital security. Nevertheless, Asana and monday have both taken measures to protect their customers with reliable security compliances.
Asana complies with ISO/IEC 27001:2013 and SOC 2. Businesses cannot use the program on their servers because the company doesn't give them that permission. To protect their clients, they have kept it cloud-based and have firewalls.
monday keeps the customer's data readily available by collaborating with Amazon Web Service (AWS). In addition, monday makes use of the Google Cloud Platform's security practices. Also, the business has complied with ISO 27001 and ISO 27018.
In other words, both platforms take the security of their users' data very seriously.
Asana vs. monday: Customer Support
You can find useful videos on both monday's and Asana's YouTube channels in terms of customer support and service. Also, you can find phone numbers, articles, documentation, and guides on each channel. The customer support team for both platforms is fairly professional because both providers are quick, responsive, and competent.
Although Asana doesn't immediately offer an email or phone number, you can get quick chat support whenever you need help around the clock. You can join the free daily webinars that monday offers to get a walkthrough of their software. Also, you can view their live advanced walkthroughs and on-demand tutorials.
Asana vs monday: Integrations
In terms of the variety of integrations, Asana offers one of the most extensive selections. With over 100 integrations, such as Slack, MailChimp, Dropbox, and GitHub, it easily beats every other project management software.
On the other hand, monday.com provides 40 integrations in addition to its own API. If you're a smaller business, this selection which includes programs like Slack, MailChimp, etc. - may be all you need. Nevertheless, you might also need to set up a data share using the API for medium- to large-sized organizations.
[Related Article: CRM Dashboard: How It Works & How to Create]
Asana vs monday: Pricing
Pricing is the main difference between Asana and monday. monday is more affordable than Asana. monday offers five different pricing options. Each tier has key features and limitations. Only two users, a few integrations, 500 MB of storage, and fewer dashboard views are available in the free basic plan.
| | | |
| --- | --- | --- |
| Pricing plans | Yearly | Monthly |
| Individual | €0 ( free forever up to 2 seats) | €0 ( free forever up to 2 seats) |
| Basic | €8 per seat, per month | €10 per seat, per month |
| Standard | €10 per seat, per month | €12 per seat, per month |
| Pro | €16 per seat, per month | €20 per seat, per month |
| Enterprise | contact the sales team | contact the sales team |
Asana has a four-tiered pricing structure and allows up to 15 users in its free tier. In other project management programs, you would need to pay for many of the functions that are available here. For instance, Asana has over 100 integrations, and you can collaborate with up to 15 team members. The free plan storage is unlimited, up to 100MB per file.
| | | |
| --- | --- | --- |
| Pricing plans | Yearly | Monthly |
| Basic | $0 ( free forever up to 15 users) | $0 ( free forever up to 15 users) |
| Premium | $10.99 per user, per month | $13.49 per user, per month |
| Business | $24.99 per user, per month | $30.49 per user, per month |
| Enterprise | contact the sales team | contact the sales team |
Summary Chart
Criteria

Asana

monday

Rating

4.5/5 ( 11,000+ reviews)

4.6/5 ( 3,000+ reviews)

Integrations

More than 100 integrations

More than 50 integrations

Pros and cons

Pros:

User-friendly UI

Flexibility and customizability

Multiple views

Workload snapshot

Team collaboration

Cons:

No single view for all tasks

No more than one assignee can work on a single task

The program is costly

Pros:

Intuitive UI

Multiple assignees

Collaboration across departments

Cons:

Task-related features need training

The free plan is useless if you're managing teams

Pricing

Four-tiered pricing structure. The Basic plan is free. Paid plans start at $10.99 per user per month, billed annually.

Five-tiered pricing structure. The Individual plan is free. Paid plans start at €8 per seat per month, billed annually.
Asana or monday: Which solution should you choose?
monday and Asana are the best choices for non-technical departments like sales, marketing, and so on.
Asana is a great option if you're looking for a communication and collaboration platform for your company with strong task-handling capabilities. Nevertheless, monday should be your choice if you're looking for project management software that is simple to use, pleasant to use, and visually appealing with solid task-handling functionalities.
In conclusion, it all comes down to personal preference and organizational requirements. We hope this review helped you choose which project management software is more suitable for your business.
[Related Article: 5 Signs it's Time to Upgrade or Reimplement Your Old CRM System]