The world is going digitized, and the value of data-driven decisions and processes, as well as personalization, makes business evolving. By now, each industry felt the pressure of growing demands to agile, high-quality service offering and the financial sector isn't an exception. As many businesses invested in the CRM systems and got the higher, more competitive positions, the financial organizations have no intention to fall by the wayside. However, the peculiarity of processes run by these companies are quite specific, so CRM for banking should facilitate the customer-facing, data management and create brand value and identity. First of all let`s to know
What is On-Premise CRM and Cloud CRM?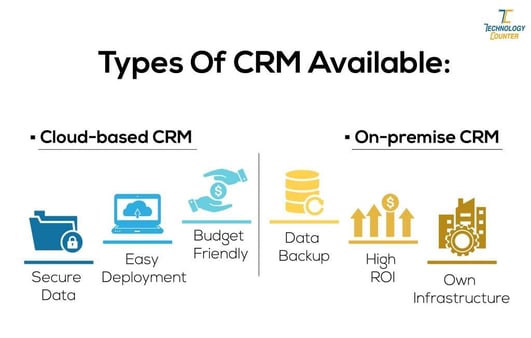 In the field of customer relationship management, you can choose between two modes: cloud and on premise CRM. Yes but still? It's very simple: either you opt for outsourced CRM software , or you prefer to choose on-premise CRM. To help you make your choice, we explain in more detail what each solution consists of.
On-Premise CRM
This concept consists in installing the software on a local server which can be physically stored in the company and potentially integrated into your business.
Cloud-based CRM
This type of software on the other hand is installed on a virtual server also called Cloud Computing . This hosting mode assumes that all your data is backed up on remote servers.
Cloud vs On-premise CRM
The key benefit of on-premise hosting is the ability to sync your tool with the rest of the software applications your company already has.
The classic case of this configuration is the presence of a CRM module in your business.
In this case, the data entered in the database is integrated with the rest of the modules (accounting, production, logistics); information flows smoothly and securely.
Exchanges of emails, phone calls, customer quotes. The visit reports described in a sheet, for example, represent sensitive information that involves several departments: sedentary sales representatives, the field sales force, order pickers, etc.
It is therefore important that it be visible to all these players.
Cloud solutions have become more and more important in recent years. Their success is due to the many advantages of this hosting system such as ease of use, availability of online documentary resources, automatic updating, etc.
Nevertheless, the performance of Cloud Computing depends a lot on the efficiency of the maintenance teams.
As the system and databases update automatically, you never intervene. All work is done by the vendor's support services or by your integrator. If one of the two does not have the ability to react, you can quickly find yourself blocked.
If we are talking about cloud vs on premise security, on-premise CRM software, everything depends on the physical security of the premises housing the CRM server; a fire or a burglary, or even a faulty electrical installation that could completely jeopardize the integrity of CRM data.
Added to this is the question of the security level of the on-premise CRM server, the level of maintenance, updates, etc.
For online CRM software , the cloud offers a higher basic level of security, since the CRM servers are hosted in secure data centers.
As for security technologies, CRM software offers secure communication through web browsers with 256-bit encryption.
Unfortunately, the majority of CRM hosts do not offer database encryption or stored document encryption. As for the backup policy: often backup copies are an option.
Advantages of On-Premise CRM
Internalizing your CRM software makes it very easy to integrate your customer relationship management application with the rest of your company's software. If you have accounting software, for example, you can very easily, in collaboration with your IT department, decide to interface the software applications so that they can communicate with each other. If your "business" in the IT sense of the term is relatively mature or complex, it is desirable to have as much control internally as possible on the application to personalize it and develop the most important functions for your activity.
Data confidentiality is also a big positive point regarding the internalization of CRM software: the databases will be hosted within your company and unless there is a security breach at your place, no one no one else will have control of your on-premise security of data, particularly important if your sector of activity is said to be "sensitive". All data is otherwise directly available and is not subject to the implementation of an external API whose query is limited or changes over time.
Advantages of Cloud CRM
The maintenance and implementation of software upgrades will be managed directly externally by the application publisher itself. You will therefore not have to worry about installing a new version or worrying about its compatibility since the installation, maintenance and evolutions are directly managed by the publisher without you generally having much to do. You will also not have to incur maintenance costs by directly paying a developer or an IT service provider to take care of it.
The possibility of increasing power is also a positive point to take into account when making your choice. The flexibility offered by this type of formula (in Saas mode therefore) allows a small business to take control of a simple version before making it more complex as the skills of the members of your sales team increase. This type of approach is also economically interesting for all businesses insofar as the price paid is generally based on the number of licenses purchased.
Now you see the difference between cloud CRM software and on premise CRM software and you can make the right choice of your CRM for banks.
Revealing the Value of CRM for Banking
Lots of companies stay competitive due to high levels of customer loyalty which their nurture by leveraging CRM for processes advancement, as well as exceeding clients' expectations. For financial organizations, this aspect won't work as it is nearly impossible to earn customer loyalty by running mortgage, loan, and other contractual processes. Moreover, people make use of services by more than one bank. Banking area faces challenges during the flourishing of fast-growing technologies and customers' requirements. To be more specific, these financial organizations have to deal with
strategy lock-up as long as from now on they don't merely do business with customers, they establish relationships with clients by handling their issues
expectations of targeted audience shifted and aimed for improved, personalized performance available round-the-clock
cumbersome back-office systems accomplish their tasks fairly. Thus they aren't integrated with each other, so the lack of data transparency within the company complicates the speed and quality of service
regulation and compliance matters demand due diligence in preserving customer records privacy and excluding any violations or side impacts
The adoption of CRM technology isn't a silver bullet, and there is no vendor that assures you that this initiative is a universal remedy for success. Apart from cost-saving and business agility, the implementation of CRM in banking system brings along the following 3 benefits:
Keeping track of evolving customer profiles for timely, relevant offers
Driving all the interactions for a single view of customer profile
Providing a proactive support and issue resolving
Coming up to a conclusion that CRM is effective for the financial sector, we face another challenging choice – on-demand vs on-premise system. What kind of CRM will meet the demands of banking area is full scale?
Cloud vs On-premise: Which One Suits Financial Sector?
The crush of SaaS and on-premise CRM takes up the characteristics of the eternal debate. Obviously, on-premise systems appeared first and have more credibility in data security aspects than cloud solutions. However, this consumption is dubious and has no basis as long as modern SaaS providers offer high-level encryption for keeping your data safe. To avoid holding empty talks, let's look at advantages and shortcoming of on-premise and cloud CRM systems.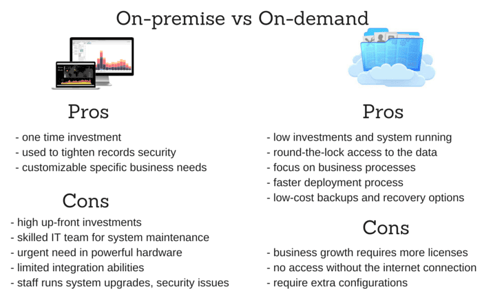 As you can see, the cloud CRM provides more elasticity and flexibility than the on-premise one. Besides, the financial sector benefits from cost reduction and pay-per-usage policy. The deployment of the SaaS is almost automatic and doesn't require constant upgrades for extra fees as long as CRM vendors handle this process by themselves. Additionally, you don't need a highly professional IT team for a system running. So far the cloud CRM appears as a valuable and practical choice for banking.
Fixing Review of Cloud Models
The issue of data security bothers every business owner who considers cloud CRM implementation. Yet, you should have the notion that every CRM vendor has a vested interest in the security of your data. Besides, there are several different models of on-demand solutions. To succeed with the cloud CRM, financial organizations should choose the very model that will comply with business strategy and objectives.
Fix 1: Service Models
There are 4 types of service models:
BPaaS (Business Process-as-a-Service) combines all the service models abilities and, usually, used in billing, payroll or human resources.
SaaS (Software-as-a-Service) is a cloud provider that stores business software and data. It can be accessed via web browsers. This type deals with accounting, customer relationship management, enterprise resource planning, content management, invoicing and support service desk.
PaaS (Platform-as-a-Service) is a complete platform for various applications, interface, database storage, and development. It supplies development and maintenance of custom applications, reduces IT costs and needs inexpensive hardware.
IaaS (Infrastructure-as-a-Service) enables businesses to buy a fully outsourced service instead of buying software, data space or network equipment.
Fix 2: Deployment Types
Cloud deployment has 3 models:
Private cloud is operated only by a specific company. This solution can be managed by the company IT team, or by the third-party, as well as it may be deployed in on and off premise. It is the most secure of the cloud options.
Public cloud offers an infrastructure for general public or industry group. The owner of this cloud is the organization that provides these services.
Hybrid cloud is an infrastructure that consists of two or more clouds (private or cloud) that remain the unique options. The entities offered are linked for providing services.
Fix 3: Operating Models
In the choice of the cloud solution, you should take into account the operating model you are going to run. There exist at least 3 versions of cloud operating types.
Augmentation of employees. Financial organizations hire people with the required expertise from the service vendors. You can also hire additional outsource staff from the offshore. So you can work with the people with the right expertise.
Virtual captives provide a team or extra resources that help to deal with the cloud operations. This option is an alternative to a completely outsource model.
Outsourcing vendors use the offshore facilities and third-party staff to accomplish the cloud operations. This approach combines investments and resources for managing multiple banks.
Drawing Up A Line
The implementation of cloud CRM for banking industry delivers flexibility and agility of organization growth. With CRM, you will be able to define ROI, drive your resources into process performance instead of hardware and IT team investments, as well as reduce the costs of licenses and comply with the demands to data confidentiality.
Subscribe to FMC Newsletter
No spam and promotion, just insightful information