What Capsule CRM?
Capsule CRM is a simple and highly customizable contact management system that gives you the power to connect with your customers. Capsule CRM is an online customer management software that can be accessed from any device. It allows you to create a database of customers, manage their information, and keep track of all interactions related to them. This software has been designed to help you better manage your customer relationships to increase customer retention rates and ultimately increase the number of sales.
There are different types of CRM platforms that can help your business keep connected with its customers. Here are 10 Capsule alternatives:
Pipedrive
Pipedrive is a sales management software that helps companies track and close deals. It helps small business owners be more productive with their time by keeping track of their prospects, pipeline, and deals.
Their features are:
It has a modern design that is clean and responsive
It's very customizable, with many integrations and plugins to choose from
You can access it from the web as well as mobile devices
You'll receive notifications about important updates or when someone visits your company profile
Pipedrive is an efficient tool for small and mid-size businesses that want to improve their sales process.
Sugar CRM
SugarCRM is one of the Capsule alternatives and software that has been specifically designed to help small businesses manage their customer relationships.
The main features of Sugar are:
Relationship Management
Campaign Automation
Email Marketing
One of the best features of Sugar CRM is its flexibility. It can be used by small businesses or large enterprises for different needs.
Apptivo
Apptivo is a CRM software that organizations use to help them grow their business. It lets you manage everything from sales, marketing, and operations in one platform. It has features like lead management, opportunity management, contact management, campaign management, and much more.
The main features of Apptivo are:
CRM (Customer Relationship Management)
Marketing Automation
Employee Engagement
Leads Management
This app has everything you need for your sales team on your phone and makes life so much easier for everyone involved in the process.
PipelineDeals

PipelineDeals is a content marketing company that uses AI to generate all of the content for its clients. As a result, they help businesses leverage their existing resources more effectively while also achieving new levels of productivity.
Some of the features that PipelineDeals offers include:
Email Marketing:
Lead Nurturing:
Auto Responders:
This software can also be customized so you can have your own data fields and templates.
Nimble
Nimble is a startup in the field of AI-assisted content marketing. They generate thousands of articles, blog posts and social media posts for their clients.
Below are some of Nimble's main features:
Content Management System
Add Variety of Content Types
Nimble will help you generate more revenue by making it easier for you to track high potential leads and close more sales.
Less Annoying CRM

Less Annoying CRM is a customer relationship management tool that was created by an ex-Apple engineer. Less Annoying CRM is an app that helps you manage your customer relationships more efficiently. The creator came up with the idea for the app after watching a man talk on his cell phone in a movie theater. He found that the moviegoer to be very annoying and decided to come up with an app for people who felt the same way about cell phone usage in public places.
Some of its main features include:
Sending personalized emails with the use of artificial intelligence;
Creating personalized customer journeys with the help of AI;
Create different types of lists for your customers, such as "Awaiting Response" or "Old."
With Less Annoying CRM, employees can spend more time on what they are best at – customer service.
Podio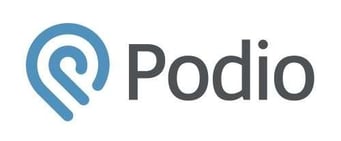 Podio is a company that provides online project management software and one of the Capsule alternatives. It is an online platform where you can create projects and assign tasks to the people who are contributing to them. You can also communicate with your team, share files and briefs, and monitor what's going on in your projects at all times.
The main features of Podio include:
Tasks: Tasks are used to identify the steps that need to be completed in a project. These tasks are then assigned to the appropriate team member for completion.
Files: Files are used in project management to store and share files with your team members. This is helpful for collaborating on projects and storing files without having to send large attachments through email or other messaging platforms.
Chat: Chat is a way for team members on Podio to communicate with each other quickly and easily while they work on their tasks or projects together.
Podio is a more robust platform that integrates with projects and programs. It also integrates with other business tools like Slack, Dropbox, Google Drive, and Twilio. These integrations make Podio the preferred choice of many organizations for their CRM needs.
Zendesk
Zendesk is another Capsule alternatives and a customer service software company that provides tools and services to make customer service as efficient and effective as possible.
Zendesk has been around for long enough to see the rise of new channels like social media, mobile apps, chatbots, and more. Zendesk's product suite is constantly evolving in response to these changes.
Some of the main features include:
Empowering businesses to deliver exceptional customer service across every contact point, through self-service options and by engaging with agents.
Helping companies to improve customer satisfaction by delivering proactive assistance with bots, live chat, and personalized case management.
Providing an open platform that integrates with many other business applications for seamless workflows across the entire customer journey.
Offering agent performance insights to allow better staffing choices in the future.
Zendesk is better than capsule CRM because it has many features that offer help for small businesses.
Creatio
Creatio is a CRM software that helps businesses communicate with their customers. It is not only effective but also affordable. Creatio provides businesses with a variety of features to help them improve customer service and sales.
A few main features:
Creatio CRM has a built-in business intelligence tool that provides you with the insights about your company's performance.
You can create various pipelines using the drag and drop feature to keep your team organized.
The product has a gallery of ready-made templates to simplify the content creation process for you.
You can easily collaborate with other members of your team and share resources inside Creatio CRM using its centralized storage feature.
Freshdesk

Freshdesk is a customer service software that provides an integrated customer support solution. It's been designed to handle various communication channels, such as email, phone calls, social media, chats and forums.
Freshdesk features a wide range of functionality, including:
Email management for both customers and agents
Live chat
Phone support
Ticketing system
Social media management
Time tracking
The best part about Freskdask is that it has free customer service available 24/7 for those times when you are stuck on something or have a question about how something works.
So, there were 10 Capsule alternatives. We hope, the article was helpful and you can choose a better CRM for your business. You can try Free CRM Finder Tool to get a shortlist of CRMs.