Customer relationship management (CRM) software solutions HubSpot and Zoho CRM are also available. These systems are intended to assist companies in keeping track of their relationships, managing leads, and identifying opportunities to turn leads into sales. It gives you a comprehensive view of all your contacts, including notes, important dates, phone numbers, and email addresses.
HubSpot and Zoho CRM have narrowed the feature gap in recent years, and the two products are now quite similar. Small businesses will benefit from Hubspot, while larger businesses will benefit from Zoho CRM, which has more customization options.
HubSpot CRM vs. Zoho CRM: Overview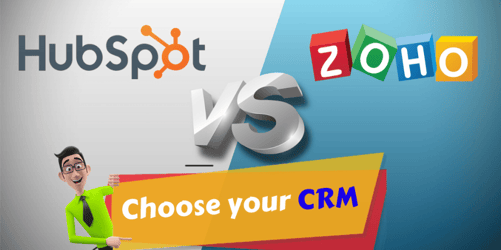 HubSpot CRM is a free CRM service provided by HubSpot, a sales and marketing software as a service (SaaS) firm. In addition to being free, HubSpot promotes its CRM as a simple way to improve lead conversion and track sales opportunities. HubSpot CRM's value proposition also includes quick deployment, and many users believe that the app offers a positive user experience (UX).
Zoho CRM is a customer relationship management (CRM) solution created by Zoho, a business software company that creates software for anything from sales and marketing to human resources and finance. One of the key selling points of Zoho's CRM is its automated workflows and the ability to customize them. Since Zoho CRM is all about working smarter, not harder, it also includes an AI-powered sales assistant named Zoho Sales Assistant. Since Zoho CRM is all about working smarter, not harder, it also includes Zia, an AI-powered sales assistant that responds to voice commands in the same way that Apple's Siri or Amazon's Alexa do.
HubSpot CRM vs. Zoho CRM: Who Are They Best For?
In several ways, HubSpot and Zoho are very similar websites. They cater to similar types of businesses and offer free versions with the ability to upgrade to premium levels with more features.
HubSpot CRM is designed for companies of all sizes, but it's especially useful for small businesses and sole proprietorships looking for something that's either free or simple to set up, or both.
HubSpot has a lot of functionality, so the higher-tiered paying models are more appealing to larger businesses.
HubSpot focuses on both sales and marketing, so companies who need to properly integrate the two will benefit greatly from this software. It also does a good job of providing metrics to businesses looking for information from their data.
Who is Zoho CRM best for?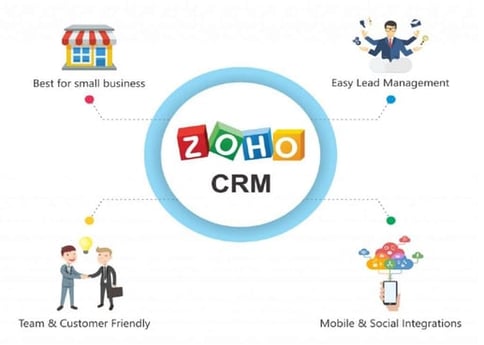 Zoho CRM is a web-based CRM application that is suitable for small and medium-sized companies. It isn't overly technical and has an easy-to-use interface while also providing a robust set of features.
So, if you're looking for a simple and low-cost platform, this is a good option to think about.
Zoho, like HubSpot, has a variety of features that enable your company to expand. For businesses on a budget who just need an easy, free CRM, Zoho also has a free option.
HubSpot CRM vs. Zoho CRM: Ease of use
Both options in this category are solid in our opinion, which is critical because you don't want your sales team to struggle right away with a difficult-to-use platform.
HubSpot CRM Ease of Use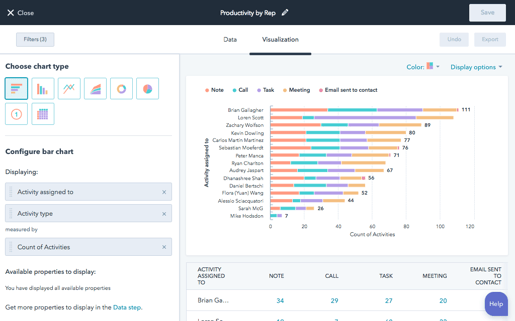 HubSpot impressed us with its ease of use, particularly its well-designed and intuitive dashboards, which show you everything you need to know as soon as you sign in.
HubSpot has a large number of features, which may be a challenge for certain platforms in the ease-of-use area, but HubSpot's software has been developed to avoid this being an issue.
You can monitor the leads as they progress through the funnel, ensuring that the sales team is never caught by surprise when determining where a potential customer stands.
Zoho CRM Ease of Use
Zoho gets high marks for its streamlined interface and social media integration, but we discovered that it needs a lot of customization during setup. The interface, on the other hand, is intuitive, and you'll have no trouble using it as soon as the setup is complete.
We really like how the app interacts with social media in such a way that the sales team doesn't get dragged down in the details.
HubSpot CRM vs. Zoho CRM : Pricing
HubSpot and Zoho costs both come in fairly low, although they use fairly different pricing models.
HubSpot CRM Pricing
HubSpot offers a free version and breaks down its paid versions according to different hubs based on your needs:
Free trial – yes [Try Free Trial]
Marketing Hub – $50-$3,200 per month
Sales Hub – $50-$1,200 per month
Service Hub – $50-$1,200 per month
HubSpot CMS – $300 per month
Zoho CRM Pricing
For those who want more than the Zoho CRM free edition, their pricing includes the following options:
Free trial – yes [Try Free Trial]
Standard- $12 per user per month billed annually
Professional – $22 per user per month billed annually
Enterprise – $35 per user per month billed annually
Ultimate – $45 per user per month billed annually
HubSpot CRM vs. Zoho CRM : Integration with other software
Integration with resources like G Suite, Outlook, and Mailchimp is important while using a CRM, and these two options don't disappoint.
HubSpot CRM Integrations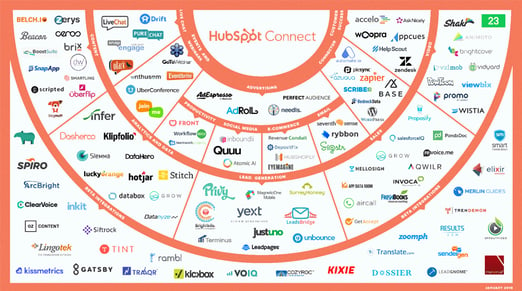 The "HubSpot App Ecosystem," a huge directory of 200-plus third-party integrations that they connect to every month, was one of our favorites.
You'll find many of the common apps you're almost certainly already using, including WordPress, Mailchimp, and G Suite, as well as a slew of others you've never heard of but may find useful.
Zoho CRM Integrations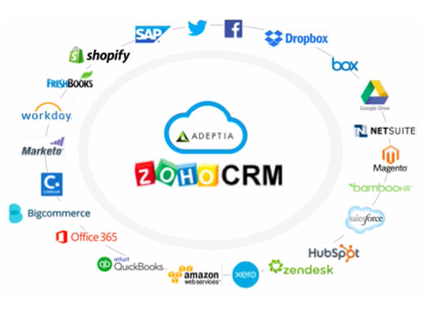 Zoho integrates with big names like Google, Quickbooks, and Microsoft Outlook, as well as Zoho's other platforms, which is particularly useful if you're a consumer who uses any of their other apps.
It also integrates well with social media, which is essential if you're a company that does a lot of marketing on Facebook and Twitter and wants to try something new.
Implementation
When deciding between HubSpot and Zoho CRM, one of the most important factors to consider is implementation time. This is the time it takes to switch from your old CRM to a new one, from beginning to end. Companies migrating from an old CRM to a new one should anticipate a longer implementation time than those who have never used a CRM before.
To introduce a new CRM on time and on budget, thorough planning is needed. Preparing to move to a new CRM system can take far longer than the actual migration process, regardless of which CRM solution you select. This depends on a variety of factors, including the amount of records you need to pass and the size of your sales staff, as well as whether you're using the CRM as is.
It should come as no surprise, then, that HubSpot CRM implementation time is substantially shorter than Zoho CRM implementation time. You should expect HubSpot CRM to take anything between one day to a couple of weeks to introduce, depending on how many records you have and if you want HubSpot's free tier or one of HubSpot's paying tiers. In most cases, Zoho CRM takes 30 days or more.
You may choose Trujay CRM data migration service and try out custom migration. These guys will make the process easy, fast and affordable for your business requirements.
Customer support
When you're using new software, particularly one that comes with hefty licensing fees, you'll rest easier knowing that you've got an excellent and attentive customer service team on your side. Zoho has a team like this, and it also gives you more ways to get in touch with them. You can meet the Zoho team by calling.
There's also a knowledge base, free ebooks, guides, and how-to videos, as well as an active online community dedicated to all things Zoho. The Zoho help ticketing online system is also available to users with professional plans. For its free package, Hubspot marketing, on the other hand, offers customer service as well as an active online community.
Software Integrations
You can forget about integrating your CRM with many other businesses and social media channels for lead generation if you use Zoho's free plan. Zoho's free plan only allows you to connect to Facebook and Gmail.
Gmail, Microsoft Office 365, and Outlook, as well as G Suite, are all integrated into Hubspot's free plan. It can manage Instagram and Facebook as well as other social media sites.
Reports and Analytics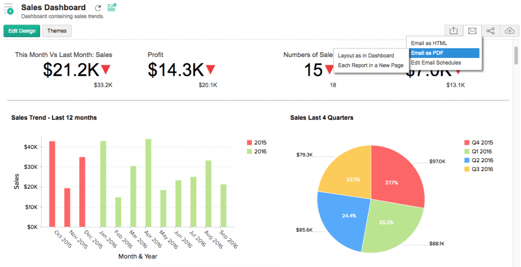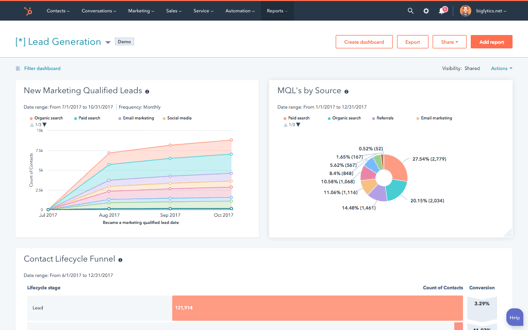 The reporting, analytics, and dashboards that a CRM framework provides, as opposed to spreadsheets, are major advantages. Normal reports and dashboards are used in both Zoho and HubSpot. When it comes to personalized reports and dashboards, HubSpot has certain limitations. HubSpot allows for a small number of custom reporting and dashboards, while Zoho allows for an unlimited number.
Which CRM is Best for You?
Finding the right CRM for your business can feel like a long, drawn-out process. Let us make it easy for you.
Do you still have doubts about what CRM to choose? Read detailed reviews of HubSpot and Zoho CRM or answer the questions in our quizzes.
Put it another way, contact us and our FindMyCRM team will provide you with a no-obligation shortlist of the best CRM solutions for your unique requirements. Starting is simple and takes less than five minutes.
Subscribe to FMC Newsletter
No spam and promotion, just insightful information