Which CRM is better, HubSpot vs. Salesforce? It's the showdown you've been waiting for!
Out of the hundreds of CRMs on the market, Salesforce and HubSpot consistently rank among the top ten. Both systems provide a robust solution for your sales, marketing, and customer service teams. Both platforms focus on building the excellent customer experiences that set your company apart.
But both Salesforce and HubSpot have certain weaknesses (and strengths) regarding their ease of use, price, reporting features, customer support, and integrations. Let's drill down into these factors to see how each platform stacks up.
[Related Article: Microsoft Dynamics vs Salesforce: What's The Difference?]
Overview: HubSpot vs. Salesforce
HubSpot is a cloud-based customer relationship management (CRM) platform that offers contact management, support, marketing, multi-channel communication, and content management tools. The company strives to help businesses scale quickly without sacrificing the quality of their client relationships.
It offers organizations a single source of information, helping them grow customer relationships and provide a best-in-class experience. HubSpot was built in-house on one code base, which means you get a unified experience that's easier for your team to adopt and use.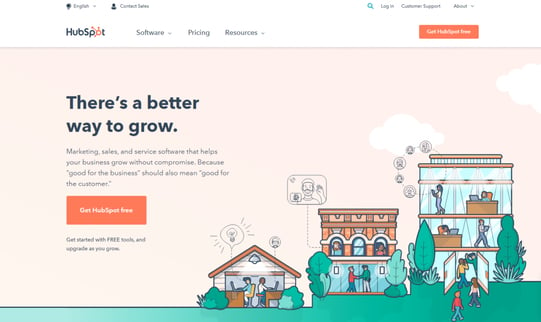 Salesforce is a cloud-based customer relationship management (CRM) platform for sales, support, marketing, and other "clouds." They aim to help companies connect in a meaningful way with customers.
Salesforce is notable for its extensive features and customization options. It is also the most innovative CRM in the industry. For example, they are the only CRM with AI built into every component of the platform.
Due to its expansive features and continuous innovation, Salesforce may present a steeper learning curve and require more time and resources to manage.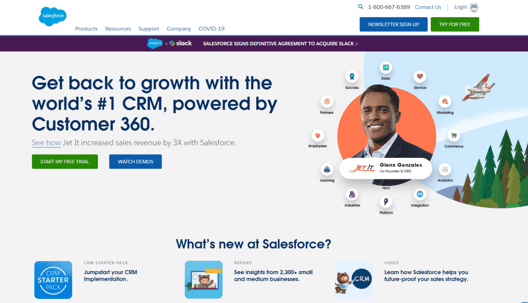 HubSpot vs. Salesforce: Who Are They Best For?
Both Salesforce and HubSpot are aimed at businesses of all sizes and have a similar framework whereby you subscribe to different modules for sales, marketing, service, and so on. They also offer a robust selection of integrations. This gives you the ability to build out the function you need. Either CRM could function as a sales CRM, or you could create a comprehensive CRM through add-ons.
However, their target market differs in a few key ways, which we'll explore below.
Who is HubSpot CRM for?
HubSpot CRM offers a quick setup and a free basic CRM making it a perfect choice for small businesses and sole proprietorships. It can also accommodate larger companies if you invest in the professional hubs:
● Sales Hub
● Marketing Hub
● Content Management Hub
● Service Hub
Adding on the professional hubs opens up the full functionality of the platform. However, the full suite may be too expensive and too big a tool for smaller organizations.
HubSpot is also ideal for customer-centric companies. They pioneered the 'inbound' approach, whereby you create mutually beneficial relationships with clients and create value at every stage of the buyer's journey. If you're looking to create great customer experiences, HubSpot is an excellent place to start.
Who Is Salesforce CRM Best For?
Salesforce targets businesses of every size. However, the cost, length of training and implementation, and sheer size of the tool make it a better match for larger organizations. It's perfect for businesses that want to build a CRM around their unique business process. The customization options are comparable to a custom-built legacy system. Though it's a lengthy setup for cloud-based software, it's certainly quicker than deploying an onsite solution.
Salesforce offers a vast array of subscriptions. On the Salesforce site, you can search by need or industry to narrow down your choices. What a hub is to HubSpot, a cloud is to Salesforce. Some of the most popular clouds are:
● Marketing Cloud
● Sales Cloud
● Commerce Cloud
● Service Cloud
● Healthcare Cloud
● Retail Cloud
They also offer a subscription tier for small businesses, beginning at US$ 25/user/month for an annual contract.
Bottom Line
The more complex your organization, and the more time you can devote to training, the better Salesforce performs. HubSpot is the better choice for many small to medium-sized companies due to its free CRM and easy setup.
HubSpot vs. Salesforce: Ease of Use
"How do I use this?"
Those are the last words you want to hear after deploying a new CRM. Every business prefers an intuitive tool over weeks of training. The ideal software platform is designed with the user experience in mind. A CRM should have user-friendly components, such as clear icons, efficiently placed buttons and tabs, and tools that minimize the number of steps needed to execute an action.
Let's examine whether Salesforce or Hubspot provides the ultimate in ease of use.
HubSpot Ease of Use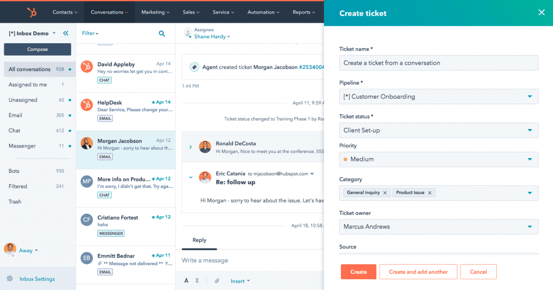 Unlike Salesforce, HubSpot makes it easy to get started. Both the app and dashboards offer well-designed, beautiful interfaces. The tool is intuitive to use without a lot of setup. It's easy to understand how the different components work without in-depth training. However, if you do get stuck, HubSpot has plenty of self-help resources available throughout the platform.
It's easy to understand-and easy to use. Most of your content creation, like landing pages, pop-ups, CTAs, forms, and emails, can be built using drag-and-drop tools. Your sales team can also drag and drop their way to custom pipelines, customized deal stages, and deal records.
Typically, friction in the tool comes later. There's a ceiling on what you can do within the free CRM or a stand-alone subscription to only one of the professional hubs. As you grow, the system will box you in with limited functionality, contacts, and email sends. This is true of virtually any CRM—you have to pay more to get more. In particular, HubSpot works much better when you subscribe to all four professional hubs, and that can get very expensive.
Salesforce Ease of Use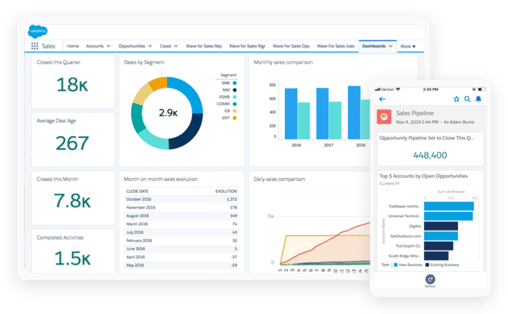 Salesforce is an elegantly designed platform that uses the best practices in UI. So, why does it have a reputation for being hard to use? Salesforce is filled to the brim with options and features. At first glance, it can feel complicated and busy because it's packed with functionality that may not be suitable for your business.
But, there's an easy fix-customization. Salesforce is meant to be configured for each unique business, department, and user. The vast array of choices ensures everyone finds something. Don't need some of the tools and features? Hide them from view to build a personalized experience for every user.
The multiple levels of functionality ensure that Salesforce can grow with you. There's a wealth of options, improvements, and modifications you can make to boost the platform's performance and efficiency. You may not need all the bells and whistles today, but they are on standby for when you scale.
If you are confused about how to use Salesforce, it's usually nothing a little time, training, and configuration can't fix. Investing the initial time during setup will make for a smooth, user-friendly tool. Some businesses prefer to outsource configuration to a Salesforce development team.
Training will help your staff make full use of this vast and powerful tool. Another tip is to subscribe to Salesforce's Essential tier first. Once you master the basics, you can upgrade to a more advanced package.
Bottom Line on Ease of Use
When you compare Hubspot and Salesforce, it is HubSpot that's easier to pick up and learn. However, Salesforce has more features and customization options.
HubSpot vs. Salesforce: Pricing
HubSpot and Salesforce both offer a host of subscription options and a complex pricing structure. We'll describe the cost of each platform in broad strokes.
HubSpot Pricing: The Real Cost of Free
HubSpot's CRM is free for unlimited users, and this freemium model can work well for small organizations. However, as you scale, the lack of functionality becomes frustrating. You can purchase more functionality a la carte by subscribing to the professional tiers. But the add-ons can add up quickly. Furthermore, you really need all four hubs to see experience the true CRM powerhouse HubSpot can be.
There are several features that Salesforce includes in its basic plan that you'll have to purchase separately in HubSpot. To put a number on it, you'll pay US$ 450/month for custom reporting and US$ 1200/month for sales features, like predictive lead scoring and custom objects.
However, unlike most CRMs, HubSpot allows you to keep a mix of free and paid seats. Team members who need business visibility, such as reporting, but do not need any of the day-to-day features of sales tools, can remain on the free plan.
Subscription Prices – HubSpot
Premium editions, or hubs, start at $50/month
Free trial – yes [Try Free Trial]
Free CRM
Marketing Hub – $50-$3,200 per month
Sales Hub – $50-$1,200 per month
Service Hub – $50-$1,200 per month
HubSpot CMS – $300 per month
Salesforce Pricing
Salesforce does not offer a free version of its software. Every user pays a monthly subscription fee (billed annually). Users subscribe to the tier that meets their requirements for functionality, customization options, number of contacts, and support level.
The premium subscription level-Unlimited-is significantly cheaper than HubSpot's upper tiers. However, Salesforce doesn't provide free seats for staff that only need visibility into company data.
Remember, the cost of Salesforce CRM goes beyond the subscription itself. You will need to consider the time and cost of training. If you need outside specialists to configure the system, this too will add to your price tag.
Subscription Prices – Salesforce
Free trial – yes [Try Free Trial]
Salesforce Essentials – $25 per user per month, billed annually
Professional – $75 per user per month, billed annually
Enterprise – $150 per user per month, billed annually
Unlimited – $300 per user per month, billed annually
Bottom Line on Price
HubSpot is an excellent choice for small businesses that need basic CRM features. Salesforce may be a better value for companies that need advanced functionality.
HubSpot vs. Salesforce: Reporting and Analytics
Analytics and reporting are essential for businesses of every size. With the help of CRM metrics, you can see if you're on track to achieving your vision. Here's what Hubspot and Salesforce have to offer in the way of dashboards, analytics, and reporting.
HubSpot Reporting and Analytics
Free HubSpot CRM: Unpaid users have access to standard dashboards for lead, company, and task reporting. Since the CRM's data storage capacity is restricted, the analytics are also limited. You'll need to upgrade to either the marketing or sales hubs to get the full range of analytics and monitoring tools.
Paid HubSpot Users: For customized dashboards and reporting, you must subscribe to the Professional tier. In the Marketing Hub, that represents a US$ 840 jump per month! Users can try to bypass the steep increase by integrating with a third-party reporting tool instead.
It's also worth noting that even at the Enterprise level (US$ 3200/user/month), you still have fewer dashboards, views, and variables available in HubSpot vs. Salesforce. For instance, for all but the Enterprise tier, data visualization is limited to standard bar graphs, line graphs, and numerical counters. And no matter your subscription, your dashboard maximum is 300.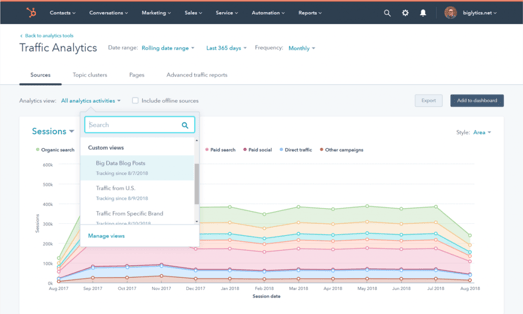 Salesforce Reporting and Analytics
Salesforce has easy report creators that allow you to drag and drop the data you need into funnels, pie charts, odometers, graphs, and more. These dashboards can be effortlessly converted into reports. You also get customized reports at the lowest subscription tier (US$ 25/month).
Salesforce also offers built-in analytics through every component of the platform via its AI assistant, Einstein. Einstein continuously runs in the background, analyzing company information and providing data-driven insights.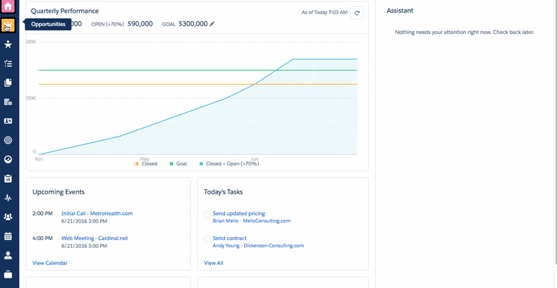 Bottom Line on Reporting
Between HubSpot and Salesforce, the latter has the definitive edge on reporting. Salesforce offers more powerful analytics for less cost.
HubSpot vs. Salesforce: Support and Training
HubSpot Support
HubSpot's wealth of free content tools, from its blog to its knowledge base, are available to everyone. HubSpot Academy, a vast library of video courses, can help you develop your business knowledge for FREE.
Paying subscribers receive 24/7 support through chat and email. At the Professional and Enterprise level, you also receive on-demand phone support. HubSpot's customer service department is among the most responsive in the CRM industry.
Salesforce Support
Any Salesforce plan comes with a Standard support package, which provides a two-day answer time to your requests. You'll need to upgrade to their Premier plan for critical response times. The Premium plan includes 24-hour phone support, a dedicated success manager, and a guaranteed one-hour response for urgent issues.
HubSpot and Salesforce both provide active online user communities and have certifications, training, and live events to help users develop their skills and expertise.
Bottom Line on Customer Support
Salesforce and Hubspot both provide powerful support and training.
HubSpot vs. Salesforce: Integrations
Most companies use various software and resources, leading to scattered data and lost efficiency if the tools aren't well-integrated. This is one of the primary functions of a CRM–taking all your disparate data and putting it under one roof.
Fortunately, Salesforce and HubSpot both offer a wide variety of integrations. You can turn your many data streams into a single source of truth. And conveniently for users, access all your tools from a single login and browser.
HubSpot Integrations
HubSpot's app marketplace has over 500 popular integrations that are simple to set up. They include everything from content (WordPress, SnapApp) to email (Mailchimp, Outlook) to productivity tools (Slack, G Suite) and more. HubSpot collaborates with virtually every large and small technology organization in every area involving sales and marketing. Browse the integration ecosystem to see if they include your favorite tools before purchase.
Salesforce Integrations
Five hundred integrations are impressive. But it pales in comparison to Salesforce's 3,400+ applications and integrations. These integrations work in tandem with the Salesforce platform to ensure data moves seamlessly between tools.
For the few tools, Salesforce doesn't integrate with natively, you can use PieSync. You could even integrate HubSpot and Salesforce–the best of both worlds, perhaps!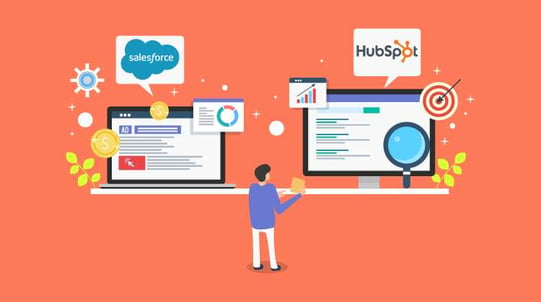 Battle of the Brands: HubSpot vs. Salesforce
Salesforce and HubSpot are both outstanding CRM solutions, but their strengths and advantages are remarkably different. It's critical to consider how the features and layout work with the company's expectations and budget.
After all, there is no right or wrong solution when it comes to the HubSpot vs. Salesforce comparison. There is no such thing as the best CRM; instead, it is a matter of determining which CRM is best for your business. You can get a feel for HubSpot and Salesforce by test-driving the software.
While this article details the pros and cons of HubSpot vs. Salesforce, there are hundreds of other CRMs on the market which may be a better fit for your company. If you aren't sold on Salesforce or HubSpot, try our free CRM finder tool.
Not sure what you need?
Use our free guides and tools. Just fill in the forms with your requirements and get a full report and list of CRMs that could be a great fit for your business.