CRM software is the most advanced tool to improve customer experience and move your business to a profitable bottom line. However, sometimes users feel that their CRM a bit like a clunker, so that's when you might start thinking about a better, more suitable option. Data transfer is very common and often necessary. Let's take a look at what it means to migrate your data from Pipedrive to Salesforce and the important steps that go along with it.
---
| | | |
| --- | --- | --- |
| Characteristics | visit the website | |
| Year Founded | 2010 | 1999 |
| Number of Customers | 100,000+ | 150,000+ |
| Number of Employees | 800+ | 50,000+ |
| Modules and Features | Sales management, marketing automation, contact management, analytics, integrations, etc. | Sales management, marketing, customer support, contact management, analytics, workflow automation, integrations, etc. |
| Price (Starting Plans) | From $12.50/user/month | From $25/user/month |
| Cloud Solution | Yes | Yes |
| Mobile Application | Yes | Yes |
| Popularity | Popular among small and medium-sized enterprises | Popular among large enterprises |
| Integrations | 200+ | 1,000+ |
| Interface Languages | 16 | 25 |
---
Let's consider the most common reasons for Pipedrive to Salesforce migration:
Your current software has an outdated interface
It's hard to navigate the platform and access the data you need
You are spending too much money on the features you don't use and are mostly paying for the brand
The system is not built to suit your company and its unique nuances
The competition is moving on regardless of your industry
Thus, some CRM platforms in today's market are mind-numbing but give the opportunity for a better solution.
Pipedrive vs. Salesforce: key indicators for the best choice
Launched in 2010, Pipedrive is a sales pipeline management platform for small businesses. It is known for its simple interface yet powerful tools. The software allows you to see all the sales processes and ensures essential deals are not dropped.
The platform allows users to link files, notes, deals, and tasks to accounts and contacts. You can easily manage your working processes as well as close deals in less time.
Pipedrive offers a free trial for 14 days and flexible paid plans with no contracts, no setup or hidden fees.
Silver – $15.00/month/user ($12.50 if billed annually) – 2GB storage/user – sales management, API access.
Gold – $29.00/month/user ($24.20 if billed annually) – 5GB storage/user – full sales management, chat & email support, API, open & click tracking, Smart Contact Data.
Platinum – $59.00/month/user ($49.17 if billed annually) – 100GB storage/user – full sales management, chat & email support, API, advanced integration possibilities, hosting, security.
An alternative CRM that is perfect for small to mid-sized businesses is Salesforce. The beauty of this software is its customization and 360-view of customer data. You can easily track your competitors, and management opportunities, and even forecast growth or decline.
Salesforce offers paid plans and a free 14-day trial. Billed annually or per month per user.
SalesforceIQ CRM Starter – $ 25 user/month/billed annually – Basic sales & marketing for up to 5 users
Lightning Professional – $ 75 user/month/billed annually – Complete CRM for any size team
Lightning Enterprise – $ 150 user/month/billed annually – Customize CRM for your entire business
Lightning Unlimited – $ 300 /user/month/billed annually – Extend CRM to accelerate performance.
[Related Article: Salesforce Alternatives]



Learn more about Salesforce's real cost to align your budget.

An advantage of Salesforce over Pipedrive is its vast variety of features. It has separate systems for analytics, service, a community cloud, and has a great app exchange store, filled with useful apps. Its biggest disadvantage is its pricing model.

Nevertheless, companies that are quickly evolving prefer Salesforce because of its advanced options and automation.

So, to migrate from Pipedrive to Salesforce, you should make some prearrangements to exclude any unpleasant consequences during and after the switch.
Pre-migration hints
Consider the following actions before data transferring:
1) Make an analysis of your existing and new CRM
You should compare the possibilities of the current and future systems to be sure the platform satisfies your needs. No matter how advanced a CRM system is, it will not do wonders on its own. CRM functionality should meet the needs of the company. That is why the bulk of the work in the CRM implementation process is a thorough audit of your business. Analyze each stage of interaction with the client: each source of leads, stages of the transaction, communication with the client. It is important to take into account not only the process of interaction with the client, but also internal discipline: how tasks are assigned, the speed of processing leads, etc.

Next, you need to create a detailed sales funnel and write down business processes. At this stage, it is worth considering which of the processes can be automated.
In addition, almost every CRM solution includes a trial option so that you can test the automation abilities, customization, and integration opportunities.
In our case, you should try a demo version of Salesforce and see the primary tools to figure out its functioning.
2) Announce the information about a change to employees
Don't forget about the impact of the CRM change on your workers and different departments. Achieving the goals set for Pipedrive to Salesforce migration will only be possible if all participants in the process understand the benefits and know how to properly use the resources provided. Why? Because the first stage of accepting all change is denial. It is necessary to convey to each employee the benefits and goals of migrating to Salesforce. Tell that you can get rid of problem areas (repetitions in the databases, lost contacts in the mail, routine letters). Designate an implementation manager to ensure that every employee starts using CRM.
Moreover, you should hold different meetings on the individual and company level about expectations and challenges employees might when adapting to the platform.
Also, remember to provide some training, tutorials, or instructions on the implementation and configuration of the system.
3) Organize your data before performing the migration
It's recommended to arrange all the records and eliminate any redundant data. Pay attention to the main defects that reflect inconsistency and inaccuracy. Also, a lack of the same semantic rules of data entry can create some dupes. Imagine an ideal database with the following points:
Complete purchase and transaction history. It will help you to know which aspects and offers were efficient and brought considerable revenue
Strong client contacts. You should fill out all needed and missing information about each lead or prospect in the proper fields
Insightful notes for effective segmentation and other analytical purposes. It is a significant tool for improving and approaching methods of managing the given sources.
4) Eliminate all the unnecessary data
Make sure you clean out all the useless information. Set up tasks to refine and delete the futile input. Besides, it can help you save money and time during data transfer.
5) Arrange a backup plan
It helps to avoid accidents and restore records in the event of a crash. Moreover, it is better to create an off-site copy. In our case, if you want to make a Pipedrive data backup, there are two options to choose from:
Go to Settings, click Export data from the left sidebar menu and download data into Excel files.
When you're all set up for the switch, you can start your full data transfer from Pipedrive to Salesforce.
Please note that both Salesforce and Pipedrive are Trujay partners and are available on Salesforce.appexchange and on the Pipedrive marketplace.
Salesforce guarantees Trujay improved API access. Data migration to Salesforce is even more convenient and you can import Pipedrive to any Salesforce edition (with no exceptions) automatically. Trujay is a perfect choice for a smooth and secure data switch.
There are 3 reliable ways to Pipedrive to Salesforce migration:

Self-transferring

Guided Self Service

A custom migration
[Related Aricle: Data Migration: Types, Process, Steps]
Smooth migration from Pipedrive to Salesforce: a Step-by-step Guide
Step 1. Go toTrujay's Self-Service tool and register your account. Provide your name, email, and password, and enter the phone number; or sign in with your social network accounts or as a CRM user.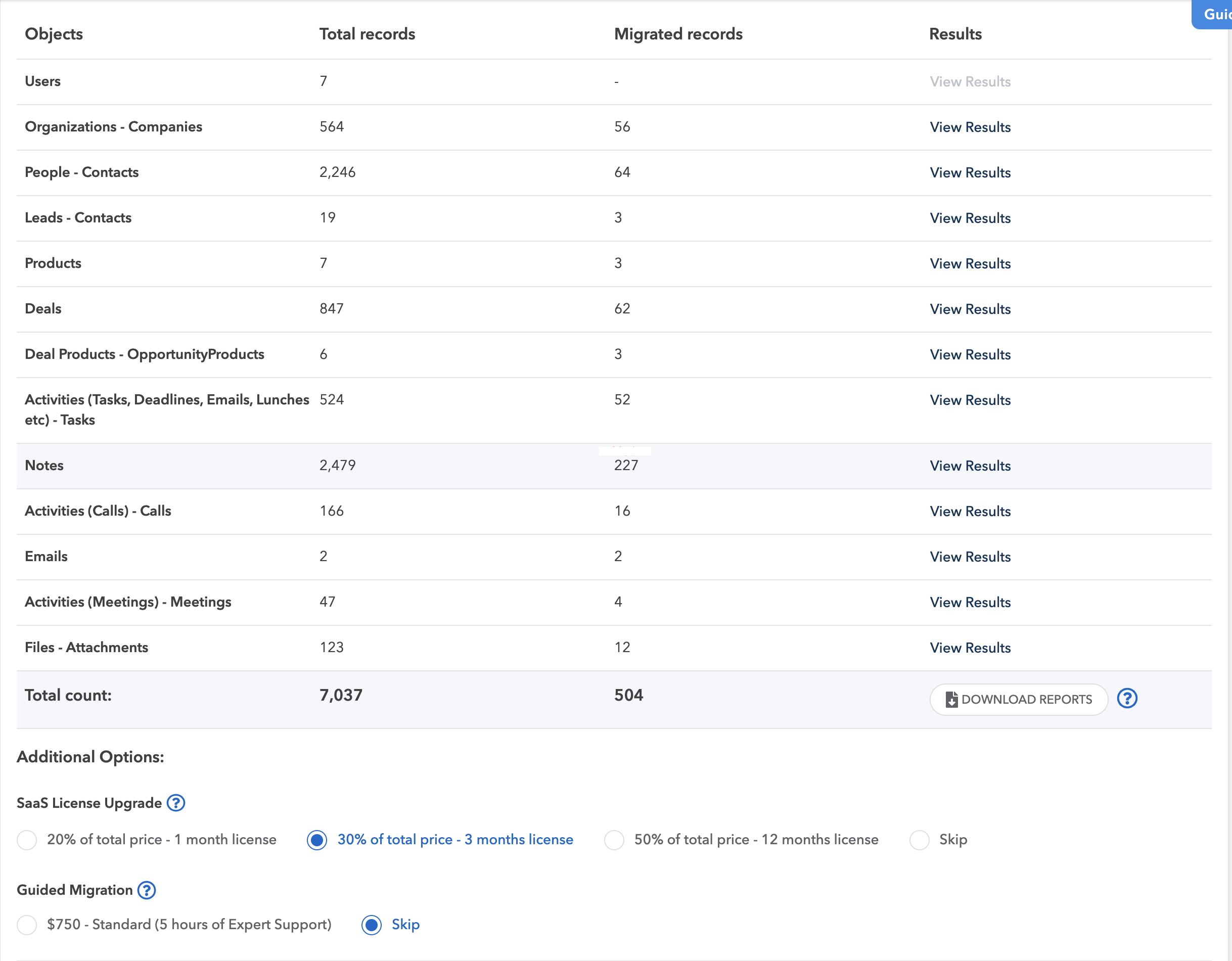 Step 2. Select Pipedrive as your current CRM and Salesforce as the future CRM from the drop-down menus by filling in all required credentials.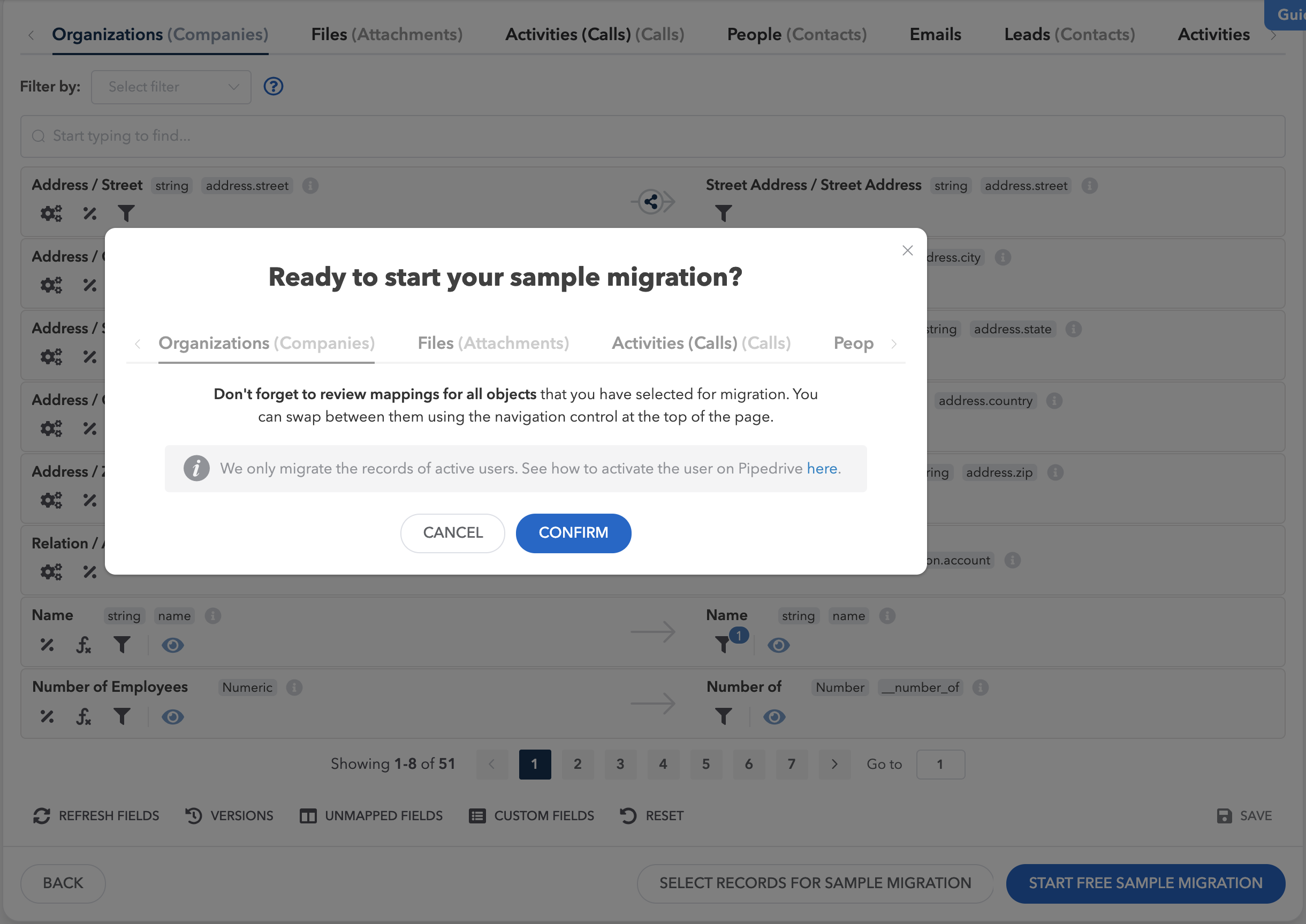 Step 3. Afterward, you can choose the way that you want to migrate. Click the "Start Sample" button and up to 10% of random records from your dataset will be migrated. If you want to play with mapping fields, then click "Customized Mapping".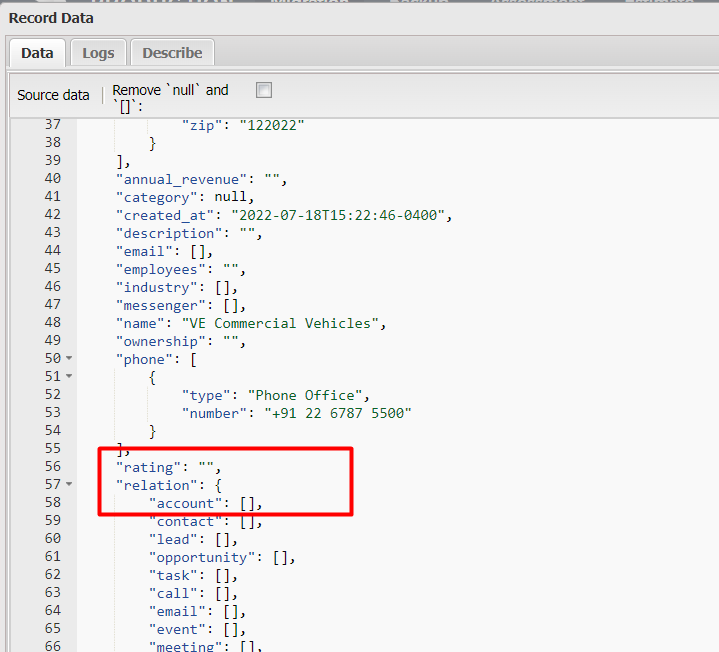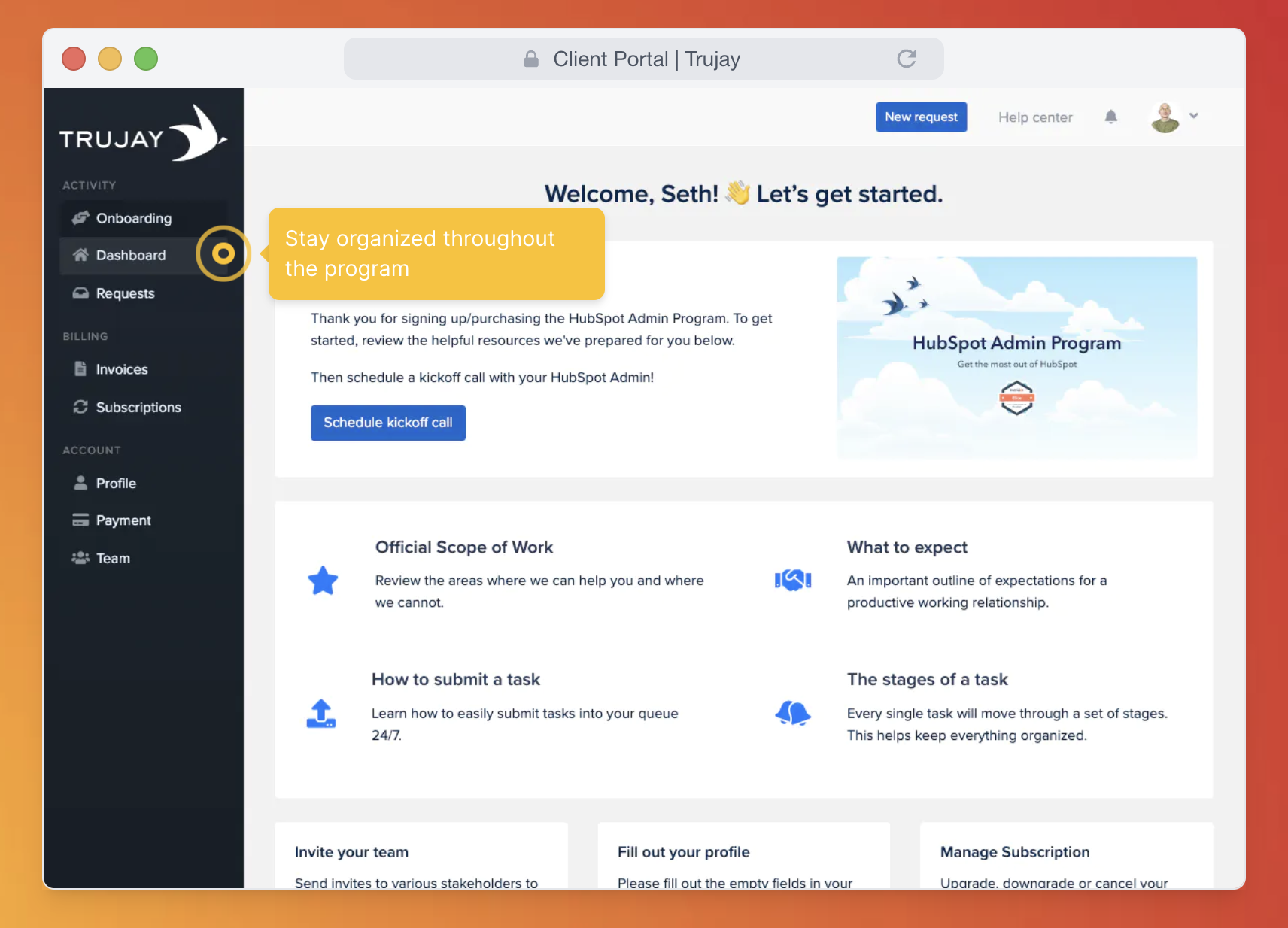 Step 4. When the Sample Migration from Pipedrive to Salesforce is finished, you may evaluate the results. If you're satisfied, choose an insurance plan and start a full migration.
Step 5. If something goes wrong and you want to change migration options, click the "Change fields mapping" button. You can re-run your free sample migration and change mapping fields as many times as you at no cost.
Guided Self-Service
In case you've reviewed our self-service tool, but don't want to use the self-service tool on your own, we have your back.
Our Guided Migration Service allows you to simply pay for 5 hours of technical support. You'll have a dedicated, personal account manager discuss your options, guide you through the mapping process, and/or do the entire Self-Service Migration for you. For more details on our Guided Service, visit our Guided Self-Service Migration and get in touch with our experts at sales@trujay.com. Characteristics:
Cost-conscious
5 hours of expert support
Less time-consuming
Personal account manager
Automated migration process
Custom Migration
Trujay's Custom Migration Service is a more personal and less DIY-type of approach. Our account managers will guide you through the entire process.
Custom Migrations provide you with a personal account manager, migration setup, customization of migration, migration assistance, and the following features:
Higher cost
Almost no limitations
Very low involvement
Personal approach
Little to no time consumed
Pre/Post-migration validity
Automated migration process
Tips after Pipedrive to Salesforce Migration
When all functions are configured and all employees are connected, the final stage of Pipedrive to Salesforce migration begins. During this period, you need to make sure that all processes and funnels are set up correctly, and important details are not missed.
It is good if at the preparatory stage a list of key indicators was compiled to evaluate the implementation of the CRM system.
At the final stage, it is necessary to assess whether the work of managers has improved and in what way, whether sales have grown, whether the goals have been achieved. If there are any flaws in the current Salesforce setup, you need to go back to the previous steps, fix them, and analyze the results again.
To make your CRM implementation and configuration processes a breeze, follow the next steps after the data migration:
Check out if all the records are transferred to the right places
Verify if all relations are restored in the proper way
Set up specific filters for analytics
Arrange the personalized workflow rules
Make sure all your employees are equipped with needed tutorials and instructions to adapt to the new system faster and easier
The effect of Pipedrive to Salesforce migration can be assessed on the following grounds:

1. The manager easily navigates the current situation and easily tracks each stage of the transaction and the effectiveness of managers using CRM;
2. The entire history of communication with the client is available in CRM and does not require a long introduction of new employees up to date.
3. Salesforce monitors the effectiveness of business processes and makes forecasts for the future;
4. Improved customer service, communication has become more targeted and personalized;
5. The efficiency of managers has increased: the number of processed applications, automatic mailings and follow-ups are configured;
6. The number of errors in the work of employees has decreased, and the time for performing routine operations has decreased.
Final Tips
In case you require a solution that manages data, sales, and marketing processes, as well as cultivates relationships with customers, then Salesforce is the right choice for you.
As a result of Trujay migration services, you will receive:
Developed architectural solution according to your data structure;
A clear idea of how and what data should be transferred;
Matching employees between systems;
Data loss control during migration;
Data security during transmission;
A ready-made CRM solution for convenient and efficient operation of all structural divisions of your business.
So, don't wait any longer! Use an automated migration service Trujay and switch a bit of real-time data to Salesforce.
Start a free Sample migration from Pipedrive to Salesforce right now!
Subscribe to FMC Newsletter
No spam and promotion, just insightful information