Download Now: Free "CRMs Powerhouse 2023-2024" eBook
Choosing the best CRM system is a pretty serious and tricky decision. With many options on the market, it's necessary to evaluate each possible solution carefully before settling on any particular platform. One of the most critical factors is pricing, which, as it turns out, can be misleading.
Many customers discover that in addition to the "sticker price," they're forced to pay even more to fully realize the value of their chosen CRM software.
So, is the same true for the Salesforce cost calculator?
Such additional fees can include customizing the platform, integrating it with other solutions, accessing the data from a mobile device, etc. As a result, the user may end up paying almost twice as much as initially intended.
Because of this, we searched for the hidden costs associated with one of the most popular CRM solutions – Salesforce. Below are five main danger points you should know about.
Best Overall
Salesforce
If you want to sell smarter and close more deals, Salesforce is the #1 CRM to consider.
Go to site
Salesforce provides a range of CRM editions, such as Essentials, Professional, Enterprise, and Unlimited, each with its own pricing per user per month. As you progress from Essentials to Unlimited, the cost per user generally decreases, making Enterprise the preferred choice for mid-sized businesses.
Here's a table showing estimated Salesforce costs for different user counts (based on the range of $150 to $300 per user per month):
| Number of Users | Estimated Monthly Cost (Per User: $150) | Estimated Monthly Cost (Per User: $300) |
| --- | --- | --- |
| 10 | $1,500 | $3,000 |
| 25 | $3,750 | $7,500 |
| 50 | $7,500 | $15,000 |
| 100+ | Contact Salesforce Sales Team | Contact Salesforce Sales Team |
Unsure if Salesforce is the Right Fit? Let's Demo and Discuss!
At FindmyCRM, we know that finding the ideal CRM solution can be overwhelming. If you're uncertain about whether Salesforce is the right fit for your business, we're here to assist.
Our dedicated team offers personalized demos, providing you with valuable insights into how Salesforce can revolutionize your operations and customer relationships.
1. Data & file storage limits
The most important and potentially expensive part is data storage within the Salesforce system. Let's take a look at the features that influence Salesforce pricing.
The platform comes with:
A storage limit of 1GB of data
10GB of file storage per organization
An additional 20MB (for Professional & Enterprise plans) or 120MB (for Performance & Unlimited)
100MB file storage per user
Additional storage space can be purchased from Salesforce in blocks of 50 or 500MB. That will run you $125/month for 500MB of additional data storage. File Storage can also be purchased for $5/month for 1GB. Taking into account that this is not a one-time payment, data storage may actually cost more than your annual license.
2. How do support options impact the cost of Salesforce?
Salesforce offers something called the Standard Success Plan as their basic support option. It includes online case submission, 12 hours of support for 5 days a week via phone, and a two-business-day response time.
A paid alternative is the Premier Success Plan, which offers 24/7 support, faster responses, and expanded access to training courses. If you use Professional or Enterprise Editions, you'd have to pay an additional 20% of your license list price for this plan. There's also the Premier Administrator service that gives you access to a pool of Salesforce Certified Administrators who can configure and maintain your platform for 10% of the license list price.
3. Accessing your CRM via mobile device
Salesforce does provide a free mobile service called Mobile Lite, so it shouldn't influence Salesforce pricing. However, this solution offers limited functionality and excludes vital features such as access to custom objects, configuration customization, etc.
The full version of Salesforce Mobile is free for Unlimited Edition customers, however, for Professional and Enterprise plan clients the upgrade will cost $50/month per user.
4. API call limits
An API call limit basically determines the number of times the system can contact (send and receive information) external data sources. For Salesforce, if users go over the maximum allowed number of calls, the only two options they have are either adding more user licenses or upgrading all users to the most expensive plan: Salesforce Performance Edition.
5. Offline access
Finally, one last thing to consider is the ability to access Salesforce while offline. It's important to have all key customer relationship management information, even when you're on the road with no internet access, and Salesforce provides that kind of access. The platform offers an offline option through their Briefcase Builder, which is free for Enterprise and Unlimited plan customers.
However, the tool still has a number of limitations such as a lack of forecasts, cases, and reports. And, those using Salesforce Professional have to pay an additional $25/month per user for the Offline Edition.
All in all, Salesforce's hidden fees can climb up to thousands of dollars per month, if we're looking at companies with at least 5 users. Therefore, it's important to ask questions regarding additional fees and decide which features are essential for you to have before buying an annual license. Otherwise, you risk getting stuck with a solution that's expensive and difficult to adjust to your needs.
Consider all the facts mentioned above about Salesforce cost and keep moving on.
Let's look at other Salesforce pricing editions so that you're aware of how much you could pay to make your business successful.
Salesforce: Costs for sales & service
Lightning Professional – $100/month per user.
Features:
Order management
Task & event tracking
Single Salesforce Console app
Mobile access & administration
Email integration
Web & email response
Unlimited apps & tabs
CTI integration
Lightning Enterprise – $175/month per user.
Features:
Multiple Salesforce Console apps
Enterprise territory management
Advanced forecasting
Team selling
Workflow & approvals automation
Full profiles & page layouts
Salesforce Private AppExchange
Custom app development
Multiple Sandboxes
Enterprise analytics
Salesforce CPQ
Live agent web chat
Live video chat
Lightning Unlimited – $325/month per user.
Features:
Additional data storage
Expanded Sandbox Environments
24/7 toll-free support
Access to 100+ admin services
Unlimited online training
Sales data
Sales cloud engage
Salesforce CPQ
Knowledge base
Customer community
Live video chat
Salesforce: Costs for Service Cloud
Salesforce Essentials – $25/month per user billed annually: Out-of-the-box service system for up to five customers. Get automatic case assignment and responses along with escalation queues and web/email case capture. The Essentials version also provides Lead-Contact account management, personalized reports and dashboards, and incentive monitoring.
Lightning Professional – $75/month per user billed annually: This version comes with components that make it possible to work together throughout the organization along with all the productivity resources in Essentials. Read-only knowledge base, Case Milestone Tracker, CTI integration, orders management, and Developer Sandbox are some of the mainstay features of Salesforce Lightning Professional for Sales Cloud.
Lightning Enterprise – $150/month per user billed annually: Lightning Enterprise includes various aspects from Professional along with advanced case management, self-service communities, advanced reporting features, offline access, as well as workflow and authorization automation. Enterprise also provides Salesforce Identity, which enables a single sign-in for all business applications.
Lightning Unlimited – $300/month per user billed annually:

This version

provides a detailed 360-degree view of all the CRM operations. Additional features in Lightning Unlimited include full Sandbox, access to Premier Success Tools, 24/7 service, Salesforce Developer support, configuration services, and access to accelerators.
Salesforce: Costs for the platform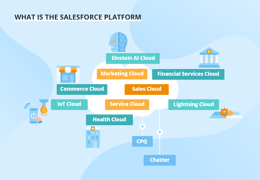 Employee App Starter – $25/month per user billed annually
Custom app development – 10 objects per user
App development with Lightning
Community for employees
Account & contact management
Task & event tracking
Knowledge base
Salesforce Identity
Cloud database
Mobile Development Kit
Employee Apps Plus – $100/month per user billed annually
All Employee App Starter features included
Custom app development – 110 objects per user
App development with Lightning
Customizable reports & dashboards
Assets & work orders
Employee cases
Native collaboration
Salesforce Identity
Integration via real-time APIs
Heroku Enterprise Starter – $4,000/month per user billed annually
Smart containers and elastic run time
Services add-on ecosystem
Fine-grained access controls
Enterprise account team
Salesforce Identity federation
Team and user administration
Resource utilization management
Trusted application operations
Salesforce data synchronization
Platinum Unlimited – available on demand
Lightning Platform
Heroku Enterprise
Postgres database
Essential add-on
Salesforce data synchronization
Salesforce Identity federation
Why choose Trujay's services?
There are a variety of ways to migrate your CRM data, but you should consider an automated migration service through us here at Trujay.
Trujay is a Salesforce partner with a great deal of migration experience that enables us to avoid most common data migration issues like getting API access or API limits.
We move records accurately and securely through:
Guaranteed data security and the ability to take advantage of the Trujay Non-Disclosure Agreement (NDA)
Fields and users mapping to preserve data structure
Free Sample Migration to evaluate the service in action (allows you to transfer part of your data to a new platform)
Possibility to restart migration over to ensure the import of all data
Experienced 24/7 tech support.
[Related Article: Salesforce Alternatives]

Give it a try
If that`s not enough, learn more about how to calculate Salesforce costs here.
Well, now it's time to see Trujay's services in action.
If you're already using a CRM, migrate a limited amount of your business information to Salesforce by launching a free and secure sample migration, or estimate your migration costs first.
Subscribe to FMC Newsletter
No spam and promotion, just insightful information