CRM solutions don't always get a great rap in sales. Sure, there are considerable benefits of CRM systems: they enable you with deals tracking and flag leads requiring extra nurturing. However, to reps sometimes the opportunities seem like nothing more than slow time leaks. The information goes in, and no clear value comes out.
To help you change the perception of CRM advantages, increase the adoption of the solution, let's dive into the world of the software. Take a look at the infographic from Cloudswave that indicates 10 essential benefits of CRM solutions and find out how your reps can be more productive and sell better.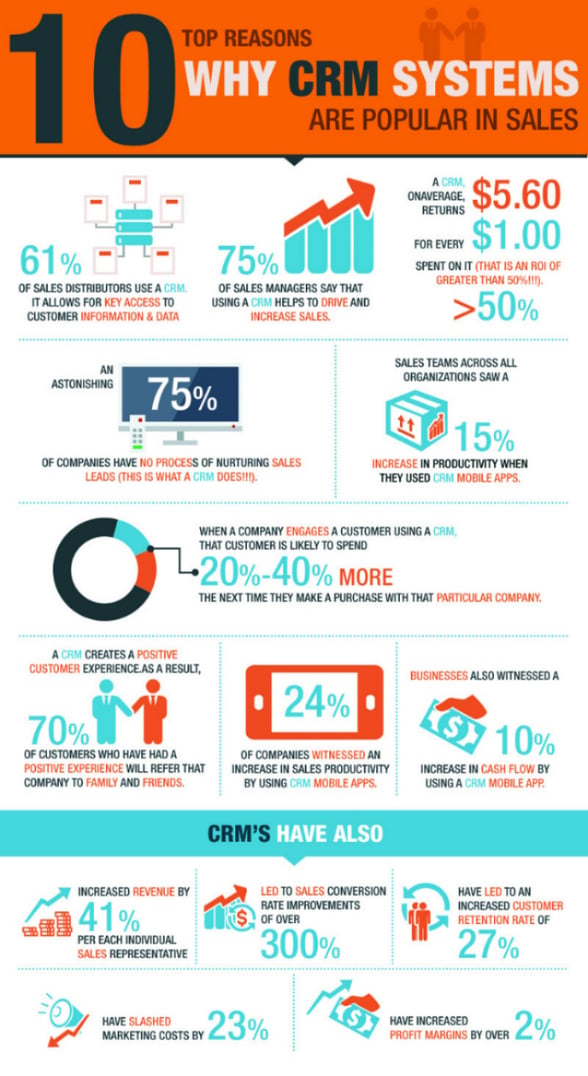 Ready to wrap up the information above and explore the primary goals of utilizing the CRM solution into your business processes? Check out why the systems can affect your company's bottom line and bring prosperity.
Benefits of CRM: Why to Implement?
CRM is a platform that enables you with finding new prospects, improve the relationship with the existing customers, as well as winning back the former ones. The solution helps to collect, organize, and maintain the clients' information. To shorten the list of enumerating CRM opportunities, check out the 3 primary reasons why you should consider CRM:
Efficiency
Whether automating the new leads tracking or optimizing customer support, the effectiveness of efforts and spent time is one of the main argumentations to implement the software. Your employees have to get things done in time. CRM systems are an excellent way to reduce a routine and enhance the workflow of the each department.
Visibility
As companies grow, the issue of being on top of all the moving parts is rising. The employees within all your departments have to be aware of the project the colleges are completing. Your workers need the visibility into the processes and objectives to see what direction the company goes and how to get to that success destination. CRM systems are good at storing, and presenting the data from the different sources within the enterprise.
Decision Making
Some companies realize the value of their CRM investment in a better decision making. The solution, which gathers information combined with the reporting, builds the insight for answering the strategic questions. The answers indicate the success or failure of the organization. Should you implement a new marketing campaign? Or is it time to hire more sales reps? CRM gives all the answers using the historical data rather than speculatively guess or conjecture.
Final Thoughts
To conclude, the benefits of CRM systems can help you manage the customer experience successfully, as well as improve the overall business processes and increase revenue.