The advancement in technology changed the market paradigm, and now a customer modifies the rules of the selling process. CRM software emerged like a solution that facilitates the paperwork, improve business procedures and communicates with clients for diving into their interests. However, in CRM the notion of 'customer' is not only distinguished as a person but also like the whole company as well.
If you are interested in CRM software for manufacturing industry, you can find the best options in our CRM Directory.
By the way, pay attention to these CRMs if you want to develop your business:
Presently, companies have a general division into B2B and B2C. So let's try to understand the following concepts.
What are B2B and B2C?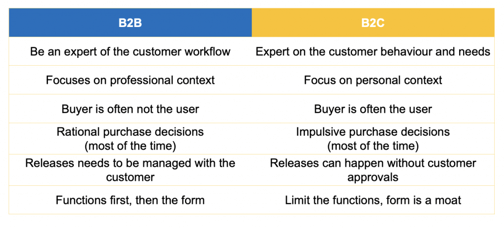 B2B is the acronym for Business to Business . It is a type of business relationship in which businesses provide goods or services to other businesses.
Businesses sell products and offer services that specifically meet the needs of particular customers who are other businesses and not individuals.
A company operating in B2B will be harder to set up than a B2C company because the contracts are generally for higher amounts . Companies must trust each other and have long-term partnerships .
In supply chains, this type of business is very common. Companies buy raw materials from other companies to use in their manufacturing process.
In the context of communication, B2B refers to the methods by which employees of different companies can connect with each other through social networks.
B2C is the acronym for Business to Consumer . It is a type of business relationship in which businesses provide goods or services to individuals.
A business operating in B2C can quickly sell products and services and sales can range from very low value to extremely expensive. An individual can purchase a product or service from a business once and never have any dealings with it again.
How do B2C and B2B clients differ?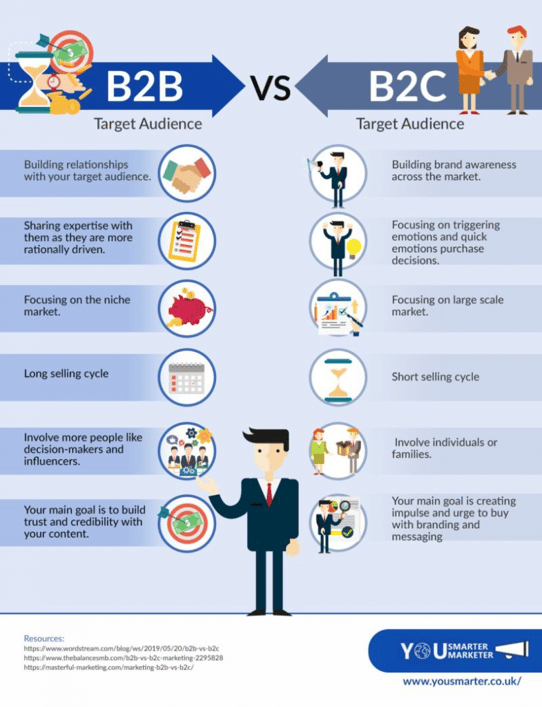 1. Buying Impulse vs. Rationality
Often, the customer's purchasing behavior is dictated by decisions based on certain desires or on attractive prices. However, business customer purchases are well-planned, predictable, economically driven, and realized in terms of business values. B2B customers are pragmatic buyers who spend more time researching products and measuring their suitability and financial benefit to business.
2. Sole Decider vs Multiple Decider
Unlike B2C buyers who are single decision makers and make buying decisions independently, B2B customers are often involved in a more complex buying process with multiple players. The chain of people involved in decision-making may consist of, for example, the budget approver, the researcher who collects product information, the point of contact, and the end user. Since there are many parties involved in the purchasing decision from the B2B customer side, it is important for a business selling to another business to facilitate comfortable purchasing conditions that can satisfy multiple workflows. and several actors.
3. Short Term Relationship vs Long Term Relationship
B2B customers want to build long-term relationships and partnerships, unlike B2C buyers who tend to buy sporadically in much smaller volumes, and then may stop for good. In contrast, companies that put a lot of effort into the long process of choosing a reputable supplier prefer to establish strong and stable ties with their established partners. Long-term relationships provide endless potential for repeat purchases that are at the heart of B2B e-commerce.
4. Fixed prices vs Indexed prices
B2C consumers generally place orders at a fixed price which is the same for the rest of the visitors to the online store. However, this is not the case for the B2B counterparty. In the B2B area, there are no universal prices because prices can fluctuate depending on a customer, their location, their negotiated contracts, the history of business relationships, etc.
5. Direct Payments vs Post-Delivery Payments
To complete an order, B2C consumers usually pay using an appropriate payment solution (eg credit or debit card). In the B2B ecosystem, order payments are made regularly by credit because business customers occasionally make a few purchases in a short period of time. Instead of paying for each order that has been placed, B2B buyers receive a monthly invoice or quote which is a great payment alternative ensuring quick and frequent ordering.
6. Fast Deliveries vs Punctual Deliveries
B2C consumers care more about the speed of delivery of their time-dispersed orders. Companies operating in the B2B framework, whose purchases for commercial purposes are scheduled, are more concerned with predictable delivery times. Getting an order on time is crucial for flexible business.
The B2B purchasing process is distinguished from B2C due to its complexity, scope and scale while B2B customers cannot be treated as regular end users. The multiple incompatibilities of individual and business customer shopping behavior and expectations mean that approaching your online B2B customers as if they were ordinary buyers could cost you dearly.
So, the selection of CRM B2B or B2C CRM model has a crucial importance for future development of your business. A diversity of CRM platforms allows you to choose the most suitable system that will enhance your revenue instead of overkilling your organization.
CRM for B2B: Improve Customer Relationships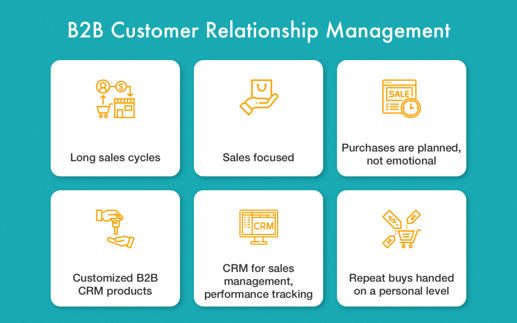 Importance of CRM in B2B model focuses on a small targeted market that has a long sales cycle and a massive amount of contact data. So, here is the list of B2B peculiarities that should be taken into account before implementation of CRM software.
Defining Targeted Customer
Due to the enormous amount of customers data, B2B requires CRM platform with powerful administration tools for dividing its prospects into specific groups. As long as a client represents the whole company, this business demands a real-time monitoring and updating of clients' database. So, B2B customer relationship management has to facilitate the building of substantial and logical relations across various channel partners of a single corporate body. B2B usually has accounts with numerous contacts. With the help of CRM, it may identify the most powerful and influential position (sales manager, dealer, etc.) that makes the critical decisions.
The sale cycle of B2B is quite long and may last months or even years. So, the call, email, and buying activities histories have to be stored in CRM and accessible at short notice. B2B has a complex and multi-step procedure of deal accomplishing that depends on the number of decision makers.
Product Types and Profits
B2B companies run the prolonged targeted marketing campaigns and provide their users with highly customized products. So, the automation of main processes and real-time monitoring improves the ROI. B2B organizations get the thousands or millions of dollars revenue after a successful deal close. That's why analytics features of CRM facilitate budget setting up and getting reports of departments and a separate worker performance.
CRM for B2C: Vital Requirements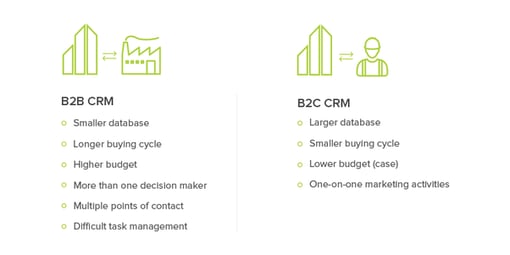 The most suitable B2C CRM software for organization acquires such options as the speed of every stage management, optimization of the processes and customer segmentation.
Due to the short sales cycles, the speed of accomplishing plays the principal role in enhancing the sales process. So, B2C company requires permanent records updating and a lead integration. The monitoring of the changes and lead distribution is a sufficient basis for analyzing and planning future projects.
A powerful workflow is a crucial element that will optimize teamwork and automatically assign a new task to a specific salesperson. The conversion has a profound impact on the sales rate. That's why the milestone is tracking, and automated lead nurturing improve the effectiveness of marketing campaigns.
The tool of customer segmentation scores your leads and divides your clients into separate groups according to their importance, interests, buying history, etc. With the help of these data, B2C company can plan targeted offers, prioritize campaigns.
These peculiarities make clear that B2B and B2C require applying different CRM platforms for sales and marketing management.
[Related Article: Salesforce Alternatives]
Can CRM for B2B Have Foot in B2C Camp
Customer relationship management system offers efficient and untold tools for productive performance at the market and conversion more leads and prospects. However, B2B businesses take advantage of hierarchical structure of CRM data categorization. They save every client as one organization record that may include some different contacts form the same company.
If B2C business uses the CRM software in this way, the managing of main processes falls on their teams like a heavy burden. The customers of this company are a single contact and extra features of CRM increase the duration of sales cycles and waste the human and cost resources of the organization.
Obviously, B2B and B2C companies require different CRM platforms with a particular feature and tool sets for successful accomplishing of business objectives. As you can see, CRM for B2B differs from demands of B2C organizations. The standard set of CRM tools may fulfill the needs of both types only to a certain amount.