In recent years, marketing automation tools have skyrocketed in growth. As a result, the industry is worth an estimated US$ 6.87 billion in 2020 and is expected to grow another 20% over the next year. Marketing automation software has become a must-have for B2C and B2B marketing teams looking to expand their activities.
How do we account for this explosion in popularity? Automation tools can help your business:
● Personalize content based on data
● Increase conversions
● Align sales teams and marketing efforts
● Speed-up and streamline marketing campaigns
What is a marketing automation tool?
Marketing automation software is a sophisticated platform that helps marketers attract new consumers, increase marketing productivity, and analyze lead behavior and campaign results. Most of these activities are automated, allowing marketers to focus their creative energies elsewhere.
Marketing automation software in action
For example, the software can automate email, web, popup, social media, and SMS campaigns. The first step is to choose from a vast library of templates (or create your own). Next, you set up workflows, which is a series of instructions on how and when to send the campaign. You can set up time-based or action-based workflows.
Marketing automation software also comes with analytics tools. You can easily assess the success of your campaigns and modify any under-performing campaigns mid-stream.
Comparisons with CRM (Customer Relationship Management Software)
Marketing automation software has some overlapping functionality with CRM. However, CRMs generally offer marketing automation plus tools for other customer-facing departments, like sales and service.
As the name suggests, marketing automation systems are focused on scaling and accelerating marketing campaigns. The software takes over tedious tasks, allowing staff to focus on higher-order problems. This improves productivity, reduces human error, and boosts company revenue.
Why use marketing automation?
Marketing automation helps in the generation, nurturing, and scoring of leads, and evaluating campaign ROI. The benefits become more pronounced as a company increases in size and complexity. Good marketing automation systems are built to grow with your business.
Marketing automation facts and figures
Increase qualified leads by 451% using marketing automation (HubSpot)
Increase sales productivity by 14.5% (Nucleus Research)
Users experience up to a 25% increase in marketing ROI (Salesforce)
[Related Article: The Best Marketing Automation Software & Platform]
Top Seven Marketing Automation Tools
So, let's get down to our selection of the best marketing automation tools. There are over 8000 martech tools on the market. So, no matter your size or budget, you're sure to find a marketing solution for you. We've reviewed dozens of the most popular tools so you don't have to.
Ready to find the best marketing automation tool for your business?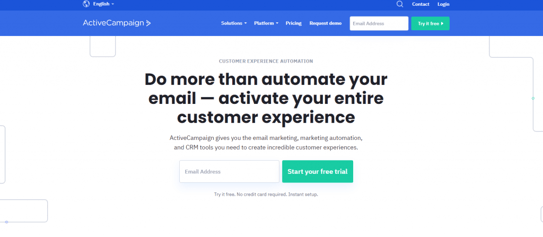 ActiveCampaign is an email automation tool that has helped over 90,000 businesses achieve better results with fewer emails. ActiveCampaign makes auto-responders based on various preset conditions when it comes to automation. You can also manage your contact list within its CRM system, while the customer messages feature helps you send transactional emails to your site's visitors.
The tool comes with several features and integrations, and reasonable pricing and helpful customer service.
Key Features:
No more manual entry. You can automatically import new contacts using CSV files or through integration with your other office tools.
Set up marketing automations in just moments using the drag and drop feature.
Live chat automation.
Create dynamic email content using behavioral analysis, interests, social data, and other factors.
Integration with Facebook Custom Audiences.
Online support, live chat, community, forum, and training are available.
ActiveCampaign packages begin at US$ $9 per month.
View detailed pricing plans.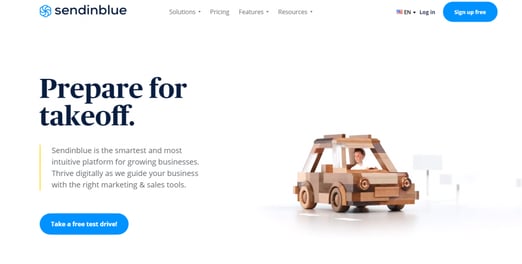 Sendinblue is one of the best automation tools for small businesses on a budget. The tool evolved from a basic email marketing tool to a sophisticated software solutions hub with built-in CRM features and automation. Users can expect features on par with MailChimp's premium subscription but at a fraction of the price. Users rave about the tool's ease of use and customization options.
Key features:
Builds personalized marketing workflows
A/B testing
Email and web behavior data (email openings, clicks, page visits, etc.)
Real-time statistics
Templates and automated marketing campaigns
Automated SMS campaigns
Email bounce management
CRM
View detailed pricing plans.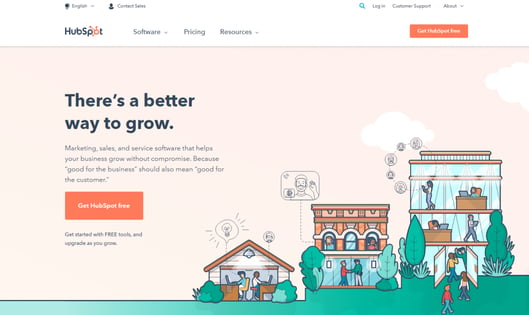 Hubspot is one of the world's most popular marketing automation platforms, with over 100,000 users. It offers four specialized hubs for marketing, sales, content management, and customer service.
The marketing hub is useful for B2B and B2C markets. The automation tool is straightforward to use. Use HubSpot's visual board to create simple or complex conditional workflows. There are dozens of other marketing features, including a powerful content management system that will have your website optimized for search engines in no time.
The features are mammoth. It may take some time to learn all of its functionality, but Hubspot's Academy will reduce the learning curve and help you grow faster.
Key Features:
Easily edits content and modifies a design
Easy to write, format, and publish content
Hundreds of integrations
Beautiful email templates with merge feature to deliver personalized messages
Keyword optimization as you type
Easy to build, SEO-optimized landing pages
Support is available through community, email, chat, and phone, depending upon subscription tier.
View detailed pricing plans.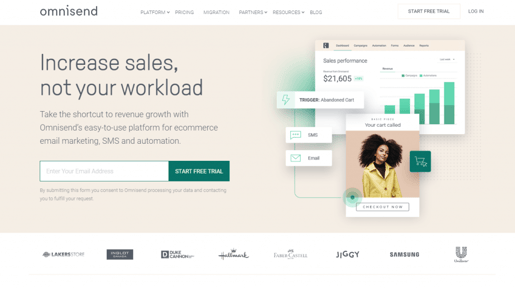 Omnisend is a multi-channel marketing automation tool tailored to the needs of fast-growing businesses. The platform combines SMS, email, social media, and other channels into a single feed, allowing marketers to respond quickly and reach a wider audience.
Its features allow users to optimize and streamline their marketing efforts across all platforms. You get pre-built templates, content, and subject lines across all channels. Even better, Omnisend can create effective lead forms that will boost the lead capture rates.
Key Features:
An user-friendly drag-and-drop builder for emails, forms, SMS, forms, automation workflows, and landing pages.
Pre-built messages and subject lines for all channels.
Adds several channels into the same automation workflow.
Split automation enables you to send workflow variants that are adapted based on engagement.
Capture emails, phone numbers, names, and more with web forms and landing pages.
24/7 support via email and live chat.
Automated messages for product and cart abandonment.
View detailed pricing plans.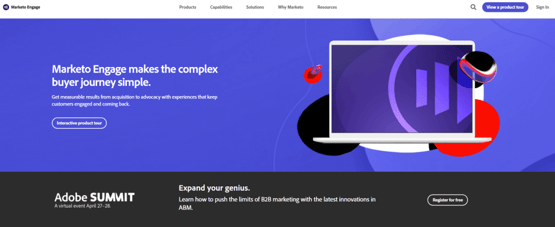 Marketo is a popular tool for automating marketing and sales processes, and major companies like Adobo back it. The tool offers marketing automation for every channel and type of interaction to streamline the customer journey.
Marketo products are used by small and medium-sized businesses as well as large corporations. Users note the excellent customer care.
Key Features:
Demand marketing.
Lead scoring and lead nurturing.
Automated customer engagement.
Web-based email marketing platform.
Landing pages builder.
Sophisticated web and social media analytics.
Automates marketing campaigns with a personal touch.
SEO optimization.
Content creation.
Account-based marketing.
24/7 online support for critical issues
View detailed pricing plans.

SharpSpring is a reputable cloud-based marketing platform that launched in 2014 and offers a variety of automation services. Marketing automation, CRM, sales team automation, mobile and social marketing, customer support, and other services are all included. SharpSpring can be integrated with any CRM, allowing users to retain their existing CRMs and data.
SharpSpring is especially strong in lead management. You can use the system's scoring and lead nurturing tools to track visits, engagement, and individual lead page demographics.
Key Features:
Advanced email marketing that tracks and analyzes interactions
Dynamic forms auto-log new leads and contacts
Content calendar gives you a one-stop view of all your upcoming campaigns on any channel
CRM
Easy to use and intuitive workflow to streamline lead generation
Quick and easy analytics
Simplified scoring of social leads
Blog builder that customizes look and content based on the viewer
View detailed pricing plans.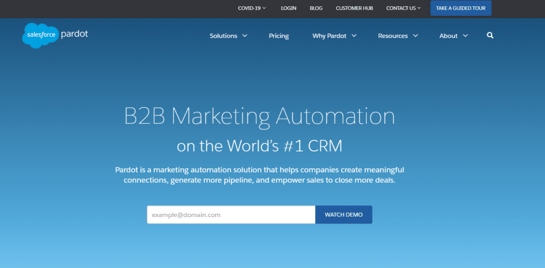 Pardot (now part of Salesforce) is another marketing automation tool that's tailored to the needs of B2B marketers, with support for things like B2B analytics and account-based marketing solutions. Pardot is one arm of the comprehensive suite of tools from Salesforce that work together to help sales and marketing teams be more successful. It offers a huge variety of features in automation and email marketing.
Key Features:
Builds a dynamic and comprehensive marketing campaign
Tack campaign with a customizable dashboard
Identifies gaps in campaigns and fixes them before the campaign launch
Build professional emails quickly and help to create an email campaign
Unlimited automation branching
White glove new user onboarding service
Scheduled and automated email sending capability
Pardot's software model built on the Force.com platform
Hundreds of integrations
View detailed pricing plans.
Find the Best Marketing Automation Tool for Your Business
In 2023, it's important to invest in effective marketing automation tools to optimize your marketing budget. Marketing automation may help companies scale their marketing campaigns and reap higher ROI without raising their budget or effort. Sign-up for a free trial of our seven best marketing automation tools and see if you agree they are best-in-class solutions
Not sure what you need?
Use our free guides and tools. Just fill in the forms with your requirements and get a full report and list of CRMs that could be a great fit for your business.