SuiteCRM is considered to be an advanced solution for small and mid-size businesses. Being a mediator between company and customers, SuiteCRM helps to gain insights into your future customer behavior. Its functionality includes sales-force automation, reporting, customer support, diligent in-house collaboration, social CRM, and marketing campaigns management.
5 SuiteCRM Features To Build Bridges Vis-a-Vis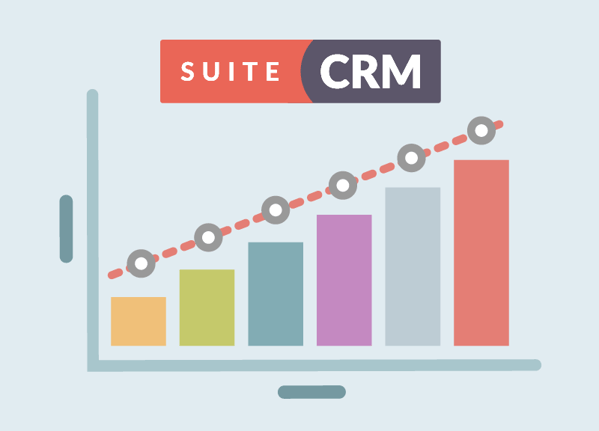 #1 Open-Source CRM
A. Einstein says, "Make everything as simple as possible, but not simpler". In our time, these words could be interpreted to SuitCRM. With the help of SuiteCRM, you will be able to execute decisions swiftly and efficiently as the system consists of add-ons for quotes, products, contracts, invoices, workflows. It offers event module that may be synced with Google Calendars and Maps. Moreover, with SuiteCRM you manage your customer relations in real-time – searching for leads, creating opportunities, making the deals, etc.
#2 Simple And Intuitive In-House Management
SuiteCRM will increase the active engagement within your team members, encouraging productivity and desire to work. This CRM solution enables all company's departments to cooperate with each other promptly that allows performing so-called 'customer lifecycle' to the fine fashion.
#3 Mobile Responsive
Currently, a lot of people use their mobile devices for business activities. Hence, your future CRM software should be mobile responsive; which gives you access to your corporation data. One more useful feature is TagMe, which allows you to tag your records to search for them instantly. Moreover, SuiteCRM gives you an opportunity to integrate your software with such extensions as MailChimp, Duplicate Detector, Kinamu Reports.
#4 Email Plugins
In this way, there are email services. So, you may synchronize your SuiteCRM both with Outlook, Thunderbird, or other email services. SugarForge is the most used plugin; it allows to send, receive messages with ease, even if you're offline (just point the time of filing).
#5 Security Suite
Without doubts, your CRM should be secure enough to comprise all the customer data and in this way, SuiteCRM offers its secure extensions, which gives firm control over SuiteCRM data. If you think free SuiteCRM might be a better solution for your customer relationship management, Trujay migrates your data from SugarCRM or BPM Online to SuiteCRM absolutely automatedly. All your CRM data like leads, opportunities, contacts, accounts, tasks will be moved quickly and precisely. So, don't wait up! Start your automated free Demo Migration to SuiteCRM with Trujay.