Three Types of CRM: Which is Best for Your Business? Finding the right CRM software can make your business more productive and successful. However, it can be hard to decide given the hundreds of CRM companies. There's even the option to build your own custom CRM. So, how do you choose the best CRM for you?
This post delves into the three different types of CRM systems, as well as offers some tips on how to choose the right one for you. But first, let's define what CRM is.
What is a CRM?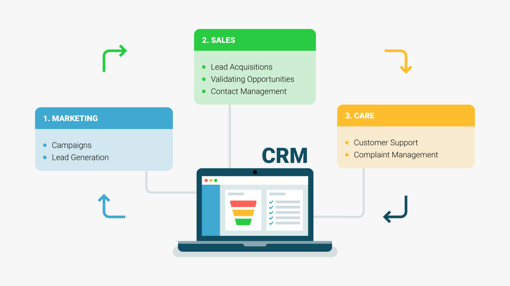 CRM stands for Customer Relationship Management. CRM is a kind of software that manages and records interactions with customers. This data can help improve marketing, sales and customer service decisions, as well as improve communication with clients.
Without a CRM, information ends up spread across multiple platforms where it's hard to keep track of. A good CRM centralizes all this information, while often delivering other CRM features to boost productivity and revenue.
What are the three main types of CRM software?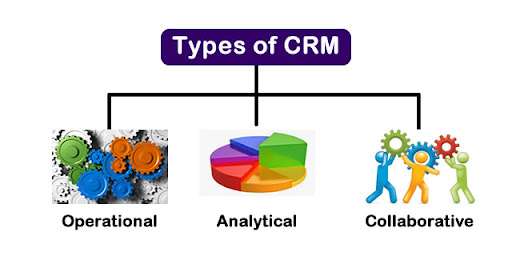 CRM software comes in many different forms, from many CRM vendors. However, most systems can be separated into one of three types of CRM: analytical, operational or collaborative. Each type of CRM system is explained in detail below.
Analytical CRM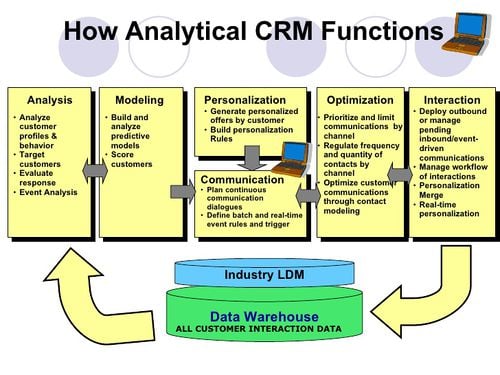 The average business collects 50 trillion bytes of data per year. Without specialized software, it would be impossible to manage this much information. Luckily, an analytical CRM is built for just this purpose. Analytical CRM can store and analyze vast amounts of information.
Analytical CRM aims to collect data from lots of different sources, storing it all in one system. Some of the data that can be analyzed include web traffic, advertising ROI, social media engagement, email marketing performance, employee productivity, sales figures and customer engagement rates.
Using information gathered on an analytical CRM, you can make data-driven decisions for your business.
Operational CRM
An operational CRM is aimed more at performing marketing and sales actions. These types of software typically collect data, but allow you to use this data to automate and schedule tasks.
Operational CRMs send you alerts when it's time to follow up leads with emails or phone calls. They can be used to schedule emails, social media posts, ad campaigns, and blog posts from a single platform. They can also be used to automate tasks such as triggering pop-ups on webpages to sending birthday promotion emails. On top of this, you can store and respond to all your communication channels from a single login, such as SMS, email, social media, and phone calls.
Operational CRMs aim to speed up business processes by creating shortcuts, eliminating data entry, and automating routine tasks for you.
Collaborative CRM
A collaborative CRM is typically geared towards companies with a large team of marketing or sales staff. These CRMs may combine elements of analytical and operational CRMs, but with an added focus on helping multiple staff members work together.
Using a collaborative CRM, managers can easily keep track of what marketing and sales staff are doing, as well as distributing work and creating schedules. Managers can also set targets and rewards using collaborative CRMs. Colleagues, meanwhile, share information with each other such as calendars, customer information, project boards, as well as messaging one another through these platforms.
Analytical, operational or collaborative: Which one is right for my business?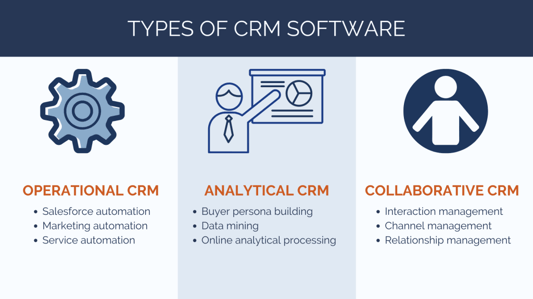 In order to choose between the three types of CRM, you should consider the nature of your business.
Analytical CRMs are great for businesses that want to better understand their customers and develop new marketing and sales strategies. They can help give you all the key information so that you can strategically act upon it. They are useful in industries where customer behavior may not be so predictable.
Operational CRMs tend to be better for companies that have more predictable customers. If you have routine marketing tricks and a well-defined sales process, operational CRMs can automate many tasks to save you time. Businesses that have long customer lead times use operational CRMs to keep track of every stage of the process. Automated alerts let you know when to move onto the next stage of your sales process.
Collaborative CRMs are ideal for companies with large teams of marketing or sales staff. As the name suggests, they help team members collaborate. Unless you plan to hire a large marketing or sales team in the future, there is little point in investing in a collaborative CRM if you are the only one who is going to use it.
Other factors to consider when choosing a CRM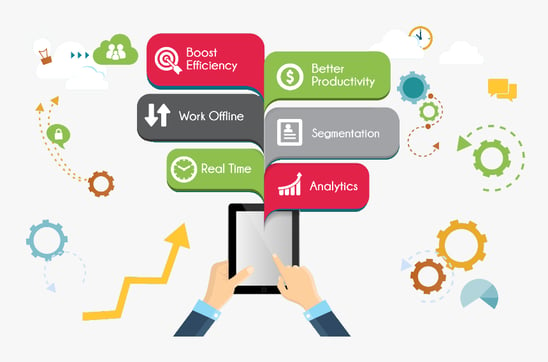 Once you know the types of CRM you need, you can start narrowing it down further by considering your company's individual needs. There are all kinds of extra factors to consider, from the cost to device compatibility. Below are some of the big questions to ask yourself when choosing a CRM.
Industry-specific or general?
There are CRMs that cater to specific industries and there are CRMs that have more general appeal.
Industry-specific CRMs can be worth looking into if your company fits neatly into a specific vertical. These CRMs are likely to have all the niche features you need, while lacking excess features, helping you to align with common industry goals. They can also help you remain compliant in heavily regulated industries, such as healthcare and insurance.
General CRMs may be better suited to companies that straddle multiple industries. For instance, if you own a personal training company and you also sell fitness equipment, a general small business CRM delivers a more comprehensive array of features.
Off-the-shelf or custom?
You can buy pre-built software that comes with specific features or you can hire a developer to create a bespoke CRM platform with your own chosen features.
Both options have their pros and cons. Off-the-shelf software is likely to come with better support and may have less bugs. There could also be features included that you didn't know you needed. When choosing custom software, you'll have direct contact with the developer. Such software can be created to meet your company's individual needs so you won't have any excess features. You'll also have a custom-made solution that distinguishes you from competitors.
It's worth noting that some off-the-shelf software providers allow you to choose from multiple plans to suit your needs. And some systems, such as Zoho, are extremely customizable. This gives you a certain level of customization and could serve as a middle-ground between the two.
What's your budget?
CRM software can cost as much as thousands of dollars per month, while some companies offer Free CRM subscriptions. You should factor in your budget when choosing a CRM so that you're not overspending.
The most affordable CRM plans tend to be aimed at small businesses and have fairly basic features. High-end CRMs are often aimed at enterprises and are more elaborate. Look out for various deals and discounts when shopping around for CRM software. With some types of CRM software, prices may not be advertised and you may have to sign up to get a quote.
You must also consider hidden costs, such as purchasing extra storage, data migration, training, and implementation costs. Also, calculate the cost of scaling your business. You want to be sure the higher subscription tiers are good value, too, as you grow and require more CRM features.
How long will it take to implement?
Getting your CRM set up can take some time, depending on the system. You may need to hire a professional to install it and migrate data from an existing CRM. Sometimes, training is required to onboard your staff.
Basic CRM software is usually quick to implement, while complex CRM software takes some time to set up and adjust to. Custom CRM software could take a while to implement as it needs to be developed and then tested to make sure there are no major bugs. If you're looking for a quick solution, a custom CRM may be best avoided.
What CRM applications does it need to integrate with?
Certain types of CRM software may not be compatible with certain applications. This could be because an application is owned by a competitor (Microsoft and Apple products for example rarely work well together) or because it's a very niche application.
Do your research when comparing CRM software to work out which applications are supported. Generally, this just requires checking the integrations page of the CRM vendor website. On top of the software, consider whether your CRM supports web features like Google Analytics, Google Ads, and Facebook advertising.
What devices will you access it on?
You should consider which devices you will be using when accessing the CRM. Almost all types of CRMs nowadays are cloud-based, which means you can access them over various devices. However, not all apps are created equal, and for some CRM vendors, the app is an afterthought. If you or your team are constantly on the go, be sure you test drive the CRM app too.
On top of this, make sure that the CRM is compatible with different device manufacturers. Some CRMs may be available as an app for Android but not for Apple products.
Is there a product demo?
Most CRM developers will offer a product demo, which is basically a chance to demonstrate the product in detail so that you can get a better idea of how it works. Product demos can come in different forms – a few examples include:
Video demos: these tend to be informational videos displayed on a company website or YouTube which show the software in action.
Presentation demos: some developers may offer the chance to attend a sales conference in which a spokesperson guides people through the software on a screen – often with a chance to ask questions and possibly even a chance to test the software in person.
Free trials: CRM companies offer free trials of their software. This gives you access to CRM software for free for a certain period, allowing you to familiarize yourself with the interface and determine user-friendliness.
Product demos are worth taking advantage of as they can give you a better idea of what you're buying before you invest.
Have you checked out CRM reviews?
It's also a good idea to check the CRM reviews before you buy them, by both users and technology sites. You can then get a good idea of the reputation and experience among users and industry experts.
Look for unbiased reviews that dive into the pros and cons (avoid reviews published by the developer as these will obviously be biased). You may be able to find professional reviews and comparison guides published by business tech publications. It's also worth reading user reviews. There may even be video reviews available on YouTube. Avoid CRM software that has lots of negative feedback. Similarly, be wary of software that has no reviews at all.
Choosing a CRM: A brief summary
There's clearly a lot of information to consider when choosing a CRM. Below is a brief summary of some of the key things to think about.
Know the difference between the three main types of CRM software: analytical CRM, operational CRM, and collaborative CRM. Decide which type of CRM is best suited for your business.
Decide whether you need an industry-specific CRM or a more general CRM. General CRMs tend to be better for companies that don't fit neatly into a single industry.
Choose between the convenience of an off-the-shelf CRM or the flexibility of a custom CRM.
Take your budget into account. Opt for a CRM that fits within your budget as you scale.
Work out an implementation schedule for your CRM and make sure the timeframe is doable for your chosen CRM vendor. Include time for implementation, data migration, and training where required.
Assess the applications that you are currently using and make sure that your CRM is compatible.
Decide whether you need a mobile CRM.
Take advantage of any product demos that are on offer so that you can get an idea of the features, layout, navigation and overall user-friendliness.
Read reviews of different CRMs to see how users and experts rate them.