Are you curious about the benefits of a CRM for sales?
Close your eyes and imagine closing deals while relaxing on the beach.
This dream can come true with customer relationship management (CRM) software.
A CRM can improve sales team performance and increase sales, all while you do less work.
Finally, you can meet those sales quotas and take your vacation days.
It sounds like a fantasy, right? Let's ground these claims with hard numbers:
CRM increases sales by up to 29%
CRM improves sales productivity by 34%
With CRM, 65% of sales teams meet or exceed their quotas
Only 22% of reps meet their quota without a CRM
CRM improves sales forecast accuracy by 42%
These statistics tell you what an impact CRM can make on sales, but they don't show you how. Let's dive into a detailed description of:
1. CRM Benefits for Sales Relationships
2. CRM Benefits for Sales Teams
3. CRM Benefits for Sales Cycles
1. How CRM Benefits Sales Relationships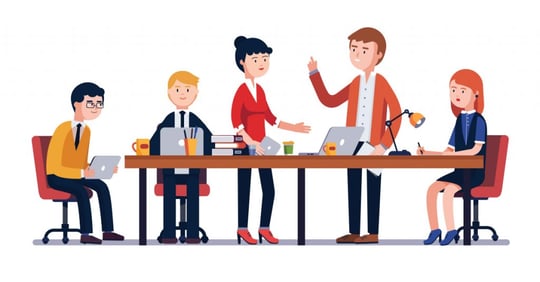 The buyer's journey is longer and more complex than ever. You need a tool that can meet the demands of the modern sales team and the modern customer. Here are some features of a sales CRM that can build stronger relationships.
360-Degree profile
Have you ever lost an important business card? Or maybe you've sat wondering whether you already made that follow-up call. It's all but impossible to remember the details of every customer and lead.
A CRM provides a detailed profile for each client, including contact details, interaction history, lead score, notes, and more.
Some CRMs are customizable, allowing you to add your own fields. You can include any detail necessary to the relationship, such as the pronunciation of a name or their personal interests.
Whether you have 100 customers or 1000, CRM gives you the ability to greet everyone with a personal touch. This builds a stronger partnership with the client and improves customer loyalty.
Information sharing
Because you're working in the cloud, information never gets siloed with one department or employee. Any user can view and update the customer profile.
No matter who is helping the client, they have a detailed, accurate record at their fingertips.
Remove redundancy
Having a centralized client record also prevents redundancy. Different departments won't waste time collecting the same information or repeating the same tasks.
Your sales CRM keeps everyone on the same page to deliver seamless service to customers.
Proactive service
Having so much information about the client allows sales staff to anticipate their needs. Instead of leaving the customer to search for new products, sales reps can make personalized recommendations.
Recommendations are made based on the individual's purchase history. Or, CRM can create an algorithm based on what similar customers have bought.
You don't just show the customer you care by recommending items of interest.
You also drive revenue by encouraging them to make another purchase.
2. How CRM Benefits Sales Reps & Managers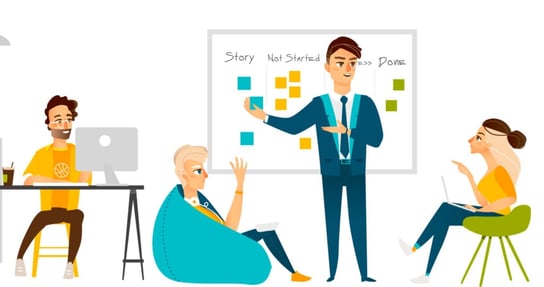 If you're looking for a way to better manage and improve your sales team, a CRM system is precisely what you need.
A CRM benefits sales teams by providing visibility and accountability for both reps and managers. Here's how:
Identify and visualize your sales pipeline
If you don't have a sales pipeline (like 68% of sales teams), a CRM can help you build one. You can customize the pipeline stages around your sales process or use a template.
From there, you can assign tasks to each stage of the pipeline, such as meetings, follow-up emails, phone calls, demos, and quotes.
This gives your sales team a prescribed series of steps to follow at every stage of the deal.
CRM benefits to sales managers
The pipeline feature gives structure and accountability to your sales staff. The tasks associated with each sales stage will automatically sync to their calendar.
Every action taken on an account is recorded in the customer record.
You'll never be left wondering where a deal stands or how a sales rep spent their day.
CRM benefits to sales reps
Standardizing the sales process helps sales reps, too, by reducing their cognitive load. They don't have to think about what step comes next.
The CRM gives them a blueprint. Alerts and notifications ensure nothing gets forgotten.
Your sales team can put their mind to more important things, like finding the next lead.
3. How CRM Improves the Sales Cycle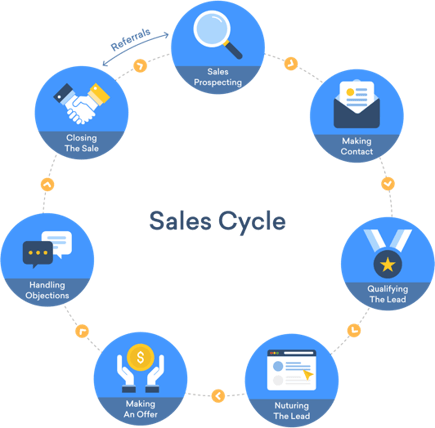 A CRM for sales can streamline the sales process, measure success in real-time, and nurture clients post-sale.
Measure sales performance
Defining your sales process means you can measure it. When everyone follows the same company-approved sales process, you can easily see what's working and what's not.
How long does it take to close a deal?
How much time is spent on each sales stage?
Where do deals get stuck?
A sales CRM uses data to answer these questions so you can quickly address the issue.
More accurate sales forecasts
Making data-driven decisions is the secret to an effective sales organization.
A sales CRM can provide valuable insight into the data you collect every day. Sales personnel no longer need to spend hours trying to figure out future buying trends or performance estimates.
A CRM can do the work for you.
Automate routine tasks
CRM can automate many repetitive sales tasks, such as arranging meetings and follow-ups, writing emails, and generating quotes.
This frees up time for more valuable activities, like attracting new clients and retaining existing customers.
Find better leads
Lead scoring allows you to identify your most valuable prospects.
A sales CRM can automate this process, saving your sales team time by working strategically. Prioritizing the right leads also means closing more deals.
Improve customer loyalty
There's a lot of pressure on sales teams to make the deal and move on to the next.
CRM software can automate a lot of your post-sale care, ensuring clients are not forgotten after making a purchase. Send a thank you message, offer a product warranty, or renew a contract automatically using a CRM workflow.
[Related Article: 10 Best Free CRM Software]
Improve Your Sales Organization with a CRM
All the moving pieces of a deal are more than a spreadsheet can manage. It's time to update to a software system built to navigate the new world of sales.
A CRM for sales can strengthen relationships, enhance sales teams, and optimize your sales cycle.
Not sure what you need?
Use our free guides and tools. Just fill in the forms with your requirements and get a full report and list of CRMs that could be a great fit for your business.
Automate the Sales Process, Save Time, & Easily Tailor monday sales CRM to Work for You. The CRM software that's simple to set up and easy to use
Yes, you can use monday.com to manage all your projects, but you can also use it as a CRM, to manage your ad campaigns, to track bugs, to manage customer projects, and to manage video production. There are probably several different hundreds ways to use it, and we've found teams use it for just about everything: from teachers planning their lessons to engineers building airplanes.
I'd like to shed some light on what makes monday.com so vastly different from other tools on the market. There are a few key distinctions that make it something that people can't live without, and that replaces many of the other tools they're using, such as email, Excel, and other project management tools.
monday.com is excellent for small and midsized businesses (SMBs) because it has an intuitive and visually appealing interface with self-explanatory names given to different elements. Is this one-stop-shop platform right for your small business? Read on to find out.
Pros
Forever free plan available for up to two seats
Modern, intuitive and visual dashboard
Highly customizable
200-plus templates for creating boards and automations
Integrates with a ton of third-party apps
Excellent customer support
Its desktop app works great
Animated fireworks any time you mark a task complete
Cons
Confusing pricing plans because of per-seat (user) pricing
Minimum team size of three for paid plans
Free trial is only 14 days, whereas most project management platforms give 30
Agile sprints are clunky
Must have a Pro account for time tracking
Subscribe to FMC Newsletter
No spam and promotion, just insightful information