A sample migration is a transfer of a small portion of your records (about 10% of your CRM data) to the target CRM platform with the purpose of observing how the service works and infering an estimate of the full migration service cost.
Here at Trujay, our sample migration tool is free and can be used without subscribing to any of our paid migration services. You can use our sample migration tool – and change the migration settings – as many times as needed to get your desired result.
How does the sample migration tool work?
Our tool randomly selects a small portion of your data and migrates the selected records to your target CRM platform, all the while preserving the existing relations between records. On average, a sample migration takes less than 15 minutes to complete!
What do I do once my sample is ready?
Once your sample migration is complete, you`ll receive a list of the migrated records, direct links for accessing them in the CRMs (if possible), and a CSV file with the corresponding source and target CRMs' records IDs. Take the time to thoroughly review the results and make sure the sample migration process was satisfactory.
How do I re-do my sample migration?
To re-do your sample migration, go back to the previous step, make the required changes in the mapping and options, then restart the sample migration as shown here: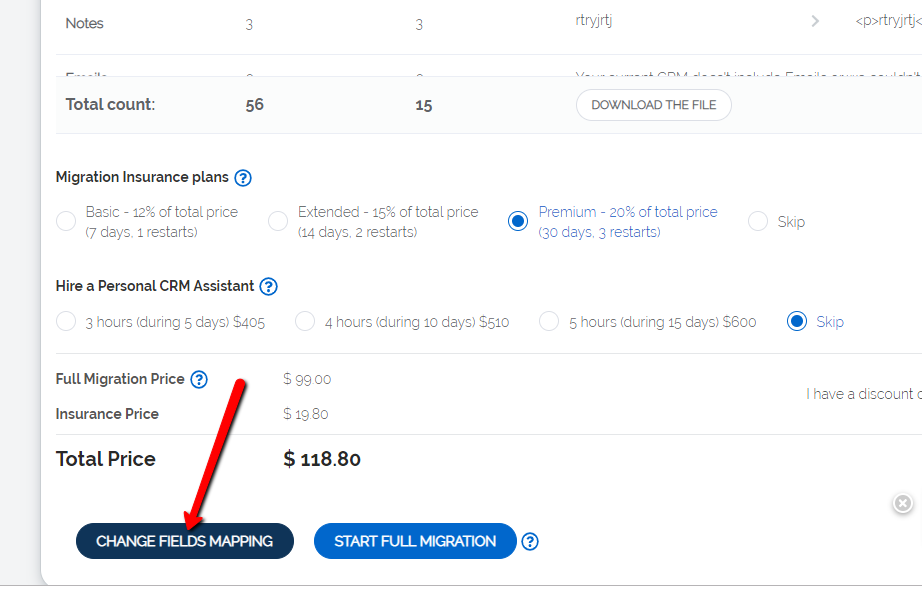 It is important to note that restarting a sample migration will cause the previous sample migration results to be automatically wiped by our tool to avoid the creation of duplicate records. The results of your sample migration are also wiped when you choose to begin a full migration. To proceed to a full migration, click on the "Start Full Migration" button.
If you aren't satisfied with the results of your self-service sample migration, you can request a custom sample migration from our CRM experts here. Don't forget to specify your requirements for the custom sample migration such as record count, custom mapping requirements, and unsupported objects so our CRM experts can provide you with the best service experience possible.