Whatever reason has brought you to this page, one thing is certain – you are interested in CRM systems. If after some research you stayed on two of them – HubSpot and Pipedrive, and can't decide which one to choose, you will find the answer here. And if you're just starting to look for software to manage your business, this article might be useful for you as well.
Pipedrive and Hubspot are quite popular customer relationship management systems that offer various functionality for different costs. To be more precise, one of them even comes for no cost (free plan) with a limited set of features, which gives extra points to its appeal for users. But don't jump to conclusions as each CRM has its pros and cons, and for someone the pitfalls will cover the advantages and vice versa.
Is there a fundamental difference between Pipedrive and Hubspot?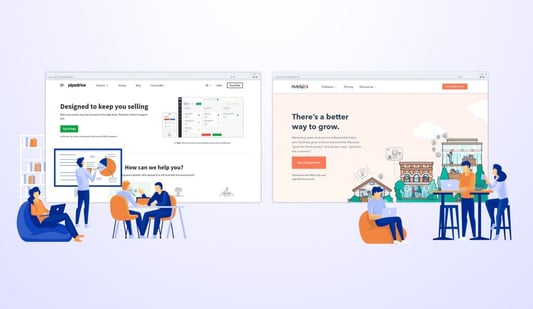 Yes, there is, and it lies in the business orientation. If Pipedrive is aimed at sales teams trying to improve their performance, Hubspot's mission is to cover up the full range of business services including sales, marketing and customer service. That is the main reason why this CRM attracts a bigger audience compared to Pipedrive. Another one is its free plan, of course.
However, as Hubspot separates their tools by the specialized hubs, it is tricky to choose the plan that is right for you. In addition, the minimal price of its paid subscription starting from $45 per month (the number of users differs by plan type) might be too high for small companies. In turn, Pipedrive charges you for every user, but the subscription cost is lower – from €12.5 per month per user. This is the case when only the right calculation can prevent you from unnecessary spending.
Easiness of Use and Customization
It is always not easy to get used to a new CRM but HubSpot and Pipedrive significantly simplify this challenge. Both systems have an intuitive interface with a clear distribution of functions and extensive customization capabilities.
The Sales Dashboard is the first thing you see when entering HubSpot. From here, you can manage your deals and contacts, import your data, set up tickets, build up a marketing campaign, and do many other things. The navigation menu has a clear distribution of services, part of which is locked until you pay for them. You can switch screens, create entities, view reports, grant access to responsible managers, attach files, and all of that in a quite understandable manner. You can also customize the dashboard by using various templates or make it from scratch. If you need help with figuring out how it all works, try HubSpot tour on the CRM use.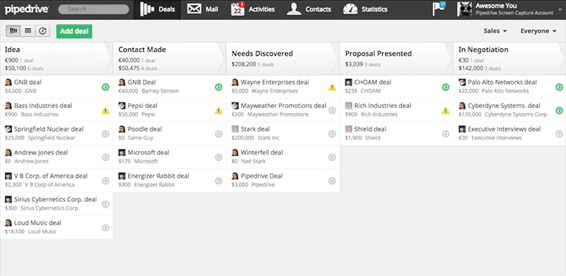 The ease of navigation is Pipedrive's thing, as the system was intended to be a simple-interfaced CRM for salespeople. On the dashboard, you have the categories of your sales process: lead in, contact made, prospect qualified, needs defined, and proposal made. In addition, you can see the current balance and the number of deals, as well as instantly look for what you need in the search bar. On the left, you have the menu with separate categories: leads, deals, mail, activities, contacts, insights, and products. There is also the category labeled with three dots, which contains more tools for data management and workflow automation, as well as knowledge base, community, and useful videos. You won't be able to misunderstand the concept with an introductive 7-step guide on the system's use.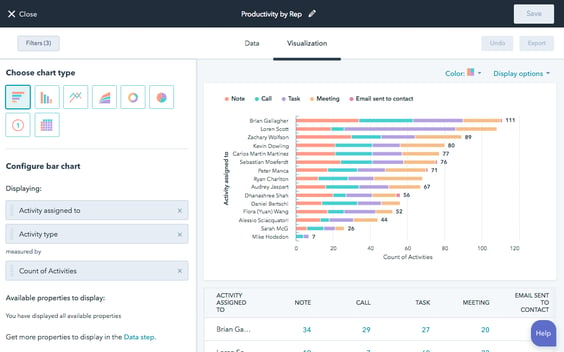 In case you want to change the way the dashboard looks, customization is quite easy here. With unlimited pipelines and multiple dashboards, you can edit sales columns and set everything up the way it's better for your comfort.
As for the mobile applications of both CRMs, they have much more limited functionality than the desktop version. You are able to manage your contacts, deals, and tasks, but reporting and tracking capabilities are unavailable. You also can't upload files or create email sequences.
Email and Apps Integration
This is what every CRM system must have for proper operation, and HubSpot and Pipedrive are no exception. Integration with Gmail and Outlook allows you to set up your email with the platform and interact with the clients from one place. Such an option is available in each system, though HubSpot provides it for no cost. It also has a Conversation inbox where managers can view new interactions coming via chat or email. Such a function helps to track hot leads and not let them go. Another privilege of HubSpot is that it gives you various email templates to save your time for responses. Pipedrive is also capable of doing the same with an opportunity to send messages to up to 100 clients at a time. What is great about both systems is their ability to track and see who's opened your message and clicked the link.
Considering HubSpot's focus on marketers, users are able to send up to 2,000 promotional emails per month in its free plan. However, additional designing options are available only for paid subscribers. As Pipedrive is a sales-orientated CRM, email newsletters were not included into its functionality. However, they can be integrated with the help of a third-party software.
When it comes to app integration, Hubspot seems an unquestioned leader due to its 40 marketing and sales integrated apps available in its free plan. However, Pipedrive doesn't lag behind and gives you a similar set of integrations in its Marketplace. And those that are not included there can be installed via API.
Pipedrive vs HubSpot: Reporting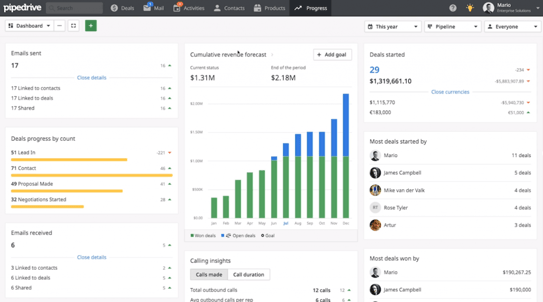 When it comes to the reporting feature, both CRMs show their best. The reports are easily customizable and can reflect any parameter you set. This refers to deals, sales, managers' individual performance, average time per sale, forecasts, etc. HubSpot collects sales and marketing metrics, which you can view on the dashboard. However, custom reports are only available in the $500-per-month Professional plan. Not every user is willing to pay that much for reporting capabilities.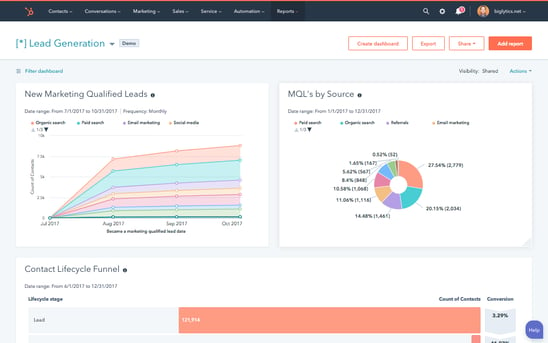 Pipedrive has developed a custom reporting system that users can adapt to their needs. Additional metrics can be easily added to reports, including the number of calls made by individual users and the number of activities completed within a specified period of time. Information in reports can be sorted by category, product, service, or user.
Pipedrive vs HubSpot: Support
The HubSpot's free plan allows users to request the assistance only from the HubSpot Community so in case you need help or support, be ready to upgrade to the prepaid plan. By subscribing to the Starter plan you will get email and in-app support. And if you need phone counselling, it is only available for the Professional plan users.
However, don't get upset. HubSpot cares about its customers and provides them with a bunch of self-education tools: how-to guides, numerous articles, eBooks and free courses.
With Pipedrive, the situation is quite similar. To get phone support, you will need a subscription to the Enterprise plan, but email and chat support is available 24/7 for users of any of its plans. The CRM has a great knowledge base, the users' community and various educational courses.
Pipedrive vs HubSpot: Prices
Considering the availability of the free plan in HubSpot, Pipedrive's payable versions seem to lose the competition, as you have to pay for the services anyway. But it's not as simple as it looks. Pipedrive's privilege is that pricing of its plans is easy to understand, and the cost of each of them is quite reasonable. There is a subscription fee, which differs depending on the set of features available in the plan, and you have to pay the same cost for every next user per month. With unlimited contacts aboard, you no longer need to worry about the number of contacts and being charged for increasing the limit.
Pipedrive has four plans: Essential, Advanced, Professional, and Enterprise, with the price starting from €12.50 per month per user if paid annually. In the picture below, you can see the price list with a clear distribution of features by plans. Each of them gives you access to more than 150 apps and integrations so you can find the tools you lack within the system. You can also add a tool named LeadBooster (€32.50 per company per month) for engaging leads with the help of Chat Bot, Live Chat, and Web Forms.
Coming back to HubSpot's free plan, it is loaded with numerous CRM, sales, marketing, and service tools, which allow you to do almost everything for your business's growth. You can connect your Gmail and Outlook mail to the platform, create landing pages, manage your ads through social networks, set up live chat, and add unlimited users and 1M contacts. In addition, you can manage your teams by setting tasks and goals for them, as well as track their performance. In return, you have to put up with HubSpot branding and significant limitations in VoIP (up to 15 free minutes per user per month), email marketing (up to 2000 emails per month), landing pages (up to 20), list segmentation (up to 5 active lists), custom properties (up to 10), etc. Such options as e-signature, payment integration, and meeting scheduling are also not provided in the free plan.
As for HubSpot's paying plans, this is where things get tricky. With four hubs available (Marketing. Sales, Service, and CMS), three of them have four plans: free, Starter, Professional, and Enterprise (CMS hub has only the Professional and the Enterprise versions). Every paid plan has a 14-day trial, so you still can try all the functionality for no cost. There is also an option to combine hubs of the same plan with a huge discount. For example, Starter Growth Suite containing the Starter plan of Marketing, Sales, and Service hubs will cost you 50$/month instead of 150$ if you buy each hub separately. The detailed description of every hub and services included in different tiers (prices vary from 45$ to 4200$ per month) you can find here.
The main difference between the pricing models of both CRMs is the obligation HubSpot imposes on its clients. With a free plan, everything is clear – it is for an unlimited number of users. But with every subsequent plan the number of users is set by default with an opportunity to add more users for extra cost (from $50 per user per month). So if you are a sole proprietor, you still pay for at least two users.
Let's compare the prices of Pipedrive and Hubspot's CRM & Sales hub as the most similar in terms of functionality.
It is clear from this table, that even though HubSpot provides bulk plans in terms of number of users, their cost is much higher than one of Pipedrive. Maybe except the Enterprise plan where the total price per 10 users is almost identical in both CRMs. The inability to pay just for one user makes Hubspot's paid plans unattractive for small businesses.
Another bump is that Hubspot additionally charges its users for onboarding within the Professional ($500) and Enterprise ($3000) plans. As if their high cost was not enough to scare off potential clients.
Pipedrive vs HubSpot: Instead of a Conclusion
As we've finally reached the point of making a decision, let's summarize what we have on both systems.
If you're looking for an all-in-one solution to manage your sales and marketing processes, as well as optimize your relationship with clients, go for HubSpot. It is very generous for the set of features available in its free plan, so you can try all of them for no cost for as long as you need to understand whether it is your catch or not. Moreover, after you've reached the point when free tools don't cover your needs anymore, you still have a 14-day trial of paid plans. However, if you decide to stay on the subscription, make calculations of whether the system will pay itself off. Because the subscription fee is higher than the average on the market.
In turn, by selecting Pipedrive you get an easy-to-use sales-oriented CRM platform, with which you can manage your sales pipeline effectively. It fits for salespeople who need a clear vision of their interactions with clients, as well as detailed reports on the current situation. With Tasks Calendar synchronized with Google and Microsoft mail, you'll always be aware of the planned meetings, as well as see the results of your work. Pipedrive's functionality is very similar to one of Hubspot's Sales Hub, but the price is much more affordable if talking about paid versions.
So the conclusion is the following: HubSpot is either for small businesses looking for a platform to grow with (free plan) or medium-to-big companies wanting a unified solution for management of their sales and marketing processes (paid plans). As for Pipedrive, it is good for small-to-medium businesses that need a CRM to optimize their sales process for the optimal price – the pricing model per month per user allows cutting spending to the minimum.