SugarCRM to Salesforce Migration: 2024 Guided Experience
A vast variety of organizations consider CRM as a tool to increase business success and improve customer relationships. Nevertheless, the creation of the different CRM platforms induces you to feel that your solution has an outdated interface, lacks some features, or require overly expensive maintenance.
These concerns make a number of companies search for the game-changing software and perform a data import from SugarCRM to Salesforce software. Here you may find a workable step-by-step instruction on how to switch CRM easily, accurately, and securely using an automated migration service like Trujay.
In this article, you will read about "Fast Data Migration from SugarCRM to Salesforce in Few Clicks. SugarCRM is a cloud CRM from the SugarCRM software company, that includes sales force automation, marketing campaigns, customer support, collaboration, reporting, etc. features."
How to Benefit with SugarCRM and Salesforce
SugarCRM and Salesforce are one of the most popular platforms are the leading technology for companies of all sizes. To be more specific, SugarCRM attracts smaller organizations while Salesforce is mostly used for enterprises.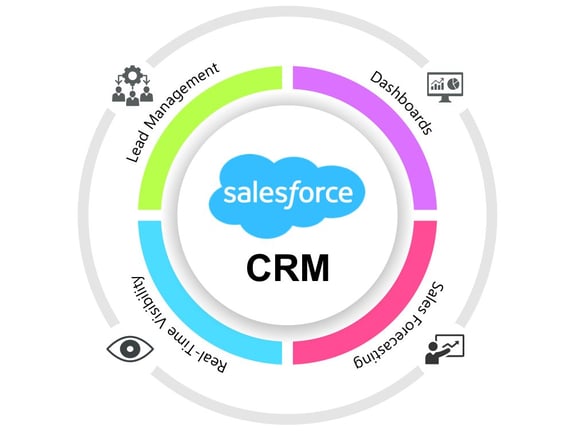 SugarCRM Review:
The updated interface combines three navigation bars into one. The drop-down menus on the main screen get you to specific data swiftly.
Campaign and report wizards help you set up marketing strategies. The drag and drop functionality provides you with an opportunity to create the reports easily.
The platform allows you to launch projects effortlessly by keeping track of the sales and marketing processes through a single portal. In this case, you can monitor tasks and determine opportunities.
The solution includes 113 integration choices like MailChimp, Zapier, Zendesk.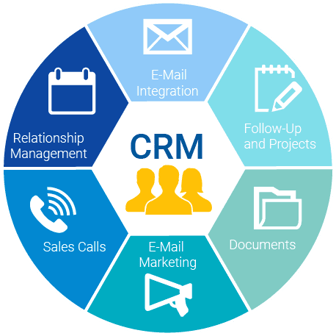 Salesforce Review:
Contact management offers you a complete view of potential customers and important insights into their social media actions.
Customized workflows of the sales and marketing automation help you assign tasks, send emails, and make calls automatically.
Forecasting tools enable you with planning future business steps, predict sales cycles, and manage sales expectations.
The platform integrates 486 apps like Evernote, HubSpot, Marketo.
Salesforce offers insurance CRM software designed to help insurance companies manage customer relationships, streamline operations, and grow their business.
Price Matter
SugarCRM's pricing editions:
Professional – $40 user/month/billed annually
Enterprise – $65 user/month/billed annually
Ultimate – $150 user/month/billed annually
Salesforce contains a 14-day free trial and four paid subscriptions:
SalesforceIQ Starter – $25/user/month/billed annually
Lightning Professional – $75/user/month/billed annually
Lightning Enterprise– $150/user/month/billed annually
Lightning Unlimited – $300/user/month/billed annually
For more information, read What is Salesforce CRM Pricing
By and large, both CRM giants can empower your organization with a list of great functionalities and enhance your customer experience. However, Salesforce stands out with some compelling features and pricing options.
SugarCRM to Salesforce Migration: Swift Steps to New Business Opportunities
Among a variety of ways to migrate CRM data, you can consider an automated migration service: Trujay. The solution moves records accurately and securely by:
Guaranteed data security and the ability to take advantage of the Trujay Non-Disclosure Agreement (NDA)
Fields and users mapping for preserving data structure
The total uptime of existing and future CRMs during the transition
Free Sample Migration to evaluate the service in action
Free estimation
SugarCRM to Salesforce: a Step-by-Step Guide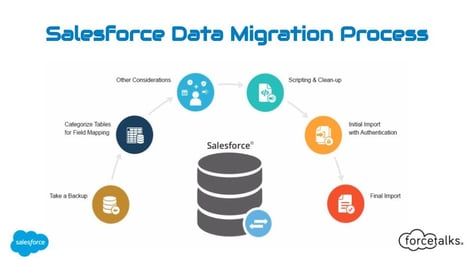 Use the following steps to complete data transfer quickly:
1. You need to register your account with Trujay to set up the sample migration process. Visit Trujay's Self-Service wizard to begin.
2. Choose SugarCRM from the drop-down menu. Specify your URL, username, and password.
3. Specify your destination CRM – Salesforce and press the "Connect" button.
4. Click the 'Customize Mapping' button to set up the fields you want to migrate from SugarCRM to Salesforce. If everything looks good, click the 'Start Sample'.
5. Check your sample results after the migration from SugarCRM to Salesforce. If you're satisfied, click the "Start Full Migration" button.
Note: You can re-run your free sample migration and change field mapping as many times as you wish at no cost.
The service will transfer all your data without any hassles or business interruptions so you will be able to get to work right away and implement your post-migration actions.
Trujay determines the mapping of the appropriate fields and migrates entities together with relations between them from the old CRM, according to the modules in Salesforce. If you need to transfer any custom fields, you have an opportunity to ask our technicians to set up the deeper mapping. Plus, the QA team is checking all the results after the switch.
Furthermore, the SaaS offers a free deduplication option that will allow you to eliminate all the dupes and redundant information from your current CRM.
Regarding security matters, there is no chance of any data loss, as all the records are copied from the source solution.
Last but not least, while using Trujay, there is no downtime for your business processes, so you can get to work right away.
Cut to the Chase
The migration from SugarCRM to Salesforce is not just an opportunity, but a game-changer for your business. By making this switch, you are opening doors to new possibilities and paving the way for enhanced customer relationships. With Salesforce's powerful features and functionalities, you can take your business to new heights and stay ahead of the competition.
So don't miss out on the chance to thrive and cultivate better customer relationships. Embrace the migration from SugarCRM to Salesforce and take advantage of the benefits that come with it. Take the above-mentioned hacks into consideration and move your records smoothly with an automated migration service: Trujay.