Zoho is an award-winning CRM that is used by over 150,000 companies in 180 countries to turn more leads, connect with customers, and increase sales. Zoho CRM serves as a central hub for all of your sales, marketing, and customer service operations, allowing you to streamline your processes, policies, and people all in one place.
"With this deep understanding of business requirements, we have crafted dashboards that decision-makers and executives can use out-of-the-box from within Zoho Analytics, a unique analytics solution in the self-service BI market. Now, organizations can leverage AI-powered technologies via Zoho Analytics, to correlate data that traditionally resided in departmental silos, into meaningful metrics that span across business functions. For example, being able to determine the impact of marketing spend on new sales." – Raju Vegesna, Zoho's Chief Evangelist.
Who is Zoho CRM for?

Zoho CRM can be efficiently customized to meet the needs of any form and scale of the company. Start-ups, large corporations, and industries such as real estate, insurance, healthcare, legal, media, restaurants, banking, tax, and nonprofits all use modern CRM systems like Zoho CRM to improve their sales, marketing, and customer service efforts.
B2B
Zoho CRM helps B2B businesses stay on top of their sales activities, from handling an account's contact details to keeping up to date with company transactions, payments, and reports. It enables them to build a shared forum for their partners, suppliers, and other business stakeholders to communicate with one another.
B2C
B2C companies have shorter customer life cycles, and they typically require a solution that is more direct and less time-consuming. Lead management, instant surveys, marketing automation, and other Zoho CRM features make it easier for B2C businesses to communicate with their customers.
SMBs
SMBs aren't all small or medium businesses; they're both smart and modern enterprises. The common belief that cloud CRM is too costly and difficult for small businesses is false. They can always begin their CRM journey with Zoho CRM's free edition. Small business CRM systems have a level playing field and the opportunity to contend against the big boys by acting as a technical leveler.
Enterprises
Zoho CRM's advanced CRM features, such as process management, advanced analytics, territory management, sales, and marketing automation, can help salespeople spend less time on mundane activities, spend more time on customers, and unify their operations across multiple geographic locations.
Zoho CRM ease of use
To be honest, Zoho may seem a little outdated. Even after recent updates, the software's look and feel still continues to look a little dated. It works fine in terms of accessibility and navigating the major features needed to operate the CRM. The interface is simple, and all of the features function well, though they can be a little slow when importing large datasets at times.
And, while that might seem to be a petulant argument, keep in mind that this is a piece of software that someone may be using every day, sometimes for hours at a time. It must appear appealing in order for people to want to log in.
Zoho CRM pricing
Zoho has a free option for up to 3 users. The free version includes integration with social media accounts, as well as the recording of sales activities, events, call logs, and notes. With the free edition, you can also save up to 10 email templates.
So, is Zoho CRM really free? In this initial version, yes, it is. You do not need to input your credit card details.
The Standard, Professional, and Enterprise versions all allow for a 15-day trial period before charging your card, while the Ultimate Edition offers a 30-day free trial.
Free trial – yes
Standard– $12 per user per month billed annually
Professional – $22 per user per month billed annually
Enterprise – $35 per user per month billed annually
Ultimate – $45 per user per month billed annually
Zoho Standard provides 100,000 records and includes features such as scoring rules, email analytics, workflow conversion, tags and classes, forms, special fields, personalized reports, and dashboards.
Zoho Professional includes all of the features of the standard package, plus some extras. Real-time sales alerts, process management, web-to-case forms, macros, inventory management, validation rules, automated field updates, Google Ads assimilation, webhooks, and limitless records are only a few of the features available.
Zoho Enterprise includes all of the features of Zoho Standard and Professional, as well as tools for large businesses. Conversational AI, selling email, and a visual CRM view are just a few of the features.
Multi-user portals, custom modules and buttons, sub-forms, mobile SDK and app delivery, autoresponders, email parser, conditional fields, and data encryption are also included (EAR).
Finally, the Zoho CRM Ultimate Edition includes a dedicated database cluster, advanced customization, automation recommendations, data enrichment, improved storage, and email sentiment analysis. A 30-day free trial is available for the Ultimate Edition.
What are the benefits of Zoho CRM?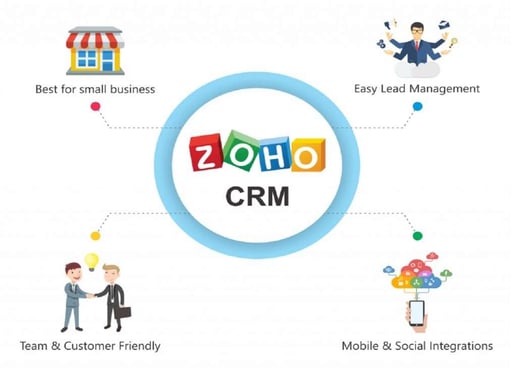 If you're having trouble managing sales, marketing, and customer service, it's time to move to an advanced, all-in-one CRM system like Zoho CRM.
You can find, nurture, and follow up on quality leads with Zoho CRM. This means you won't waste time and money on a lead that is unlikely to become a customer.
Efficient business process
Define and create efficient business processes to help the team remain productive. Zoho CRM will assist you in ensuring that requirements are adhered to as procedures are carried out.
Zoho CRM provides your decision-makers with accurate data from across your organization through analytics and reports, allowing them to make better decisions in response to market trends.
Data security and compliance
Your customer data is secure in Zoho CRM data centers, which are protected by top-of-the-line physical and digital security measures.
Your team will have access to critical CRM data no matter where they are with Zoho CRM mobile. A field sales rep will search for details about local customers or stop by for a quick meeting.
Better customer satisfaction
Zoho CRM provides your team with all of a customer's background data, as well as information about similar problems that others have encountered, allowing your team to easily answer customer questions and ensure that they leave satisfied.
[Related Article: HubSpot vs. Salesforce Comparison]
What does Zoho CRM do for your business?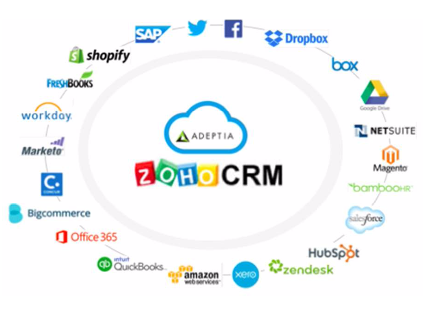 Sales Force Automation
Automate routine sales, marketing, and support functions that consume precious resources, allowing you to focus on your customers. Create workflows that help you reduce manual data entry, remove redundancies, and accelerate your entire process.
Capture leads, automate lead scoring, classify conversion-ready leads, and follow up with comprehensive contact details.
In less time, you'll be able to close more deals. Keep track of where your deals are in the process and take any opportunity as it arises.
Get real-time consumer feedback, communicate with them through platforms, and strengthen the relationships.
It takes a lot of manual work for your team to follow up on a lead or update a sector. Learn how to use workflows to complete these tasks even more quickly.
Process Management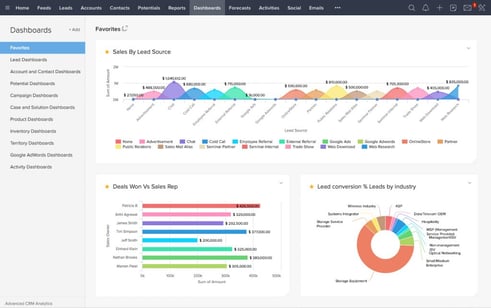 Is the sales staff aware of what to do at each point of the sales process? Your sales team will use Blueprints to determine the next step to take at any time. Create a sales plan that the whole team will execute.
Bring your offline sales processes into your CRM and make sure all your sales reps follow it at every turn.
Create rules in your CRM that are based on your actual sales processes. Assign leads to the appropriate salesperson, authorize discounts, and verify sales data according to your specifications.
Omnichannel
Communicate with clients and prospects in real-time. Receive notifications whenever anyone communicates with your brand, whether it's by visiting your website, reading an email, or discussing it on social media.
Fully manage email communication inside Zoho CRM. Send emails, link emails to CRM records, and analyze email data.
To make calls from Zoho CRM, link your telephony provider. Calls can be scheduled, reminders sent, and call logs saved for each contact.
Monitor what people are saying about your brand on social media, and grab new leads that aren't in your CRM automatically.
Enable prospects to access your goods and make buying decisions using a self-service platform.
Analytics
The more your company expands, the more information you'll need. With Zoho CRM's reports, analytics, and predictions, you can monitor the success of each sales operation and break down quotas into manageable goals.
Create dashboards, analyze patterns, remain on top of your KPIs, and know where you stand in relation to your goals.
Real-time reporting allows you to see revenue patterns, marketing strategies, activity reports, and team results in real-time.
By the way, good alternatives to Zoho are:
[Related Article: HubSpot CRM vs. Zoho CRM]
THE BOTTOM LINE
Zoho CRM does a great job of delivering an excellent feature mix at a competitive price as well as integration with a long list of compatible Zoho products.
So, take into consideration all features described above and make the right choice.