Businesses that struggle with heavy workloads and low productivity often suffer from poor workflow and management practices. Despite the availability of numerous project management systems, many of them go unnoticed due to a lack of awareness.
One such system that has been embraced by more than 100,000 organizations is monday.com. This platform offers a comprehensive solution for managing both simple and complex projects within a unified environment. With its ability to create tasks, track activities, and automate workflows, monday.com empowers managers to meet deadlines and adhere to schedules.
However, to fully leverage the capabilities of this platform, it is crucial to set up, configure, and connect monday.com appropriately. To assist you in this process, we have compiled a collection of valuable tips and tricks specifically tailored for monday.com.
What is monday.com?
Let monday sales CRM do the grunt work while your team stays focused on high-level tasks, such as creative projects, business strategy, and relationship building.

Just like any other CRM out there, it has its learning curve but its user-friendly interface makes it easy for anyone on the team to use without needing any prior technical knowledge or experience.

You can communicate with customers, visualize and analyze customer data, and use dashboards and templates to simplify operations. monday sales CRM offers loads of scalability, enabling small businesses to run and manage any workflow.

monday sales CRM is a visual platform, so that's what makes it such a simple and easy tool to use for any team or organization. Teams can be overwhelmed by dealing with multiple tasks and timelines. The platform dashboards allow anyone to navigate it easily. Despite its simplicity, the platform is just as powerful.

monday.com is a popular work operating system that is designed to help teams and organizations manage projects, tasks, and workflows. It provides a visual and collaborative platform for teams to plan, track, and execute work more effectively. monday.com is known for its user-friendly interface and customizable features, making it suitable for a wide range of industries and use cases.

Key features of monday.com include:

Task and Project Management: Users can create boards and tasks to plan and organize their work. It supports various views, such as Kanban boards, Gantt charts, and timelines, to track progress and deadlines.
Customization: monday.com allows users to tailor boards and workflows to their specific needs, making it adaptable for various project types and team structures.
Team Collaboration: Team members can collaborate in real-time, leave comments, attach files, and communicate within the platform. It also integrates with popular communication tools.
Integration: monday.com integrates with many third-party applications and services, including popular productivity and project management features, to streamline workflows and data sharing.
Automation: It offers automation features that enable users to set up rules and triggers to perform repetitive tasks automatically, saving time and reducing manual work.
Reporting and Analytics: Users can generate reports and dashboards to gain insights into project progress, track key performance indicators, and make data-driven decisions.
Mobile Accessibility: monday.com is accessible on mobile devices, ensuring that users can stay connected and updated while on the go.
Security and Compliance: It provides security features and compliance options to protect sensitive data and adhere to industry regulations.
monday.com is used by a wide range of teams, including marketing teams, software development teams, project managers, and many other professionals who require a flexible and collaborative platform for managing their work. It is suitable for both small businesses and large enterprises.
How to Establish an Effective Monday.com Board for Streamlining Marketing Projects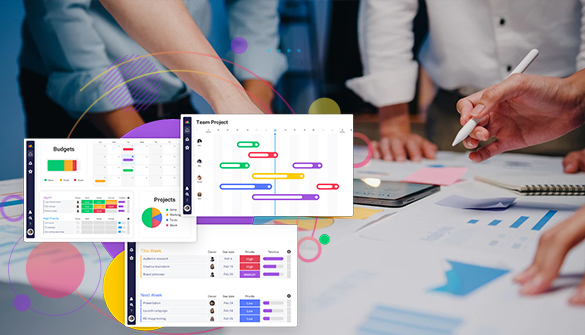 Commence with a Team Meeting
To foster effective collaboration with your team, initiate a discussion about the management system you will be implementing in your organization. Emphasize that the objective is to enhance teamwork rather than closely monitor individuals.
As you strive for improved productivity from your team, it is crucial to establish a seamless workflow and proactive project management. By creating and assigning projects within a virtual system, everyone can collaborate on a more advanced level.
Extend Board Invitations to Team Members
Now that your team is aware of the shift in the work environment and the reduction in manual tasks, you can begin inviting team members to join the board using their names or email addresses.
Once they accept the invitation, they will gain access to the board and the projects that all of you will be working on.
Create Tasks on Your Board
Start populating your board with tasks, known as items. These items will represent the specific tasks related to your work field. For instance, you can create tasks such as collecting customer reports, running ad campaigns, and generating leads. Each member on the board will have visibility into these tasks, allowing for seamless collaboration and progress tracking.
Use Relevant Columns
monday.com provides a wide range of columns that can be utilized to create a well-organized and streamlined board for your marketing projects. These columns offer a variety of functionalities that can enhance collaboration and improve project management. Take advantage of these options to tailor your board to your specific needs and ensure a smooth workflow.
Unlock the Power of Automation
Automation is the key to efficient project management. By automating your tasks, you can significantly increase your team's productivity. Imagine completing 20 projects by the end of the month instead of just 10. With monday.com, you have the ability to set rules that automate your workflow.
Whether you need to change the status of a task after it's completed or add a new task when the previous one is finished, monday.com makes it easy to automate these processes. Simply go to your monday.com board, click on 'Automate' on the right, and explore the endless possibilities of board automation.
17 Monday.com Tips and Tricks for Maximizing Productivity
monday.com is not just a platform, it's your personal productivity assistant that empowers you to conquer your workdays with ease. This work OS is designed to help you stay organized, manage your time efficiently, and tackle tasks week by week. With monday.com, you can plan ahead, streamline internal processes, and always stay on top of what needs to be done. Here are some invaluable tips, tricks, and best practices to supercharge your project management outputs:
1. Begin with Project Documentation
To kick off your project effectively, start by adding comprehensive documentation on monday.com. This documentation should outline the framework of your project, including priority-based processes and action items, all within project tables. Share this documentation with your team to ensure a smooth adoption of your new project plan. Additionally, make sure that each project has its own dedicated page in your profile, making it easy for everyone involved to find and track tasks and due dates. Avoid any confusion about task deadlines by clearly outlining them from the start.
2. Optimize Your Project Schedule
To maximize efficiency, it is essential to optimize your project schedule. By implementing a work breakdown structure (WBS), you can break down the entire scope of deliverables into specific tasks and seamlessly integrate them into your project workflow. This approach, commonly used by managers utilizing the waterfall model, allows for better organization and real-time task tracking, ultimately leading to improved project management outcomes.
3. Foster Task Accountability
Fostering a sense of ownership among team members is a powerful motivator that leads to greater accountability and productivity. With monday.com's intuitive dashboard, you have the ability to assign tasks and subtasks to specific owners with just a simple click of the Person icon. Once assigned, team members are promptly notified of their responsibilities, including due dates and the ability to leave comments.
By assigning even simple tasks, such as providing progress updates during sprints or identifying potential challenges, you empower team members to take ownership of their work. This not only promotes transparency within the team but also cultivates a culture of accountability, where everyone is invested in the success of the project.
4. Customize Your Workspace
To unlock the full potential of monday.com, it is crucial to customize your workspace to cater to your team's unique needs. This section will explore the myriad of customization options available, including creating templates, configuring board views, adding columns, and setting up dependencies. By tailoring the platform specifically to your requirements, you can optimize your workflow and foster seamless collaboration within your team.
5. Make Use of Advanced Filtering and Sorting
When faced with a sea of data, it's easy to feel overwhelmed. But do not fear, because monday.com has got you covered with its advanced filtering and sorting options. With these powerful tools at your disposal, you can quickly refine your search and locate the information you need in no time. Discover the art of creating custom filters, saving them for future use, and optimizing your boards with the magic of sorting. Say goodbye to data overload and hello to streamlined organization.
6. Maximize Collaboration and Communication
Efficient collaboration is crucial for successful project management. In this section, we will delve into the powerful collaboration and communication features of monday.com. Discover how to effectively use @mentions, comments, and instant notifications to keep your team members engaged and well-informed. Additionally, explore seamless integrations with popular communication tools like Slack and Microsoft Teams to streamline your workflow and enhance collaboration.
7. Automate Your Workflow with Integrations
Take your monday.com experience to new heights with the magic of integrations. By seamlessly connecting monday.com with other tools and services like Zapier and Jira, you can automate repetitive tasks and eliminate manual effort. Integrating these powerful tools empowers you to create workflows that trigger actions, synchronize data, and supercharge your overall efficiency. Say goodbye to time-consuming manual tasks and hello to a streamlined workflow that boosts productivity.
[Related Article: monday CRM vs Jira Comparison: Which is Better in 2024?]
8. Monitor Progress and Analyze Performance
In order to effectively manage projects, it is essential to constantly track progress and analyze performance. With monday.com, you have access to a wide range of comprehensive tools that allow you to monitor project milestones, track time, and generate detailed reports. Discover the power of the timeline view, activity logs, and advanced reporting features to gain valuable insights and make data-driven decisions that will drive your projects toward success.
9. Unlock the Power of Keyboard Shortcuts
Discover the secret weapon that can revolutionize the way you work with monday.com - keyboard shortcuts. These hidden gems have the power to significantly boost your productivity by allowing you to navigate the platform, create and edit items, and perform actions seamlessly, all without lifting your hands off the keyboard. By mastering these shortcuts, you'll be able to save valuable time and streamline your workflow like never before. Get ready to take your efficiency to a whole new level.
10. Create Powerful Dashboards
Dashboards are an effective way to visualize data and get a comprehensive view of your projects and also one of other monday.com tips. In this section, we'll delve into the advanced capabilities of monday.com's dashboards. You'll learn how to craft custom widgets, connect multiple boards, and present data in compelling visual formats. These insights will empower you to construct informative and visually striking dashboards.
11. Ensuring Data Security and Controlled Access
Protecting your data and managing access is a top priority. monday.com offers robust security features that enable you to oversee user roles, permissions, and data privacy settings. You can implement access restrictions, configure single sign-on (SSO), and adopt best practices to safeguard sensitive information.
12. Enhance Workflows with the Timeline View
The timeline view is a strong tool for precise project planning and management. Discover how to leverage this feature for creating project timelines, visualizing dependencies, and allocating resources effectively. You can explore various timeline settings, customization options, and techniques for optimizing your project management workflow.
[Related Article: Notion vs monday: Which Is Better in 2024?]
13. Use Advanced Reporting and Analytics
In addition to fundamental reporting features, monday.com provides advanced reporting and analytics capabilities. You can dive into these functions, covering the creation of custom reports, data filtering, and applying calculations. By fully utilizing monday.com's reporting tools, you'll acquire actionable insights and make data-driven decisions.
14. Seamless Integration with External Tools and Services
monday.com seamlessly integrates with a variety of external tools and services, enabling you to connect your work management platform with your existing software ecosystem. There are popular integrations, including Google Drive, GitHub, and Salesforce. Leverage these integrations to centralize data, streamline collaboration, and boost productivity.
15. Automate Project Management with Formulas
monday.com's formulas feature empowers you to automate calculations, streamline processes, and derive meaningful insights from your data. Unlock the potential of formulas to automate complex calculations and reduce manual effort in your project management workflow.
16. Efficiency Optimization through Workload Management
Effective workload management is crucial for task distribution and team productivity. monday.com provides tools for visualizing and managing individual and team workloads efficiently. You'll discover how to use workload views, assign tasks intelligently, and balance workloads across your team. Proper workload management ensures optimized productivity and a healthy work-life balance.
17. Sync monday.com Boards with Calendars
Last but not least among the monday tips is syncing it with calendars. Managing a team of developers can be challenging in terms of tracking project status and progress. With monday.com, you can easily oversee your team's projects and receive real-time updates through streamlined event management. Simply sync or create a calendar for your team members to keep them informed about their projects and time allocation.
Wrapping Up
In conclusion, monday.com emerges as a versatile and indispensable tool for modern project and team management. Its robust features, user-friendly interface, and adaptability to various industries set it apart as a powerful work operating system. With monday.com, teams can seamlessly collaborate, automate tasks, and gain insights from data, all while ensuring data security and compliance.

As we've explored in this blog post, monday.com offers a plethora of functionalities, from creating dynamic dashboards to integrating with external tools and services. It empowers teams to streamline workflows, manage workloads, and automate repetitive tasks, ultimately leading to enhanced productivity and more informed decision-making.

The flexibility of monday.com is evident in its widespread adoption across diverse sectors, from marketing teams to software development, and from project managers to large enterprises. Whether you're just getting started or looking to supercharge your existing processes, monday.com offers a comprehensive solution.

So, whether you're seeking to improve project management, enhance collaboration, or optimize efficiency, monday.com stands as your indispensable partner in conquering your workdays with ease. With these tips, tricks, and best practices at your disposal, you're well-equipped to harness the full potential of this work operating system and achieve greater success in your projects.