Building a marketing funnel is vital for any business that wants to streamline their marketing and customer journey. It helps to ensure you have control over your marketing and keep leads being moved toward making a purchase at all times. Using CRM tools is an important part of creating a marketing funnel, helping you to acquire new customers and keep track of them as they move through the customer journey. If you want to create a marketing funnel that produces results for your business, you need to remember to take your CRM into account. If you're not already using a CRM, now is the time to find one and put it into action.
What Is a Marketing Funnel?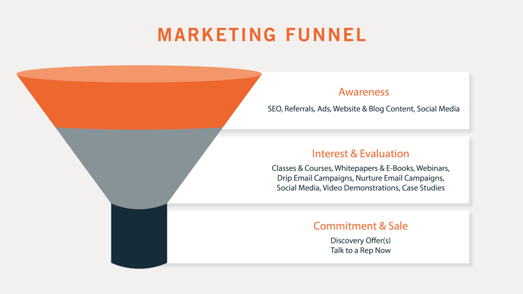 A marketing funnel is a visual way to depict the steps that a visitor takes in their customer journey. It starts when they first find out about your brand or come into contact with your marketing materials to when they convert and you make a sale. A marketing funnel can differ slightly in its steps, with different models available. Each brand needs to have its own marketing funnel that has been created to meet their needs, including the stages that make the most sense for them and what a lead needs to do in order to progress to the next stage.
One of the standard marketing funnel designs has four stages. These are attention (or awareness), interest, desire, and action. Here's a brief description of what each of these stages means:
Attention – this is when someone becomes aware of your brand by seeing an advert, hearing about you from someone else, seeing a social media post, etc.
Interest – at this point, the person is interested in what you have to offer and thinks that you could solve a problem that they have or wants to know more about what you could do for them
Desire – here, the customer has researched your brand and now wishes to convert
Action – finally, they take action by making a purchase, getting in touch with you, scheduling a demo or starting a trial, or any other action that you want them to take
You might see an even simpler marketing funnel with just three stages: awareness, consideration, decision. It's up to you to work out which steps work best for your marketing funnel and what each stage means for you.
A marketing funnel is shaped like it is because you will naturally get more people at the top than the bottom. Many of the people who become aware of your brand or are even interested in it will not go on to convert. That's why businesses often want to widen the top of their funnel, casting their net out wider so that there are more people to potentially move down it and get to the bottom.
[Related Article: The Best Marketing Automation Software & Platform]
How Does CRM Fit Into the Marketing Funnel?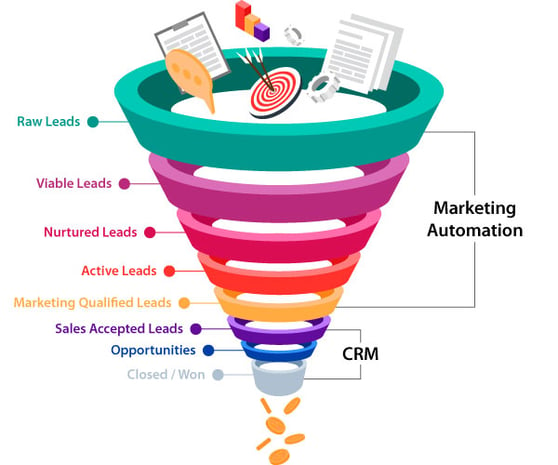 When you're considering your marketing funnel, you also have to think about where CRM fits in. Customer relationship management is essential for sales and marketing and helps you to track your marketing funnel and measure results.
A CRM gives you the tools that you need to manage and nurture your leads at each stage of your marketing funnel. You can keep track of who is at what stage and see what steps you need to take next. You will be able to see clearly when and why your leads move to the next stage of the funnel and also take action to move people through the tunnel.
CRM software offers a range of features that allow you to manage your marketing funnel more efficiently. It gives you much better visibility over your sales funnel and what's happening in your sales and marketing departments too. A CRM can be the foundation of a good marketing funnel. You can use it to track important data as well as your sales and marketing data. When it has good automation features, it can be even more useful to help you manage the different steps involved in the funnel.
How Can CRM Benefit and Improve the Marketing Funnel?
A good CRM can help you to improve your marketing funnel in several ways. It provides tools that help you to manage your leads more easily and take the right actions to identify the best ones to move through the marketing funnel.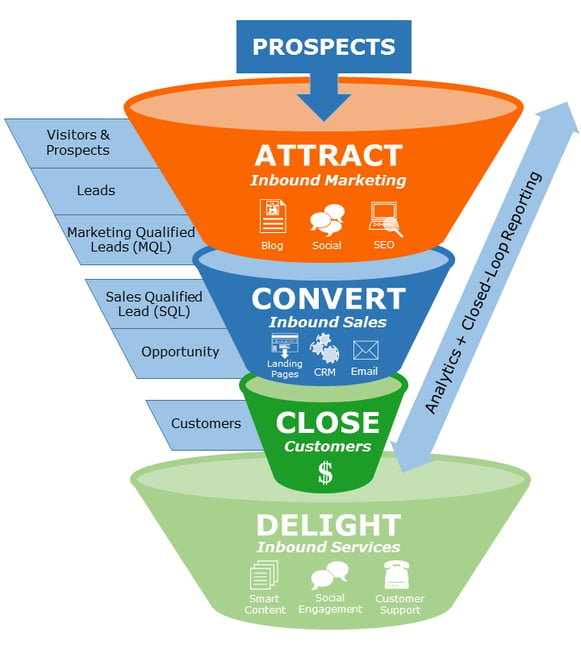 Automation
Choosing a CRM that provides good marketing automation tools enables you to manage your funnel and nurture your leads more easily. Your CRM can take care of various tasks, helping you to save time so that you can concentrate on more important things. For example, a CRM can automatically tag your prospects based on their interests. The tags could each then trigger a specific marketing action, where it's serving an ad, sending an email, or adding them to a sales call list. This will help to move people through your marketing funnel without your staff having to carry out every action manually.
Your CRM automation can be particularly useful when collecting leads. When you want to start finding out the interests of your prospects, educating them, and building trust in your brand, you can combine your CRM with tools such as email marketing for an automated campaign. For example, a prospective customer might fill out a lead capture form. They can be tagged with relevant interests automatically, which will trigger a sequence of events such as receiving marketing emails and getting a sales call from someone in your team.
As well as automatically sending emails or other communications, a CRM can prompt sales representatives to take certain actions too. This might be making a sales call, personally extending an offer, making follow-up calls, or other actions that require a real person, rather than an automated action.
Track Customer Data
A CRM gives you the ability to track important customer data, including who your customers are and what they're doing. It can help you to build and grow a powerful marketing funnel by gaining the data that you need relating to your customers' needs and interests. As someone moves through the marketing funnel, more of their information can be added to your CRM so that it can be helped to further refine what steps are taken to move them through the funnel.
Being able to track this data also means you can get great insights into who is most likely to move to each stage of the funnel and eventually convert. The data from your CRM can help you to create better customer profiles too so that you can improve the marketing experience.
Integration with Other Tools
Integrating your CRM with other tools makes it even easier to build and manage a powerful marketing funnel. You can integrate your CRM with your email marketing system, social media tools, website analytics, calendar tool, team communication, prospecting software, accounting software, and more. With connecting integrations such as Zapier, you can get even more apps connected to your CRM. Integrating your CRM with forms and data collection tools means that you can have customer information sent straight to your CRM. Calling software is also useful to integrate into your CRM so that you can also schedule and track calls made to and from customers.
Personalization
Tracking data using your CRM enables you to make the processes in your marketing funnel more personal. A more personal experience appeals to customers, whether it's using their name when you email them or sending them content that is relevant to their interests. Personalizing your marketing and sales ensures you get to know your customers better and helps them to trust you more. At different stages of the marketing funnel, you can find opportunities to personalize. Your CRM can help you to personalize a chat with a lead, an email, a trial, or onboarding a new client.
Generate Reports
It's essential to be able to track the success of your marketing funnel. As well as getting excellent analytics from your funnel in real-time, or close to it, you can also generate reports of important data. You can expand the analytics and reporting capabilities of your CRM with the right integrations. Some CRM tools have excellent reporting options while others might need to rely on integrations and extra tools to provide more information.
Using a CRM won't replace your employees. You still need people to do many of the things required to manage your marketing funnel and nurture leads. However, a CRM will help you to automate many of the processes in your marketing funnel. This helps to save time and ensures all of your prospects and leads are dealt with appropriately so that valuable ones don't end up slipping away. Your CRM provides the automation that you need to enhance your capabilities and increase your productivity.
When you have crafted the steps of your marketing funnel, consider how to use your CRM to enhance each step. How can you use it to automate certain actions and to collect the important data that you need to convert people?