A few years ago, businesses could go pretty well even if they steered clear from using the Internet and new technology to expand. Those companies that pioneered the digital back then, have already leapfrogged their competitors. What's the situation now?
Today, it's changed tremendously in favor of technology. Moving from physical to digital is absolutely necessary to connect with customers, in view of the statistical data below. So, why use CRM for Sales and Marketing?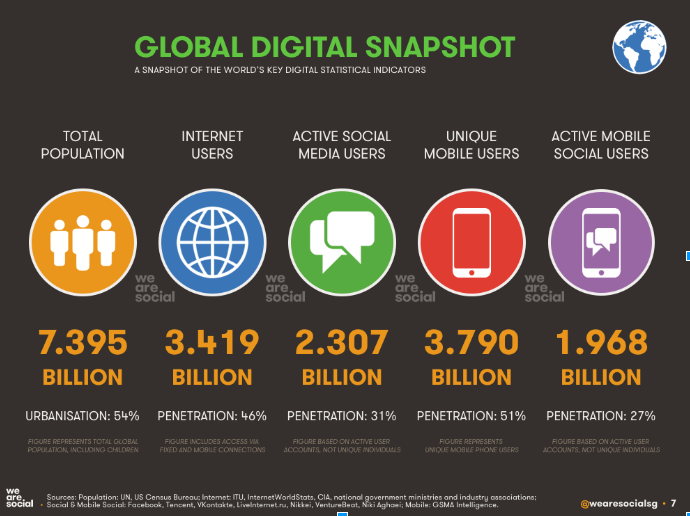 Due to fierce competition, using old-school ways of connecting with clients is no more effective, and this is where technology, namely CRM systems come into play.
BTW, below you may see the top 7 CRMs for this domain:
☑️ Salesforce
Salesforce, a dominant force in the industry, commands a remarkable 20% share of the CRM market. Renowned for its groundbreaking approach, extensive array of features, and limitless customization possibilities, this industry giant has left an indelible mark. The comprehensive suite of solutions provided by Salesforce encompasses numerous "clouds" or modules, offering a complete software solution that caters to various needs.
---
☑️ monday
monday sales CRM seamlessly integrates project management and CRM functionalities, delivering exceptional results that have garnered rave reviews from users and industry specialists alike. With this robust CRM solution, you gain complete control over customer management, lead tracking, and campaign execution, while simultaneously harnessing the power of a project management tool that efficiently monitors projects, budgets, and teams. One of the most impressive aspects of monday CRM is its fluid data exchange across all departments, eliminating the need for laborious manual entry.
---
☑️ HubSpot
HubSpot, a trailblazer in implementing the inbound strategy, offers a comprehensive platform equipped with all the necessary tools to captivate, interact with, and satisfy customers at every step—from initial interest to final purchase and beyond. The HubSpot platform encompasses a cutting-edge CRM solution along with four robust hubs dedicated to marketing, sales, content management, and customer service.
---
☑️ Zoho
Zoho is renowned for its exceptional level of customization, rendering it suitable for enterprises of all sizes and industries. With a comprehensive range of features catering to sales, marketing, and customer service, Zoho CRM stands as a powerful platform in its own right. Furthermore, its extensive collection of integrations further amplifies its capabilities, solidifying its position as a leading choice in the market. The unparalleled customization options provided by Zoho CRM are a prominent feature that sets it apart.
---
☑️ Freshsales
Freshsales is a robust CRM solution that provides an array of sophisticated sales and marketing tools across all pricing tiers. With Freshsales, you can ensure seamless coordination among teams using its comprehensive 360-degree customer profiles. Engage with your customers through timely and effective multichannel outreach, leveraging email and chat campaigns. Additionally, Freshsales offers the added benefits of an AI-powered assistant and salesforce automation, enhancing your overall efficiency and productivity.
---
☑️ Act!
Act! is tailored for small businesses aiming to expand their brand presence and adopt smarter marketing strategies. It provides a comprehensive marketing toolkit encompassing features like landing pages, electronic campaigns, and email marketing. Additionally, Act! CRM offers a centralized repository for all customer data, although the interface may appear dated.
☑️ NetSuite
NetSuite is a leading cloud-based business management suite that provides a comprehensive and integrated platform for various key functions, including enterprise resource planning (ERP), customer relationship management (CRM), financial management, and e-commerce. Designed to streamline business operations, NetSuite offers real-time visibility into critical data, enabling organizations to make informed decisions and adapt to changing market dynamics.
---
CRM stands for customer relationship management, and its primary aim is to help businesses build long-lasting relationships with clients. In fact, some of the modern systems have already gone far beyond that limit and evolved to business management software, being able to handle a lot of other aspects and processes, as featured in the picture below.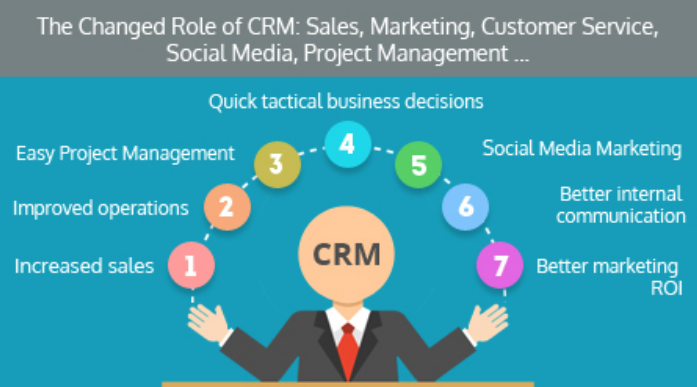 What's the Role of a CRM for Sales?
Improved lead management
According to an Aberdeen Group study, 63% of companies that featured the highest revenue growth from sales leads in 2010 were using a lead management technology like CRM. This software provides deeper insight into prospects profiles and robust analytics to identify quality leads.
Effective cross-selling and upselling
CRM gathers a lot of customer data like their purchase history, behavior patterns, preferences to identify their needs and create personalized offers that are likely to be highly relevant for the customers, increasing not only the sales and revenue but also customer satisfaction with the service.
Less routine tasks
CRM is effective in handling mundane processes that make a small difference to profitability but require a lot of time daily. Instead, sales agents can focus on closing the deals and reaching out to clients. Moreover, CRM isn't prone to "human factor ", so it's more proof against different types of errors connected with it.
Tracking and analysis
CRM is capable of tracking the lead data, enabling you to evaluate the return on lead investments. It shows which lead sources are bringing the most revenue to concentrate on them. Further analytics functionality includes creating sales forecasts, monitoring the pipeline and spotting points where customers drop off, effective budget management, etc.
Build customer relationships
Today, the business focus has shifted from gaining more new clients to winning their loyalty, or rather, building trust with customers has become one of its foremost tasks. CRM provides multiple opportunities for creating a loyal customer base. It collects customers' details and provides information about each interaction with them, enabling a better understanding of clients' needs and ensuring personalized service.
[Related Article: The Best Marketing Automation Software & Platform]
What's the Role of a CRM for Marketing?
Multichannel marketing
Today, CRMs possess the multichannel marketing functionality which lets conducting simultaneous marketing campaigns across different sales channels and touchpoints, like regular mail, email, mobile, social media, web, etc.
Social branding
It may be overwhelming for businesses (especially startups) to promote their brand on several social media platforms. Using CRM, monitoring and managing the company's presence in social media is much more effective and less time-consuming. It allows to track any brand/product mentions and instantly react to them, evaluates the response from social media campaigns, etc. Moreover, CRM solutions can monitor customers' online activity, which is indispensable for identifying what matters most for them and deriving the business value from this data.
Optimized segmentation and targeting
Thanks to a lot of information that CRM is capable of collecting and storing, marketers can segment the customers much more precisely, based on numerous criteria, from geographic location to financial details, previous interactions, etc. This results in messages and content delivered to them being much better targeted and, consequently, receive the improved response and brand loyalty.
Data-driven marketing
CRM empowers marketers with data-based insights, the results of numerous marketing campaigns measured in figures and reflected in various charts and diagrams. This info is the necessary condition for efficient campaign budget allocation and resource adjustment. It may mean tracking conversions resulting from certain marketing activities and campaigns, and is no doubt invaluable in determining which efforts bring the best ROI and should be carried on and which do away with.
Bottom line
We focused on the role of a CRM for marketing and sales and listed the advantages separately for the two areas. However, one of the biggest benefits of a customer relationship management system is bringing them close together, enabling and fostering cooperation and data sharing as opposed to creating data silos within departments or competing.
Choose your CRM right now!
Such software is no more limited to enterprises and is widely used by all types of businesses, thanks to the variety of solutions tailored for different needs. Small businesses are extensively adopting CRMs, which streamline their processes, optimize the need for extra workforce and help build loyal relationships with customers.
If you've selected the most suitable platform and want to become its user right now, do not waste your time and try it out in action. Migrate a part of your real data from the current CRM/CSV/Excel to the chosen solution by launching a free Sample import or estimate migration price beforehand.