The art of selling has been evolving since the beginning of time, which led to the creation of different selling techniques and tools. The most advanced of them so far is a customer relationship management system. CRM software brought together the most recent developments in the sales and marketing area that help to manage any business.
Compared to the first systems aimed to replace standard spreadsheets and improve communication with clients, modern sales CRMs let you be in charge of the full spectrum of the sales cycle. They give you the ability to manage your leads, set up marketing automation and workflow, as well as let your teams be on the same page. You will also get better control over the sales process and increase your overall performance and profits. And such a useful option as a sales pipeline placed within the dashboard will give you a clearer vision of your prospects and faster identification of hot leads.
As you already know what a good sales CRM does, let's see which systems deserve the rank of the best sales CRM systems so far.
[Related Article: The Best Marketing Automation Software & Platform]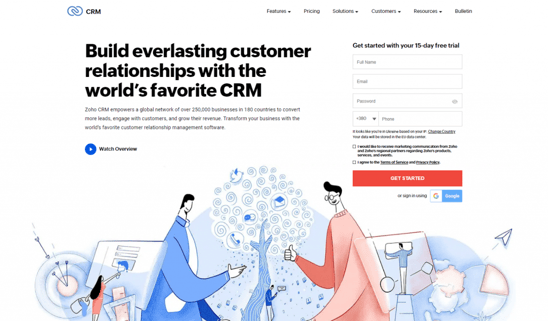 As a universal system for different types and sizes of businesses, Zoho CRM stands out against numerous competitors. Not least due to its easy-to-use interface, comprehensive automation capabilities, outstanding customization, and moderate prices. The platform allows you to manage your daily tasks, interact with leads, use social media marketing, and benefit from various integrations.
Being available for no cost for up to 3 users makes Zoho a perfect choice for individual entrepreneurs and small companies. Of course, in this case, the functionality will be limited, as well as the customization option. However, an opportunity to send 50 emails/day might be enough for such a category of business.
And some words for Zoho paid plans. Standard edition starting from £12/user/month gives you the sales forecasting option and KPI tracking. Such functions as sales funnel tracking, your teams' performance comparison, and advanced customization become available within the Enterprise edition. Zoho CRM Plus (Ultimate) brings together every feature of the previous editions + SalesIQ and Advanced BI tools, as well as an extremely long 30-day free trial compared to a 15-day one for other paid plans.
Freshworks CRM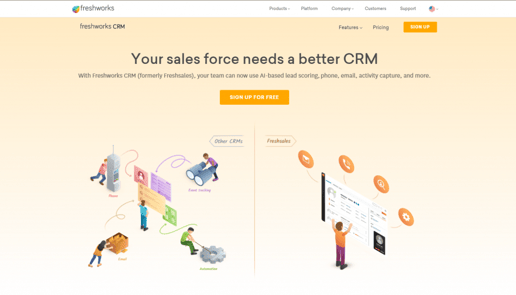 Freshworks CRM has absorbed the benefits of its successor Freshsales and drastically evolved marketing and sales tools that are now powered by AI. The system has three cloud packages: Marketing, Sales, and the comprehensive one combining the features of the previous two – Customer-for-Life Cloud. The latest plan includes the biggest number of CRM tools such as live chat and telephony, email marketing, contact management, sales funnel, etc.
Some words about the artificial intelligence tool you get with Freshworks. This is your personal sales assistant named Freddy that can give you a hand in various processes: from engaging clients and automating tasks to forming analytical reports and providing real-time insights. However, it must be properly set to carry out all the tasks effectively.
The availability of a free plan allows everyone to try this CRM system and understand whether it is what you're looking for. Moreover, you can try any paid plan for free as well with a 21-day trial.
Keap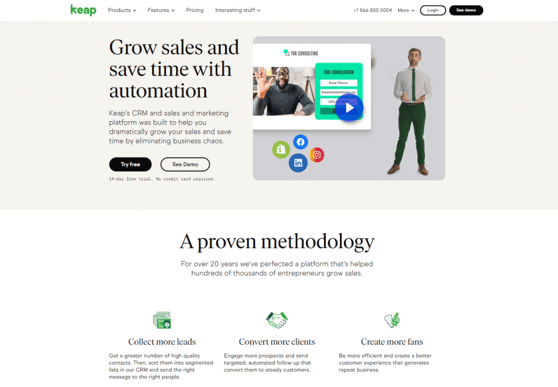 If you are a small business owner looking for a sales-oriented CRM solution, Keap CRM (former Infusionsoft) might be your catch. Easily manageable sales pipeline and marketing/sales automation will meet the needs of most of the companies. The CRM gives you the freedom to customize your contacts' information the way you want. You can also import contacts from spreadsheets, transfer them from other CRMs, or even scan your business cards to extract the leads.
As for the plans available, they offer extensive functionality that grows with the plan. The Lite version gives you email marketing tools, basic reports, and task reminders. The Pro version adds up the sales pipeline feature, A/B testing, landing page creation, and recurring pages. And the Max plan provides you with the remaining checkout forms, lead scoring, and analytics on the overall processes.
Keap's prices for the plans are relatively high compared to those of its competitors but the functionality offered in each of them is commensurate with the cost. The cheapest version starts at 40$ per user per month. So if you're on a tight budget, this CRM might be too expensive for you. As for the trial, it is available for the Lite and Pro plans only.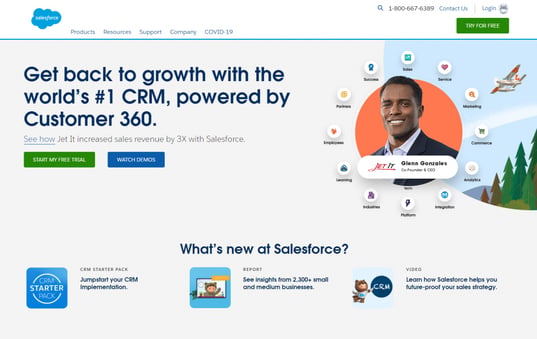 Get a 360-degree view of your clients with Salesforce 360 – that's what you can read on this CRM's website. But is it the truth? Well, yes!
The key point of this system is that every department has the same view of the company's customers, which decreases the time for resolving client-related issues and helps avoid repeated responses. In addition, every department gets the tools for its better operation: advanced marketing tools for the marketing department, time-saving VoIP for sales guys, engaging social media integrations for commerce specialists, and so on.
This customizable CRM has much to offer in terms of integrations and task management. The system allows you to automate routine tasks to make your daily life easier. But to make the most of Salesforce, you need to spend quite a time mastering its almost infinite functionality, which may take quite a time. But it's worth it.
As for the cost of subscription plans, a big jump in prices between Essential (25$ per user per month) and Professional (75$ per user per month) plans makes the decision-making tougher for the businesses with limited resources. With even more expensive Enterprise and Unlimited plans, things don't get easier. So to be sure which plan to choose, first you should try a trial. In this case, you will have 14 days to understand which version will cover your needs and whether it is worth paying more.
Close CRM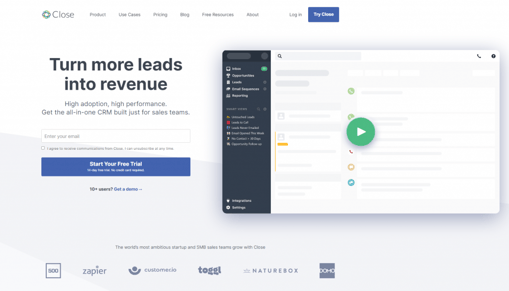 The concept of Close CRM is based on speeding up the sales process as much as possible. Your team will be able to have a clear pipeline view, track the lead status, and send email sequences. No more leads will slip through the cracks, as well as no more prospects will receive calls from different managers by mistake – everything is well organized here.
The main benefit of the platform is its wholeness. You will not need any more special calling or email integration as the system has built-in calling, email, and SMS tools. Despite that, such integrations as Mailchimp and Zapier are available for installing. Another advantage is the CRM's ease of use provided by a straightforward interface – it allows you to quickly shift between calls, emails, and follow-ups. Pre-recorded voicemail and auto dialing reps save your time for other things.
The prices are quite moderate with the cheapest plan starting from 25$ per month per user if paid annually. The only shortcoming you may face while using Close CRM is lead duplication, which can happen during the CSV files' import. In this case, you'll need to spend some time clearing redundant contacts manually.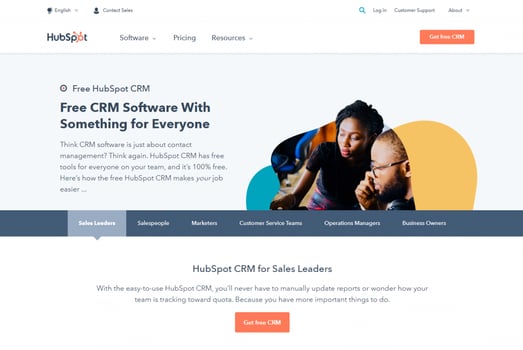 This software is famous for its free-forever CRM hub that provides you with a mix of marketing, sales, and service basic tools. It contains the core features allowing you to manage your company effectively. The uniqueness of this plan is that even despite the significant limitations it can still meet the needs of small companies. The shortcoming is that you will have to accept the HubSpot logo on your website.
As for the specialized Sales hub (paid Starter version), it will allow you to better organize your sales process with the help of a deal pipeline, custom properties, quotes, and automation capabilities. Also, you'll get such useful tools as live chat, calling integrations, and reporting dashboard to track your progress. The more advanced packages will add up the forecasting and e-signing options, workflow extensions, Slack and Salesforce integrations, and much more.
HubSpot has a rather tricky paying model to understand, and its paying plans are quite expensive but the system does pay off the cost. As for the freemium hub, it can be a nice choice for the CRM first-timers as you'll get the idea of the software and learn how to use it without spending a dime.
Sugar CRM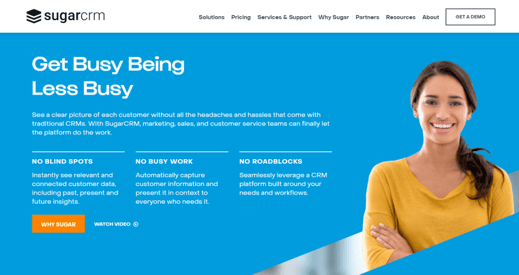 If you are tired of the unpredictability of your clients and looking for ways to forecast your sales, SugarCRM can offer you decent functionality in this matter. The AI-powered analysis will help you better understand your customers, and sales automation will significantly speed up the sales process. The platform gives you extensive capabilities for customization, as well as the number of integrations to meet your business needs. You will also be able to get access to the clients' historical records to make a clear picture of what position they currently are in.
The system allows your sales team to get the most out of the available data by keeping track of the most important interactions and giving them the highest priority. A powerful combination of such marketing tools as SEO, SEM, and SMM helps to increase traffic to your website and engage a bigger audience. Managing tasks and opportunities also becomes much easier as there's no need to shift between apps – everything is located on one platform.
The advantage of SugarCRM is the ability to work without an Internet connection – this can be done due to offline synchronization, which might come in handy if you travel a lot. However, there is a drawback as well, and quite a big one. Every plan (with the cheapest one starting from £41.60 per user per month) obliges you to pay for 10 users at once, which significantly increases the total cost for the subscription. That is why small businesses may want to rule out this sales CRM from their list. As for the trial, it gives you free access to all features of the chosen plan for a term of 7 days.
So how to choose the right sales CRM for your business?
By having reviewed these brief descriptions of the best sales CRMs, you already have a slightly better understanding of which of them may fit you. However, you will need to stay on each of the systems in detail to define your winner(s). Such tactics will shorten the list of appropriate options and increase your chances for the right choice.
The final step before taking a decision is trying a free trial of the preferred system and comparing each CRM's experience and the functionality offered for the price. Only then, after you weigh all the pros and cons, will you be able to make an informed decision.
You may answer a few questions on our wizard and get a list of appropriate CRMs for your business here.
Subscribe to FMC Newsletter
No spam and promotion, just insightful information