Every business owner wants to have a consistent and clean database that will aid in growing revenue, decision-making processes and get more customer-responsive projects. Yet the company can't be run in the vacuum free of side influences. Even CRM systems with powerful algorithms may fail without the single data quality strategy rules adhered by all departments. Your good records have gone bad, so it is high time to analyze your blunders and draw up the meticulous plan for upgrading the efficiency of your data.
Aspects of Dirty Data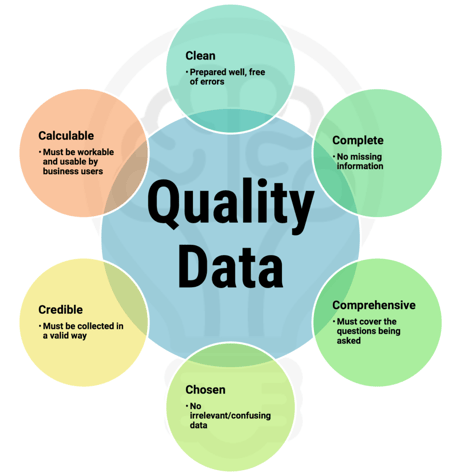 Real-time and accurate records are the valuable asset of any company. During last decades, many organizations invested into CRM software but fell by the wayside on the route to awaited results. The key reasons of these defeats are the sloppy records entry and absence of data quality strategy. The size and complexity of the organization influence the range of ways where the information is used. And the low quality of your data will cause such aftereffects as
mistakes and delays in service proving
offering inappropriate product due to inefficient customer segmentation
extra expenses on imprecise invoicing and overpayment
cracks in security that may lead to sending personal data to wrong addresses
Among the key causes of dirty data, you may find too creative information entry, various transpositions and typos, as well as misspelling and variations in records formatting and naming. If you want to improve your data quality, you should know what types of records have an impact on your database. Here is a shortlist of the most spread examples.
Incorrect data that don't adhere any validation rules or requirements. For instance, client age should be less than 120 years, and months can be ranged only from 1 to 12.
Inaccurate records may be correct but inaccurate. The zip code NW1 of London is accurate, and the state code of New York is NY, but when you use them together, it will be inaccurate.
Inconsistent data appear due to the extended access policies and no monitoring of records redundancy. As a rule, it happens with customers information. The marketing department has Patrick Montgomery; sales reps deal with Patrick John Montgomery and service managers solve issues for Patrick J. Montgomery. So, you may have the same person in 3 different variants.
Incomplete records that miss zip code, address or phone number. This happens when a person, who is responsible for data gathering, misinterpret the value of some data and avoid to enter it into the CRM system.
Non-integrated data is a common thing for the companies that uses some different system for storing their records. After the implementation of CRM, many business owners neglect the synchronization option and continue to maintain a database on different applications. The main risk of such policy is a possibility to store the same record under different user ID with variations in the address, phone number, and name spelling.
Objectives of Data Quality Strategy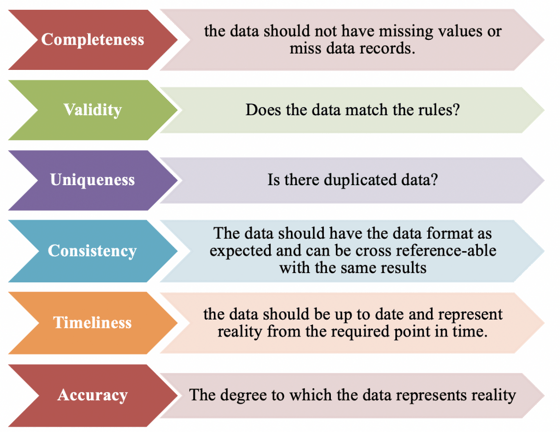 To get the most of your CRM system, you need to be sure of the accuracy, consistency, and relevancy of your information. That's why your business strategy should include the 7 standards for the effective and clean data storage rules.
#1 Accuracy
Your records must be accurate and detailed for enabling the well-thought decision making. Datasets should be consistent and have the same format, store in the corresponding field and entered into the system as soon as were captured. Apart from records analysis, make sure that data sources are also monitored on the permanent basis.
#2 Validity
Draw up a list of rules, requirements and definitions for the data recording processes. Each record should have an owner who is responsible for its validity. It is worth to create some specific indicators that will exclude any possibility of data misinterpretation.
#3 Reliability
CRM solutions ensure the ability to set up a unique and stable data collection processes, yet much depends on the managers and stakeholders who enter the information. These employees have to avoid the changing of the definitions in order to provide a consistent data environment.
#4 Timeliness
Records should be captured and entered into CRM as soon as possible. The fast access to the real-time data influences the service quality and directions of business strategy advancement.
#5 Relevance
Apart from speed and accuracy, gathered data should be relevant for the front-line business processes. It also must be viewed every week for the controlling the pertinence and level of complying with the company purposes.
#6 Completeness
The records must be entered into CRM without gaps in the information and duplication. Check out your database for the significant empty fields and address them to the record owner for the filling in the missing information.
#7 Availability
Security of data is important, but the option to limit access to the records increase the appearance of various duplicates and unnecessary copies. Ensure that your database is accessible to the employees in order to perform their day-to-day tasks.
Data quality strategy should be developed in consistence with the business strategy as long as they are interdependent. Thorough planning of company milestones and goalposts will help you to select the relevant validation rules and other requirements for the effective process of records gathering and entering. Besides, the CRM solution enhances the routine of every task, as well as facilitates data access and relevance rate.
P.S. Want to improve your business and data management with CRM platform, but feel dubious about the migration process? Use the technology advancement and switch your data in a fast, direct and secure mode with Trujay. This automated service excludes importing, programming and human interference.
Subscribe to FMC Newsletter
No spam and promotion, just insightful information