Top Free CRMs for Small Businesses. One of the most centrally important things you need to be aware of in any business is how to keep the customer as happy as possible. As long as your customer is happy, you can be sure that you are going to have a strong business with a bright future. A major way in which small businesses ensure that they are taking care of their customers these days is through the use of CRM – or customer relationship management software. But what is this, and how can you ensure that you are using it as well as possible?
A CRM is essentially a piece of software, or a suite of technological improvements, that allow you to manage all of your company's relationships with customers and also with potential customers. By using a good CRM, you can effectively ensure that your business has the best possible relationship with its customers at every step of the way.
Despite being such a hugely useful thing, the good news is that it is actually possible to make use of this kind of technology without paying a penny. Here are some of the top free CRM software suites for small businesses that you should consider.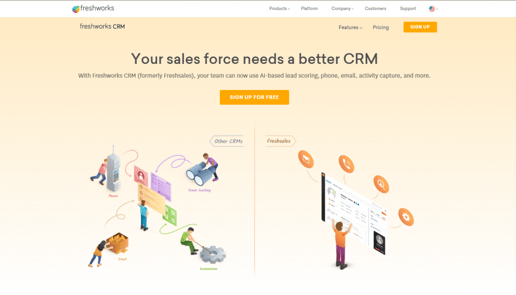 It's incredibly likely that you have heard of Freshsales, as it is quite simply one of the most useful and all-around powerful CRM tools out there. In fact, it is more of a fully-fledged full sales and marketing software, and one of the many arms that it has is its CRM capabilities. With Freshsales, you can engage in contextual conversations with customers, while using AI-powered insight to drive deals and more. You can also nurture your customer relationships surprisingly effectively.
It has a built-in email, chat, and telephone feature too, so you can be sure that you are staying in touch with your customers, and allowing them to do the same, as much as possible. You can start using Freshsales with their Free Forever Startup Plan, free for small businesses such as your own. There are other paid options, later on, should your business grow to the point where this becomes necessary.
With Bitrix24, you can easily engage with customers and ensure that your relations with them are as strong as possible, and with one of the fullest and most feature-heavy forms of CRM that are out there. Bitrix24 also comes with great project management help, so you can arrange your marketing in such a way that you are able to treat customer service as a project, and achieve more this way. It also has integrated email marketing, telephony functions such as call recording and outgoing calls, and sales automation to help boost your business significantly.
With a completely free account, you have access to around 5GB of storage, but if you decide you want the CRM on your local storage, you can pay a little extra fee for installation. All in all, this is easily a fantastic all-rounder-free CRM software for your small business, and you should definitely consider it.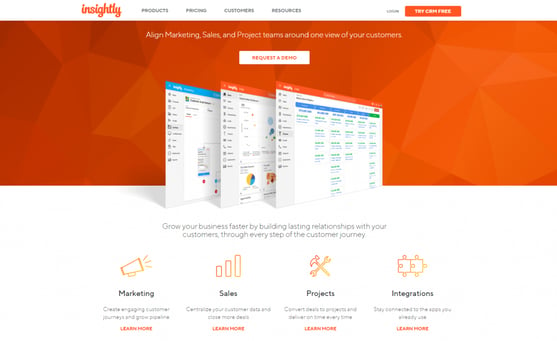 Insightly is designed to handle a lot of data and make it as user-friendly as possible. Ideally suited to small, medium, and large companies, it's aesthetically appealing, easy to use, and manages the entire customer journey. Multiple CRMs stop the sales cycle after the deal closes. Still, Insightly's project management feature ensures you can follow the whole life-cycle of the customer up to the delivery of the product or service.
Contact management, pipeline management, and task management to help you get clear visibility of sales, company overview, monitor your deliverables to clients, enhance customer communication, organizational coordination, and increase productivity and performance. Moreover, you can create multi-step business processes with Insightly workflow automation.
Offering a mobile platform for on-location flexibility for iOS, Kindle, and Android, Insightly integrates well with preferred apps, such as Google, Gmail, Evernotes, MailChimp, Office, and Outlook.
With a relationship focus, HubSpot CRM provides users with an inbound marketing methodology. The tool offers a robust approach to monitoring and engaging customers and prospects at every buyer journey stage.
HubSpot CRM incorporates the central "hubs" of your company: marketing, sales, service, and operations. HubSpot syncs the working process of your entire team using the inbound approach through three phases of your flywheel: attract, engage, and delight.
Another great benefit of HubSpot is the free edition. If you want to invest in more advanced features, you can select among different plans for Marketing Hub, Sales Hub, Service Hub, Operations Hub, or CMS. HubSpot CRM has an intuitive interface and is perfect for varying sizes of business. HubSpot is created for companies to quickly scale their rivals by automating data integration from startup to established.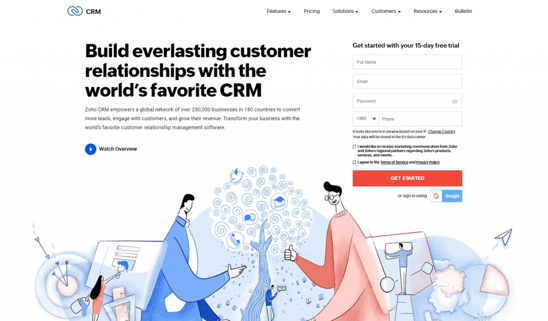 Every business owner knows that social media is a big part of customer relations these days. After all, this is where the people actually are, and the more that you can engage in it, the better that is going to be for your customer relations in general. For that reason, it's great to be able to have the choice of a free CRM that focuses strongly on social media, and if that is what you're looking for then Zoho is definitely the one to look out for above all the rest.
With Zoho, you have a small business-friendly platform that has a very simple user interface along with many customizable modules, and a lot of pragmatic automation tools. You also have that social media side to things, which can be very helpful indeed for all of your marketing needs. With Zoho, you get an incredible amount for no money at all, so it just makes good business sense to use a CRM like this. You will find that having Zoho on your side can make your business' customer relations so much stronger altogether, so this is really something that you are going to want to bear in mind.
[Related Article: The Best Marketing Automation Software & Platform]
Really Simple Systems
A lot of people get confused when they first use a CRM, so for those people, it is good to know that there are simple options out there that have a very straightforward easy-to-use suite. With Really Simple Systems, this is exactly what you are going to get, and as such, it is hardly surprising that this is such a popular option for those who are just starting out in business.
The really good news is that, just because it is simple, doesn't mean that it is unsophisticated. In fact, it is a very full-on and feature-heavy CRM, and it is commonly used by businesses that have a lot of remote teams – which is many businesses indeed these days, of course. If you use Really SImple Systems, you are going to find that the 100MB of document storage is a nice bonus and one that you don't get with all that many CRMs, especially if you are only looking at other free ones.
Really Simple Systems is a fantastic all-rounder, and it's something that you are going to want to look out for when you are trying to choose a free CRM for your small business right now.
As you can see, there are a few options that you can consider, and many have not been listed here either. Whichever you go for, just make sure that you are doing all you can to keep your customers as happy as possible. As long as you have done that, you will find that you are much more likely to gain more customers in the future and to build your business up as best as you can. This is going to make a huge difference to how you approach business on the whole, so it's something to think about.