Insightly is CRM software that includes capabilities for tracking prospects, engaging with contacts, and managing projects. Because of its scalability, Insightly is well-suited to rising small and midsize enterprises (SMBs). A company can start with the basic edition and add more capabilities as they grow.
Insightly has a number of plans available, including business-oriented solutions. Users can choose a plan based on the size of their company, as well as the services they desire. Insightly is also very customizable, as it allows for integrations via its API.
The CRM system works with G Suite, MailChimp, Office 365, QuickBooks, Xero, and other popular sales, document management, marketing, and accounting software. However, important CRM features, such as social media integration and low-cost sales automation tools, are missing. We looked at popular CRMs with similar features as well as applications that solve feature gaps to determine the best Insightly alternatives.
Benefits of Insightly CRM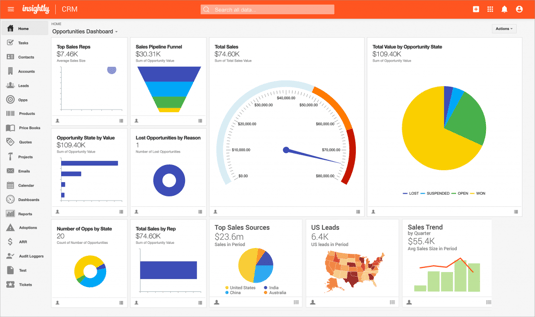 The software is easy to use, with intuitive options for securing data, customizing features, and inviting new users.
It offers comprehensive project management at every stage of the customer relationship. You may define project tasks, pipelines, and milestones, as well as manage project progress, monitor email correspondence, and set up automated email notifications.
Simply enter an email address into Insightly, and the system will instantly detect its related social networks, such as Facebook, LinkedIn, Twitter, and Google+, as well as other places where the email account has participated.
Dashboards, pipeline activity, opportunity reports, and tasks/milestones are just a few of the features that give you a real-time micro or macro perspective of your company's activities.
You can take Insightly End User Curriculum training in a classroom setting to learn how to get the most out of the technology and reach your business objectives.
Finally, you may integrate the CRM with other systems via the standard HTTP REST API. The vendor accepts XML and JSON inquiries and provides technical information.
Don't walk away if you're considering other CRM options besides Insightly. This article will offer crucial information on the best Insightly alternatives.
[Related Article: 10 Best Free CRM Software]
Top Insightly Alternatives in 2021
HubSpot CRM provides businesses robust features including social media management tools, payment processing through Stripe, and a free plan for unlimited users. Where it falls short compared to Insightly, however, is the lack of built-in project management tools. HubSpot's paid plans are also slightly more expensive. Nevertheless, it is an excellent Insightly alternative for businesses looking for a free CRM with the ability to upgrade later.
Though HubSpot CRM has a free option for an unlimited number of users, businesses may find they need additional or advanced functionality that requires a paid plan. Unfortunately, HubSpot's paid plans get expensive, especially at the Professional and Enterprise levels.
How HubSpot CRM is better than Insightly
HubSpot has a free subscription with unlimited users, but Insightly only has a free plan with two users.
HubSpot does not have built-in project management functionality, however Insightly does.
HubSpot offers free marketing tools that Insightly does not, such as designing web forms, landing pages, generating blog ideas, and developing marketing plans.
HubSpot's quote generation tools are free, but Insightly requires the Enterprise plan for this feature.
Insightly does not have social media management capabilities, although HubSpot does.
EngageBay
EngageBay is an all-in-one marketing, sales, and customer support software designed as an affordable alternative to expensive CRM software like Insightly. With EngageBay, you get marketing automation, drip campaigns, contact management, sales pipelines, helpdesk, live chat, and so much more. EngageBay also offers detailed insights and key metrics on visitor information, conversion rates, customer journey data, and other figures through visually appealing, easy-to-understand dashboards.
How EngageBay is better than Insightly:
EngageBay offers a powerful multi-step, visual automation builder to help you craft complex workflows with ease.
EngageBay offers a free forever plan, with free CRM.
EngageBay starts at $12.74/month, while Insightly is more expensive, with a starting cost of $29/month.
EngageBay offers a social media management suite with social listening, while Insightly does not offer these options.
Zoho CRM
In comparison to Insightly, Zoho CRM has a more comprehensive set of marketing, sales, and customer care functions. Insightly, for example, lacks service desk tools and charges extra for marketing features like email marketing, customer segmentation, and web forms, all of which are included in Zoho CRM software. However, many of Zoho's customization options are only available on the company's more expensive plans.
How Zoho CRM is better than Insightly
In contrast to Zoho CRM, Insightly does not integrate with social networking networks.
Paid options for Zoho CRM start at $14 per month per user, whereas Insightly's cheapest plan costs $29 per month per user.
Workflow automation is available on Zoho's free plan, whereas Insightly requires a membership to their Professional plan.
Insightly does not have any customer service functions, while Zoho CRM has many.
Pipedrive
Pipedrive and Insightly both lack social networking functionality, which is a common product flaw. Pipedrive, on the other hand, offers a more competitive price for the prominent features both CRMs have, such as sales automation, document management tools, AI insights, and product catalogs, making it a great alternative to Insightly. Pipedrive's subscription levels are less expensive than Insightly or the finest Insightly alternatives, but there is no free-forever option.
[Related Article: 15 Best Pipedrive Alternatives]
How Pipedrive CRM is better than Insightly
Pipedrive's lower-cost plans contain sales automation features, but Insightly's automation solutions require an Enterprise plan subscription.
Pipedrive's Professional plan includes quotation generation and e-signature features; Insightly only offers them at the Enterprise level.
Pipedrive's Essentials package has a configurable product catalog, whereas Insightly's Enterprise plan does not.
Really Simple Systems
In comparison to Insightly, Really Simple Systems provides a more cost-effective CRM solution. On the lower-priced levels, it also adds some of Insightly's missing product features, such as customer service desk functionality, comprehensive system customization, and quotation generation capabilities. Insightly, on the other hand, offers project management features and a mobile application that are not available with Really Simple Systems. Unfortunately, without additional fees, Really Simple Systems does not include several marketing functions frequently found in CRM software, such as email marketing automation or lead segmentation.
How Really Simple Systems CRM is better than Insightly
Really Simple Systems has a lower price point than Insightly, starting at $14 per user, per month versus $29 per user, per month for Insightly.
Both CRMs have marketing tools that demand additional fees.
Insightly does not have any optional add-on functionality for managing customer support cases, however Really Simple Systems does.
Really Simple Systems does not offer project management tools, however Insightly does.
Salesforce
Salesforce CRM allows you to track all customer interactions and info in one place to follow more leads. You can track these leads until conversion using its Partner Management, Sales Data, Marketing Automation, and Lead Management modules. With this software, you can improve your sales team's productivity wherever they work – online, at the office, or in the field. The vendor offers mobile apps for iOS and Android devices that feature real-time data from custom reports and dashboards. Plus, the apps have a Feed First feature that displays the most important info based on your settings. Finally, the system provides you more flexibility by integrating seamlessly with leading business solutions such as Zendesk, Zuora, and TeamSupport as well as with other major sales, accounting, and CRM platforms.
[Related Article: Salesforce Alternatives]
How Salesforce CRM is better than Insightly
Its Opportunity Management feature allows you to gain a better understanding of sales opportunities.
To produce hot leads, you may track clicks, develop campaigns, and automate the process.
Collect data for in-depth analysis and reporting using the dashboards and reports.
[Related Article: The Best Marketing Automation Software & Platform]
To Sum Up
To give the greatest possible experience for their leads, prospects, and employees, businesses should evaluate a range of aspects before selecting the correct CRM. Insightly comes with many great features but it may not be right for your business. In addition to this article, testing several Insightly alternatives can help you decide on the best CRM for you.

Subscribe to FMC Newsletter
No spam and promotion, just insightful information