Slowly but surely, 'things' all around us are transcending their old physical-object-status by becoming smart and connected. As the functionality or perception of a technology evolves, the emerging set of tools doesn't solve sales problems and close rates keep dropping. The situation where sales reps spend less time selling acquires an industry-wide acceptance. Instead of being productive, many teams have to deal with searching relevant data in CRM, spend a reasonable amount of time to renew the administrative records and reports, as well as adhere to the sales process problem of the company.
Where the Major Sales Problem Lies
Asking broad questions often results in the sort of aphorisms that would make a good motivation poster or trending tweet. So, ensure that you put really pointed relevant questions to define what sales performance problems your team and business are suffering from. Besides, this will help you to dig into details, get exposed to burning issues, explore the opportunity space, and weigh the options.
Facing the sales problems and nasty results, every business owner is interested in their roots as they bring an immediate impact on the bottom line and can be a cause of revenue flatlining or dropping. Constraints can be a variety of things: lack of time, lack of team members, lack of process strategy, or lack of product or service understanding. The inability to fix sales problems is frustrating. Moreover, there is no point in investing time and budget for tackling the weak area – it may turn out the issue is elsewhere.
All Common Sales Problems Have Solutions
Once you decide to address the pull of possible sales problems, get ready for bumping into the weak points in your strategy, management, workflow, and team. To eliminate the sales challenges and solutions, make sure you run through the major bottlenecks and problems in sales performance. In short, getting into the problem think about the solution. Definitely, there is no one-fits-all approach but we also offer a kind of recommendation for each challenge.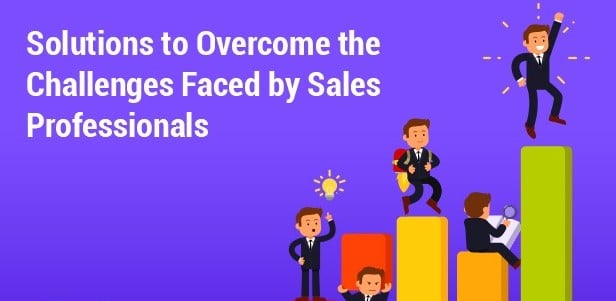 1. Problem: Individual Sales Productivity Is Too Low.
The right qualified people on the different lines of business process are one of the elements of a successful company. Review your team performance, and then ask the following questions to define if the sales problems you suffer are related to sales reps.
Do your key salespeople bring the most of your revenue?
Are there workers who don't align with company strategy?
Are there some employees consistently refusing to use tools (i.e. CRM, email marketing automation, business dashboard, etc.)?
Solution
As always in life, details are not the details. So, if sales performance is mostly suffering from team members, you should take some measures. To fire everyone and hire another staff is not the wise solution, however, you can analyze the salespeople performance and identify
the higher players,
those who earn decent revenue numbers,
those who don't follow the plan and fail in performance, and
sales reps who don't want to work and bring you negative reputation.
The next step will be creating plans and templates of everyday processes and update the onboarding of the new employees – to ensure you are hiring the right person. One more way to improve the sales problems in the team is to introduce the gamification and bonus programs for recognizing and evaluating the best-performing managers.
2. Problem: Your Team Is Experiencing Sales Anxiety.
Sales success depends on your management team as well. The ineffective manager can derail even a superb sales rep. Here are a couple of questions you can ask to determine if the sales problems come from management.
Do your executives set clear goals and metrics?
Do you expect high turnover in your team?
Do your managers provide sales coaching of new and/or existing members?
Solution
When you define that sales problems are in the management, you need to decide – keep these workers or hire new ones. In case you require fresh sales managers, you should develop an evaluation checklist to find the right people.
3. Problem: There's Internal Disagreement About New Processes.
Sometimes, sales is like an art or science. The efficient sales processes help to nudge the team towards their goals. If you suspect this area in most of your sales problems, check the process with the next questions:
Is the sales process well-documented?
What feedback do you receive from other teams that work with sales?
Solution
The root cause of sales problems is the absence of the documented process, or the process required correcting. So, develop your best-practice sales workflow including the following aspects: (a) prospecting, (b) selling, (c) support (from other departments), (d) system (tools and in-house policies), and (e) team cooperation. As obvious as it may sound, document all changes and innovations you have done.
4. Problem: Lacking Sales Training
Another strong theme emerging as a cause of sales problems is weak sales coaching. Various surveys show that 3 of 4 sales reps are underperforming. The solution, however, comes at the training improvement. Thus, don't jump into the immediate updates, issue your current sales coaching.
Does your team have structured coaching?
Is that the first sales position for many managers of your team?
Solution
Implement renovated training for your team. Consider the gradual changes into the operations and curriculum. Check this post on sales coaching for more details on creation, running and adoption of new training.
In particular, there are sales performance problems of organization of your company and now let's talk about techniques sales problems, and to know how to fix declining sales.
To get the most out of inbound, sales teams need to work with cross-functional partners and create value for prospects before they become customers. Although this is the most customer-focused sales strategy, it can take some getting used to.
With that in mind, we've developed this: A look at the most common sales pain points from an inbound perspective.
5. Problem: Long Sales Cycles Is Reducing Effectiveness.
Most companies surveyed report that their sales cycles are getting longer. The reasons are many, but the need for an agreement between a greater number of actors is the big issue. Achieving a consensus sale means having sales material that each stakeholder relates to.
Solution
While you can't force prospects to make decisions, you can take steps to make sure your brand is "front and center" when they're ready to buy. Set up a follow-up process so you can meet prospects where they are throughout their search, no matter how long it takes.
6. Problem: There Is Not Enough Organic Web Traffic to Support Sales Efforts.
Web traffic may seem obscure to the sales team, but it is a vital asset. Your business' web properties can do a lot of the work in providing you with a steady stream of qualified leads, but they need to incorporate the lessons you've learned about your customers.
Solution
Review the sales and marketing materials available on your company's site and look for gaps. In particular, make sure the web content reflects all of the different buyers and use cases you've learned about from talking directly to prospects and customers.
7. Problem: Sales Follow-Up Is Ineffective or Non-Existent.
This problem concerns both B2B and B2C: many potential customers contact only to find that the sales team never answers their call. While some leads are clearly unqualified, following up is key to maximizing the value of all your other efforts.
Solution
Figure out which part of tracking is the most demanding — time, technology, or old mental resources — and use technology to make it easier. Most teams can double follow-up rates and dramatically speed up turnaround time by implementing a modern customer relationship management (CRM) system.
8. Problem: B2B Buyers Don't Find Brand Trusted or Reputable.
In a truly effective inbound sales process, your web-based sales and marketing materials should do a lot of work. The moment prospects talk to you, they should feel like they know and trust the brand. If they're non-binding or closed, that's one of the big sales pain points.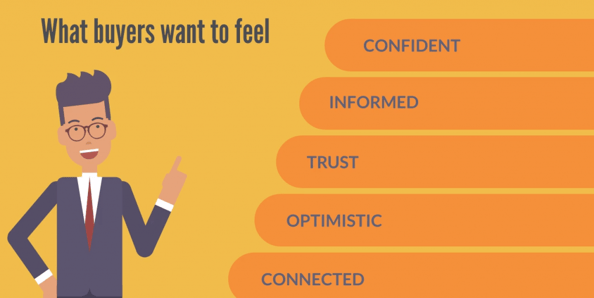 Solution
Diagnose your email strategy to discover the root of the problem. Are prospects finding your content on publications and platforms they know and trust? Is your brand active in building its thought leadership credentials on sites like LinkedIn?
9. Problem: Prospects Are Consistently Asking Unexpected Questions.
Strange and unexpected questions come from two directions. Sometimes prospects are subject matter experts who want in-depth technical information. Other times they may be beyond their area of ​​expertise and scope. Either way, a good response from the sales team builds credibility.
Solution
Work with the marketing team to review and refine buyer personas and better understand where each type of lead is coming from. Consider developing an internal knowledge base and public FAQ to answer each character's questions.
10. Problem: Unclear Relationships Exist Between Website and Sales Outcomes.
You know your website is doing something, but… what, exactly? While you may not be directly involved in expanding or maintaining the website, it should provide you with actionable insights: specifically, what content your prospects have read and since when.
Solution
Push for a modern data analytics suite on all web properties. A good analytics will tell you not only how prospects get to your site, but also what they do once they get there. A weekly analytics report can give you an idea of ​​lead thinking.
11. Problem: The Sales Process Falters After On-Site Demo.
Sales teams with sophisticated solutions often need to run demos at the customer's desk. Demos show stakeholders that your solution not only works , but will work well for their specific needs. A botched demo leads to huge sales problems.
Solution
There are two common reasons an on-site intervention can undermine your sales momentum: either the solution isn't working as expected, or the sales team can't answer prospect questions. While you can sometimes recover from the latter with a quick follow-up, the former may require reskilling sales engineers.
12. Problem: Poor Post-Sale Support Hinders Customer Lifetime Value (LTV).
Customers are more motivated right after buying from you. They want to give you the benefit of the doubt, justifying their buying decision. While many sales professionals go through this stage, it's a terrible time to leave new customers feeling let down.
Solution
You work hard to build relationships with clients; now use it. Check after a week and again after a month to make sure things are going well. If you're not the expert who can solve their problems, put them in touch with that person. Stay friends now to avoid sales issues later!
13. Problem: Referral Business Is Low Despite Satisfied Customers.
SEO is a tremendous asset, especially in B2B. This can lower your cost per customer acquisition and give you a steady flow of customers with faster cycle times. But, mysteriously, referrals may not show up even if your current customers are satisfied.
Solution
Remember that people usually don't take the action you want unless you clearly explain the next step. It's true on your website – don't forget the calls to action – and true here. Find creative ways to incentivize and motivate referrals, like special prizes.
14. Problem: Staying Ahead of the Competition.
Regardless of your industry, you face an uphill battle. Competition can be fierce, so any sales your team loses are likely going to your competitors. This is by far the biggest problem plaguing most teams.
Solution
The market is constantly changing, so you need to be too. Encourage your team to update their pitches on an ongoing basis.
New technologies are emerging. Your buyers are more educated. New competitors appear. So how are you going to stand out? You need to find innovative ways to position your value proposition and look at how to update your message so that it has a greater impact on opportunities to get them to trust you, see you as the most credible resource and , ultimately, to buy your products or services.
Concusion
Biggest sales problems come in all shapes and sizes, but the solution usually lies in this simple inbound philosophy: Always create value for your leads, prospects, and customers . This can mean going the extra mile sales problem solving they are having or just being genuinely interested in them.
Make it your mantra and sales problems, no matter how difficult, will go away!