Putting a client at the center of your business is a key to the successful company running. By making the organization about the customers, you can enhance the productivity and increase a bottom line.
So, let's discover the main idea of what does customer centric mean, explore the main aspects of an approach and understand how work customer centricity software.
What Is Client-Centric?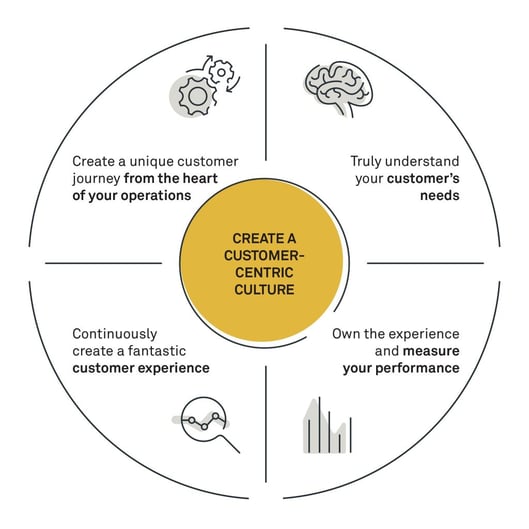 Being customer-centric means:
Use customer data to better understand and segment your customer base.
Identify the best customers .
Focus on products and services for the best customers.
Use Customer Lifetime Value to segment customers.
Being customer-centric is not:
Focus on the "average" customer.
Attract and retain low-quality customers.
Underinvest on high-quality customer acquisition.
Being customer-centric is the best way to boost your organization.
The Customer Centric Model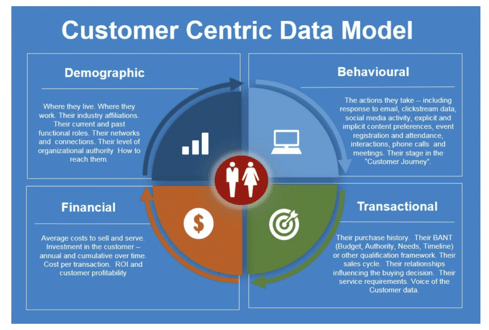 Leadership
Leadership is the starting point of a client centric approach , and therefore customer focus is the first area of ​​your business relationships that you will want to assess.
Without strong leaders, it's difficult to market your business and position yourself as a company that your consumers can rely on for high-quality products or services.
Strategy
More than likely, the current business strategy your business relies on might need retooling in order to meet more customer demands and increase customer focus .
Here are some elements that a viable customer centric strategy should have:
Long-term success ratings: Short-term successes aren't necessarily enough to determine how well your business serves its customers and ensures a great customer experience . These successes must also be long-lasting if you want to retain and retain your customers. Additionally, you need to define what your successes are for your business, how you track results, and whether what is seen as a success by your staff is seen the same way by your customers.
Cross-departmental Customer Satisfaction KPIs: If you are all working towards the same goal, which is to serve your customers to the best of your abilities , then your business should operate as one. This means that across all departments, you should use the same key performance indicators or KPIs to gauge what customer satisfaction looks like .
Your Goals Are Customer-Driven: As we talked about in the introduction, ROI is important to keep your business going, but you'd be without revenue without your customers.
Thus, you need to ensure that all business goals are moving forward to keep the customer experience top of mind.
Processes
By creating corporate uniformity focused on customer centricity , you will begin to define the processes necessary to achieve this. These processes will show you the direction for your sales and marketing campaigns.
Since a company's process is so unique to theirs, this stage of the model differs from company to company.
You may ask yourself a few questions along the way, although this will tell you if you're on the right track.
For example, are you using the customer insights you gathered in your new approach to influence your product and project roadmaps?
If the answer is yes, then your processes are suitable for your new approach.
Do you currently face barriers that could prevent the transmission of this customer experience information from one service to another?
Again, this is something you need to address as soon as possible, because these obstacles prevent you from being client centric that you so desire to achieve.
People
Besides the leadership team and your senior management, you can bring other key members of your business into the fold as you work to be more consumer-centric .
Regardless of the level of these new team members, it's important that everyone is trained on the new expectations and how your company will go about achieving them.
When creating training materials, keep in mind that depending on a team member's expertise, their experience will be somewhat different.
You also need to have resources that your customer – centric team can easily and reliably use when they need guidance or more information on any part of the customer journey/campaign.
Whether it 's customer interviews , information, reviews, buyer personas, and customer profiles, without this information, it's hard to ensure that your business approach is fully focused on the customer.
Platforms
The final part of your customer – centric journey through modeling is about platforms of choice. Of course, your company has an array of tools, applications and software that you use every day.
Depending on the platform in question, it may be used by just a portion of your staff or by everyone across the entire company.
To determine whether you want to continue using certain platforms in the future, ask yourself some important questions.
First, does the platform allow you to connect customer interactions and information to each customer profile and increase customer orientation ?
Can you use the platform for traditional and digital channels? Does the platform allow you to maintain customer information throughout their journey? If yes, then it is suitable.
Understanding Client-Centric
Customer centric definition is a way of providing a positive client experience from the awareness stage, through the purchasing process and after the closed deal. It is a strategy that is based on putting your prospect at the core of the company: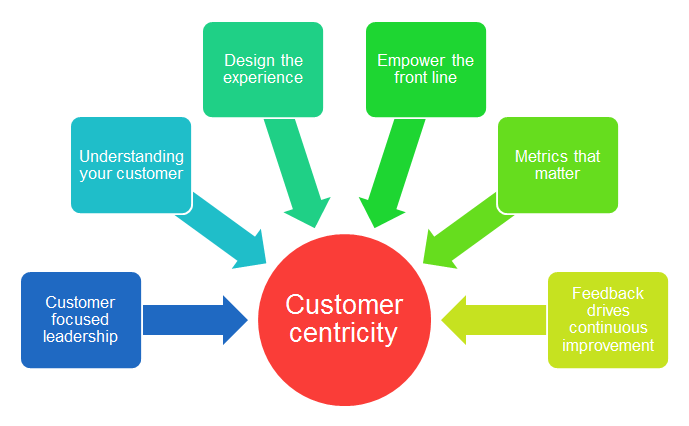 How does customer-centricity vs product-centricity benefit a company?
Your Approach Is Flexible
When you have a more product-centric approach , it's usually an approach with less flexibility. You want to sell, and you have X ways to do it.
Compare that to a more customer-focused approach
You understand that throughout the customer journey , your customer's needs are not necessarily the same from start to finish.
You can be flexible enough to meet these changing needs so you're always aware of what your customers want most.
You choose the best customers, not just anyone
Customer centric meaning is not accepting just any potential customer. Only those with the potential for the greatest longevity are the ones you should be spending your time on.
This ensures that you are nurturing leads, not just leads. Prospects are ready to buy and have a higher likelihood of staying, which is what you both want.
Your Process Are Streamlined
When your business is more customer-centric , you're still thinking about the product, but that's not the end.
Instead of pitching a product to anyone (figuratively, of course) and seeing who's interested, you look at your customer and what you know about them, then figure out the best product/service for that person.
Once you build up a good track record, you can keep coming back to that same customer with different products and services that are also tailored to them and their needs.
Keeping in mind the flexibility that customer centricity encompasses, it extends the customer journey much longer than a product-centric approach .
How Do You Measure Customer Centricity?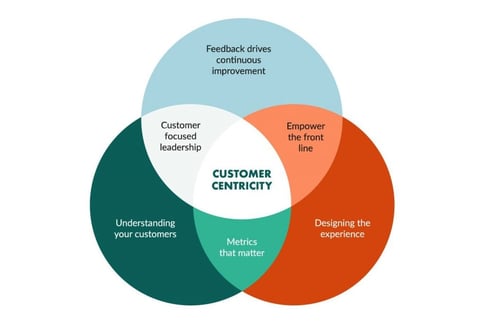 Here are some metrics you want to start measuring right away.
Net Promoter Score or NPS.
When you ask your clients if they will recommend your services to anyone else in their life, they will give you a score from 0 to 10. The value of this score would be your Net Promoter Score .
Client satisfaction
To get more customer focus, you can also check your Overall Customer Satisfaction, which is abbreviated as CSAT.
Purchase probability
This rather simple metric indicates the chances of your customers buying your products or services, either initially or repeatedly.
Customer Lifetime Value
To determine customer lifetime value, or CLV , you need to know how much money your customer spends on your products and services over the lifetime of their customer journey.
Then take that number and multiply the length of the business relationship.
To calculate customer lifetime value , start by determining your average purchase value. Next, take the average purchase value and multiply it by your company's average purchase frequency rate.
Finally, calculate how much money you spent on conversions, then subtract that from your multiplied number to get your CLV .
Churn rate
Not all measurements are good. You also need to know how many customers have dropped out of your business, and you can do that with churn .
Customer lifetime
How long will your customers stay with you? You can use arithmetic to gauge how long you can expect to retain each individual customer . This is called the customer lifetime .
The challenges of becoming a customer-centric organization.
Adapt your organization
Many departments in the company are in more or less direct contact with customers (marketing, communication, customer service, delivery, sales department), each working according to its action plan and annual progress .
Taken individually, the performance of these different services can be good, while the measurement of customer satisfaction (net promoter score or NPS, etc.) can reveal a very insufficient level of satisfaction, the fault of a lack of consistency in the governance of the relationship. customer.
Emergence of new functions
Even today, companies are often organized in silos: the department that manages promotion and the department that manages customer relations are compartmentalized and meet sometimes contradictory objectives.
The big loser in this type of organization is often the customer, victim of a lack of coherence and constancy in the follow-up of his relationship on the part of the company in question…
Build up a customer's memory
The second challenge to be met in order to become a customer-centric company is therefore to build up a memory of the customer that will be shared by all the business lines in relation to the customer.
Integrating the local dimension
Because a company knows its customers and takes their specificities into account in the relationship it has with them, the customer-centric company must know how to think and act locally.
Keep your promises
You can't build a positive and lasting relationship with your clients without trust.
Animer a relation
Social networks, email, mobile apps, bots… brands have never had as many channels as they do today to bring their customer relationship to life.
4 Best practices to becoming a customer-centric company
understand what the clients want and use their "wishes" to capture the useful insights, as well as share their information across the company;
place the focus on prospects' requirements and develop product or service around them;
analyze, plan and implement a strategy that can help you keep the profitable and loyal customers;
concentrate on building the relationships designed to amplify the client's product or service experience.
Improve your customer relationships client centric CRM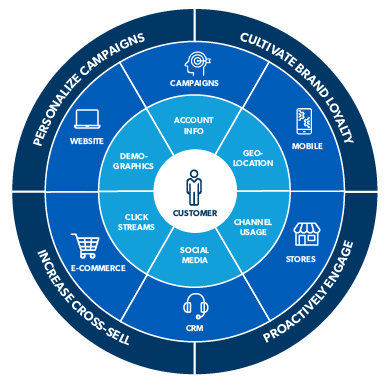 Among the variety of customer-centric software, CRM is a customer centric solutions to help the companies enhance client experience with following benefits:
CRM provides you a better understanding of customers. You can take advantage of the essential features to forge the strong and lasting customer relationships.
With the help of this functionality, you are able to optimize the efficiency of the business processes and team members. The solution allows you to run the multiple campaigns and connect with the clients in a highly personalized way.
Due to the fact that CRM is a historical database, all interactions with clients are recorded in the customer-centric system. As a result, you get the relevant and helpful information at your fingertips in the moment of need. The employees are equipped with the required data to handle the prospects' demands and issues, as well as answer questions regarding the product or service.
Visibility and tracking of the sales pipeline are crucial for companies to better understand the client's, track the prospects' activity, and keep every employee on the same page regarding the sales progress. By knowing more about customers and having the efficient insights into forecasting, you can have the effective interactions with your prospects.
CRM Migration: a Key to Business Prosperity
If you are in need of moving data to the more advanced CRM, take advantage of an automated migration service Trujay. The SaaS can help you transfer the records fast, securely and completely hands-off. Besides, an automated solution has no impact on the business processes and guarantees the 100% of both CRMs.
Conclusion
Every business should strive to become more customer-centric .
This means that you focus more on retaining customers instead of just selling to someone
who is only marginally interested in your products and services.With this guide, you can identify what customer centricity should look like in your own business, as well as ways to improve your own customer-centric approach for an audience of loyal, dedicated customers .
Subscribe to FMC Newsletter
No spam and promotion, just insightful information