Are you aware of the benefits and challenges of CRMs?

These days it's hard to imagine any business without a CRM, especially among those who value organization and structure. With CRMs, you can manage your customer relationships much more efficiently with access to customer data, interaction history, notes, documents, metrics, (and more!) all in one place.

By the way, if you are currently looking for a CRM, we would advise you to pay attention to the following options:


But, every coin has two sides and while there are many benefits to using CRMs, they do come with their own set of challenges as well.
Let's look more closely at the pros and cons of using a CRM system.
Benefits of CRMs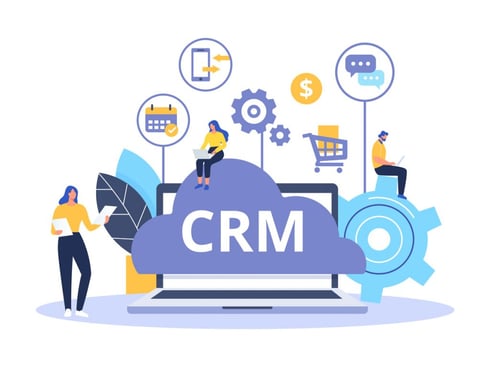 Improved profitability
CRM software has numerous benefits and once you choose the right CRM, you can expect better revenue, relationships, and communication.
The ultimate goal of a CRM system is to drive sales and increase profitability. CRMs facilitate revenue growth by helping you:
Identify and target high-value accounts
Prioritize leads that are most likely to convert
Improve your speed to lead time, increasing the likelihood of closing
Streamline the sales process to speed up your sales cycle
Identify your most profitable sales strategies, marketing campaigns, and sales reps
Money & time saved
CRMs also minimize costs by improving efficiency. On average, businesses that use CRMs see an 87% improvement in sales. You can automate administrative and manual tasks through a CRM, allowing your employees to focus on their core job activities. Additionally, CRM metrics can identify bottlenecks in the sales process, underperforming staff, and non-converting campaigns in real-time. This lets you nip problems in the bud versus waiting until your quarterly earnings report to realize something isn't working.
Collaboration tools are key in keeping employees and departments working in tandem. These tools resulted in 73% of companies that use CRMs reporting improved efficiency, which means reduced costs associated with discrepancies and redundancies.
Better customer relationships
Employees get a 360-degree view of the client when using a CRM. These client records contain far more than the usual contact details you'd find in a customer database. CRMs create an interactive digital record for each client. You can view social media profiles, the language they speak, their children's names, and even their birthdays. With all this data at your fingertips, it becomes a breeze to personalize your connection with a contact.
The client record also lets you stay on top of every deal. At a glance, you can see:
Contact history
Notes
Past purchases
Projects
Support requests
Associated documents
Web behavior
Orders
Delivery status
70% of purchases are based on how valued a customer feels. With a CRM app, all of this information is available on the go. When you interact with a contact, you can demonstrate a deep familiarity with their account. This shows the client you're invested in their business. In turn, they become more invested in your company and are more likely to become a loyal customer.
[Related article: The 80/20 Rule in Sales: Improve Your Customer Success.]
Increased customer loyalty & retention
A CRM system has many advantages when it comes to customer retention. A 5% increase in customer retention correlates to at least a 25% increase in profit. Task automation and reminders help you keep your promises to customers. And, you can also segment your contacts to find customers you haven't been in touch with recently so no one feels overlooked. Holding on to a current client, after all, is roughly seven times cheaper than finding a new one. CRMs can also automate post-sale communication so that the relationship stays alive even after a transaction is complete.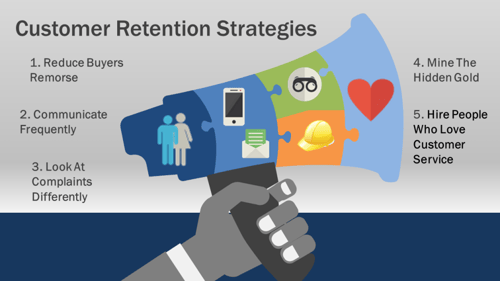 Better protections for data privacy
The EU's privacy law, the General Data Protection Regulation (GDPR), is designed to protect consumer privacy and give them control over their personal data including how it's collected, used, and stored. Companies that fail to comply with GDPR's strict regulations can face steep fines and 71% of customers worry about their data security.
Fortunately, CRMs are data management experts. They help you obtain and record your contacts' privacy permissions, manage subscriptions and unsubscribe options, and send automatic updates when changes are made to your privacy policy. They also keep a complete and organized record of all your contacts' history with the company. If someone requests access to their personal data, you can comply without batting an eye.
Simplified collaboration
Your CRM acts as a record of interactions, perspectives, needs, notes, and contact details. This record is always current, as CRMs are cloud-based software. Teammates can quickly review records to deliver the best service and solutions. Furthermore, many CRM platforms have built-in collaboration tools that allow several individuals to work simultaneously on one file or track a document's progress (like sales quotes).
You can also have all of your communication channels feed into one platform, which is helpful since 78% of customers expect consistent interactions across departments. This platform keeps cross-channel communication organized and consistent, making sure customer information isn't siloed between departments, employees, and software. It lives in one place that anyone can access though the CRM.
Increased productivity
CRM technology empowers people to work anywhere through the mobile CRM app and 50% of teams improved their productivity using a mobile CRM. You have a range of productivity tools to develop, change, and collaborate on deals and projects, anytime, anywhere. You can also respond to customers quickly, with instant access to the entire client record. With CRMs, business is never left on hold because you're out of the office.
[Related Article: What are the functional & technical features of CRM software?]
Challenges of CRMs

CRM software has come a long way in the last decade, improving its ease of use, functionality, and affordability significantly. However, it still faces a few challenges.
Overall cost
One of the most significant challenges of CRM implementation is the cost. Even though some CRMs offer affordable and even free solutions, as your business grows, your needs grow. You'll require more from a CRM system as you scale. This is where things can get very expensive very quickly. Check the vendors' subscription tiers before committing to any CRM system. You want to be sure it's still a cost-effective solution as you move to the more feature-rich tiers.
Aside from the cost to scale, you need to calculate the total cost of purchase before investing in a CRM system. This includes but isn't limited to the following:
Software subscription
Premium upgrades, such as add-on marketing or reporting features
Customization and configuration costs
IT resources needed
Hardware or software requirements
Staff training and upskilling
Cost of integration
Cost of data migration
Cross-department participation
One of the biggest hurdles to a CRM's success is getting company-wide buy-in. It isn't easy to find a CRM that offers equal functionality for every department. You may encounter resistance from staff who are saddled with a tool that wasn't their first choice.
One way to sidestep this particular challenge is to focus on the benefit to the customer. What tool will best serve your clients? Employees may grumble if they feel another department got the better end of the deal, but most staff can get behind a system that adds value to their customer base.
Patience required
We live in an age of instant gratification, and our new software system is no different. We want it to work right now! However, CRMs are not an immediate solution. They usually require time and training to experience their full power.
You also need to be prepared to wait on your financial gains. Though companies receive an average return of $8.71 for every dollar invested, this can take years. Just recovering your initial investment typically takes 13 months.
Leadership support
Some managers make the mistake of seeing CRMs primarily as a reporting tool for monitoring employee activity, call volume, and other efficiency metrics. This approach is bound to get pushback from employees. They'll view the CRM as a burden and be unlikely to participate. Lack of engagement also means that the data can suffer, as employees enter incomplete or even fictional information, which undermines the point of a CRM as the single source of truth.
To avoid this roadblock, managers should sell the team on how the CRM works for them. Familiarize yourself with the benefits for the entire organization and advocate for the new system accordingly.
Finding the Right CRM For You
Roughly a third of CRM projects fail. The possibility of CRM success goes up substantially when you partner with a CRM consultant, like FindMyCRM. Without a trusted expert on hand, you're more likely to be seduced by fancy features and pushy sales reps. By contrast, when you partner with a CRM consultant, you get expert advice without a vested interest. A quality CRM expert can discuss your business goals and translate them into the features and functions of the CRM system.
[Related Article: How to Choose a CRM System]
Pros & cons of CRMs
After reading about CRM advantages, common issues, and statistics, we hope you can avoid CRM's occasional pitfalls and find the right software for you. While no CRM is perfect, the most common issues can be avoided with the help of research, planning, and a CRM consultant's guidance.
Need help finding the CRM right solution for your business? Contact our friendly team of experts today.
Subscribe to FMC Newsletter
No spam and promotion, just insightful information