Why investigate HubSpot alternatives? HubSpot is the cream of the crop for sales, inbound marketing, customer relationship management (CRM), and more. Right?
Well, yes and no.
HubSpot does offer an expansive feature set and is one of the best marketing CRMs in the industry. But it isn't right for every business.
The top complaint among consumers is HubSpot's price. Despite advertising itself as a free CRM, HubSpot's advanced features require a subscription to its professional hubs. The hubs are the different wings of the HubSpot platform, and they cover Marketing, Sales, Content Management, and Support.
By the way, HubSpot is one of the most popular CRMs for construction industry.
Each hub has its own subscription tier that runs from US$ 50/user/month to US$ 3,200/user/month. That already places HubSpot out of reach for many small to midsize businesses. However, if you're working from just the CRM or one specialized hub, you're getting a handicapped version of the platform. You'd need to spend thousands more to subscribe to all the hubs and experience the CRM in its full power.
[Related Article: Salesforce Alternatives]
For that reason, we've investigated some HubSpot alternatives. We found seven excellent HubSpot competitors in 2023 that should fit your sales and marketing needs:
ActiveCampaign
Ontraport
GetResponse
EngageBay
Sendinblue
Drip
Wishpond
These CRMs and marketing tools are all close to HubSpot in some aspects, but without the expense.
[Related Article: 10 Best Free CRM Software]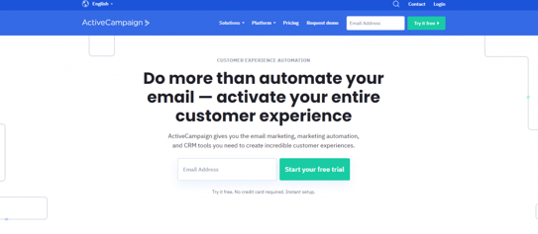 ActiveCampaign is our first HubSpot alternatives. It is a popular marketing CRM with a strong customer base of over 100,000 businesses. ActiveCampaign supports sales, marketing, and customer support departments, however marketing is it's strong suit. It is customizable enough to serve many verticals, such as higher education, SaaS, eCommerce, marketing agencies, and technology.
Active Campaign Features
CRM
Email marketing
SMS marketing
Reporting & machine learning
Automation of sales, marketing, and business processes
Marketing KPIs and conversion attribution
A/B split testing
Lead & contact scoring
Web behavior tracking and notifications
Customizable forms and landing pages
Multi-channel communication
Chatbots
How Is ActiveCampaign Better Than HubSpot?
More affordable: If you're on a budget, yes. HubSpot's marketing automation features would set you back $800 per user per month! ActiveCampaign is different to HubSpot (and most CRMS) because it began as a martech tool. As such, every subscription tier comes with advanced marketing features. Even the Lite version comes with enterprise-grade email marketing, automation, reporting, and support at just US$ 9/user/month.
Better reporting features: ActiveCampaign's standard reporting features are also superior to HubSpot's. You can create automation reports, communication pattern metrics, interaction reports, and goal-based reports in addition to regular campaign reports. Reports on ecommerce are also available.
Free onboarding: ActiveCampaign recognizes HubSpot as a major competitor. If you switch from the Hub to Active Campaign, they will sweeten the deal with free data migration, training, and onboarding.
Who Is ActiveCampaign Best For?
ActiveCampaign is best for small to midsized businesses. That's because it shares one of HubSpot's weaknesses–it caps your contacts. This makes it unsuitable for large enterprises.
Size aside, ActiveCampaign is best for marketers and marketing agencies. It has affordable marketing tools as well as some unique offerings, such as the White Labeling feature. This gives marketers a blank canvas to create custom domains, logo rebranding, and HTML/CSS rebranding, for both themselves and their clients. The features for other departments are a little thin, so ActiveCampaign is best for companies that want excellent marketing tools, with a CRM add-on.
It's also a great option for an eCommerce business. ActiveCampaign integrates with over 800 tools, including eCommerce platforms like WooCommerce, Shopify, BigCommerce and Square. All the data from your online shop flows into Active Campaign, such as product views, abandoned eCarts, and purchase history. This lets you create a personalized pitch for every customer and campaign.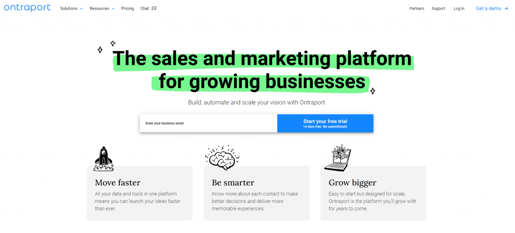 Ontraport is a powerful yet simple CRM that is highly customizable. Like ActiveCampaign, it boasts an enterprise-level marketing suite as well as extensive automation features. In 2020, Ontraport was among the Top 20 CRMs for both landing page software and lead generation. Ontraport specializes in finding new customers, and then automating much of the admin and follow-up so you can deliver fast, consistent, and personalized service.
Features
Lead generation
Marketing automation
Sales automation
Contact management
Referral programs
Membership sites
Business process automation
Marketing analytics
CRM
Landing pages
eCommerce
Email marketing
How is Ontraport Better Than HubSpot?
More affordable: To get a full feature set from HubSpot, you must subscribe to all of their hubs: marketing, sales, service, and content management. This can run into thousands of dollars a month–per user! With Ontraport, you get great functionality for all of your customer-facing departments without the painful price tag.
Flexible web hosting: Ontraport also gives you the flexibility to build your webpage from anywhere. This is in stark contrast to HubSpot, who box you into using their own webuilder. While you can integrate WordPress with HubSpot, you then lose functionality in the content management hub. Ontraport lets you run your website from the platform of your choice. You also avoid the headache of having to transfer an existing site to HubSpot.
Ecommerce support: Are you running an online business? Ontraport can also help you set up and run your eCommerce site. You can sell both physical and digital products with the help of their payment processing, order forms, invoice templates, coupon codes, recurring payments, and delivery automation.
Audience segmentation: Another advantage is the tagging system. HubSpot lacks this function entirely, whilst Ontraport lets you build an unlimited number of tags for your contacts. Use Ontraport's intuitive campaign builder, then use the tagging system to build layered, highly targeted marketing appeals.
Who Is Ontraport Best For?
With plans starting at US$ 79/user/month, Ontraport isn't one of the cheapest HubSpot alternatives, but it is still good value for money. It's great for small to midsize businesses that want a straightforward CRM with robust automation features. Online businesses will also benefit from the rich set of eCommerce tools.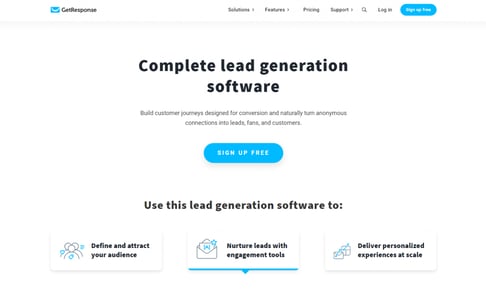 GetResponse is an all-in-one marketing tool that offers email marketing, landing pages, marketing automation, and conversion funnels. It's worth pointing out this is not a CRM. However, GetResponse does offer advanced marketing tools and unlimited marketing automation at an attractive price. The company claims to engage with over 350,000 subscribers, making it one of the most popular martech tools on the market.
Features
Marketing automation
Landing page builder
Comprehensive reporting
Webinar integration
Social media integration
Inbox preview
Autofunnel
Email drag-and-drop editor
Email analytics
Autoresponders
Form builder
A/B testing
Video email builders
How is GetResponse Better Than HubSpot?
Automated funnels and ecommerce: What makes GetResponse one of the greatest HubSpot alternatives is their Conversion Funnel. This is a new feature that takes care of your entire customer lifecycle, from the awareness stage through to purchase. GetResponse includes payment processing too, and integrates with Stripe, PayPal, and Square.
Affordable feature set: The most advanced tier offers unlimited sales funnels and unlimited automations for just US$ 99/user/month. You don't pay an arm and a leg to access the most advanced marketing tools. What does push up the cost is the number of subscribers you can market to. However, small companies with fewer customers can get a great deal with GetResponse's pricing setup.
Webinar hosting: This is one of the few tools that pays special attention to webinar enthusiasts. It provides a no-fuss webinar builder, unlimited webinar funnels, up to 20 hours of webinar recording, and seats for up to 1000 webinar attendees.
Who Is GetResponse Best For?
GetResponse is a good choice for eCommerce companies, webinar hosts, marketers, and affiliate marketers. Their automated Conversion Funnel is worth investigating, as it has the potential to significantly improve traffic and lead generation.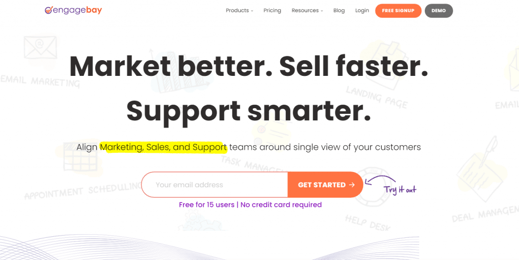 We have another HubSpot competitor in 2023 – EngageBay. EngageBay follows a pricing model similar to HubSpot. There's a free CRM with the option to subscribe to additional "bays" for marketing, sales, and service. However, EnagageBay comes at a fraction of the cost of HubSpot.
Features
CRM
Sales enablement tools
Contact management software
Appointment scheduling software
Email marketing
Web analytics
A/B testing
Custom domain
Marketing automation
SMS marketing
Web forms
Landing page builder
Email sequences
Powerful helpdesk
Live chat software
How is EngageBay Better Than HubSpot?
Similar features at a fraction of the price: EngageBay mirrors many of HubSpot's features, right down to the pricing structure. However, EngageBay's rates are incredibly fair, particularly when considering the scope of their services. Their Pro Plan will cost you just $49.99/month, and there are no compulsory onboarding fees.
Unlimited contacts: HubSpot limits the number of contacts and forces you into more expensive pricing tiers to gain more. In contrast, EngageBay gives you the flexibility to store as many contacts as you choose. No matter how big your business grows, every contact comes with a complete customer profile, including notes, related documents, communication history, past purchases, and more.
Who is EngageBay Best For?
EngageBay is best for small to medium-sized businesses looking for an affordable, all-in-one sales, marketing, and support platform. No contact limits also make EngageBay the perfect CRM to scale your business with.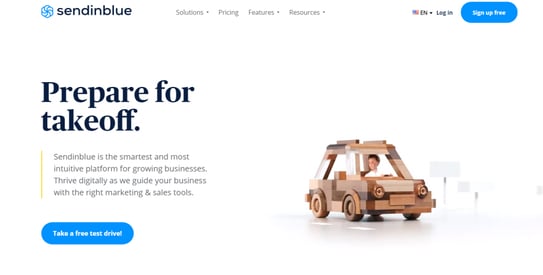 Sendinblue, a digital marketing resource, has been serving a variety of industries for over a decade. The system handles over 100 million emails sends every day. Besides email, Sendinblue has marketing tools for all your channels, including social media, websites, and telephony. Drag and drop features let you build up your campaigns in just minutes.
Features
Facebook advertising
Landing pages
Signup forms
CRM
Chat
Inbox
Transactional emails
Marketing automation
SMS marketing
Email marketing
How is Sendinblue Better Than HubSpot?
More affordable alternative to HubSpot: Sendinblue is an affordable alternative to HubSpot's Marketing Hub. Monthly plans begin at US$ 25/month. That's half the cost of HubSpot's marketing subscription. Furthermore, Sendinblue charges per email rather than per contact, making it an ideal option for organizations with an extensive contact list that only send a few emails per month.
The free plan has better marketing features than HubSpot: At the highest subscription tiers, HubSpot's Marketing Hub and Sendinblue come in neck and neck for functionality. But for the free version, Sendinblue offers far more features. Sendinblue provides marketers with automation, SMS marketing, web tracking, real-time reporting, sales CRM, and advanced audience segmentation for absolutely no cost.
Superior email marketing: Even in the free package, Sendinblue's editor is simple to use and includes a massive variety of templates. HubSpot's free tier does not contain any templates. Upgrading to Marketing Hub for this access would be unreasonable. You can also send transactional emails. This functionality is not included in HubSpot.
Who Is Sendinblue Best for?
Sendinblue is suitable for businesses on a tight budget looking for a cost-effective all-in-one option. Marketers that rely heavily on email will find a wealth of features to help them build and monitor their campaigns' success. Sendinblue's ability to send SMS and transactional emails is appealing to eCommerce companies.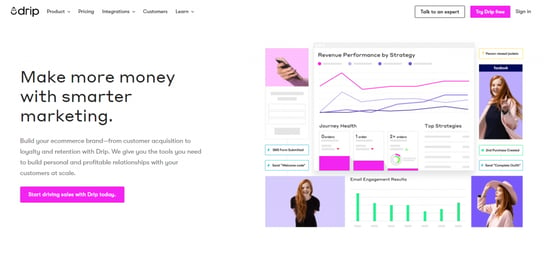 Drip is our sixth suggestion for the top 7 HubSpot alternatives in 2023. This eCommerce CRM system, also known as ECRM, also offers marketing automation services. With its ECRM, Drip delivers enhanced email marketing automation as well as improved customer data and insights.
Features
Facebook Ads
Workflow builder
Process automation
Subscriber tagging
Lead scoring
Drip campaigns
Email blasts
Reports
Performance tracking
How is Drip Better Than HubSpot?
Affordable automation features: Drip offers advanced automation as a core feature. The automation workflow editor is simple to use, well-designed, and flexible, with bright colors and icons that make it pleasant to use. Choose from various triggers, including link clicks, page views, tags assigned, and more.
Drip allows you to create almost any automation you want, but eCommerce automation is where they really shine. You can set up abandoned e-cart follow-ups and automated checkouts. These are default templates, and they're straightforward to use.
Audience segmentation: The tagging system is another great feature HubSpot lacks. These can be used to help you categorize your contacts based on details like lead source, deal stage, lead score, or purchase history.
Who Is Drip CRM Best For?
Drip is an excellent all-in-one approach for e-commerce companies. They offer hundreds of integrations with marketing and eCommerce apps. Drip also provides complex automations to save you a lot of time, and potentially, money.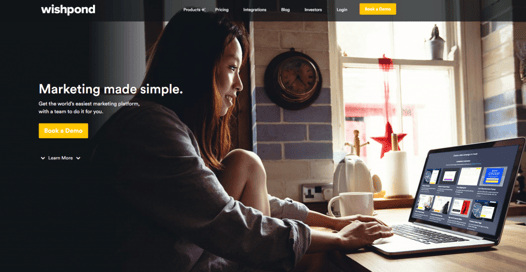 Wishpond is a well-known marketing platform designed to help in four areas: marketing automation, landing page builders, popups and forms, and contests and promos. While the marketing suite doesn't do everything, it's best-in-class for the features it does focus on. The user-friendly platform ensures even non-techies get the most out of its features. It also provides marketing analytics to help you determine the effectiveness of your campaigns.
Features
Leads database
Email marketing
Marketing automation
Online forms
Website pop-ups
Referral suite
Promotions
Contests assistance
Landing page design
How is Wishpond better than HubSpot?
Easier, more extensive templates for email and landing pages: Wishpond has a vast collection of modern-looking templates that are easy to modify. The marketing platform was built for ease of use so that you won't need any coaching as with HubSpot.
More affordable: Though Wishpond is not the cheapest service on this list, it is still a better deal than HubSpot, considering the feature set. You get unlimited landing pages, social media contests and pop-ups, email drip campaigns, marketing automation, unlimited user accounts, and 1,000 leads all for US$ 49/user/month.
[Related Article: 15 Best Pipedrive Alternatives]
Who Is Wishpond Best For?
Wishpond is an excellent option for small to medium-sized companies who don't want to pay the high fees associated with HubSpot's professional hubs.
The Best HubSpot Alternatives and Competitors
As you can see, HubSpot is not the only excellent marketing tool on the market. Your budget, size, and plans to scale may lead you to one of HubSpot's competitors.
If you need more advice after reading our guide to HubSpot alternatives, feel free to contact our team of CRM experts. We have decades of experience helping businesses select the right CRM. If it's not HubSpot, we'll find your perfect match.
[Related Article: The Best Marketing Automation Software & Platform]
Not sure what you need?
Use our free guides and tools. Just fill in the forms with your requirements and get a full report and list of CRMs that could be a great fit for your business.
Subscribe to FMC Newsletter
No spam and promotion, just insightful information