When it comes to developing Pipedrive features – everything is designed on activity-based selling. We believe that while you cannot control outcomes in sales, you can control the acts that drive deals to completion.
Pipedrive provides an effective and easy-to-use CRM platform with smart marketing tools to help you successfully promote your goods and services whether you work in a small business or as part of a marketing team.
Pipedrive is reasonably priced, ridiculously simple to use, and created by sales professionals for sales professionals. The platform's scalability makes it ideal for rapidly expanding teams. Pipedrive is a good investment if you want to reshape your lead generation and sales flow from top to bottom.
Pipedrive is a deal-driven CRM
Pipedrive CRM is a customer relationship management tool that can also help with marketing and the sales process. Pipedrive's proactive nature monitors and organizes calls and emails automatically, as well as synchronizes schedules through devices.
Pipedrive's ability to visualize the sales process from beginning to end is particularly appealing to small and midsize businesses (SMBs). Managers and reps no longer have to guess how they're performing. Pipedrive lets you track sales goals and performance in real-time. This gives sales managers the ability to take specific goal-focused actions, such as acting on stalled deals or focusing on high-value clients. This can boost revenue and eliminate a lot of internal second-guessing.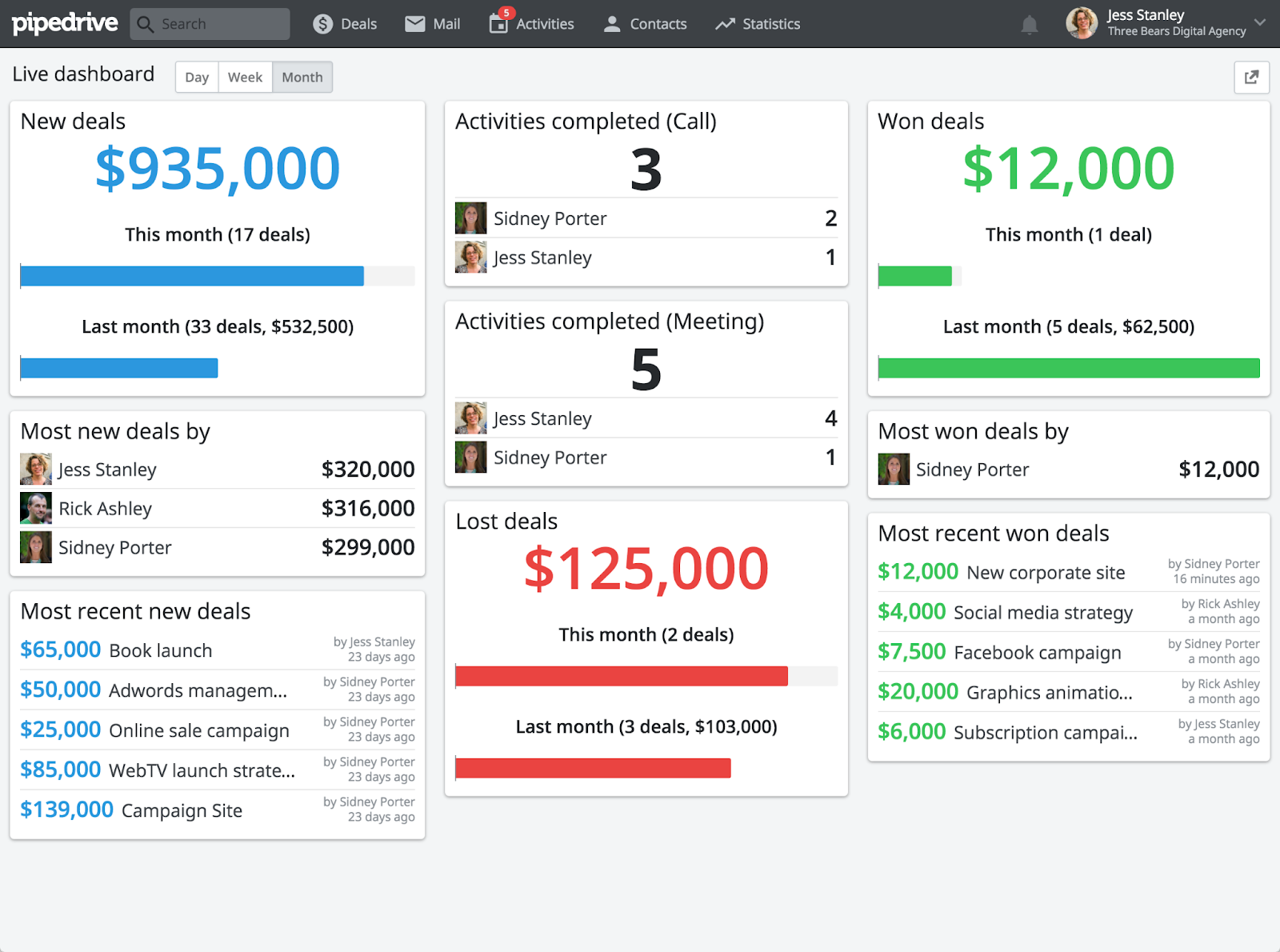 Pipedrive is a sales-focused CRM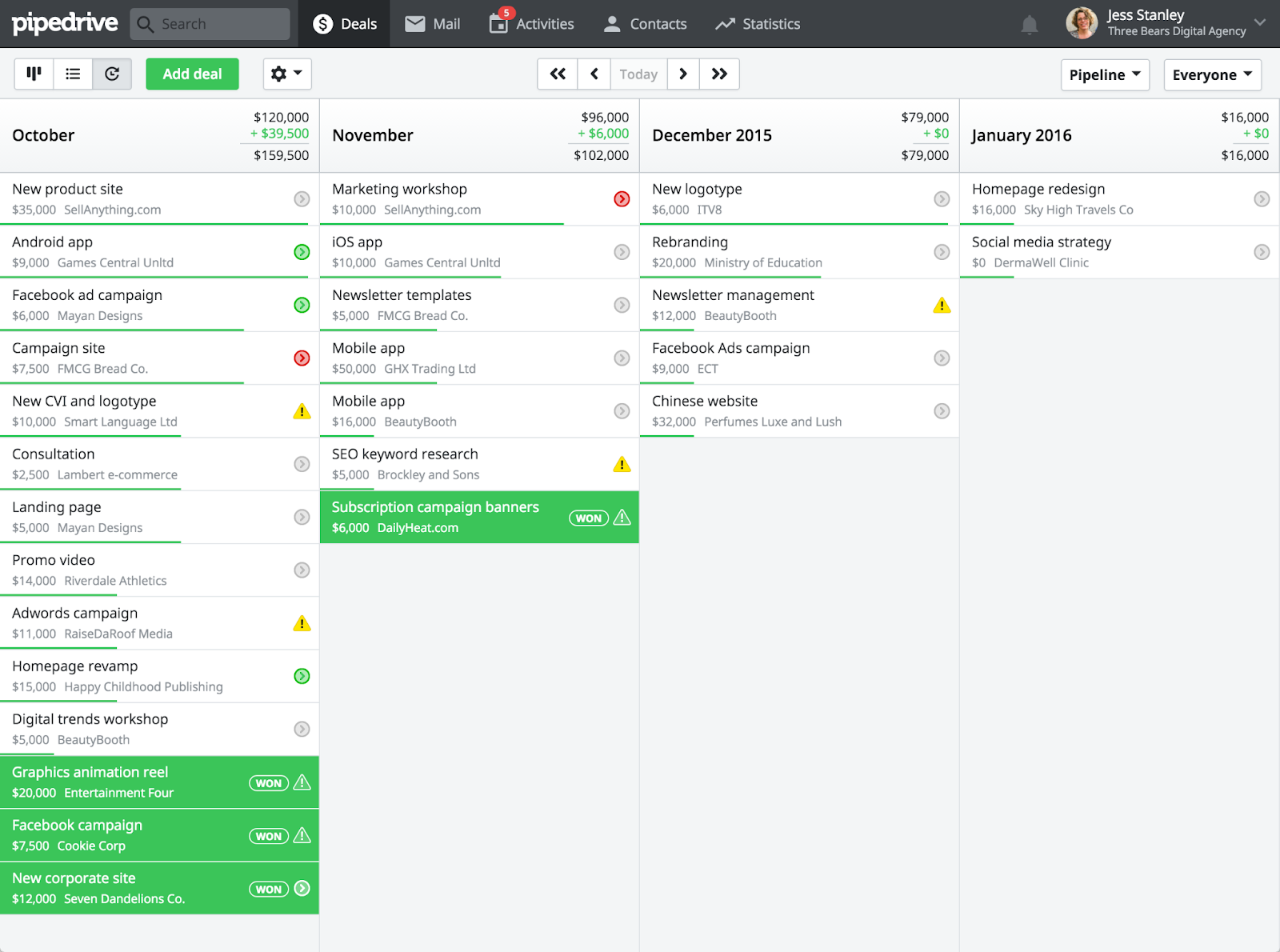 It comes behind some competitors due to a 1,000-name email cap and a lack of more robust marketing automation functionality. Pipedrive is a good option if it has the features your company needs. It has also broadened its services to include major corporations.
Pipedrive's Ease of Use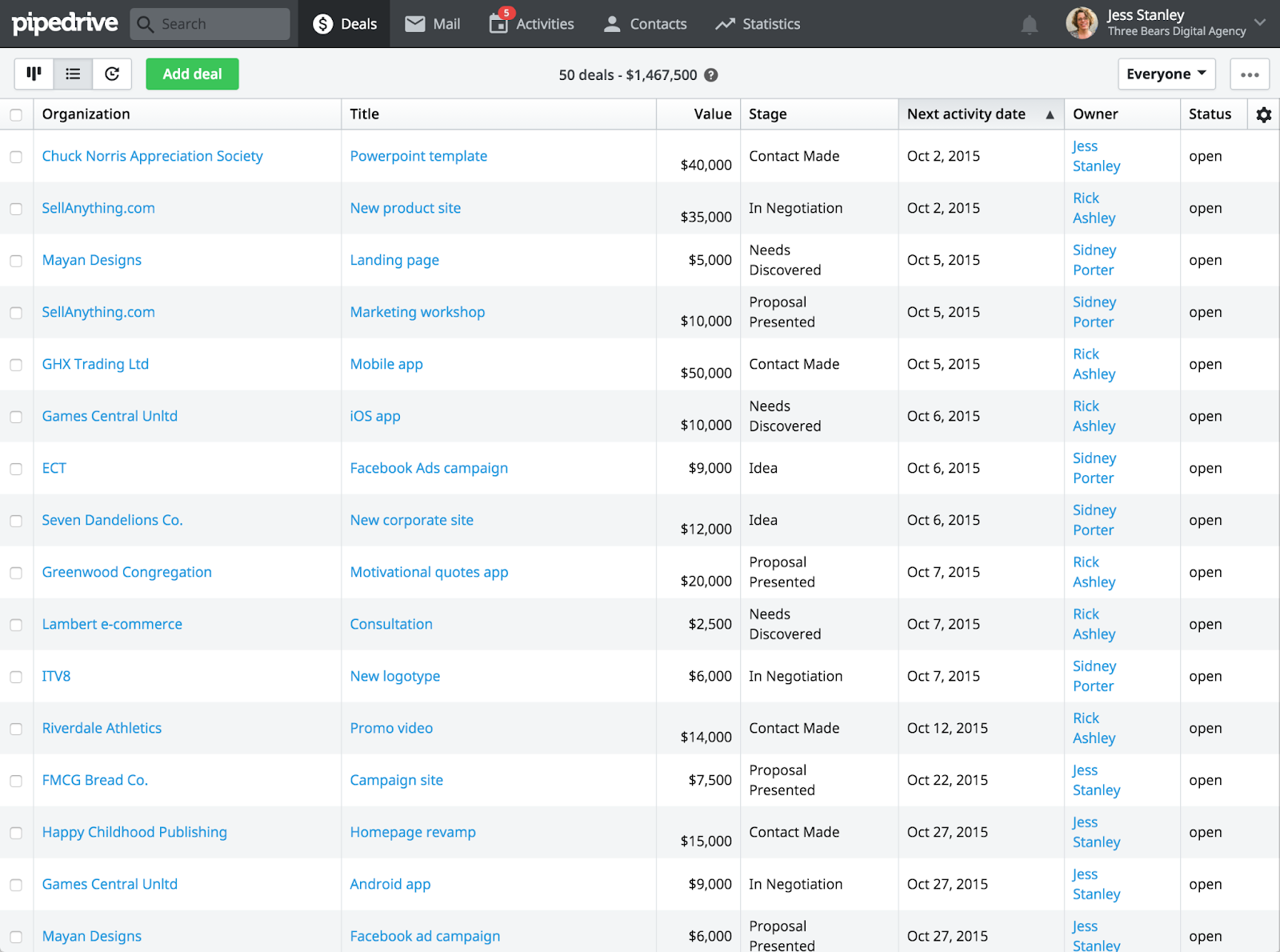 It's easy to pick up quickly, which is priceless as compared to the time and money required for training and onboarding with other resources. Smaller businesses and entrepreneurs with CRM responsibilities would appreciate how easy it is to use. While the UI's visual appeal is excellent, Apptivo CRM, our third Editors' Choice winner, offers the same functionality for even less money.
Benefits of Pipedrive CRM
Your company will still have an effective and user-friendly overview of the sales pipeline with Pipedrive. Because of the sales funnel approach built into the app, the sales team and deal makers will love it. Your deals will be organized into sales levels, allowing you to track your team's progress and determine which deals should be pushed. You can also follow the progress of your sales team members as well as deals offered to leads.
Efficient sales management
Pipedrive serves as your personal sales manager, assisting you in determining which events and deals to prioritize. This is why the tool is a huge help for company owners and sales managers, as well as a practical and reliable tool for salespeople. The app will give you a good picture of your sales pipeline, and it comes with a sales approach built in.
With the app's Timeline View, you can become a better partner by focusing on the right offers and events. Pipedrive is also a highly stable software that thousands of customers trust all over the world. It has a solid hosting infrastructure and various backup locations for regular backups.
New York — April 3, 2020 — Pipedrive, the first CRM platform developed from the salesperson's point of view, today announced that it has been named the "Easiest to Use" CRM solution by The Blueprint, a Motley Fool company that helps business professionals make better decisions by offering unbiased, objective, and trustworthy technology advice and reviews.
The review states, "Pipedrive is economically priced, ridiculously easy to use, and is made by sales experts, for sales experts. Just about any small business owner who generates leads, closes deals, or sells services could make wise utilization of Pipedrive. If your website generates leads or sells products, then Pipedrive offers a generous collection of smart marketing and CRM tools that are reasonably priced."
Adding deals in Pipedrive couldn't be simpler: all you need to do is to click on the Add Deal button on top of the deals section, and fill in the data required in the pop up dialog box (associated organizations, closure expectancy dates, stages, and scheduled activities).
The advanced Activity Scheduler makes it easy to plan events and appoint meetings in your calendar with no risk of double entries. In this aspect, make sure you familiarize with the Mail tab, as it is there where all of your emails will be synced, and from where you can forward documents and close specific deals with contacts that are not displayed on your Pipedrive list. The bulk editing feature has been redesigned to modify several fields at once, and gives you the freedom to choose colors and symbols you expect contacts to understand.
[Related Article: Top 12 CRM Functionalities and Features List]
Have you ever been irritated when a prospect asks you for help, but you have no clue who they are or how they found you? If so, then you're wasting a ton of time and effort.
Wouldn't it be better if you knew who each prospect was, and where they were in your marketing process? Pipedrive makes this easy by connecting your emails with your contacts.
Dealing with a disorganized lead flow can cost your small company big bucks! Especially if a client catches that you are unprepared or disorganized.
Pipedrive makes it ridiculously easy to track your leads and email conversions. You'll know the status of every prospect and which emails they open. You'll also know their exact status so you can focus on offering stellar support, follow ups, or sales.
Well-organized lead collection
The system's minimalist design, as well as the seemingly endless configuration options, make lead management easy.
The system collects contact information through customizable web forms that can be inserted directly onto your webpage or newsletter.
The various CRM and contact management integrations enable the consumer to import leads from other systems in any number.
You can customize almost anything in Pipedrive. You can customize the the stages of your pipelines. You can also turn whole modules on and off with a single click. You also have access to a number of modern editing filters when connecting with your customers, allowing you to personalize messages.
Top-notch Statistics and Reporting
Statistics is one of the most useful tabs in this framework, and it can be connected to the dashboard and shared with other colleagues for a deeper understanding of key metrics. There, you can track individual agents' results, the value of each individual contract, and the history of each lead. Recent improvements made in the system empower critical comparisons, such as the ratio of closed to lost deals.
When it comes to reporting, keep in mind that Pipedrive will store all of your interactions and related data in a centralized database, from which you can export it to other systems or create your own app to generate comprehensive summaries. You can also check out the Live Dashboard to see how your Wins, Losses, People, Activities, and Newness are doing, or create a custom report that shows all aspects of your sales performance.
Pipedrive's mobile apps allow you to take your sales pipeline with you wherever you go. If you have a phone, you can access the app's mobile web edition from anywhere in the world using your favorite browser. This app can also be used to take notes during a meeting or a phone call. All data is also backed up to a separate server in real-time.
[Related Article: The Best Marketing Automation Software & Platform]
Pipedrive Pricing
There are four affordable Pipedrive price points, so every business will find something that fits their budget. Please keep in mind that the prices mentioned below are for monthly payments; a discount is offered on annual contracts. Pipedrive offers a free 14-day trial, but there is no free plan.
Free trial – yes [Try Free Trial]
Essential – $15 per user per month
Advanced – $29 per user per month
Professional – $59 per user per month
Enterprise – $99 per user per month
Essential – The Essential package is available for $15 a month. At just $15, this is a great place to start if you want to quickly and easily create a straightforward sales process. This strategy allows you to identify your pipelines and operations, as well as monitor your sales success easily.
Advanced – Monthly fees for the Advanced plan are $29 a month. If you want to take your Pipedrive account to the next level with comprehensive email marketing features, this plan is for you.
The Advanced plan includes email templates, email monitoring, and email syncing. You can also use social media sites like LinkedIn to supplement your existing data.
Professional – The monthly cost of the Professional package is $59 a month. This package contains everything in the Advanced plan as well as additional sales tools. If your marketing team wants to completely crush your sales results and goals, the Professional strategy is for you.
One-click calls, call recording, sales dashboards, personalized permissions, and team management software are all included in the Professional package.
Enterprise – The Enterprise plan costs $99 a month and is only available for a year. This is Pipedrive's most comprehensive package, which includes everything in the Professional plan and additional onboarding and support functionality. Extra customization, enhanced security, setup assistance, and user permissions are all included in the Enterprise plan.
[Related Article: What is Customer Service? Definition, Types, and Benefits]
So, what can Pipedrive do?
Pipedrive is a web-based sales CRM and pipeline management tool that helps companies schedule sales activities and keep track of deals. Pipedrive, which was built using an activity-based selling approach, automates every step of the process of turning a potential offer into a profitable transaction.
If you are interested in alternatives to Pipedrive, you can consider the following CRMs: HubSpot, Zoho, Salesforce, etc.
Does Pipedrive meet your CRM requirements? Try our free CRM Finder Tool and see if it's a match for your business.