Download Now: Free "CRMs Powerhouse 2023-2024" eBook
As more clients search for products or services that can easily meet their needs, business owners find it necessary to personalize the interactions to stay on top of the competition. According to the Forrester study, 72% of the individuals stick to the point that "time is the most important thing that a company can do to provide them with good service." Fortunately, even with a huge customer base, organizations can keep a tab on client engagements thanks to CRM systems.
With so many options of solutions on the CRM market, the process of choosing the right one to fit your company's requirements can be a challenging task. So, your first step should be investigating and analyzing the main basic CRM features. After knowing the core CRM capabilities, you can easily start surfing in the web to find the platform that can satisfy the specific business demands. Let's go over the main CRM features and tools to help you simplify the procedure of selecting the dream solution.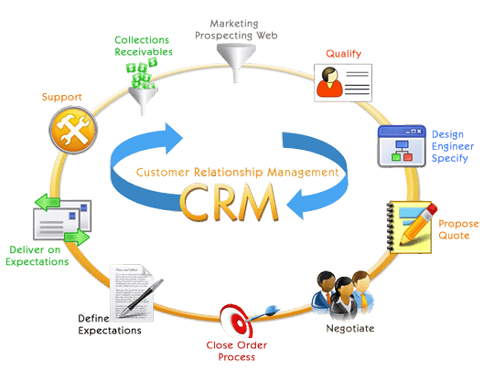 A CRM is Customer Relationship Management software. A CRM is essentially a database that allows a company to keep track of all of the information about its prospects and customers. Today's CRM systems place a premium on user-friendly interfaces and workflows that you can change and customize with a few clicks, making it easier than ever to keep track of key customer behaviors and information.
Best Overall
Salesforce
If you want to sell smarter and close more deals, Salesforce is the #1 CRM to consider.
Go to site
Best Workflows
Zoho
Customize your workflows to track all aspects of the sales cycle.
Go to site
Best Sales
Pipedrive
A sales-focused CRM that uses AI to automate repetitive tasks and manage leads and sales.
Go to site
CRM systems aren't like dusty old information libraries. CRM software acts as a second brain for marketing, sales, and service departments in firms that integrate and use it efficiently. CRM systems are used by businesses in three ways: strategically, operationally, and analytically.
CRM software helps your company focus on customers and customer outcomes from a strategic standpoint. You can easily see what's working, what's not, and what improvements you need to make when all of your prospects and customer data is in one system. For example, the pros of using CRM for insurance companies include improved customer service, increased sales, streamlined operations, enhanced communication, and better analytics and reporting.
CRM systems are largely used for operational purposes by most businesses. CRM software streamlines your operations and enhances the flow of information across departments. A salesperson or account manager, for example, can see comments from the customer service team in the CRM regarding one of their major accounts having issues with an order. After that, the account manager might contact their contact to optimize the ordering process.
Without a CRM, the customer service team would have to remember who the account manager was and contact them personally, which would make it possible for important client contacts to be missed.
Finally, CRM software can be used to boost corporate statistics and visibility. Customer experience managers can review their team's performance and identify improvement opportunities, while marketing teams can track the effectiveness of their marketing efforts. Sales managers can get insights into pipeline revenue and open proposals, and customer experience managers can review their team's performance and identify improvement opportunities.
[Related Article: 10 Best Free CRM Software]
Basic CRM Features: Guide to Must-Have Functionality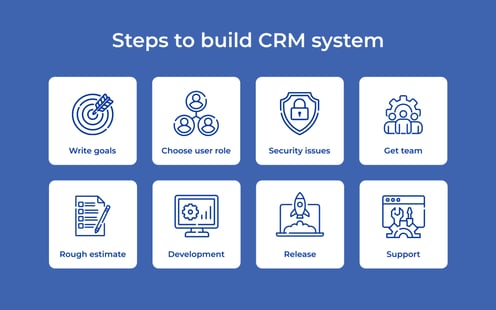 If you want to gain a better understanding of CRM and the definition of its many aspects, it is recommended to dive deep in the variety of key CRM features. Many reports indicate that 30%-60% CRM implementation projects fail or can't serve as expected. And the critical reasons behind this problem are:
lack of product insight;
undefined business objectives;
shortage of user adoption and training.
As you can see, the top reason for the CRM implementation failure is a lack of understanding of the platform which means falling short of knowledge about basic CRM functionality.
Check out 12 capabilities that can help you choose CRM easier and faster:
BTW, before you jump to these features, here are the top 5 CRMs that suit those criteria the most:
#1 Contact Management
It is one of the most important basic CRM features that enables you to collect and organize the clients' data efficiently. Since CRM provides you with a complete picture of all prospects, track the leads as it progresses through the sales pipeline, manages the customer profiles, interaction history, purchases, etc.
#2 Quote and Order Management
When the potential client gets interested in buying your product or service, the sales manager creates a quote with all details. After the client agrees to purchase it at the specified price, the order is generated. If not, the sales rep cancels the quote or revises it to meet the prospect's demands. CRM solution automates this procedure for your company and enhances sales visibility, as well as improves customer relationships.
#3 Opportunity Management
When you qualify the prospects as a lead, it becomes an opportunity. Consequently, it is potential revenue-generating contact or account. In case the company skips nurturing the contacts or accounts in the right way, you can lose selling an opportunity. Manage and monitor the sales funnel effectively and provide significant information to complete the sales process with the help of opportunity management.
#4 Sales Automation
Being one of the CRM core functionalities, sales process automation can easily boost the sales functionality to standardize the company workflow. It reduces human mistakes, makes the sales cycle shorter, and cultivates the lead-to-customer conversion ratio.
#5 Sales Forecasting
It is well-known that a large part of the client relationship management is to indicate a metric for success. Forecasting allows knowing a benchmark that enables you to determine whether the results are actually on par with your efforts. Use this information to indicate where you require to direct future attempts.
#6 Task Management
In order to serve your customers more efficiently, the suggestion is to manage the employees better in the first place. When the client's request is pending for a long period of time because your colleagues are confused about who should work on it, the process of improving the customer experience can get challenging. Hence, adding and completing tasks within time and budget is important in your successful business strategy. Automate the task management process with CRM by assigning tasks among your workers based on their skills, availability, and so on.
#7 Analytical Tools
Data is only valuable when you have the possibility to refine the information into something actionable. Get advantage of the CRM reports and dashboards to mine and analyze the info. This can help make clear and understandable conclusions to make future decisions that can improve the business processes.
#8 Customization Choices
Since your company has specific requirements, your customers obtain the specific needs too. Thus, there is no much sense for your organization to use a platform that can't be customized to suit the unique business environment. Look for a flexible CRM list that lets you sync with the operating systems, provides you with full control over what kind of data is being processed, etc. Keep in mind, your solution should be working for your benefit, not the other way around.
#9 Case Management
For improving the customer satisfaction levels, your task is to manage each client individually. Case management is one of the basic CRM functionality that lets you track, close, or reopen the existing cases, as well as use any confidential information in a secure environment.
#10 Integration Functionality
The opportunity to integrate with other external applications is another of CRM must-have feature. It helps your company observe the real-time data in CRM from various systems, and extends the platform's possible to fit the business needs better.
#11 Mobility Option
Almost every company requires to access customer information outside the office or on the go. CRM with mobile compatibility provides you with the ability to access data anytime and anywhere.
#12 Training and Ease to Learn
Since every CRM system has a different learning curve, it is important to equip your employees with the training materials to make the product more usable. Take advantage of the built-in 'Help' functionality to navigate your employee step-by-step to better adapt to the new platform.
[Related Article: Salesforce Alternatives]
Move to Your Perfect CRM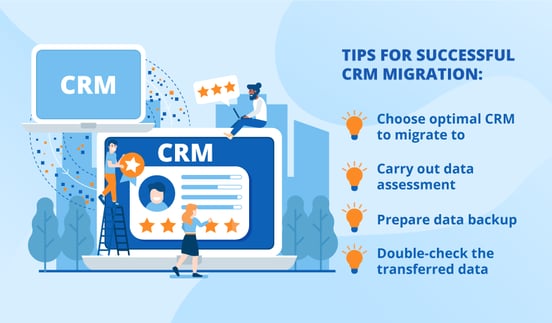 As you can see, the above-mentioned basic CRM functions are directed to improve customer relationships, team performance, and business processes. So, if you feel your current platform lacks any of the core capabilities, your next task is to find the desired solution and move the CRM data from the existing CRM system to the new one. In this case, you can use an automated migration service Trujay. The SaaS enables you to benefit from an easy-to-use interface and the following functionality:
guaranteed security of the records and an opportunity to sign the Non-Disclosure Agreement (NDA);
detailed fields and users mapping to satisfy the business requirements;
free Demo Migration to explore how the service works;
no interruptions of the company processes during the import;
run the transfer over by using Migration Insurance in case you want to make any changes.
Now, when you are certain about your future CRM platform and migration tool, you can launch and complete the data import in just a few clicks:
Register Trujay account and sign in.
Provide the existing and future CRM access credentials.
Choose the entities you want to transfer, map the fields and start a free Demo.
Satisfied with the test results? Run the CRM data migration.
Questions to Ask Vendors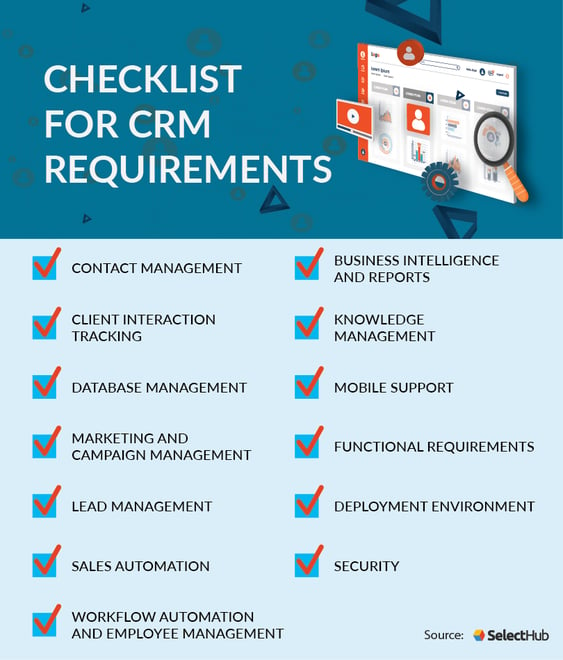 Finding the correct customer relationship management (CRM) software vendor can be difficult, especially given the large number of options available. Having a list of questions prepared to ask them might assist you in quickly narrowing down your options to a select few. Take a look at these ten things to ask when researching CRM software solutions.
What kind of setup/transition services do you provide?
To guarantee that your CRM software deployment goes smoothly, you'll need to know that the vendor is fully equipped to manage the installation. You should also inquire about the duration of the onboarding procedure.
What does a standard implementation look like?
Understanding how the entire onboarding process works can help you better understand what your company needs to do to get ready, as well as how prepared the vendor is to implement the software. A standardized implementation example should be available from the vendor.
Tell me about your company's mission.
Choosing a CRM vendor entails more than just buying software; it also entails choosing a business partner. What are some of the company's primary goals/mission statements, and how did it get started? Aside from price, service, and CRM feature list, the business behind the program is an often ignored factor of vendor selection.
What's all included in the monthly fee?
You must understand exactly what you will get in return for purchasing CRM software. While the vendor's website certainly offers a wealth of product-specific information, or you've received detailed CRM features and functions, it's preferable to get it straight from a sales professional. They're more likely to go over the exact features included in your monthly price in greater detail.
What does my IT team need to know?
When it comes to software implementation, the IT department will almost certainly be involved. You'll be more prepared and lessen the chances of unanticipated squabbles across departments if you know exactly what the IT team is expected to do before the software installation.
How can your CRM software be adapted to meet our unique needs?
Flexibility with a modern CRM is a must for many companies. Is the seller willing to tweak the program to meet your company's specific requirements? If not, you should look for another vendor, as providers should be able to meet the specific needs of their customers.
What kind of support does your software come with?
There will be a variety of support choices accessible to your company, as is typical of CRM companies. You'll need to know what all of these alternatives are, how you'll use them, and how good the support services are (responsiveness, availability, etc.).
Do you provide a demo and/or free trial?
CRM software is a significant business investment, so seeing how it works and getting a walk-through are essential before making a decision. It's generally best to look elsewhere if the vendor doesn't offer a free demo or trial.
Tell me about the overall costs.
Make sure you're informed of all fees that may be incurred if you opt to use the product. When looking at a company's website or another source of information, it's not always possible to get a complete picture of the total charges, beyond the monthly price.
How will the software help our team deliver great customer service?
This is an excellent question to ask to learn more about the vendor than just facts and figures. Is the organization truly committed to providing high-quality CRM software to help businesses succeed? Or are they just looking for a way to make a few extra bucks by offering you their services? In sales, sincerity goes a long way.
To Sum Up
Even though CRM platforms pile on the bells and whistles in an effort to attract clients, the reality is that there are a few basic CRM functions that have most of the impact on your organization. While analyzing and examining your choices for the solution. Focusing on these capabilities can prevent you from being distracted by tools that, while interesting or even promising, will not do the CRM heavy lifting your company demands now.
If you want to try out a new CRM solution, but can't choose CRM system, FindMyCRM is here to help.
Subscribe to FMC Newsletter
No spam and promotion, just insightful information