What is Copper CRM?
Copper is a well-known name in the CRM industry, specifically designed to be used with Google products, like Gmail and Google Docs. Copper enables businesses to build stronger relations with prospects and consumers by centralizing all data in one place.
In addition to Copper, there are also other powerful CRM systems such as:
Additionally, Copper provides project management tools to increase team productivity and cooperation. You can easily meet client expectations by streamlining your processes and using a single application for workflow automation, project planning, and customer relationship management.
Prices for Copper CRM start at $25 per user per month.
Copper's Functionality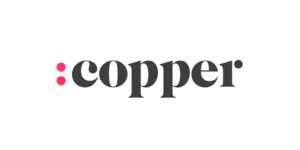 In order to find the best Copper alternatives you need to be informed of the software`s features. Any solution must provide the following features in order to be a reliable Copper alternative:
Keep all of your contact records' emails, documents, notes, and communication histories in one place.

Automate time-consuming administrative tasks to free you more time for more crucial activities.

Use a customized pipeline to collect leads and follow their movement through the sales process.

Detailed reports should provide you with visibility into the performance of your organization.

Create recurring tasks and immediate alerts.

Integrate Google so you can use the CRM system to access Google services like Gmail, Calendar, Drive, etc.
Integrations with Copper CRM
It is simple to integrate Copper with a lot of tools, which enables you to manage your business without switching between various programs. When all of your favorite tools' data is automatically synchronized, you can work more efficiently. The following list includes some of Copper CRM's most well-liked integrations:
Mailchimp

QuickBooks

LinkedIn

Outfunnel

Slack

Xero
Alternatives to Copper CRM — Quick Overview
Here is a table with a brief overview of our Copper alternatives.
CRM software

Prime features

Pricing

Lead qualification

Automated workflow

Marketing automation

AI predictions

Starts from $52 per user per month

Contact management

Comprehensive lead and reporting filtering and sorting in "excel-style"

Sales automation

Pipeline management

Built-in email marketing suite

Built-in web forms

Free onboarding assistance

Free live support

Starts from $16 per user per month

Lead management

One-click calling

Email synchronization

Email automation

Customizable sales pipelines

Reporting and analytics

Starts from $29 per user per month

Automated lead assignment

Workflow automation

Custom pipeline builder

Custom dashboards

Analytics dashboard

Opportunity reports

Integration with G Suite, Microsoft, Mailchimp, etc.

Mobile access

Starts from $14.90 per user per month

Contact management

Workflow automation

Sales prediction

AI-based recommendations

Dashboards and reporting

Integration with Microsoft and Outlook

Integration with other Zoho apps

Starts from $14 per user per month





Cloud-based CRM

Lead management

Workflow customization tools

Sales team communication

Reporting and analytics

Starts from $25 per user per month

Sales and marketing management tools

Sales and marketing email template builder

Pipeline management

Customer journey-based workflows

Website landing page builder

Email tracking

Task management

Comprehensive reporting dashboard

Starts from $45 per user per month

Pipeline management

Sales forecasting

Workflow automation

Email sync

Marketing campaign management

Starts from $8 per user per month
[Related Article: Capsule alternatives: 10 robust CRM platforms]
Top Copper CRM Alternatives 2023
You've probably heard of these other products if you're thinking about Copper CRM. Here is a more detailed analysis of the top 8 Copper CRM solutions for your company.
Let`s look them all up!
1. SugarCRM
Sales, marketing, and customer support are all combined in SugarCRM. It eliminates busy work and boosts productivity by automating crucial processes. Workflows and modules can be modified to meet your company's requirements because the tool is simple to customize. You can capture prospects' attention and turn them into clients using this sales and marketing automation software. You can create strong customer relationships with SugarCRM by providing positive experiences and better support.
Prime Features:
Use a drag-and-drop interface to create automation sequences.

Real-time alerts will keep you informed.

Leads' contact information can be automatically collected. Keep this information accessible and centrally located.

Create lead nurturing campaigns with multiple touchpoints and steps.

To find profitable opportunities, get AI-powered business insights.
Pricing:
SugarCRM offers 4 pricing options:
Sugar Market: is $1000 per month and can be accessed by unlimited users.

Sugar Sell: provides 60 GB of storage and phone assistance for a monthly cost of $80 per user.

Sugar Serve: costs $80 a month per user, allowing you to easily support clients.

Sugar Enterprise: provides SQL-based reporting and SugarBPM for $85 per user per month.

Sugar Professional: provides a CRM solution for small businesses, and is available for $52 per user per month.
Nutshell is one of the best alternatives to Copper because it smoothly integrates sales and marketing. It is a powerful CRM and email marketing tool that allows B2B companies to collaborate and close more deals.Using this CRM software, you can easily access and store all of your contacts' information in one place. You can use custom reports to monitor your team's performance. The program provides effective email marketing capabilities like time-saving automated sequences and customizable templates.
Prime Features:
To reach out to more people in less time, use email templates.

Using a visual pipeline, view and manage every sales opportunity.

Customizable reports allow you to monitor progress.

In order to precisely define actions for your team, create an automated sales process.

Streamlined communication and immediate notifications will improve internal collaboration.
Pricing:
Nutshell offers two pricing plans. A free trial is also available.
Nutshell: starts at $16 per user per month, billed annually.

Nutshell Pro: starts at $42 per user per month, billed annually.
Pipedrive is a CRM system created to increase sales. Businesses can create custom sales pipelines to see how prospects move through the sales cycle. With Pipedrive's analytics, you can make better decisions for your company and eliminate guesswork. To close more deals, the program also enables you to automate a variety of steps in your sales process. Pipedrive can also be used to qualify leads and route them to the right sales reps.
Prime Features:
Get insightful recommendations based on client activity and behavior.

Keep in touch with your leads by choosing from pre-made email templates.

Use custom data fields to get the most relevant data for leads.

Create customized reports to monitor the most important metrics.

Create several sales pipelines using customized stages.
Pricing:
Essential: costs $14.90 per user per month, billed annually.

Advanced: costs $24.90 per user per month, billed annually.

Professional: costs $49.90 per user per month, billed annually.

Enterprise: costs $99 per user per month, billed annually.

Insightly is a CRM alternative to Copper that can unify different business departments and bring them on a single platform. It provides all the tools and capabilities required to manage custom pipelines with an ergonomic user interface. A popular feature among users is Insightly's filtering feature, which divides up big lists into more manageable segments. To save time and avoid manual errors, you can automate alerts, task assignments, data entry, etc. Any mobile device can be used to view the CRM data, allowing you to keep informed while on the go.
Prime Features:
To access high-quality leads, create effective marketing campaigns.

Create personalized client experiences by segmenting your customer base.

Keep track of all the key information for leads so that the qualified sales rep is automatically sent to them.

Easily manage tasks, keep track of deadlines, and work with other team members.

You can quickly customize your dashboards by dragging and dropping elements.
Pricing:
Insightly offers a free plan for up to two users.

Plus: costs $29 per user per month, billed annually.

Professional: costs $49 per user per month, billed annually.

Enterprise: costs $99 per user per month, billed annually.
You can communicate with customers more successfully by using the solid Copper CRM alternative - Zoho CRM. Through their preferred channels of interaction, such as social media, email, etc., you can communicate with your prospects and clients. By automating time-consuming tasks, this Copper alternative optimizes resources and saves time. You can monitor important KPIs and create more accurate forecasts with real-time reporting and analytics. In addition, you can quickly modify the tool's interface to suit your unique needs.
Prime Features:
Use the AI-powered assistant to quickly and easily navigate the CRM.

Get lead analysis and prediction to concentrate on the right prospects.

To ensure that things always move forward, define triggers for automated actions.

The software offers alerts, recommendations, and reminders.

Encourage teamwork with notes, personalized tags, and discussion boards.
Pricing:
Zoho CRM offers a free version.

Standard: costs $14 per user per month, billed annually.

Professional: costs $23 per user per month, billed annually.

Enterprise: costs $40 per user per month, billed annually.

Ultimate: costs $52 per user per month, billed annually.
Salesforce is one of the top companies offering CRM solutions. It provides a strong and well-integrated platform for IT, eCommerce, support, sales, and marketing. To provide outstanding customer experiences, make use of this unified access to all corporate data. Salesforce's built-in intelligence can help you make better business decisions and automate important business processes. The tool can also be connected to a variety of other programs with automatic data synchronization across all of these platforms.
Prime Features:
To increase targeting and conversion opportunities, personalize marketing campaigns.

Improve contact profiles by gathering data from various sources.

Automate routine tasks to boost team performance.

To keep deals moving through the sales cycle, use custom triggers.

To plan your next action, use AI-powered recommendations.
Pricing:
Essentials: provides all-in-one sales and support, costs $25 per user per month, billed annually.

Professional: provides a full CRM for any size team, costs $75 per user per month, billed annually.

Enterprise: provides highly customizable sales CRM for your business, costs $150 per user per month, billed annually.

Unlimited: provides "unlimited CRM power and support" costs $300 per user per month, billed annually.
[Related Article: How much does Salesforce cost?]
HubSpot offers a wide range of solutions that increase business productivity and boost revenue growth. HubSpot's CRM application is a useful tool for getting better visibility into business processes. The software provides a clear sales funnel view to help manage and track all opportunities. This Copper CRM alternative may be used to automate and customize marketing campaigns. To monitor business efficiency and analyze trends, the application also offers detailed reporting dashboards.
Prime Features:
Set up alerts for crucial deadlines.

Send bulk emails to improve lead nurturing.

Adding information automatically to contact profiles from websites, online activities, social media platforms, etc.

To keep track of all communications with clients and team members, use a universal inbox.
Pricing:
HubSpot CRM has a free plan.

Starter CRM Suite: starts at $45 per month, billed annually.

Professional CRM Suite: starts at $1,600 per month, billed annually.

Enterprise CRM Suite: starts at $4,000 per month, billed annually.
[Related Article: HubSpot CMS: Everything You Need to Know]
monday sales CRM keeps your data well-organized and easily accessible from a single platform. This CRM provides powerful reporting dashboards, pipeline management, communication tracking, and email marketing. Team members can more easily track relevant information because all contact details, files, notes, and conversation histories are kept in one place. Additionally, monday sales crm gives you the ability to set up personalized automation to help you avoid any unnecessary delays and provide your consumers with excellent service.
Prime Features:
Gather leads from sources like websites, advertising campaigns, etc.

With customizable sales pipelines, visualize every opportunity.

Create automated workflows and add customized triggers to them.

By keeping track of deal size, priority statuses, and deadlines, you can improve opportunity management.

With mobile access, you can easily view and manage CRM data.
Pricing:
The following pricing plans are available (for a team of at least three people):

monday.com offers a free trial.

Individual: $0 free forever.

Basic: costs $8 per user per month.

Standard: costs $10 per user per month.

Pro: costs $16 per user per month.

Enterprise: Get in touch with their team for a custom plan.
Why Should You Think About Copper CRM Alternatives?
While Copper is an excellent CRM and project management tool for users of Google workspace, it falls short for companies looking for more flexibility.
Excessive G Suite-centricity
Copper will probably not be the ideal option for you if your company likes to use tools other than those in the G Suite. Since the tool limits your access to a specific set of tools, you are not able to use the CRM system's software of your choice. As a result, even while the Copper CRM integration with G Suite works effectively, it may also be too restrictive.
Limited functionality of lower-priced plans
Bulk emails, workflow automation, report templates, and goal monitoring are just a few of the crucial functions that are blocked off in the tool's basic version. The tool quickly turns into an expensive CRM solution because these functionalities are included in the more expensive Copper software versions.
[Related Article: 5 Signs it's Time to Upgrade or Reimplement Your Old CRM System]
Key takeaways
Even while Copper is a great CRM, it might not be the right choice for many businesses. In 2023, there are a variety of other CRM options that might be a better fit for your business. A CRM purchase is a significant commitment because you're frequently making a choice that will have long-term effects. You have to start the process over if your sales team finds problems after a month, losing a month's worth of lost sales and maybe a year's worth of CRM budget.
Some of the biggest CRM systems, allow users to learn about their faults after they have already paid for the program. The most popular themes on software review websites are ramp-up time, installation costs, additional services/apps required, and customer service quality because these are the issues that users inevitably encounter.
Installing a demo edition is the best way to find out if the CRM can actually meet all of your requirements without breaking the bank and ensuring you're making the right choice. Never purchase software without at least a few weeks of a free trial.
Subscribe to FMC Newsletter
No spam and promotion, just insightful information