Zoho CRM has proven itself as a one-size-fits-all solution with plenty of built-in integrations, comprehensive reporting and analytics capabilities, and a very reasonable cost of subscriptions. With all customer accounts stored in one place, users have a clear view of the data on each client. The software's goal is to help sales teams interact with customers and increase sales by engaging auditory. Sales and lead management tools cover the needs of businesses of every type and size, and the interaction capabilities (online chat, VoIP, email, and social networks) allow you to always be in touch with leads and prospects. Zoho can also be used as a health insurance CRM.
In short, Zoho is a well-balanced multi-channel CRM that can help you manage your sales and build the right marketing strategy. But despite all of its advantages, the complexity of this system might discourage companies from choosing it. So if it doesn't fit your expectations or requirements, here's the list of Zoho alternatives. They can provide you with a slightly different feature set, as well as a new CRM experience.
[Related Article: 10 Best Free CRM Software]
1. Pipedrive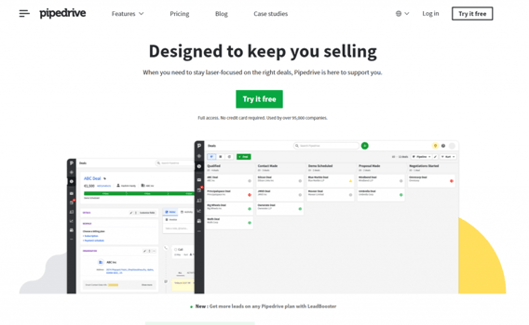 If you are tired of manual inserting of customer information and need a professional tool to manage your sales pipeline, Pipedrive can give you a hand. Whatever method of communication with clients you use, the CRM will track your progress automatically. With the timeline view feature, interaction with clients will occur on time.
Your sales team will have every tool required for the sales process control including the ability to change statuses, update customer information, and close deals. Due to great customization, you can visually and functionally adapt a sales pipeline to your needs. Pipedrive also provides you with comprehensive reporting capabilities, plenty of third-party integrations powered by APIs, activity scheduler, mobile optimization, and many other features.
Advantages of Pipedrive compared to Zoho
Detailed reporting. With Pipedrive you can get visual summaries of sales processes and forecasting, deal cost calculations, and statistics on the performance of your employees.
Exceptional customization. Make everything (fields, pipelines, reports, and dashboard) look as you prefer and manage your modules efficiently.
Multifunctional sales pipeline. Track and evaluate your activities and opportunities, as well as organize your data and sales management with ease.
Advantages of Zoho compared to Pipedrive
Advanced autoresponders. Exclude those leads and customers who have responded to you from the further mailing.
Free plan. There is no need to pay for a basic set of tools for up to three users – Zoho gives you all this for no cost. Check for all options here.
Connection on social media. Zoho CRM can pull up the data from the social media accounts of customers and prospects to make you informed of their interests.
[Related Article: 15 Best Pipedrive Alternatives]
2. Insightly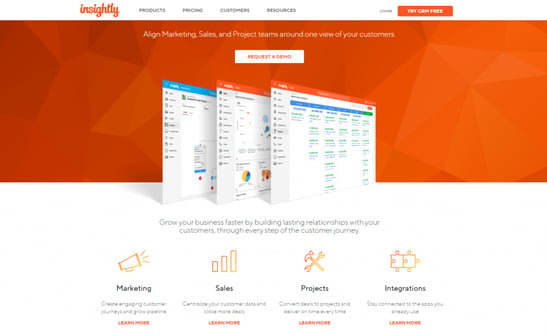 Those small businesses who aim to understand their clients, employers, and suppliers may stop their CRM search at Insightly. The system gives you a 360-degree view of your contacts and communications with them, as well as pulls up the data from their social accounts or even business cards to complement their profiles. Closing deals have become much easier as leads are automatically allocated to the right managers who know how to get the most of them.
As for the task and project management capabilities, they include project milestones, automated notifications, appointment scheduling, file sharing, and much more. You can create and assign tasks for your sales teams and keep track of the progress they experience while doing them. Workflow automation allows you to reduce manual work and focus directly on achieving the sales goals rather than on the company micromanagement. It's worth considering Insightly as one of Zoho alternatives.
Advantages of Insightly compared to Zoho
Effective collaboration. With various collaboration tools, you can be sure that your employees have up-to-date information about everything.
Advanced product management. With numerous tools aimed at engaging your customers, you can also track your performance and set tasks for your teams.
Automated detection of social profile. The CRM can find a client's social account through his email address or product website.
Advantages of Zoho compared to Insightly
Set of integrations. Third-party integrations from Google, Microsoft, and other companies are complemented with Zoho's app suite.
The availability of a free plan. Get unlimited access to the system's basic functionality with Zoho free plan. A free trial for more advanced packages is also available.
Real-time notifications. Receive all kinds of alerts within the CRM and even inside your integrations without exiting the system.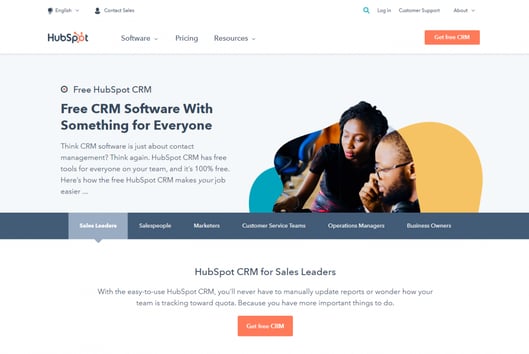 HubSpot CRM is one of the robust and free Zoho alternatives. This user-friendly system can fit any business regardless of its type or size. The availability of a free plan makes this CRM a great option for companies that don't want to pay for a software solution. With minimal manual data entry required, HubSpot pulls out the information about clients and allows managing leads and prospects easily. Sales activity tracking occurs automatically, which means you will see your last interaction with the client in the pipeline with no need to search for it in the history messages.
Advantages of HubSpot compared to Zoho
Intuitive and easy-to-use interface. This CRM's dashboard has absorbed every feature required for your comfortable use including the time-tracking capabilities of your interactions with customers. You'll be able to view lead analytics and information on your sales progress, as well as immediately join required conversations.
Trial on every subscription + separate free plan. Every business can benefit from 14-days trial access to any of HubSpot's subscription plans. But you can also choose a completely free plan with unlimited access to freemium options (email signature generator, business templates, marketing plan generator, etc.) for an unlimited number of users.
Advantages of Zoho compared to HubSpot
Real-time notifications. Stay up-to-date with pop-up notifications on your latest interactions with clients.
Integrations. Zoho suite of built-in applications is supplemented by Google and Microsoft integrations, as well as such popular apps as MailChimp, PandaDoc, Adobe Sign, and others.
Marketing options. Engaging customers via multiple channels of communication allows increasing clientele and building better rapport.
4. Salesforce Essentials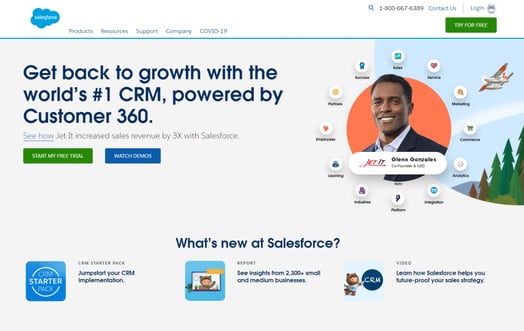 If you're looking for an AI-powered cloud-based CRM with a strong mix of lead management, sales, and marketing tools, Salesforce Essentials stands out against other Zoho alternatives. This system is designed for large teams that need detailed information on every contact's profile, chat history, and notes to the interactions. Manual tracking of client activities is no longer needed.
Salesforce is a centralized platform, meaning that customer information is stored in a way it is easy to find any data you might need. The forecasting feature allows you to plan future actions based on the scenario offered by the platform. Another useful option is the availability of a mobile version, so just having a smartphone will be enough to continue managing your sales.
[Related Article: Salesforce Alternatives]
Advantages of Salesforce compared to Zoho
Comprehensive customization. This is a distinctive feature of Salesforce CRM, as you can set up workflows and funnel leads the way you want.
AI and automation. Due to the artificial intelligence module, the system can learn what is important for your business and produce any required data. Automated lead scoring allocates key clients to the most rated sales managers, which increases the chances for a successful deal.
Cost/quality balance. The availability of different plans allows you to pick up one with the required functionality that can pay off your investment. With a free trial, you can experience any of them and understand which fits you better.
Advantages of Zoho compared to Salesforce
Constant updates. Zoho CRM has been releasing real-time updates for the integrations to provide their stable and smooth work.
Detailed analytics. Receive reports on your marketing and sales progress to better understand your current business situation.
Free option. A free plan for up to three users will provide you with basic functionality, which might be enough for small businesses.
5. Agile CRM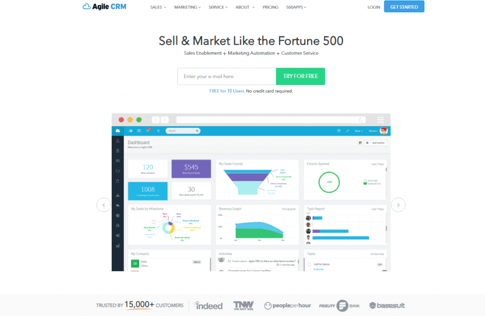 Increase your efficiency by turning your leads into customers and improving your deal closure rate with Agile CRM as one of Zoho alternatives. It is designed to speed up the sales process and optimize your marketing, as well as allow producing more income for the company. The system's functionality includes automated workflows, real-time notifications, project and contact management tools, tracking capabilities, web forms, and so forth. You can see project statuses, assign tasks to your managers, add notes, and get a clear view of everybody's activities.
Client profiles contain detailed updated information about the contacts, allowing your teams to build up the right approach for every client depending on his interests. You can also see when the last interaction happened and what it was about. As for the automation tools, they are highly customizable and allow to segment leads by their priority and behavior. Also, Agile provides you with automated notifications and scheduling, as well as automated marketing campaigns to engage customers without extra effort.
Advantages of Agile compared to Zoho
IP telephony. Calling clients within the platform is now possible with built-in VoIP integration. It includes such features as call scripts and recording, post-call automation, auto-dialer, and others.
Free plan. Try Agile CRM absolutely for free with an opportunity to add up to 10 users.
Landing page builder. Now it is easy to create high-converting landing pages for websites.
Advantages of Zoho compared to Agile
Powerful workflow management. Stay on top of every process happening inside your company with automated tasks, alerts, and notifications.
Leads identification. Define which leads require your attention the most and easily follow them up.
Artificial intelligence assistant. Take advantage of the built-in AI-powered tool in the search of information and reporting compilation.
6. Copper (formerly ProsperWorks)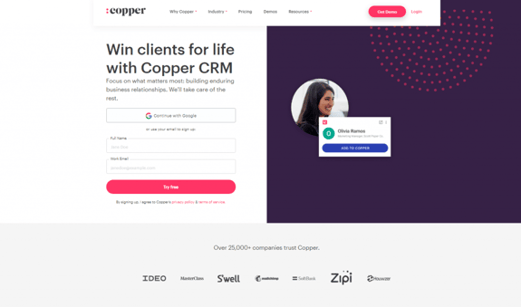 Copper is considered as one of the Zoho alternatives as well. Manual inputting of customer data is in the past with the pre-population feature of Copper CRM. Instead of that, you can focus on nurturing your clients and organizing the smooth operation of your company. Built-in VoIP allows you to call clients without exiting the system, as well as track the success rate of your conversations. Google Suite apps integrated with Copper come along with MailChimp, Slack, and Dropbox, so you can deploy the system very fast. In case such integrations don't cover your requirements, you can integrate other apps by using API.
The forecasting capabilities and sales pipeline give you the freedom to manage your sales with a clear vision of what happens and where it all goes. As for the alerts and notifications, you can set them up for key clients to be able to respond to them right away.
Advantages of Copper compared to Zoho
Data pre-population feature. Falling through the cracks is no longer a case as manual inserting of data is not required.
Google integrations. Connect G-Suite applications with the system and continue using your Gmail for mailing customers.
VoIP. Call your clients directly from the CRM.
Advantages of Zoho compared to Copper
Artificial Intelligence. Make your life easier with the AI-powered Zoho assistant named Zia. It can help you with report compilation, trend analysis, and the search of information within the CRM.
Real-time notifications. Streamline all of your alerts and notifications including the ones from third-party integrated apps.
Cheaper plans. Zoho subscription plans are more affordable and profitable in terms of functionality.
Conclusion
We hope that you find the above list of Zoho alternatives helpful. If you think that we've missed out on an important Zoho alternative, leave your comments below to let us know about it. You can try out our free CRM Comparison tool to choose the best CRM among the suggested.
Subscribe to FMC Newsletter
No spam and promotion, just insightful information