Technology and social media have significantly changed the course of business running. Now marketing managers and salespeople deal with the social customer who is aware of all trends and news. This type of consumer is more interested in the interaction and quick responses than in ad messages and one-way communication.
These alterations in requirements brought forth the evolution of traditional CRM strategy and elaboration of business rules and processes. Currently, we can see how the CRM industry undergoes the shift of priorities and transformation of productivity leverages. Many business owners fight with the new challenging choice – traditional CRM vs social CRM.
Usually, brand-new notions are embraced with various myths that spread like a wildfire due to ample social media opportunities. This article is directed at a goal to reveal the peculiarities of what is social CRM.
Why do businesses need social CRM?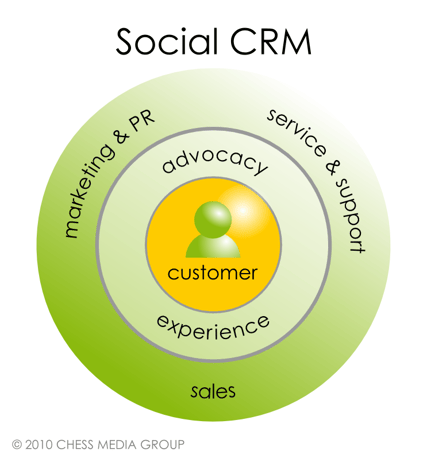 In today's world of constant changes, it is hard to distinguish the hype around social media from the value it can bring. Before digging deeper into the main benefits of social CRM, the platform obtains the primary 3 aspects for you to consider:
Engagement – Gain the leads on social media directly from the CRM.
Customer Service – Respond to the prospect's issues and questions in real-time.
Social Selling – Qualify the leads based on social media information and behaviors.
Thanks to the influence of social media, CRM is more conversation-driven, rather than sales-driven. The social CRMs shifted their focus for active collaboration and a quicker resolution time compared to more traditional models. Take a look at an infographic from GrowMap that shows the transformation of the CRM system and how departments delegate job functions in the social platforms.
As you can see, jumping onboard social media can help you evolve with current trends and find new ways of interacting with clients. Furthermore, you will be able to put the customer first and provide the offer in accordance with the prospects' needs. It is a basis for building long-term and loyal relationships with customers.
Key Benefits of Social CRM
What advantages does a firm gain by implementing a social CRM applications? A social СRM differs from a traditional one in some aspects. That's why using this platform enables you with the following benefits of integrating CRM with social media:
#1 Process Enhancement
You can centralize the efforts through all the forms of prospects outreach (phone, email, chat, or social networks). This way, you can achieve consistency and become more efficient.
#2 Internal Collaboration
CRM lets all employees stay on the same page and provides the opportunity to view updates from any device. This eliminates any possible confusion and improves inter-staff communication, be the employees located in one office or scattered all over the world.
#3 Importance of Interactions
Social CRM enables businesses to fully comprehend clients' needs and exceed their expectations by improving the provided products and services accordingly. You may accomplish this by monitoring the customer sentiment and feedback, and interacting with your brand even if the customers are not directly tagged you.
Using social CRM for customer service
There's no big secret to providing excellent customer service on social media; rather, it's an opportunity to nail the fundamentals and respond to customers in the way they want.
You can give faster, more complete resolutions to customer service cases across your organization by enabling you to track social interactions with consumers using the same sophisticated tools you use for other touchpoints. This means happier customers.
It's not just about reacting, though. Social CRM may help you find and reward brand followers and influencers through monitoring and tracking technologies, motivating them to spread the word even further.
Traditional CRM vs Social CRM: Drawing a Parallel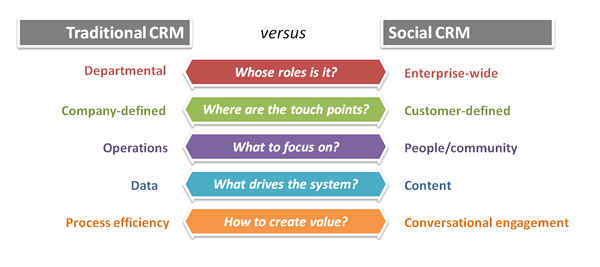 You may wonder what is social CRM media. Social CRM has shifted its focus and complemented traditional CRM with easy-to-adopt social media modes. Here is a critical comparison of the main tactics and areas of influence.
1. Staff Roles
In traditional CRM, all processes depend on the relevancy and quality of the customer data that results in a task assigned to a specific department or service manager.
Social CRM sets the main role in the quality of the content, and all employees use the database for the sophisticated engagement of the targeted audience.
2. Priorities of Functionality
The process-centric manner of traditional CRM allows to set up workflows to an on-default standard and define every stage of the process.
Social CRM incorporates a more complex conversation-centric method. The way of process performance and the number of phases depend on customer activity in social networks.
3. Administration Mode
Contact management enables traditional CRM with various customer histories that serve as a ground for messages and a type of marketing campaign.
Community management supplies social CRM with the real-time records created by clients. These data elaborate project planning and improve campaigns' ROI and conversion rates.
4. Information Channels
Traditional CRM strategy has a well-defined list of means of sending emails, notifications, and newsletters. Besides, this procedure is performed during specific business hours.
Social CRM includes evolving and dynamic channels for interaction with clients. The same campaign may have different scheduling that depends on the prospect's activity on the blog or social network.
5. Significance of Communication
Marketing managers within the traditional CRM, decide when they will connect with their customers and what content they have to give. So, the communication process shortened to offering some amount of information that doesn't anticipate immediate feedback.
Social CRM targets sustained customer engagement. The marketing department 'listens' to their prospects and collects the themes that inflame the customer's curiosity about a particular product or service.
6. Shape of the Processes
All processes run inside the traditional CRM boils down to successful deal closing. In other words, the transaction is a focal objective.
Complex relationships of social CRM consist of relevant and worthwhile interactions that aim to meet the clients' demands and needs.
As far as you can see, social CRM uses traditional CRM as a basis for its strategy but advances it with profound insights into social media for building valid and far-reaching company-customer relationships.
How to implement a successful social CRM strategy?
1. Identify Problems and Goals
Businesses can't just jump right into the process; they must first identify their customer engagement issues and objectives. Do your data, for example, show significant unfollow rates when your business updates multiple times each day? The goal then might be to create a content strategy that requires fewer changes. Examine your data to determine whether fewer people are unfollowing you.
2. Start Posting on Two Platforms
Don't go for your whole consumer base all at once, no matter what platform they're on. To avoid overstraining oneself, start with two prominent social networking platforms, such as Instagram or LinkedIn. It's preferable to focus on resolving the most serious issues first by putting in place a strategy. You can grow after these platforms meet or exceed expectations.
3. Track the Customer Journey: Social CRM Strategy
You must track your clients' whole journey in order to build a long-term relationship with them. You must provide value to new leads and prospects in order to establish new relationships, which requires working from a customer profile. You must first manually create a profile. The software will begin populating each customer, lead, and prospect for you through automation.
4. Prioritize Fast Response Time
Brands may interact with customers in real-time through social media. This technology enables businesses to immediately reply to client compliments or complaints. Increasing your reaction time to client complaints will improve the customer experience, which may encourage them to stay with you. You can also change a terrible attitude into a positive one in order to acquire more viable leads.
5. Include Marketing and Customer Service: Social CRM Strategy
Although a Social CRM will enhance your client base, it is not a marketing platform. For this process to be successful, both the sales and customer support teams must be involved. You'll probably find continuous development if you train your social media team to think like customer service professionals. To assist with this process, use social collaboration tools.
6. Use Social Listening and Influencers
Take it a step further once you have a basis for how you intend to implement your Social CRM strategy. Start teaching your employees advanced social listening skills, such as how to look for hashtags and brand mentions. Finding true branded, industry, and competitor keywords can also aid in finding influencers and user-generated content. CRM software may even discover misspellings of your brand name, giving you extra opportunities to attract new customers.
How to set up a social CRM process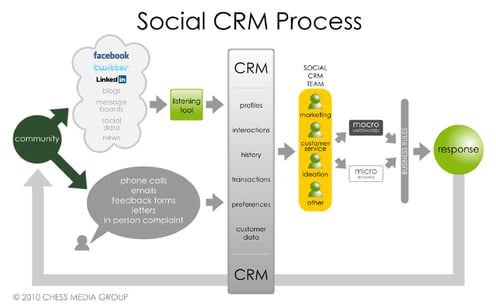 1: Choose Your Primary CRM Platform
While you may have active profiles on all of the major social media platforms, it's critical to choose one as your primary customer service platform. Which one you choose is determined by your niche and where your customers spend the most of their time. Each solution has its own set of advantages and disadvantages of social CRM.
2: Prioritize CRM Response
You may not have the time or resources to respond to every single problem as your audience comes to rely on social media for customer support. Establish a system for sorting service requests and determining which ones are the most urgent to keep your operation going smoothly and efficiently.
3: Choose Monitoring Software
Once you've decided where you'll address customer issues and inquiries, as well as how you'll prioritize responses, you'll need to keep track of who's contacting you for answers—you don't want to lose out on a CRM opportunity.
4: Measure Data
Analyze the percentage of high-priority requests your team responded to and the time it took to reply to those requests as the data comes in.
Social CRM challenges you should be aware of
Costs: There are a lot of social CRM advantages, but also some disadvantages. One of the most major obstacles to CRM implementation is the cost of purchasing, installing, and training staff on new software. CRM frequently fails to give the expected return on investment, though this is usually due to a poorly deployed system or undertrained people. While a properly established system should eventually yield a positive return on investment.
Transition: In order for a company to effectively employ a CRM solution, practically every aspect of the company must change. The majority of businesses have a "us first, customers second" approach, whereas CRM-centric companies prioritize customers and their satisfaction over the company. Furthermore, because CRM systems are often quite complicated and cover numerous departments, most employees will be required to go through some sort of training, which will prevent them from fulfilling their normal work obligations, at least in part.
Smaller Businesses: Some of the difficulties and problems associated with deploying a CRM system are influenced by the size and success of the organization. While a large, well-funded company will almost certainly have the budget, time, and resources to adopt a CRM solution, a smaller company may not have those benefits of social media CRM for companies. For smaller organizations, this makes proper and complete CRM adoption considerably more challenging.
Confrontation Outcomes
Drawing a bottom line in traditional CRM vs social CRM discussion, we come to the following conclusions
Social CRM extends the boundaries of digital marketing with two-way interaction while traditional CRM focuses on the promotion of its product or service.
The capabilities of technologies deprive traditional CRM of the human face of its performance while social CRM aims to humanize its company and finish their deal with 'a digital handshake'.
In contrast to traditional CRM, social CRM places customer interests instead of data into the core of the company's strategy.
So, it's no surprise that more and more business owners are willing to implement social CRM in order to advance marketing effectiveness, ROI raising, and cutting off customer service expenses.
Choose the best CRM and migrate already today!