Maintaining customer relationships can be difficult. Some companies will often be better at it than others, whether they have a CRM system or not. Maintaining positive relationships isn't something that just happens. It's not something that can be fully automated.
Download Now: Free "5 Steps of Effective CRM Implementation Strategy" eBook
A CRM system, on the other hand, would make it simpler and more structured to manage your relationships. However, in order to get there, the company would need a strong CRM implementation strategy. CRM success begins long before any users log in. To ensure the system's effectiveness, the whole company should be involved.
The following seven steps are here to illustrate, in broad strokes, each phase of the process that we walk our own clients through when doing a new CRM implementation.
Before taking this deep dive, let's talk about several basic things first.
What's a CRM system?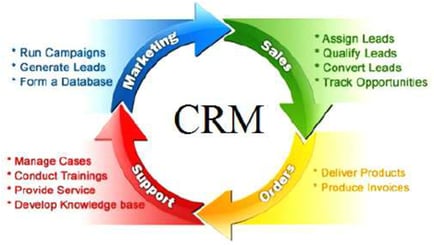 Customer relationship management software is designed to help companies and their customers communicate effectively. The primary goal of any CRM is to earn and keep customers' loyalty and trust by effectively managing business touchpoints. A well-tuned CRM secures long-term revenues and underpins company operations.
How does it work?
CRM software provides companies with tools and strategies for successful customer interaction and growth. It also collects business intelligence data that allows for consumer trends to be monitored and sales strategies to be adjusted in order to take companies to the next stage. CRMs often automate repetitive workflows, which eliminates a number of pain points in business operations.
How can it cover your needs and requirements?
At first glance, CRM development can tend to benefit only large-scale businesses with large customer databases. However, this is not the case. CRM advantages are also available to SMEs and SMBs. Here are several compelling reasons why:
Сlose investigation of the customer needs
CRMs accelerate sales growth.
CRMs save costs.
CRM Selection
Step one of your CRM implementation strategy is choosing the right CRM system for your business. Choosing a CRM system simply because it's the cheapest, or because it was rated the highest on G2 Crowd this year, is not going to do you any favors.
To properly pick a CRM system, you must first assess and document your business needs, then make a decision based on which system best suits those needs.
If you have a lot of complicated needs and requirements, you may want to go with Salesforce. If your requirements are simple, a system like Zoho, Insightly, or even HubSpot can be the answer.
Learn more about the 5 most popular CRMs in 2022-2023:
Set the Goals, Priorities, and Metrics
You will find processes that need to be streamlined the most after learning about your employees' needs. All projects should be tied to the core business goals when you start looking for ways to improve. Sales force automation features, for example, should be at the top of your priority list if you want to increase sales and expand into new markets. As a result, you will have a prioritized set of the underlying functionality for your CRM system implementation.
Furthermore, defining concrete and measurable goals at the company and department levels is highly recommended during this process. You would want to keep track of things like average deal closing time, customer retention rate, and overall ROI. These measurements will help you confirm whether the new system is living up to your primary expectations as you move forward with CRM platform integration.
Select a CRM team, with department champions.
You can mobilize the creation unit once you've chosen the CRM platform that best fits your company's vision. This requires a specialized team to complete daily tasks and steer progress. The team should include these members:
Project manager (leader)
Systems developer (installation)
Data analyst (data migration)
QA engineer (testing)
Champions (representatives)
You can need more than one person to fill each position, depending on the size of your company and the CRM implementation.
Alex Haimann, partner and head of business development at Less Annoying CRM, recommends a team of champions to vouch for the product and act as intermediaries between upper management and its daily users.
"At least some representation on that small, exploratory team should be an end-of-the-line salesperson," he said.
Your CRM champions are the well-respected representatives of each team that will be using the CRM the most. They are one of your best assets in fostering CRM adoption among your entire workforce, some of whom might be hesitant to change their everyday habits and processes, according to Haimann.
"It needs to be communicated that the CRM is a tool that will help all levels within the organization," Haimann said.
Deployment Roadmap
It's important to create a plan for how your newly chosen CRM system will be implemented. This strategy should include your deployment and user adoption targets for the short, medium, and long term.
If you don't have a plan or blueprint for CRM implementation, you risk a "free for all" that contributes to confusion and, eventually, failure.
As a result, the implementation roadmap may not be as complicated as you think. CRM should be rolled out to a small number of users at first to work out bugs and implement new processes. This will make a big difference in user adoption later on.
Begin rolling out your CRM
This is the 'scariest' part of CRM implementation strategy! A successful CRM roll-out is a broad topic in itself – the main question to consider is whether it is fit for purpose. This should be filtered through that question as you consider messaging, training, speed, and data migration, and try to assess the effect. The majority of businesses under plan or plan in the wrong places.
Most organisations, for example, recognize the importance of training and have several generic staff training days to get the key points across. It is much more effective to provide more in-depth training to the line managers of the most significant users so that they can pass on their experience as the CRM is implemented in their teams. Another tactic that works well is giving line managers training on how to get ideas across to different types of learners and then working out how each user learns best.
CRM data migration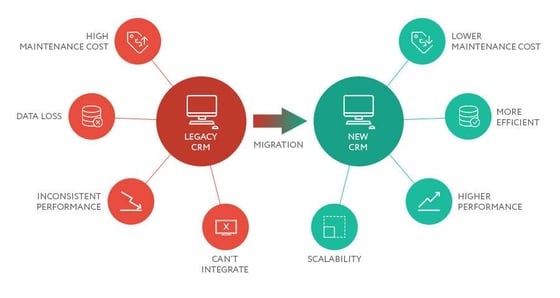 CRM data migration is most effective when you have a clear plan.
What you need to migrate and how it will be used in the new CRM should be covered in a migration brief. You will start figuring out how to do this once you have the high-level brief. The most common methods of downloading and uploading data using Excel or CSV are still in use, but they often fail to deliver the desired outcome.
Manipulation of the data after it has been uploaded can be difficult, as the new CRM sometimes uses the data in a completely different way. Most CRMs may have apps to help, but depending on the degree of customization, the process could be manual.
It is a good idea to cleanse your data of any out-of-date information before migrating. Consider it a "spring cleaning" exercise in which you want to declutter and start over.
Try out free sample migration of data with Trujay's migration wizard.
CRM user training
This can be delivered in various ways. Face-to-face, online, practice, and getting supervisors who can advise their staff are the most effective training methods. Having teams out of the office for a day, in my experience, is critical. It not only gives trainees mental space, but it also sends the right message: that training is critical!
System testing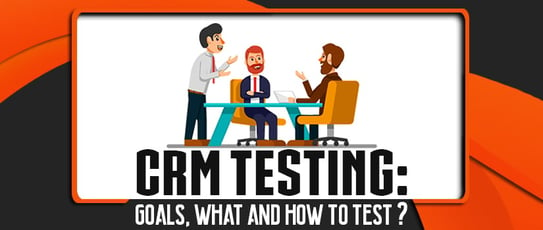 System testing is best left to the IT staff on your implementation team as they will know what they're doing. Consult with them and schedule in time pre go-live for:
System testing
Functional testing
Stress testing
Performance testing
Usability testing
Acceptance testing
Integration testing
Evaluate the success of your CRM implementation
You'll need to create a dashboard that pulls out the important details, set goals, and monitor your progress toward those goals. Determine what performance looks like by going over the main metrics in great detail. Below are a couple of key metrics which are often used:
System activity: Examines how many discrete acts a person has performed on the system. This can be used as a quick check to see whether users are logging in and using the device. It's shocking how many users fail to properly upgrade the system or, worse, continue to use the old CRM.
Record updates: If inputs are being made, the next step is to conduct an audit to determine the quality of these inputs. Consider the inputs with the greatest amount of consistency variation. On a sales CRM, a reason for losing a job is a good example of this; reps sometimes skip over this, so if they are adding good data, this is a good sign.
Quality of inputs: If inputs are being made, the next step is to conduct an audit to determine the quality of these inputs. Consider the inputs with the greatest amount of consistency variation. On a sales CRM, a reason for losing a job is a good example of this; reps sometimes skip over this, so if they are adding good data, this is a good sign.
Business metrics: Looking at wider market metrics is challenging because it's difficult to relate them to a single factor, such as your shiny new CRM. It's a positive sign if a sales team's revenue has risen by 40% since the new CRM was implemented; obviously, the causation cannot be determined, but these success metrics should prompt more investigation.
It's even better if you can connect the output to the CRM, for example, revenue has increased by 40%, but we can also see that call to appointment conversion has increased by 30%, email reply rates have increased by 22%, and sales meetings have increased by 30%. Then we'll have more confidence that the new CRM is beneficial.
Final thoughts about CRM implementation strategy
Good luck with the CRM implementation strategy! Remember: it's hard work but it will pay off if you've planned your project correctly.
Subscribe to FMC Newsletter
No spam and promotion, just insightful information