You may have noticed that SaaS has consistently ranked as one of the best business models for several years now. It's no wonder that SaaS startups have reached incredible levels of success. This model has been embraced by industry giants like Google, Apple, IBM, Adobe, as well as smaller companies. In this article, we will delve into the experiences of building a SaaS business and explore SaaS product ideas based on successful existing services.
Download Now: Free "15+ SaaS Product Ideas" eBook
What Is A Saas Business?
To start off, let's cover the fundamentals before we dive into the most effective trading ideas. The Software-as-a-Service (SaaS) business offers an online platform that grants users subscription-based access to its features, support, and technical services. Typically, users can conveniently access the software remotely. This remote accessibility is one of the key advantages of SaaS, as it allows businesses to easily manage their operations without the need for physical infrastructure or on-site installations.
With SaaS, businesses can enjoy the flexibility of accessing their software and data from anywhere with an internet connection. This means that employees can work remotely, collaborate with team members in different locations, and access important information on the go. It also eliminates the need for businesses to invest in expensive hardware and IT infrastructure, as all the necessary resources are hosted and managed by the SaaS provider.
When choosing a SaaS CRM software for your business, it's important to consider factors such as overall rating, ease of use, user adoption, robust reporting, and deep customizations. To help you make an informed decision, we have compared and ranked the top 8 CRMs for SaaS businesses based on these factors. Salesforce, with its high overall rating and robust features, emerges as the best overall CRM for SaaS businesses. However, other options like monday and HubSpot excel in specific areas such as workflows and marketing automation.
In addition to CRM software, there are many other SaaS product ideas that businesses can explore. For example, becoming a SaaS software developer allows you to create and provide software applications on a subscription basis. You can also consider launching a data integration platform that simplifies and streamlines the process of integrating data from multiple sources. Another option is to build a universal payment gateway that supports various payment methods and provides secure transactions for online businesses.
Overall, the SaaS business model offers immense opportunities for innovation and growth. By leveraging the power of cloud computing and subscription-based services, businesses can benefit from cost savings, flexibility, and scalability. Whether it's CRM software, web hosting, or cloud security, there are numerous SaaS product ideas that can cater to the diverse needs of businesses and customers. The key is to identify a niche and provide a solution that adds value and improves efficiency for your target audience.
SaaS CRM software is a cloud-based customer relationship management solution that allows businesses to access and manage customer data, sales information, and marketing automation tools from anywhere with an internet connection, making it an efficient and flexible solution for modern businesses.
Compare our Top 8 CRMs for SaaS Business:
| | | | | | |
| --- | --- | --- | --- | --- | --- |
| CRM | Overall rating | Ease of Use | User Adoption | Robust Reporting | Deep Customizations |
| monday | 4.1 | 4.5 | 4.5 | 3.5 | 3.5 |
| Salesforce | 4.4 | 4.0 | 4.4 | 4.9 | 4.7 |
| Capsule | 4.0 | 4.6 | 4.6 | 3.5 | 3.5 |
| Freshsales | 4.3 | 4.5 | 4.4 | 4.2 | 42 |
| Pipedrive | 4.2 | 4.6 | 4.7 | 4.0 | 3.5 |
| HubSpot | 4.9 | 4.8 | 4.9 | 4.8 | 4.9 |
| Zoho | 3.8 | 3.2 | 3.0 | 3.2 | 2.0 |
| Act! | 3.6 | 3.7 | 3.8 | 3.5 | 3.5 |
In this case, the software goes beyond being just a product. The company takes on the responsibility of maintaining the databases, servers, and additional software to ensure smooth functionality over time. Subscribed members can expect ongoing services from the company, including regular updates and improvements to the software.
By offering ongoing maintenance and support, the company aims to provide a hassle-free experience for its customers. They understand that technology is constantly evolving, and therefore, they proactively work towards keeping the software up-to-date with the latest advancements. This includes addressing any bugs or issues that may arise, as well as implementing new features and functionalities based on customer feedback and market trends.
Overall, by offering ongoing services and support, the company aims to build long-term relationships with its customers. They understand that their success is directly tied to the success of their customers, and therefore, they strive to provide exceptional value and service at every step of the way.
The pricing and details of the subscription vary based on factors such as the number of users with profile access (single or team plans), the level of SaaS customer support, the amount of data stored, and the availability of additional services.
Best Overall
Salesforce
If you want to sell smarter and close more deals, Salesforce is the #1 CRM to consider.
Go to site
Best Workflows
Monday
Customize your workflows to track all aspects of the sales cycle.
Go to site
Best for Marketing
Hubspot
With its fully-featured marketing suite, this CRM requires an introduction.
Go to site

SaaS product ideas and examples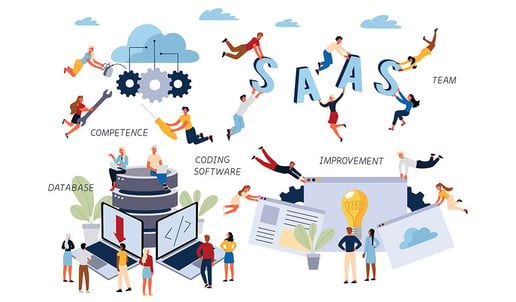 Software as a service primarily operates in the B2B realm, connecting business owners to valuable tools that enhance their performance. While B2C products are rare, they do exist.
If you're feeling uninspired and don't know where to start, we've got you covered with some helpful tips. These suggestions might just be the motivation you need.
15 SaaS product ideas
1. Become a SAAS software developer
Software developers are individuals who are involved in various aspects of the software development process, such as researching, designing, programming, and testing computer software. The SaaS development lifecycle is similar to a traditional iterative software development process but with additional phases. Software as a service (SaaS) has become a well-established software business model that primarily focuses on providing software applications.
A code hosting service plays a crucial role in helping developers submit code fixes in an organized manner. These platforms often offer support for version control, bug tracking, release management, mailing lists, and wiki-based documentation. If you're interested, you can create a private code hosting SaaS platform specifically designed for developers, which allows for efficient writing, reviewing, and deploying of code.
2. Become a freelance web developer
Webmasters, also known as Web developers, are skilled programmers who specialize in developing software or applications for the World Wide Web. They create programs that run over HTTP from a web server to a web browser.
3. Launch a data integration platform
Data integration is an IT activity based on the know-how of data, databases and technologies. Data Integration helps migrate and extract value from data by bringing together the capabilities of a comprehensive data integration, data quality, and data governance solution into a single unified standalone cloud platform. You can configure a SaaS platform that allows easy data integration between more than 750 applications.
4. Build CRM software
CRM software is a powerful tool that seamlessly connects all departments within an organization, including marketing, sales, and customer service. It efficiently organizes ratings, activities, and metrics, streamlining processes and boosting productivity. With the convenience of cloud hosting, CRM software is an essential asset for any SAAS business venture.
5. Build a SAAS a consulting / coaching company
Starting a business can be quite challenging, especially when it involves operating in the cloud. Given its complex nature, many startups often require guidance and advice on effectively managing and generating revenue for their business. If you have a successful track record in building and running a SAAS-based business, you might want to consider starting a SAAS consulting or coaching company to provide assistance to others.
6. Create a universal payment gateway
A payment gateway is a valuable service provided by an ecommerce application service provider, allowing online businesses of all types to securely process direct or credit card payments. As this industry continues to evolve, there is a growing opportunity for you to create a universal payment gateway that not only supports traditional methods like credit/debit card processing and bank transfers, but also embraces alternative payment options such as carrier billing, mobile payments, and prepaid cards.
7. Start a Cloud Security Business
Cloud computing security, or simply cloud security, encompasses a wide range of policies, technologies, and controls implemented to safeguard cloud computing data, applications, and infrastructure. It addresses various security threats, including data breaches, data loss, account takeovers, service traffic hijacking, insecure application program interfaces (APIs), and the risks associated with poor choice of service providers, cloud storage, and shared technology. If you're looking for a business opportunity, you can provide security solutions to organizations that need to protect their cloud accounts from being compromised.
8. Create SAAS training
Employees need to be trained and retrained on emerging trends. If you are an expert in cloud computing and related SAAS issues, you can organize courses that can be used to educate both organization employees and individuals on the trend. Since there is still a lot to discover about the SAAS platform, the training courses you offer would be most appreciated. You can offer your training courses for sale on your website. Additionally, you can contact organizations in the SAAS line and offer to train their employees for them.
9. Start a Web Hosting Company
A web hosting service allows individuals and organizations to create their own websites on a server, making them accessible to computers around the world. Large enterprises, in particular, generate massive amounts of data and require frameworks that can handle it. As a dedicated web hosting company, you can offer commercial packages that include unlimited disk space, high-volume storage email accounts, and monthly data transfer. While starting a web hosting company may require a significant investment, it is a highly scalable and profitable business opportunity.
10. Build Sales Tracking Software
Any business concerned with sales needs to track sales every day. Manual sales tracking can be quite cumbersome and inefficient, which is why you need software for it. Sales tracking software automates sales tasks and processes, and provides reporting tools and performance tracking. You can create sales tracking software and make it available to companies.
11. Build cloud-based email apps
Traditional email has undergone significant changes, now automatically organizing incoming messages into relevant groups such as shipping notifications, subscription updates, and receipts. By further enhancing these innovative email features, you can establish a user-friendly SAAS business for yourself. This service would greatly benefit businesses, making them your primary target market.
12. Open a Virtual Data Center (VDC)
A virtual data center is a pool or collection of cloud infrastructure resources that are specifically tailored to meet the needs of businesses. It offers the benefits of public cloud infrastructure, but with the added advantage of a dedicated network, making it private and secure. If you're interested, you can create and manage your own virtual data center.
13. Create a software license manager
You have the opportunity to create software license managers for companies that may occasionally forget to renew their licenses. Software license management encompasses a set of business processes, procedures, and individuals that ensure the effective control, optimization, and protection of software licenses throughout their lifecycle within an organization.
14. Open a SAAS blog
You have the freedom to discuss a wide range of topics in your blog, including SAAS applications. To make the process of writing blogs easier, you can utilize templates that are available, such as those resembling news magazines or newspapers. These templates provide guidance on how to structure and format your content effectively. Templates are particularly beneficial for beginners, as they are often free and enable you to create well-designed blogs without any cost.
One way to monetize your blog is through Google AdSense, which allows you to earn money from advertisements displayed on your site. Additionally, you can offer promotional services to help individuals and businesses promote their cloud software and other creative endeavors for a fee.
15. Start a privacy agency
Personal Data refers to information about an individual that can be used to identify them. While the landscape around personal data protection is evolving, there is still an opportunity for you to establish your own agency dedicated to safeguarding this valuable information.
15 SaaS examples
Many entrepreneurs have achieved impressive success by starting their businesses from scratch and incorporating new tools as they increase their earnings. You can find inspiration from successful SaaS businesses that have already made their mark in the industry.
1. Stripe
Stripe is a fantastic SaaS product that we personally rely on for accepting and processing payments online. When it comes to running a business, one of the first decisions you'll need to make is which payment processor to use for accepting payments from your customers. With Stripe, you'll have the ability to seamlessly transfer money, create and send invoices, set up recurring payment subscriptions, and so much more. It's truly a valuable tool for any business owner.
2. Baremetrics
It simplifies the process of understanding your business revenue stream and helps you make data-driven decisions. You'll have access to valuable insights such as monthly recurring revenue, average revenue per user, refunds, updates, lifetime customer values, user churn, and most importantly, your net income and the rate of income growth.
3. Intercom
This is the tool used to manage and handle customer requests and inquiries. Intercom is a comprehensive customer platform that provides a range of products for live chat, marketing, feedback, and support. Remember that providing excellent support is crucial for the success of any business. If you need guidance or assistance, make sure you have a reliable support system in place, such as chat, ticketing, or other means of communication.
4. Slack
We utilize a variety of SaaS products to enhance our collaboration and internal communication. Slack serves as a messaging app specifically designed for teams, making it effortless to communicate with your colleagues quickly and conveniently, regardless of the platform they are using.
5. Trello
Trello is an amazing online collaborative tool that allows you to effortlessly create boards, lists, and cards to effectively organize your projects. It's no wonder that Trello is trusted by renowned companies worldwide, including Adobe, Pixar, Google, PayPal, and National Geographic.
6. Google Workspace
But every business needs a way to communicate via email. When it comes to email hosting, there are plenty of options, such as Zoho, Office 365, Rack Space, and Google Workspace .
Zoho offers a comprehensive suite of productivity tools, including email hosting, that are perfect for small to medium-sized businesses. With its user-friendly interface and robust features, Zoho provides a seamless email experience for both internal and external communication.

Office 365, on the other hand, is a cloud-based platform developed by Microsoft. It not only provides email hosting but also a wide range of other applications like Word, Excel, and PowerPoint. This makes it an ideal choice for businesses that rely heavily on Microsoft Office tools and want a fully integrated solution.

Rack Space is a leading provider of managed hosting services, including email hosting. With its reliable infrastructure and top-notch security measures, Rack Space ensures that your emails are safe and accessible at all times. Their dedicated support team is also available round the clock to assist with any technical issues.

Last but not least, Google Workspace (formerly G Suite) is a popular choice for businesses of all sizes. With its powerful collaboration tools like Google Docs, Sheets, and Drive, along with seamless integration with other Google services, it offers a complete communication and productivity solution.

Ultimately, the choice of email hosting provider depends on your specific requirements and preferences. Whether you prioritize affordability, integration with other tools, or top-notch security, there is a solution out there that can meet your needs. So, take the time to evaluate your options and choose the one that best aligns with your business goals.
7. Dropbox
Dropbox, one of the leading cloud storage providers, has become an essential tool for individuals and businesses alike. With over 500 million users worldwide and more than 200,000 businesses relying on its services, Dropbox has revolutionized the way we access and share documents and files.
The convenience of Dropbox lies in its ability to seamlessly sync files across multiple devices. Whether you're working from your computer, smartphone, or tablet, you can easily access your files and collaborate with others on the go. This flexibility has made Dropbox a go-to solution for professionals who need constant access to their documents, regardless of their location.
Moreover, Dropbox offers a user-friendly interface that makes file management a breeze. With just a few clicks, you can create folders, organize files, and share them with colleagues, clients, or friends. The intuitive features of Dropbox have made it a preferred choice for individuals and businesses of all sizes.
In addition to its accessibility and ease of use, Dropbox also prioritizes security. The platform utilizes advanced encryption protocols to protect your files from unauthorized access. This level of security is crucial, especially for businesses that deal with sensitive information or confidential documents.
Another notable feature of Dropbox is its integration with various third-party applications. You can seamlessly connect Dropbox with popular productivity tools like Microsoft Office, Google Workspace, and Adobe Creative Cloud, allowing for a streamlined workflow and enhanced collaboration.
Furthermore, Dropbox offers a range of additional features to enhance productivity and collaboration. From file versioning and recovery to advanced file sharing settings, Dropbox provides a comprehensive set of tools to meet the diverse needs of its users.
Overall, Dropbox has revolutionized the way we store, access, and share files. Its user-friendly interface, robust security measures, and seamless integration with other applications have made it an indispensable tool for individuals and businesses worldwide. Whether you're a freelancer, a small business owner, or part of a large enterprise, Dropbox offers a reliable and efficient solution for all your file management needs.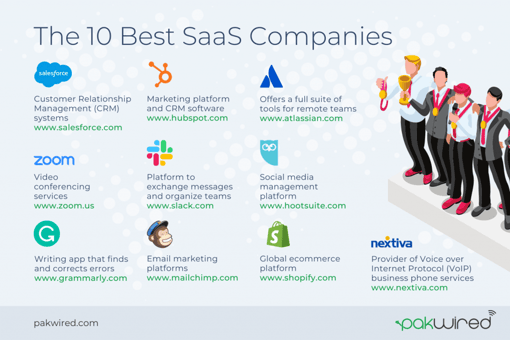 8. Zeplin
Zeplin is a fantastic collaboration tool that caters specifically to the needs of developers and designers. It simplifies the process of creating, collaborating, and sharing design and style guides, as well as assets, specs, and code snippets. With Zeplin, you can streamline your workflow and ensure seamless communication between team members, making it an essential tool for any development or design project.
9. Zoom
Zoom is an exceptional video conferencing tool that seamlessly operates on all devices, including smartphones, tablets, and desktop computers.
10. Atlassian: Jira + Confluence
We rely on a powerful combination of Atlassian Jira Software and Confluence software for seamless software development, deployment, and documentation. These tools provide us with the perfect platform to streamline our workflow and ensure efficient collaboration among our team members.
11. Airtable
Airtable is a unique task management tool that empowers your teams to organize their work in a way that perfectly suits their needs and preferences. With its versatile and customizable features, Airtable offers a comprehensive solution for project management, task tracking, and collaboration.
Whether you're managing a small team or a large-scale project, Airtable offers a scalable solution that grows with your business. Its comprehensive set of features, combined with its user-friendly interface, makes it a valuable asset for teams across various industries.
12. Mention
Following your brand on social media is a never-ending process that can sometimes be overwhelming and time-consuming. Mention scans billions of sources in over 40 languages ​​so you don't miss a thing that's being said about your brand.
13. Close
Close is an amazing SaaS product created by sellers, for sellers. We understand that manual data entry can be a hassle, but Close is here to simplify your life. With Close, you can automate tasks like managing calls, emails, and tracking activities, allowing you to focus on what really matters - closing deals. Say goodbye to wasting time on data entry and hello to more time for closing those important sales.
14. Hunter
Hunter is an incredibly reliable tool that allows you to effortlessly find email addresses for prospects and potential customers, eliminating the need to manually call and ask for them every time. This not only makes email a more valuable and effective sales tool but also saves you precious time and effort.
15. OpenClassrooms
OpenClassrooms is a leading European online education platform that has gained immense popularity with over 2 million members enrolled in their fully online degree programs. With a commitment to providing high-quality education, OpenClassrooms offers a wide range of courses and programs designed to meet the needs of learners from all walks of life.

OpenClassrooms stands out from other online education platforms due to its innovative approach to learning. Their courses are designed in collaboration with industry experts, ensuring that the content is up-to-date and relevant to the current job market. This means that you'll be equipped with the skills and knowledge that employers are looking for, giving you a competitive edge in your career.
Competitive Advantages of SaaS Ideas
Advantages of SaaS Ideas:
Affordability: SaaS companies operate on a subscription basis, which means that business owners can avoid upfront investments. While they may end up paying more in the long run compared to traditional software, the flexibility to cancel subscriptions at any time is a major benefit.
Automatic Updates: SaaS services are regularly updated by dedicated teams, eliminating the need for users to manually install new versions. This ensures that users always have access to the latest features and improvements.
Flexibility: With SaaS, users can access their accounts and data from any device with internet access. This mobility allows for seamless productivity and collaboration, as all information is stored securely in the cloud.
Reliable Support: SaaS providers offer ongoing technical support to address any issues or concerns users may have. This ensures that users receive prompt assistance with technical issues, security threats, and any questions they may have.
The SaaS industry has evolved to cater to various niches, providing businesses with versatile and efficient solutions.
How To Find Innovative SaaS Ideas?
The great thing about starting a SaaS company is that you don't have to come up with a completely original idea. Instead, you can focus on improving existing apps or programs. A simple way to do this is by visiting websites and reading reviews. Let's say you want to create a mobile SaaS. To understand how users are reacting to similar apps, head to the App Store or Google Play Store. By sorting the reviews on a one-star scale, you can identify the issues people are facing. With this information, you can develop a solution either as a third-party integration or as a completely new program.
Where can you find SaaS product ideas?
You can take a look at social media platforms like Twitter to see what's currently trending. Twitter's trend subject system makes it an excellent place to find popular topics. Additionally, LinkedIn is a great platform to explore for business trends.
Trends can be found in all industries, and building upon a trend and finding a solution to its challenges can work to your advantage. Following these trends can provide valuable insights and opportunities.
Consider starting a Micro-SaaS now. You don't need to compete with the industry's biggest companies right away. Instead, you can launch a micro-SaaS to address a specific issue within an industry or cater to a smaller target audience.
Conclusion
SaaS businesses grow rapidly even with minimal investment, a large average SaaS with successful startup ideas has a growth rate of 3.9 to 1 — for every dollar invested, owners corporate get about four dollars back.
And with 80% of end users finding SaaS apps more useful than desktop apps, it's clear that this trend is here to stay. As a result, it's crucial for business owners to stay ahead of the competition by introducing SaaS to their niche. By embracing this technology early on, businesses can reap the benefits and stay ahead in the ever-evolving digital landscape.
Subscribe to FMC Newsletter
No spam and promotion, just insightful information