You may have noticed that SaaS has topped lists of best business models for several years now. This is why SaaS startups are at the pinnacle of success. This model has been adopted by large companies like Google, Apple, IBM, Adobe and smaller companies. In this article, we will share some experiences of building a SaaS business and analyze SaaS product ideas based on successful existing services.
What Is A Saas Business?
Before moving on to discussing the most effective trading ideas, we need to get the basics straight. The Software-as-a-Service business hosts an online platform and provides users with access to its features, support and technical services on a subscription basis. Users generally access the software remotely.
The software is not just a product in this case – the company takes long-term responsibility for maintaining the databases, servers and additional software that keeps the functionality running smoothly over time, providing ongoing services to subscribed members.
Subscription price and offer details vary depending on the number of users with access to a profile (single or team plans), SaaS customer support details, amount of data stored or availability of additional services.
Best Overall
Salesforce
If you want to sell smarter and close more deals, Salesforce is the #1 CRM to consider.
Go to site
Best Workflows
Monday
Customize your workflows to track all aspects of the sales cycle.
Go to site
Best for Marketing
Hubspot
With its fully-featured marketing suite, this CRM requires an introduction.
Go to site
Top 8 CRMs for SaaS Business:

15 SaaS product ideas and examples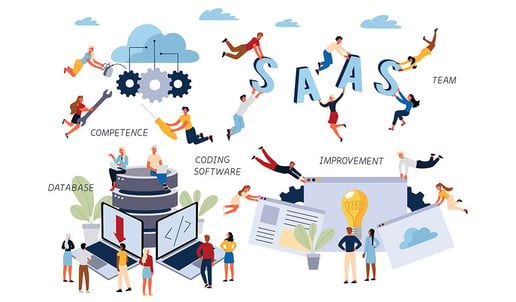 Software as a service works primarily in the B2B realm, connecting business owners to useful tools that help them improve their performance. However, some products are geared towards business-to-customer (B2C) niches, although these are rare occasions.
But, if you lack inspiration and have no idea where to start, take a look at our tips. They might help you find motivation.
15 SaaS product ideas
1. Become a SAAS software developer
A software developer is someone concerned with aspects of the software development process, including the research, design, programming, and testing of computer software. The SaaS development lifecycle resembles a traditional iterative software development process, but with additional phases added. Software as a service (SaaS) has now become a fairly well-established software business model that basically consists of providing software applications.
A code hosting service helps developers submit code fixes in an organized way. These websites often support version control, bug tracking, release management, mailing lists, and wiki-based documentation. You can create a private code hosting SaaS platform for developers that can enable writing, reviewing, and deploying code.
2. Become a freelance web developer
Webmasters, also Web developers, are programmers who specialize in developing WWW software or applications running over HTTP from a web server to a web browser.
3. Launch a data integration platform
Data integration is an IT activity based on the know-how of data, databases and technologies. Data Integration helps migrate and extract value from data by bringing together the capabilities of a comprehensive data integration, data quality, and data governance solution into a single unified standalone cloud platform. You can configure a SaaS platform that allows easy data integration between more than 750 applications.
4. Build CRM software

It is software that connects all departments of an organization, from marketing to sales to customer service, and organizes their ratings, activities, and metrics into a system. CRM is hosted in the cloud for ease of management. You can create and use CRM software if you want to start a SAAS business.

Also, you could look at some top CRM vendors and check their pricing models.

5. Build a SAAS a consulting / coaching company
Starting a business is tedious, much more a business that takes place in the cloud. Due to its complexity, many startups often need some kind of guidance and advice on how to deal and make money with the business. If you have a good track record in building and running a SAAS-related business to profitability, you can start a SAAS consulting or coaching company to help others.
6. Create a universal payment gateway
A payment gateway is a merchant service provided by an ecommerce application service provider that enables the processing of direct or credit card payments for online businesses, online retailers, bricks and clicks or traditional businesses. This business niche is still coming and you can create a universal payment gateway that supports not only credit/debit card processing and bank transfers, but also alternative payment methods such as carrier billing mobile and prepaid cards.
7. Start a Cloud Security Business
Cloud computing security or, more simply, cloud security refers to a broad set of policies, technologies, and controls deployed to protect cloud computing data, applications, and associated infrastructure. Top cloud security threats include data breaches, data loss, account takeover, service traffic hijacking, insecure application program interfaces (APIs), poor choice of service providers cloud storage and shared technology that can compromise cloud security. You can start a business that takes care of these security issues for organizations that can't afford their cloud accounts to be hacked.
8. Create SAAS training
Employees need to be trained and retrained on emerging trends. If you are an expert in cloud computing and related SAAS issues, you can organize courses that can be used to educate both organization employees and individuals on the trend. Since there is still a lot to discover about the SAAS platform, the training courses you offer would be most appreciated. You can offer your training courses for sale on your website. Additionally, you can contact organizations in the SAAS line and offer to train their employees for them.
9. Start a Web Hosting Company
A web hosting service is a type of Internet hosting service that allows individuals and organizations to make their website on their server so that other computers around the world can access your website through a network or modem. Because large enterprises tend to frequently generate huge stacks of data, so they need to host their data on frameworks that can transport it. As a dedicated web hosting company, you can provide your customers with commercial packages that include unlimited disk space, high-volume storage email accounts, and monthly data transfer. Although starting a web hosting company can be financially intensive, the business is easily scalable and quite profitable.
10. Build Sales Tracking Software
Any business concerned with sales needs to track sales every day. Manual sales tracking can be quite cumbersome and inefficient, which is why you need software for it. Sales tracking software automates sales tasks and processes, and provides reporting tools and performance tracking. You can create sales tracking software and make it available to companies.
11. Build cloud-based email apps
Conventional email has changed from what it used to be and has automatically sort incoming messages into appropriate groups; such as messages containing tracking numbers for shipping, those relating to subscriptions and receipts. You can keep improving these new email inventions to create a comfortable SAAS business for yourself. This service would benefit businesses and as such they would form the bulk of your target market.
12. Open a Virtual Data Center (VDC)
A virtual data center is a pool or collection of cloud infrastructure resources specifically designed for business needs. It provides public cloud infrastructure but with a free dedicated network, which makes it private by design. You can create and run a virtual data center.
13. Create a software license manager
Software license management is the set of business processes, procedures and people that ensure the effective management, control, optimization and protection of software licenses within an organization, in all phases of their life cycle.
You can create software licenses managers for companies that often forget to renew their licenses.
14. Open a SAAS blog
You can talk about anything in a blog, you can also talk about SAAS applications. You can use templates to help you write blogs more easily. Templates can be news magazines or even a newspaper. They guide you on how to place and format your content. Using templates is effective especially when you are a beginner as most of them are free. You manage to have well-designed blogs at no cost.
You make money with your blog through Google AdSense. And more you can help people promote their cloud software and other creations for a fee.
15. Start a privacy agency
Personal Data is data relating to a living individual who is or can be identified either from the data or from the data in conjunction with other information which is or is likely to come into the possession of the controller. Even if this trend is gradually changing, you can still take advantage of it to create your own personal data protection agency.
15 SaaS examples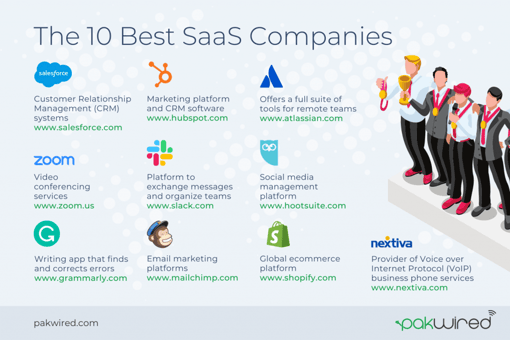 Many entrepreneurs have had great successes starting their businesses from the ground up and adding additional tools as they grow their income. Some of the ideas you can find on examples of saas businesses that win already.
1. Stripe
Is the SaaS product we use to accept and process payments online.The very first thing most businesses need to decide is which payment processor they are going to use to accept payments from their customers. You can transfer money, create and send invoices, create recurring payment subscriptions, and more.
2. Baremetrics
It simplifies the process of understanding your business revenue stream and helps you make data-driven decisions. You can instantly see juicy insights like monthly recurring revenue, average revenue per user, refunds, updates, lifetime customer values, user churn, and probably the two most important: your net income and the rate of income growth.
3. Intercom
This is the tool used to process customer requests and queries . Intercom is a customer platform that offers a series of products for live chat, marketing, feedback and support. Remember that support is key to the success of any business. If you want advice, make sure you have a support system, be it chat, tickets, etc.
4. Slack
We use a range of SaaS products to improve our collaboration and internal communication. Slack is a messaging app for teams designed to make communicating with your co-workers quick and easy, no matter what platform they're on.
5. Trello
Trello is an online collaborative tool that lets you easily create boards, lists, and cards to organize your projects. Trello is used by companies around the world, including Adobe, Pixar, Google, PayPal, and National Geographic.
6. Google Workspace
But every business needs a way to communicate via email. When it comes to email hosting, there are plenty of options, such as Zoho, Office 365, Rack Space, and Google Workspace .
7. Dropbox
500 million people worldwide and more than 200,000 businesses use Dropbox regularly to access and share documents and files on the go.
8. Zeplin
Is a collaboration tool specially designed for developers and designers. It makes it easy to create, collaborate, and share design and style guides, as well as assets, specs, and code snippets.
9. Zoom
Is a next-level video conferencing tool? It works flawlessly on all devices, from smartphones to tablets to desktop computers.
10. Atlassian: Jira + Confluence
For software development, deployment and documentation, we use a combination of Atlassian Jira Software and Confluence software.
11. Airtable
Is a unique task management tool that allows your teams to organize their work the way they want.
12. Mention
Following your brand on social media is a never-ending process that can sometimes be overwhelming and time-consuming. Mention scans billions of sources in over 40 languages ​​so you don't miss a thing that's being said about your brand.
13. Close
It is a SaaS product created by sellers for sellers. Nobody likes manual input and Close tries to automate as much as possible. From calls, to emails and activity, so you can spend more time closing deals instead of entering data.
14. Hunter
Is the most reliable solution for finding email addresses for prospects and potential customers, without having to call and ask them manually every time. Email becomes a much more valuable and effective sales tool.
15. OpenClassrooms
Is a European online education platform with more than 2 million members and fully online degrees.
Competitive Advantages of SaaS Ideas
Rentability: SaaS companies operate on a subscription basis, which reduces the number of upstream investments. Later business owners tend to pay more than they would for installable software, but on the other hand, they can cancel their subscriptions at any time;
Auto updates: the service is updated automatically by the service teams — users do not have to install new versions manually;
Mobility: As long as a user has access to the account, the profile can be accessed at any time and with any device — all data is stored in the cloud;
Ongoing technical support: SaaS services have dedicated support teams that address technical issues, and security threats, and answer questions.
Software-as-a-service business models have developed in different forms and entered many niches.
How To Find Innovative SaaS Ideas?
The advantage of launching a SaaS company is that you don't have to come up with a comprehensive idea that no one else has thought about. A SaaS can be created to improve the current state of an app or program.
The simplest way to do this is to go to the websites and read the reviews. Assume you want to create a mobile SaaS. To check how users are reacting to the apps, head to the App Store or Google Play Store. You can see the troubles people are having by sorting the reviews on a one-star scale. Then, either as a third-party integration or as a fully new program, you can devise a solution to these issues.
Where can you find SaaS product ideas?
You can, for example, look at social media platforms to see what's trending. Because of its trend subject system, Twitter, for example, would be an excellent place to look for a trend. LinkedIn is also a good place to look for business trends.
There are always trends throughout all industries. If you can build on a trend and come up with a solution to the challenges the trend has, following these trends will work in your advantage.
Start a Micro-SaaS now. Nobody expects you to go big and compete with the industry's most well-known companies. Instead, you may launch a micro-SaaS to address a specific industry issue or a smaller set of people.
Conclusion
SaaS businesses grow rapidly even with minimal investment, a large average SaaS with successful startup ideas has a growth rate of 3.9 to 1 — for every dollar invested, owners corporate get about four dollars back.
And 80% of end users of SaaS apps found them more useful than desktop apps. It could be the reason why almost all applications will become SaaS in the future. Therefore, business owners should start introducing SaaS to their niche before competitors.