What is a CRM in banking industry?
Banking Customer Relationship Management (CRM) software assists banks in implementing customer-centric strategies to create value-added marketing campaigns, increase sales, and provide the best customer service.
You have probably heard more than once about the advantages and functions of such well-known CRM systems as:
A banking CRM system can also help banks set up a customer-centric business model, personalize interactions, enhance digital engagements, resolve inter-departmental communications, and even increase the productivity of banking agents.
[Related Article: 10 Best Law Firm CRM in 2023]
The Best CRM Features for Banks
CRM solutions quickly and effectively generate sales leads, saving your sales representatives' time from prospecting and trying to follow it. These leads can be used as triggers in a company's database management systems to create personalized client interactions.
However, that is the CRM function that is highlighted the most frequently. Let's take a look at some of the more unique functions that CRM software can provide to banking professionals.
[Related Article: CRM in Banking: Build the Effective Customer Strategy]
Client-Centered Business Model
Customers can choose from dozens of banks nowadays, all trying to provide the best financial services. You need to offer outstanding customer service if you want to stand apart.
A bank customer relationship management system gives you a complete picture of each customer, including their personal information, social status, credit score, purchase patterns, transaction history, and much more.
Customer Touchpoint History
When a customer visits your website, enters your bank branch, or signs up for a mortgage service, banking CRM software keeps track of all the interactions you have with each customer.
You'll be fully informed, so with this knowledge, you can provide your clients with precisely the right financial services at the right moment.
Lead Management
A bank CRM system is the best tool for gathering and managing leads, nurturing them, and turning them into satisfied clients.
Consider a scenario in which your clients are thinking about getting a loan to pay for their vacation and holiday shopping. At the ideal time, you can help and send them relevant information on how to take out a loan. Alternatively, provide them with resources for effective budget management.
Customers are more satisfied as a result, which eventually increases sales.
Forecasting
Based on historical and current customer data, banking CRM software may predict what your clients may require in the months, years, or even decades to come.
Additionally, you can launch marketing campaigns and monitor how visitors respond to your content. The majority of CRM platforms include in-depth reports that demonstrate click and conversion rates.
Improved Security and Productivity
These days, all-in-one CRM software is incredibly popular.
Companies now use integrated CRM software for banks that handles everything to manage marketing, sales, ticketing, social media, and transactions rather than having dozens of different programs.
Customers expect no less than proper attention to their sensitive financial information. You won't have to worry about cross-platform compatibility, encrypted data transfer, etc. if you choose a single platform.
You can also quickly assess and record each interaction between staff and clients with the use of banking CRM software. Additionally, you can create general goals and guidelines that each employee can understand and follow to, which will increase productivity for the entire marketing and sales team.
Why should Investment Banking companies use a CRM?
As an investment banking organization, you should set up trades, provide IPOs, actively market them to wealthy clients, and evaluate the company value during acquisitions or mergers. To keep your consumers, you need to manage your finances effectively and have a strong understanding of your industry.
Using different software for each department requires more data entry, which puts more stress on your staff. You need a platform that enables integration with external sources and unifies your company's operations into one database for simple access.
By integrating CRM for banks, your investment banking firm can manage all departments from a single interface and keep on top of every opportunity.
You can use client accounts to analyze investment options, value businesses, market your services on social media channels, and offer excellent customer service.
By communicating with leads through automated messages after hours, CRM enables you to convert more leads. Your customer service professionals will receive the assistance they need during the negotiations and interact fluently by getting the relevant client details.
You can manage your workforce with CRM and provide them with the appropriate tasks, increasing the likelihood that they will be productive. It is an essential tool for investment banking organizations to keep up efficient functioning and client communication.
[Related Article: On-premise vs Cloud CRM: How to Choose CRM for Banking?]
How to calculate ROI
We'll make a guess and say that your investment banking company has some experience in estimating whether an investment will make more profit than it costs. However, calculating the ROI of CRM adoption is not the same as calculating the value of a stock offering. It depends on a variety of factors, including the amount of customization required for your CRM, the number of users, and your short- and long-term growth objectives. Also, keep in mind that most CRMs have been demonstrated to increase conversion rates by up to 300%. The industry standard when discussing revenue growth is a 29% increase.
[Related Article: How to Measure ROI for CRM Marketing?]
The top CRM for Investment Banking
Because CRM systems are frequently created with customer data security and customer retention in mind, any CRM software can be used effectively in the financial services sector.
Here's our list of the best CRM for banks you can find.
Salesforce is one of the most well-known CRMs. It is one of the best options for banks because it offers extensive integrations, industry-specific modules, and a highly scalable CRM solution. It enables banks to create a user experience that is focused on the customer.
Key Features for Bank:
Industry-specific customized solution

Omnichannel lead management

Social media insight collection

AI-powered automation

Process automation

Opportunity management

Forecast and pipeline management
Pricing:
Essentials: costs $25 per user/per month, billed annually.

Professional: costs $75 per user/per month, billed annually.

Enterprise: cost $150 per user/per month, billed annually.

Unlimited: costs $300 per user/per month, billed annually.
Oracle NetSuite is a robust CRM system for banks and other financial institutions that allows them to provide a personalized brand experience. In addition, Oracle CRM provides a wide range of functions, such as lead management, opportunity management, and partner relationship management, to assist banks in managing their customer relationships.
Key Features for Bank:
Industry specific modules

Salesforce automation

Comprehensive reporting & analytics

Quota management

Partner relationship management

Customer service management

Compliance management
Pricing:
This CRM banking software does not provide pricing information on its website, so you need to contact a sales representative to get a price. Oracle takes into account the size, demands, sector, necessary add-ons, and customizations of your company. The cost will also vary depending on whether you require ongoing training or support.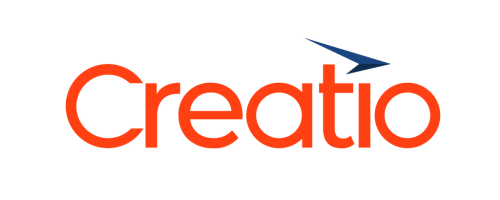 Financial Services from Creatio is a process-driven CRM that helps effectively manage customer interactions, opportunities, and risks. It is designed for corporate and retail banks and financial institutions. You can create profitable relationships, monitor internal and external operations, collect important data to manage client journeys, and improve the customer experience.
Key Features for Bank:
Open API

Scanned information

Organized information storage

Loans processing

Verification and underwriting

Loan pipeline monitoring

Expert consultation
Pricing:
Contact the Creatio team to find out the cost of services specifically for your needs, and you can also ask for a demonstration.
Microsoft Dynamics 365 boosts productivity and enhances marketing effectiveness through business intelligence, campaign management, and social insights. This potential bank CRM software assists in streamlining and automating business processes, increasing client loyalty and cost savings. Other features include tools for integrating data and reporting from social media as well as apps for managing customer relationships on mobile devices.
Key Features for Bank:
Goals management

Invoices management

Business on the go

AI-powered insights

Enhanced relationship analytics

Dashboard and reports

Powerful integration

Personalized emails
Pricing:
The size of your sales team and the licenses you decide to buy will affect how much Microsoft Dynamics 365 will cost you.
5. SugarCRM
SugarCRM is a user-friendly platform built on open-source technologies such as JavaScript and PHP to enable mobile computing solutions. It enables companies to work more effectively, improve professional relationships, and integrate with the whole customer lifecycle. SugarCRM provides cloud portability, which allows you to seamlessly switch data between public and private clouds depending on the current market conditions.
Key Features for Bank:
Sugar market

Revenue generation

Google Ads integration

Asset library

Sales automation

Customer support platform
Pricing:
Depending on the products you choose, this possible investment banking CRM offers 4 pricing options:
Sugar Market: costs $1000 per month and can be accessed by unlimited users.

Sugar Sell: costs $80 per month per user and offers 60 GB storage along with phone support.

Sugar Serve: costs $80 per month per user and helps you smoothly assist customers.

Sugar Enterprise: costs $85 per month per user and offers SQL-based reporting and SugarBPM.

Sugar Professional: costs $52 per month per user and offers a CRM solution for small businesses.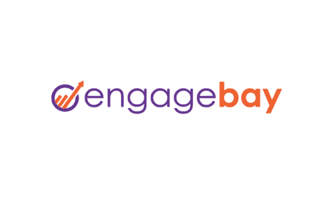 EngageBay is the best CRM software for banks and other financial companies that are just getting started because it provides an all-in-one CRM solution at a reasonable price.
Key Features for Bank:
Form builder

Exceptional customer service

Role management

Powerful integrations

Custom reporting

Dashboard

360-degree customer view
Pricing:
Free All-in-One plan: Unlike other platforms, EngageBay's free plan is always free and comes with all the functionality a bank or other financial institution might ever need.

All-in-One Basic Suite: costs $14.99 a month.

All-in-One Growth Suite: starts at $49.99 a month.

All-in-One Pro Suite: starts at $79.99 a month.
Additionally, you receive a 20% discount on annual and a 40% discount on biennial subscriptions.
Keap is another outstanding investment banking CRM software. This software provides a variety of tools to gather leads, segment your customer base, organize lists, and create effective campaigns.
Key Features for Bank:
Advanced contact organization

Account and company management

Webforms and landing pages

Lead scoring

Quotes and appointments

Roles and permissions

Analytics and Reporting

Integrations and API

Mobile App
Pricing:
Lite plan: starts at $79 per month and offers tasks, forms, contact management, tags, contact lists, appointments, and so much more. You can store 500 contacts for one user.

Pro plan: starts at $159 per month for 500 contacts and adds A/B email testing, invoices, automated text messaging, recurring payments, and subscription management.

Max plan: is $199 per month for 500 contacts and offers Shopify integration, custom user roles, pipeline automation, one-click upsell and cross-sell, and analytics. For 10,000 contacts, you will have to pay $399 a month.
These prices listed above are for one user. By paying an extra $30 for each additional user, you can increase the number of users.
CRMNEXT is a financial services solution designed for banks and credit unions. Simple integration with existing technology and an intuitive UI allows you to view customer and member information in one central place. You can streamline processes, automate tasks, boost growth, and improve user experiences.
Key Features for Bank:
Social sales

Analytics

Account management

Personalized offers

Enhanced performance

Targeted marketing

Easy integration

Smooth collaboration
Pricing:
This CRM in investment banking doesn't post prices on the site, but you can get them on request and schedule a demo.
Another great CRM tool for retail banking is ActiveCampaign, which offers a wide range of features for sales, customer support, and marketing.
Key Features for Bank:
Built-in integrations

Onsite/In-app contact tracking

Contact location/travel tracking

Contacts based on ASL

Smart autoresponders

SMS marketing

Advanced segmentation & targeting

Custom forms

Automated series

Free phone, live chat, email support

Free one-on-one training
Pricing:
Lite plan: starts at $9 per month for 500 contacts and offers you basic features, including autoresponders, social media tools, automation, contact importing, and segmentation.

Plus plan: starts at $49 per month for 500 contacts and offers features like lead scoring, conditional content, SMS marketing, database synchronization, subscription forms, and task reporting.

Professional plan: starts at $129 per month for 500 contacts and offers predictive sending, win probability, split automation, customer attribution, and unlimited one-on-one training.

Enterprise plan: costs $229 a month for 500 contacts and offers advanced features like custom reporting, premium phone support, social data enrichment, custom URL, uptime SLA, and customized branding within applications. Payment for 10,000 contacts is $399 per month.
LeadSquared is a top one-stop banking CRM system that enables banks to manage their entire customer lifecycle. LeadSquared CRM for banking reduces ownership and client acquisition costs by streamlining the searching, onboarding, and engaging processes.
Key Features for Bank:
Debt recovery module

Corporate banking management

Workflow customization

Enterprise-grade security and control

Multi-channel engagement

Mobile CRM for bank agents

Cross-sell/upsell engine
Pricing:
Lite: costs $25 per user, per month, billed annually.

Pro: costs $50 per user, per month, billed annually.

Super: costs $100 per user, per month, billed annually.

Ultimate: a customized plan for enterprises, the price of which you can agree with the sales team.
[Related Article:
6 Best CRM for Financial Advisors]
Conclusion
A strong client relationship and a platform that can expand in tandem with your company's needs are requirements for investment banking. A CRM gives you a flexible way to manage tasks connected to finances, marketing, recruitment, and sales from any place. The best CRM for retail should provide features like customer segmentation, loyalty program management, inventory tracking, and sales analytics, such as Salesforce, Microsoft Dynamics 365, or Shopify.
Bank CRM systems can significantly enhance your client interactions and experience. Consumers today expect to be catered to and taken care of. CRM enables you to achieve that purpose and take your customer relationships to a whole new level.
Find the ideal CRM for your bank or financial institution right now to make your life easier, more organized, and more efficient.